Barstow
Barstow
is a city in the
southern desert
of the state of
California
. The city's location at the junction of Interstate 15 and Interstate 40, as well as its position on the old
Route 66
, make it a frequent pit stop for travelers passing through on their way to more exotic destinations.
Get in
By plane
Barstow itself does not have commercial airline service. The closest commercial airport is
LA/Ontario International Airport
(
ONT
) about a 1-hour 14 minute () drive south of Barstow on Interstate 15, passing through Victorville, Cajon Pass, and Rancho Cucamonga en route. The next nearest commercial airport is Las Vegas McCarran International Airport about 2 hour 15 minutes () drive, northeast, on Interstate 15.

By car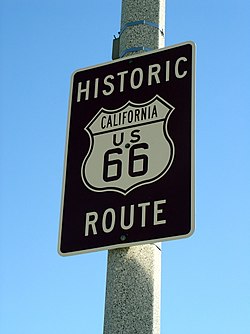 Interstate 40 and Interstate 15, both major cross-country highways, intersect in Barstow. I-15 comes from Southern California to the south and the Las Vegas area to the north. I-40 comes from Northern Arizona. The historic (but decommissioned) Route 66 also passes through. California State Route 58 enters from the west, connecting Barstow to Bakersfield.

By train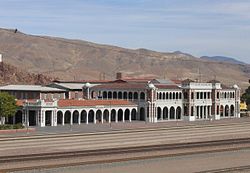 address: 685 North First Ave

The Southwest Chief line stops in Barstow. The westbound train stops in Barstow at 3:40AM and the eastbound stops at 9:55PM, so plan accordingly.
By bus
phone: +1 760 256-8757

address: (Depot) 1611 E Main St

Greyhound travels primarily on Interstate 15 (San Bernardino, Barstow, Las Vegas). Other variations of this route go towards downtown Los Angeles along the 210 without going into San Bernardino. They also have an additional stop at Carl's Jr at 2856 Lenwood Rd
phone: +1 760 380-3598

Bus service between the Fort Irwin Army Base and the city of Barstow.

phone: +1 760 948-3030

Bus service between Barstow, Victorville and the Inland Empire.
Get around
By foot
The downtown area of Barstow is small enough to easily get around by walking.
By car
Main Street, L Street, Rimrock Road, and Montera Road encircle Barstow, while Barstow Road bisects the city.
Barstow is a small town with no traffic problems.
By bus
phone: +1 760 255-3330

BAT provides service on three bus lines that run hourly. For areas not covered by the routes, dial-a-ride service (+1 760 256-0311) is available.
See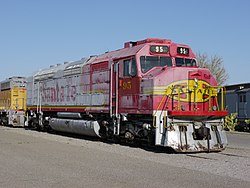 Do
phone: +1 760 252-6000

address: Fossil Bed Rd

Rainbow Basin is a natural basin that features fantastic and beautiful shapes in its rock formations. The road is one-way narrow dirt road is best driven with a high clearance or four-wheel drive vehicles.

Skyline Drive-In Theater

phone: +1 760-256-3333

address: 31175 Old Hwy 58

As one of the last drive-ins in San Bernardino County, this is a chance to experience the classical drive-in cinema under the dark desert sky, while seeing the newest blockbusters. It frequently has packed nights on new movie openings and even has a small (but fully functional diner) attached to the projector house. Bring your own car (obviously). If you wonder why you are not hearing any sound, it is broadcast on FM that you can tune into using your car or a personal stereo. The entry kiosk and diner staff can help you to find the frequencies for each screen. There are two separate screens each showing two new movies per night, allowing visitors to watch two movies for one price (with "theater hopping" allowed between pictures if you don't like the one you picked.)
Buy
phone: +1 760-253-4813

address: 2796 Tanger Way

Dozens and dozens of places to shop for virtually every name brand merchandise one can think of. There are plenty of places to eat for the weary traveler too.
Eat
Jenny's Grill Steak & Mariscos

phone: +1 760 255-1500

address: 1231 E. Main St.

A family run Mexican restaurant with Sonoran, Continental, and Seafood entrees. Good food, and reasonable prices with dinner entrees starting around $6.

McDonald's Barstow Station

phone: +1 760 256-0812

address: 1611 E. Main St.

If not the largest McDonald's in the world, it is certainly the most unique. Barstow Station is a McDonald's with an ice cream shop, candy store, gas station and the home of several radio stations that broadcast to travelers crossing the Mojave Desert. The most unique aspect of Barstow Station is the eating area. You can dine in old train cars and enjoy the view of travelers passing through this town. There is also a stand inside that sells homemade fudge.

Lola's Kitchen

phone: +1 760 255-1007

address: 1244 E. Main St.

Excellent Mexican food located inside the Von's shopping center. Cash only.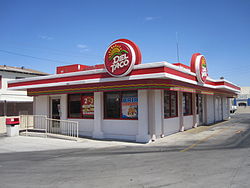 Del Taco

phone: +1 760 253-2641

address: 2871 Lenwood Rd.

Opened in 1964, this is one of the first Del Tacos (the chain started in Barstow) and has an extensive menu, serving otherwise long discontinued offerings. A special menu available only at the Barstow restaurants offers a selection of items with increased quantity at a discounted price.

phone: +1 760 256-8888

address: 690 Old Highway 58

Situated in a renovated house just outside of the Main St. district, big steaks, full bar, homey atmosphere, music on the weekends.

phone: +1 760 256-1094

address: 1358 E Main St, Barstow, CA 92311

DiNapoli's Firehouse is a dark yet warmly lit and arranged Italian restaurant with FDNY memorabilia and New York crooners during their heyday lining the walls. Meals cover the gamut of Italian cooking and pasta/baked Lunch and Dinner variety.
Drink
phone: +1 760 979-2197

address: 1624 W. Main St.

A casual bar on legendary Route 66. Very friendly, great staff and low-key until about 9 PM when the music starts and the place starts jumping. Special events and happy hours go on all year, so check the website out to see what is coming up.
Sleep
phone: +1 760 256-1781

address: 1984 E. Main St

Swimming pool, complimentary continental breakfast and Internet access. Pet friendly.

Holiday Inn Express Hotel & Suites

phone: +1 760 253-9200

address: 2700 Lenwood Rd

phone: +1 760 256-1752

address: 150 Yucca Ave

phone: +1 760 256-7581

address: 1261 East Main St

Sleep Inn on Historic Route 66

phone: +1 760-256-1300

address: 1861 W. Main St

Outdoor pool, workout center, complimentary continental breakfast and Internet access. Pet friendly.

Stardust Inn

phone: +1 760 256-7116

address: 901 E Main St
Go next
phone: +1 760 254-2122

address: 36600 Ghost Town Rd, Yermo

A family destnation with mines, gunfights, and more. A short train ride gives a brief history of the town and the surrounding desert.

address: Minneola Rd, Yermo

This archaeological site is the location of a stone tool workshop, quarry, and camp site used by nomadic hunters and gatherers around 200,000 years ago, one of the oldest sites found in North America.

Goldstone Deep Space Communications Complex

phone: +1 760-255-8688

address: 93 Goldstone Rd, Fort Irwin

Guided tours of the 53 square mile (137 square km) complex housing the massive antennas that NASA uses to communicate with its deep space missions to the planets. All tours must be scheduled in advance. Note that the tour requires entry to the Fort Irwin Army Base so ID is required and vehicles may be searched.
Mojave - 70 miles west of Barstow on Highway 58, Mojave is a hotbed of aerospace activity, with the Mojave Spaceport the headquarters of Scaled Composites, the first private company to launch a human into space. Edwards Air Force base, a landing site for the space shuttle and a center for the development of experimental aircraft, is located adjacent to the town.
Baker - Located approximately 60 miles to the northeast of Barstow on I-15, Baker is the only significant town on the interstate in the remote desert stretch between Barstow and the Nevada border. It offers food, fuel and lodging, is home to the world's tallest thermometer, and is the starting point for those journeying north to Death Valley.