Bartow (Florida)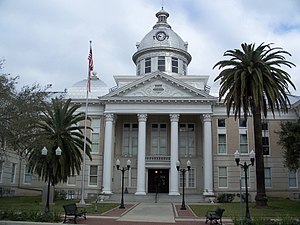 Bartow
is a historic, Southern town in
Polk County
,
Florida
. As county seat, there is a large difference in the number of people in the town during the day and the number of people who reside in Bartow.
Understand
History

While Florida was first obtained by the United States in 1819, the central and southern regions of this new territory remained largely uninhabited as a result of the hostile Seminole Indian tribe, heat, and the high humidity of the region. Following the end of the Second Seminole War in 1842, small groups of settlers began to trek into the interior of this region and build some of the first permanent settlements in this region, set up as forts to deter Seminole attacks. In 1851, the first permanent settlers reached this location near the headwaters of the Peace River and established Fort Blount (a quarter-mile west of the 1908 courthouse). The settlement remained small for many years. In 1861, Polk County was separated from Hillsborough County, with Fort Blout being chosen as the county seat. The Civil War halted development, but in 1867 county commissioners decided to rename Fort Blount in honor of Francis Bartow—the first Confederate officer to die in the war. A few years later, land donations from the cattle baron & largest landowner in the region, Jacob Summerlin, allowed the Polk County government and the city of Bartow to develop: 40 acres for the county government, 20 acres for a school, and 20 acres each for two churches. In 1887, the first brick schoolhouse south of Jacksonville was built and named "Summerlin Institute".

Climate
Get in
By car
The only feasible way to enter Bartow is by car. Bartow is located at the confluence of US 17, US 98, and SR 60.
By bus
Bus service is available from Lakeland or Winter Haven by the Citrus Connection bus service.
By plane
Get around
By car
By bus
By taxi
Checker Cab Co.

phone: +1 863 665-8151

Serves all of Polk County.

Yellowcab/Maingate Taxi

phone: +1 863 292-9166

Serves all of Polk County.

Polk County Taxi

phone: +1 863 521-2924

Serves all of Polk County.
See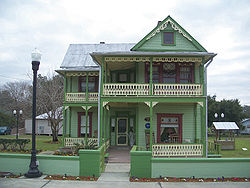 address: 100 E Main St

Museum showcasing Polk County's history and housed in the historic, 1908 county courthouse. The building also houses the Polk County Historical & Genealogical Library (+1 863 534-4380).

phone: +1 863 534-0100

address: 470 Second Ave

House on the National Register of Historic Places. Built in 1892 by former slave and self-taught master carpenter L.B. Brown.

The Museum Room at the Bartow Airport

phone: +1 863 533-1195

address: Bartow Municipal Airport & Industrial Park

Memorabilia from the time when this airport served as a training center for air force recruits during WWII & the 1950s.
Do
phone: +1 863 534-1877

address: 1240 E Main St

Art classes & workshops.

Mary Holland Skate Park

address: 2015 Shumate Dr

Skate park.

Bartow Golf Course

phone: +1 863 533-9183

address: 150 Idlewood Ave

Public, 18-hole course. Range, lessons, & golf club rental available. On-site restaurant. Slope rating: 126. USGA rating: 69.8.
There are two boat launches on the Peace River:
Heritage Peace River Landing at 3301 Homeland Garfield Rd.
Peace River Canoe Launch on the southeast side of the S.R. 60 crossing over the Peace River
Festivals/Events
Bartow Antique Fairsecond Saturday of each month. Antiques & collectibles vendors along Main Street, 9AM-3PM.

Bartow's First Fridaythird Friday of each month (except December). Neighborhood street festival with live music, food, games, and local vendors. 6PM-9PM.

Bloomin' Arts Festival — March. Art festival
Bartow Craft Fair — November. Over 100 craft booths & vendors. Car show. Food.
George Street Christmas Lane — Follow the signs around dozens of residential blocks for a tour of holiday lights & decorations. Best enjoyed on Christmas Eve, although the traffic will be bumper-to-bumper through these neighborhoods.
Buy
Apple Seeds

phone: +1 863 533-6400

address: 115 E Main St

Country home decor & gifts.

Smith & Jones Antiques

phone: +1 863 533-7635

address: 575 E Main St

Fine antique furniture.
Eat
Catfish Country

phone: +1 863 646-6767

address: 2400 E.F. Griffin Rd

All-you-can-eat catfish or chicken in evenings. Other country foods also available.

Cookie Jar Bakeshop

phone: +1 863 519-3333

address: 305 E Main St

Various desserts & sweet treats. Light lunches, soups, & salads also available.

Cool Shop Ice Cream Café

phone: +1 863 533-1365

address: 135 S Central Ave

Curly Tails Barbeque

phone: +1 863 533-5685

address: 330 Old Winter Haven Rd

Delicious barbeque.

Fred's Southern Kitchen

phone: +1 863 534-3733

address: 1380 N Broadway Ave

Country/Southern fixins on a large buffet. Menu also available.

Palace Pizza

phone: +1 863 533-9300

address: 105 E Main St

Authentic hand-made pizzas, calzones, & bread knots.

Stanford on Main

phone: +1 863 226-3220

address: 135 E Main St

Tearoom at the Stanford Inn B&B

phone: +1 863 533-2393

address: 555 E Main St

Traditional English high tea & lunches.
Sleep
Good Life RV Resort

phone: +1 863 537-1971

address: 6815 S.R. 60 E

RV resort with 399 sites. Hookups. Dump station. Laundry. Showers. Pool. Pets allowed.

Holiday Inn Express

phone: +1 863 533-8070

address: 1565 N Broadway Ave

Complimentary breakfast. Pool. Free wi-fi internet access.

phone: +1 863 533-0711

address: 1035 N Broadway Ave

Complimentary breakfast. Pool. Pets allowed. On-site restaurant. Free wi-fi internet access.

phone: +1 863 533-2393

address: 555 E Stanford Ave

Bed & breakfast. Six rooms with private baths available. Gourmet breakfast. Pool. Free wi-fi internet access.
Connect
Alturas Post Office

phone: +1 863 537-1302

address: 2760 3rd St

Located in Alturas—a small, rural community a few miles east of Bartow.

Bartow Post Office

phone: +1 863 519-0419

address: 220 S Central Ave

phone: +1 863 534-0131

address: 2150 S. Broadway Ave

Computers and wi-fi internet access available for public use. Free guest passes for non-Polk County residents. Computers limited to two 1 hr sessions per day.
Go next