Bas-Saint-Laurent
Bas-Saint-Laurent
or
Lower St. Lawrence
is a region of eastern
Quebec
.
Cities
— one of the most beautiful villages of Quebec, known for its stunning sunsets
— home to the Musée François-Pilote, a museum of Quebec ethnology
— the biggest city of Bas-Saint-Laurent, known for its student community
— home of the Musee du Bas Saint-Laurent, which has a huge collection of photographs
— the little village with the funny name
— the landing point for the ferry from Les-Escoumins
Other destinations
— a more than 33.2-km² (8,200-acre) national park of Quebec of which about half is a coastal marine environment. Ready-to-camp sites are available from Mid-May to mid-October $94 for 4 people, $109 for six people (2020)). Chalets and yurts are available for 2-4 people ($105-158 in 2019). All access to the park is from Route 132 between the municipalities of Saint-Fabien and Rimouski (Bic District).
Understand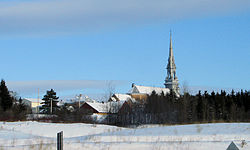 The territory was occupied since the Pleistocene Era by First Nations until European colonization started near the end of the 17th century. The development of the region was slow until European settlers started exploiting its mixed forests.
The economy of Bas-Saint-Laurent has long been dominated by two industries: agriculture and forestry, with smaller fishing and tourism industries.
Nearly all residents of Bas-Saint-Laurent speak French as their mother tongue, and the share of people reporting they can speak both French and English is only 16% in Bas-Saint-Laurent, compared to 41% in all of Quebec (2006).
Climate
The influence of the ocean mitigates the cold of the winters, and cools the summers. The average temperature in July in Rimouski is 4 degrees less than in Quebec City. The prevailing northwest wind adds humidity and cold.
Rainfall is abundant and consistent throughout the year. The region receives annually 800 to 1,200 mm (31 to 47 in) of rainfall, of which between 250 to 360 cm (98 to 142 in) is snow. The oceanic influence is less present inland, where slightly warmer temperatures in the summer and slightly colder in the winter are recorded.
Get in
By car
Autoroute 20 will bring you into the region from Montreal or Quebec City and goes through Rivière-du-Loup to Trois-Pistoles. Route 132 continues up the river to Rimouski, and into the Gaspesie and to Campbellton, New Brunswick.
Autoroute 85 will bring you from Edmunston, New Brunswick, to Rivière-du-Loup.
By boat
There are ferries across the St. Lawrence River from Saint-Siméon to Rivière-du-Loup, Forestville to Rimouski, and from Baie-Comeau/Godbout to Matane.
By plane
By train
Via Rail'
s
Ocean
service between Montreal and Halifax stops three times a week in Rimouski, La Pocatière, Trois-Pistoles and Rivière-du-Loup.
By bus
Orléans Express
has many daily runs to
Rivière-du-Loup
from
Quebec City
and
Montreal
with onward connections to Rimouski.
Maritime Bus
runs to Rivière-du-Loup from
Moncton
with connections to New Brunswick, Nova Scotia, and PEI.
See
The Site historique maritime at Point-au-Père, a small town near Rimouski, has the second-tallest lighthouse in Canada,and a marine museum with extensive coverage of the Empress of Ireland ocean liner collision and sinking, and the Onondaga, a Canadian Navy submarine.
The Musee du Bas Saint-Laurent, in Rivière-du-Loup, has nearly 250,000 photographic images mainly covering the first half of the 20th century.
The Aster scientific station, in Saint-Louis-du-Ha! Ha!, has an interactive exhibition and a telescope of 356 mm.

Do
Ile aux Lievres, 8 km off Rivière-du-Loup (accessible by passenger boat), has 45 km of hiking trails.
The 144-km Bas-Saint-Laurent National Trail stretches from Trois-Pistoles to Degelis crossing 10 municipalities. Hikers will move from a seascape to a more forested landscape along the Trois-Pistoles River.