Basingstoke
Basingstoke
is a town in
Hampshire
. It has been around as a market town since the Domesday Book, but was developed as a 'new town', one of several constructed in the 1950s to accommodate overspill population from London. Throughout the 70s and 80s it was often considered a joke 'dull' town with nothing to offer and had very little to entertain any visitors unless they were into trainspotting or roundabouts (it is alleged that Basingstoke has the highest number of roundabouts per head population of any UK town - but it's probably no longer true!).
21st century redevelopment of the town centre has seen the growth of a huge shopping area, lots of restaurants and new cinemas and theatre. Basingstoke - it seems - has grown up!
Get in
By train
Basingstoke station
is on the main line from
London
to
Southampton
,
Bournemouth
and
Weymouth
. It is also on the Bournemouth to
Birmingham
and
Manchester
line via
Reading
. Train times can be found on the
National Rail Planner
or by calling 0845-748-4950 from anywhere in the UK. The fastest trains take around forty minutes to get to Basingstoke from
London Waterloo
station. The station is situated at the edge of the town centre and is only a minute's walk from the shops.
By car
Alternatively the town is conveniently situated for the M3 motorway (
US English: freeway
) also from London to Southampton and is about one hours drive from both. The A33 links the town with Reading and the M4. The A303 (which terminates at Junction 8 of the M3) links Basingstoke with the
West Country
.
Get around
By foot
Basingstoke has a decently-sized town centre including a shopping centre, cinema and variety of pubs and restaurants all walking distance from the train or bus station. Furthermore, there is a leisure park on the western side of town including including an ice rink and cinema that's also walking distance, albeit crossing a few busy main roads.
By bus
Basingstoke is well served by buses. The central bus station is situated in the town center and most buses stop at the station. The buses are regular and serve most outlying areas of the town. Indeed the buses are efficient and the bus stops clearly marked
By car
Basingstoke is easy to drive around and the town center does not suffer from much congestion (except for at peak times). There is ample parking in both 'Top of Town' and
Festival Place
and the town's ring road (called 'Ringway') makes it easy to access any part of Basingstoke without much trouble.
The Park and Ride facility is served by three Centre Shuttle buses, see
National Park and Ride Directory
See
phone: +44 1256 467294

address: Redbridge Lane, Old Basing

Once a major Tudor palace and castle rivalling Hampton Court, Basing House was destroyed in a civil war siege. Now an attractive set of ruins, with an explanatory exhibition. Car parking is very difficult in Old Basing village; instead follow the signs to Basing House car park and get the bonus of a very attractive walk along the crystal clear River Loddon to the house. Alternatively bus line 8 runs once an hour from Basingstoke bus station stopping outside Basing House main entrance.

address: Silchester

Known to the Romans as Calleva Atrebatum, Silchester was abandoned after the Roman era which means that much of the archeology remains. All that is left on the surface now are a complete ring of city walls, the amphitheatre and a little mediaeval church. Away from the rivers that have dictated the area demographics, Silchester is about as isolated a place as you will find in south-east England; on a spring weekday you are likely to find yourself sharing the ruins only with cows. Open every day sunrise-sunset.

address: Leisure Park, Churchill Way West

A living history museum, with reconstructed street scenes and buildings from the Victorian era.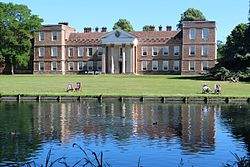 phone: +44 1256 883858

address: Vyne Road, Sherborne St John, RG24 9HL

a 16th-century country house, built for Lord Sandys, King Henry VIII's Lord Chamberlain. It retains its Tudor chapel, with stained glass. The classical portico on the north front was added in 1654 by Inigo Jones's pupil John Webb.

address: Steventon Manor, Steventon, Hampshire RG25 3BE

The birthplace of Jane Austen. It is possible to visit the parish church where Jane's father was rector, but the house where she lived has been demolished.

Wote Street Willy

address: Wote Street, town centre

The largest statue of a penis on public display in Britain. The image of a mother and child is carved into the side of the sculpture, and its phallic appearance was apparently overlooked by planners until its erection.

L'Arc Sculpture

address: Alençon Link, town centre

Marvel at the similarities between this sculpture and the Iran-Iraq war monument in Baghdad

Viables RoundaboutHome to Britain's shortest piece of gauge railway track.

Crockford Lane RoundaboutDisplays a ribbon of around 100 red steel human silhouettes.

Mike Reddaway's Ancestral Home
Do
Fyffes Banana Ripening Factory, Winklebury. The largest Banana Ripening Factory in Europe.
Conference South Football at The Camrose, Western Way.

address: 20 Churchill Way, RG21 7QU

Listen to live Quality Blues Bands once a month.
Eat
The Basingstoke area has many restaurants of different types and costs and it clearly isn't possible to list them all here.
The Millstone Pub

phone: +44 1256 331153

address: Bartons Lane, Lychpit

This pub, by the delightful River Loddon, used to be a fantastic authentic rustic pub. It has now been 'renovated' so lost some of its character. It does bar food, and has a good range of real ales. A good place to eat before or after visiting Basing House (see 'See').

Station Kebabs

address: Railway Station

Kebab van. Burger sauce available.
Drink
Sleep
The following is a selection of larger hotels in Basingstoke:
address: London St.

phone: +44 1256 460460

address: Old Common Rd, Black Dam

address: Grove Rd.

address: Aldermarston Roundabout

Audley's Wood Hotel

address: Alton Road
Connect
Phone

Basingstoke's area code (for landline numbers) is 01256 when dialed from within the UK or +44 1256 from outside the UK.

Internet
Go next
Farnborough, birthplace of flying in the United Kingdom.
Winchester, a nearby ancient cathedral city with lots to see.