Bataan
Bataan Province
is in the
Philippines
.
Cities
- Sibul Spring
- Philippine-Japanese Friendship Tower.
- capital city of the province. Historical attractions located here include the Fall of Bataan and Surrender Site Markers.
- First Line of Defense Marker; Dinalupihan National Park.
- the largest town with more than 100,000 residents, it is where the infamous Death March began.
- where the controversial Bataan Nuclear Power Plant, which remains unoperational (as of 2018), is located.
- Death March Marker
- Cayetano Arellano Memorial Shrine
- Shrine of Valor atop Mt. Samat; Flaming Sword; Dunsulan Falls
Other destinations
Bataan Corregidor

Understand
After Japan invaded the Philippines in December 1941, the combined US and Filipino forces were being gradually overrun and General Douglas MacArthur moved his troops to the Bataan Peninsula in an attempt to hold out until a relief force could be sent from the U.S. Japanese forces started a siege of the peninsula on January 7, 1942, and launched an all-out assault on April 3, a few months after the Battle of the Points. The majority of the American and Filipino forces surrendered on April 9 and were forced to march more than 100 km (62 mi) from Bataan to Tarlac, which became known as the Bataan Death March.

Get in
By car
Bataan is a little bit over two hours away from Metro Manila. From Manila, you can drive to North Luzon Expressway and exit to San Fernando. From San Fernando, take Olongapo-Gapan Road/Jose Abad Santos Avenue straight to Bataan. From North Luzon Expressway, you can also exit to Dau and take the SCTEX. Once in SCTEX exit in Dinalupihan. Dinalupihan is already Bataan.
By bus
Getting to Bataan by bus takes around three hours. There are bus lines, specifically
Genesis
and
Bataan Transit
, in Cubao, Pasay and Manila that offers daily trips to Balanga City and Mariveles, Bataan. The fare going to Balanga costs as of April 2016 from Avenida, Manila terminal.
Victory Liner
have buses to/from Olongapo City (2 hours, ).
By ferry
As of May 2018, the ferry boat going from Manila to Bataan is operational through the FAB Town Terminal in Freeport Area of Bataan (FAB), Mariveles, Bataan, which has a direct ferry service from FAB to Esplanade Seaside Terminal at the Mall of Asia in
Pasay City
,
Metro Manila
. The Port of Capinpin in Orion, Bataan is another ferry terminal in the province, having a route from Orion to Manila.
See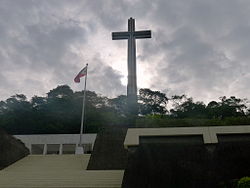 First Abucay Catholic Church
Mount Samat
Bataan Death March Marker
Bataan National Park
Zero Kilometer Death March Marker
Mariveles Volcano
Bataan Death March Marker
Mt. Natib
Dunsulan Falls
Sleep
D'Samat Hotel. Camacho Street. phone +63 47 2373869. AC single/double rooms with own bathroom from .
Stay healthy
Bataan General Hospital. Balanga City. +63 47-237-1274. (DOH Hospital)