Batad
Batad
is a village in the
Cordillera Administrative Region
of the island of
Luzon
in the
Philippines
.
Understand
Batad is a village of fewer than 1500 inhabitants, situated among the Ifugao rice terraces. It is perhaps the best place to view this UNESCO World Heritage site.
The village has two principal parts. The main village down in the valley, and the upper portion where the lodges are.
There are no roads or vehicles in Batad; everything that goes in or out of the village is carried by the people who live there. There are some concrete stairs, but apart from that, the roads of Batad are the walls of the rice terraces, many of which can be walked on.

Get in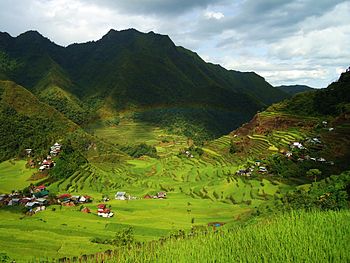 No road leads all the way to the village.
A jeepney from
Banaue
( for tourists) will bring you across the
Saddle
and down on the road to Batad. The road is not completed yet, so you have to walk the final bit (20 minutes.) Some transportation might also stop at the
Saddle
(30 minute or more walk downhill to Batad) or at the
Junction
( for locals, 30 minute walk uphill to the
Saddle
). There are two jeepneys in the morning and one at about 3PM from Banaue.
If you can't get a public jeepney get a tricycle from
Banaue
to the end of the road to Batad (past the
Saddle
). You will be quoted up to . Try not to settle for this fare but ask around. There are often tricycles headed to the junction to pick up returning travellers, especially after 10AM when there are no more jeepneys out from Batad. They may agree to fares as low as , although to is more likely. Make sure to agree on where you'll be dropped off. They might say Batad, but then drop you off at the side of the road at the
Junction
which is up to an hour hike uphill to the
Saddle
and then downhill to Batad.
You can also hike into Batad. There is a long hike that starts north of Banaua and passes through Cempola, or you can hike in from Bangaan. The trails are mapped on openstreetmaps.org but it is probably still a good idea to hire a local guide in Banaue.
Get around
Since no road leads to Batad, there are no motorized vehicles to be found anywhere in the village. This means, of course, that one must get around on foot. (It also means that one can enjoy a delightful respite from the ubiquitous din of tricycles and jeepneys.)
It is not always obvious how to find your way through the rice terraces and it might even require some very mild climbing at times. Locals will be happy to point you in the right direction; they might also be wanting to guide through the various interesting places for .

See
Ifugao Rice TerracesThese amazing irrigated rice paddies were carved into the mountains over 2,000 years ago. The village is nestled among perhaps the finest examples of them in the region. Anywhere in or above the village provides phenomenal views. Also, you may walk along them if you like.

ViewpointsThere are several viewpoints on the opposite side when coming from the Saddle. The first few are easy to reach, except for the strenuous hike up lots of concrete steps. For the brave, there is another viewpoint on the highest point; you should not be afraid of hights and sure-footed if you attempt to go there. The valley view is wonderful.
Do
Tappiyah WaterfallsA beautiful 70-meter falls about a 30-minute walk from the village. It's a great place to go for a swim. To go there without guide, when arriving from the Saddle head on the opposite side of the rice terraces amphitheater (trough the rice terraces or down to the village and up to the promontory). From here go down again with the only path with stairs to the other side.

Patpat Sitio (Sub-Village)Patpat is a small sub-village of Batad. While this sitio itself does not have too many attractions, the two-hour hike going there passes through some amazing sights. You first cross a river with a hanging bridge, then hike up rice terraces which lead into a small forest with numerous little waterfalls and springs. Upon reaching the ridge of the mountain, relax in a waiting shed which gives you both a full-frontal view of the Batad Rice Terraces and the sweet potato plantations of Patpat. There is one store in the village, and the elderly owner speaks perfect American colonial-period English. She only sells snacks and canned sardines, but you can ask her to cook the sardines and some rice for you. She might even give you some boiled sweet potatoes for free! Beside her store is a male basketweaver who might have some native backpacks for sale. There is also a tiny elementary school with tiny tots who will chorus a cheerful English greeting to visitors.
Do get a guide in Batad Village, because you can get lost in the uphill climb. The fee is .
Buy
There are no real stores to be found within the village proper, but overlooking the village is a cluster of lodges. Here you can buy indigenous souvenirs such as wood carvings, coffee, and rice wine.
Ifugao weavingBeside the Foreigner's Inn at the main village there is a small hut with an elderly woman weaving traditional clothing with a backstrap loom. Her items cost each.

Handmade Ifugao knivesAlso in the main village of Babluy is Juan Buy-a, the village blacksmith. He usually makes items for actual use (not lousy souvenirs), and you may chance upon him finishing a lovely blade with carved handle and scabbard. With some good haggling and a bottle of gin (which you should always carry around in Batad), you may get it at a great price!
Eat
The various lodges offer "foreigner food" (pizza, western breakfast, etc.) in addition to basic Filipino meals. Expect to pay at least .
Sweet potato friesSweet potato is planted in the swidden farms around Batad. So, before going on any mountain hike, an energy-boosting snack of fried sweet potato fries is a must! You can also order a few pieces of boiled sweet potato to take with you. Available at any of the restaurants in Batad.

Cristina'sOffers simple but filling meals many of which are featuring locally grown rice. They also have bright but basic rooms upstairs for per person.
Drink
Expect to pay a premium for bottled beverages. A small bottle of San Miguel or a litre bottle of water may well cost . It is also possible to buy locally made rice wine.

Sleep
There are lodges overlooking the village proper, providing basic rooms with shared bathroom for around per person.
CampingYou can pitch a tent at any of the covered viewpoints overlooking the rice terraces. Basically you can set up your tent anywhere for free, so if you do not want to be as isolated, you can also stay next to the church (main village) or on the grounds of the elementary school (upper village.)

Ramon's Home Stay/RestaurantRamon is an excellent source of help and information about the local history and culture. He will show you traditional artifacts, host bonfires at night, and prepare you freshly ground, freshly roasted organic coffee made from beans grown right in his garden.

Rita'sClean rooms, spotless shared bathroom, ran by friendly family. It's also possible to sleep in a traditional hut.
Go next
Make sure to be back at the end of the road by 9AM to catch the only jeepney back to
Banaue
. You can also walk all the way up to the
Saddle
and downhill to the junction to catch a bus to Solano via Banaue that passes at about 10:30AM.
You may also continue on to the village of
Cambulo
, a difficult 90-minute trek away.