Batangas
Batangas
is a province in the southern part of
Luzon
, the main island of the northern
Philippines
.
It is the fourth richest province and the ninth most populous in the Philippines. It is also the cradle of the Tagalog culture. Being near to Metro Manila, Batangas is a frequently visited area in Southern Luzon, with its share of resorts and heritage sites. The province is also a growing destination for pilgrimages with its number of Roman Catholic churches as well as various pilgrimage sites.
Regions
Wikivoyage's regions for the province mostly share the same boundaries as the original four legislative districts of Batangas, except for Lipa which is included in the Taal Lake Area as an important hub for that region.
The whole province is reasonably close to
Metro Manila
so it gets a lot of Filipino tourists; see
Philippines#Holidays
for times when there may be too many.
Cities and municipalities
- Provincial, educational and cultural capital, and major seaport.
- Commercial capital of the province, better known for its barako coffee. It is also the heart of the Batangueño Catholic identity, home to historically important religious sites such as the 19th-century Lipa Cathedral, seat of the Roman Catholic Archdiocese of Lipa that covers the whole province, and the Mary Mediatrix Parish, noted as the site of the supposed Marian apparitions in 1947.
- Diving spots not far from Manila
- Luxury resorts and mountains, as well as a glimpse of the local sugarcane industry.
- northern gateway, and home to a shrine for St. Padre Pio
- a historic town known for its heritage houses, the Basilica of St. Martin of Tours, and its butterfly knives (balisong)
Talisay - entrance to Taal Lake and Volcano.
- Hometown of Apolinario Mabini
- Small town to the east. South of the town proper is the beaches of Laiya.
Other destinations
Understand
Batangas is just south of
Metro Manila
, and an easy getaway from all the stress of city life. The province is home to about 2.7 million people, in over of land. It is surrounded by
Cavite
and
Laguna
, also not far from the metro, so, this is the next possible destination as you veer south (the next being
Quezon
).
Batangas is the most visited province near Metro Manila, and the province has everything to offer: beaches, cultural heritage, and nature. Most international travellers vist Batangas on a side trip before heading south, to
Puerto Galera
,
Boracay
, and the rest of the Philippines, or north, to Manila and the rest of Luzon. It's rather a shame to just visit the obvious tourist destinations like
Lian
(Matabungkay),
Lipa
,
Mabini
,
Nasugbu
,
Taal
, and
Taal Volcano
, since there is a lot more to be discovered outside the tourist trail. The provincial capital in Batangas City has a relaxed tourism scene, but is an important stopover for trips between Luzon and the rest of the Philippines by land and sea, so there is an oversupply of hotels there to accommodate hordes of travellers either heading north or south through its busy seaport.
The province has grew fast economically, and the area between Santo Tomas and Batangas City (along STAR Tollway and Jose P. Laurel Highway) have seen fast suburbanization as Metro Manila's sprawl continue to spill southward. Commercialization and industrialization permeated almost every corner of the province, but locals struggle to keep their century-old lifestyle encroached. A few small towns like Calatagan, Cuenca, Lian and Lobo remains untouched by chain restaurants, but they maintain a vibrant tourist industry.
Batangas is characterized by a mix of plains and mountains, and the population centers are in the flat areas. The province is also dotted by mountains, such as Taal Volcano, Mount Maculot, Mount Batulao, and Mount Malarayat. Beaches are concentrated in the western coastline, where many resorts stand.
History
Batangas has ben historically inhabited by the Tagalogs before the Spanish colonization, and the present-day has been historically called
Kumintang
(which lends its name to two barangays in Batangas City). The Spaniards arrived in the 16th century and founded its original capital at Bonbon (present-day Taal). In 1578, the predecessor of the current province, Bonbon, was founded and the local Tagalogs were Christianized. Bonbon was soon merged with Mindoro, southeast Laguna, Quezon, Marinduque, and Camarines to form a larger province. A devastating eruption of Taal Volcano forced the relocation of the capital to an area on the Calumpang River (present-day Batangas City). The Spaniards built a trade outpost at Nasugbu, and became an important point for the Manila-Acapulco galleon trade. During the Philippine Revolution, Batangas also led the rebellion against the Spaniards.
People and culture
Batangas has a population dominated by Tagalogs, with a significant Bicolano and Visayan minority. Locals are called
Batangueños
(or
Batangueñas
for women). Filipino Chinese and Moros (Muslim Filipinos) can be found in the cities.
The province is the cradle of Tagalog culture, so Batangueños continue to preserve old Tagalog traditions that have disappeared elsewhere. Many locals live in large households that became rare elsewhere in the Tagalog cultural sphere (
Katagalugan
), where small families are the norm. The Tagalog dialect spoken in the province is distinctive for its rural twang and archaic vocabulary, and is a butt of jokes by Manila folk.
The population is overwhelmingly Roman Catholic; religion remains integral in everyday life, locals are noted for their devotional practices, and Mass attendance remains high. All that said, many Batangueños continue to practice pre-Hispanic traditions, and beliefs in spirits, magic, mythological creatures persist, often in a syncretic fashion with Roman Catholicism.
There is a small expat community in the province composed of East Asians, Caucasians, and Nigerians, either as permanent residents or transients. Foreigners living in Batangas are either retirees, business owners, or students; many are in Lipa and Batangas City. Some have intermarried with locals or with fellow expats.
Climate
Batangas, in general, has a wet and dry climate. Rainfall is infrequent in the dry season for most of the year, but it generally rains frequently in the east, even in the summer months of March to May.
Politics
Batangas have long traditionally voted for right-wing governors, but a deep look rather shows strong polarization at times, running around issues like the economy (in particular, the power generation sector) and infrastructure projects. All these said however, most of the previous governors have contributed to the economic growth and a vibrant tourism industry, helped also by its proximity to Manila.
Get in
By bus
Most key cities and municipalities of Batangas are reachable by bus, from Manila. Batangas City, Lipa, and Tanauan are reachable by bus travelling the busy corridor following STAR Tollway or the Jose P. Laurel Highway, and are operated by
ALPS The Bus, Inc.
,
Jam
,
DLTB
and
Dela Rosa Bus
(using the
N. Dela Rosa Liner
brand), all operating routes from Metro Manila. Taal can be reached by bus from Metro Manila via Lemery, with bus services operated by Jam and DLTB. Nasugbu, Lian and Calatagan can be reached by bus from southwestern Metro Manila, either via Tagaytay (via Aguinaldo Highway) or Naic (via Ternate-Nasugbu Road, completed in 2013).
By car
There are a number of major roads that lead to Batangas from the surrounding provinces. Batangas City, Lipa and Tanauan lie along
STAR Tollway
and
Jose P. Laurel Highway
(
Route 4
), which serves as the major transport corridor. STAR Tollway is a toll road that serves as the major highway from Metro Manila and Laguna, but is a tolled one, so, if you wants to avoid the tolls, you may take the parallel but older Jose P. Laurel Highway, that is mostly congested in the major cities. From Cavite, you may take the
Tagaytay-Nasugbu Road
(
Route 410/407
),
Ternate-Nasugbu Road
(
Route 407
), Diokno Highway (Route 410) or
Ligaya Drive
(
Route 421
). From Quezon, you may take the
Quezon Eco-Tourism Road
(
Route 422/Batangas-Quezon Coastal Road
), or
Batangas-Quezon Road
(
Route 435
).
Get around
You can use passenger jeepneys to go to different parts of the province, but you can use tricycles for short trips. Tricycles could take you to the exact place that you want to go because jeepneys have routes like buses do. However, tricycles are small and cramped, and could only comfortably accommodate three passengers (2 if the passenger is over six feet tall).

By jeepney or bus
Jeepneys are the cheapest way to travel around the province, but these make more stops, and are crowded. Buses are a better option when travelling long distances within the province, but most routes only serve the key cities and municipalities.
Starting fare for jeepneys is for each passenger for the first kilometre travelled. Senior citizens, students, and persons with disabilities passengers enjoy a discount. The fare schedule (in English) is typically posted inside the jeepney for travellers, although you may ask the driver or other passengers themselves if you are not sure how much you should pay. Many locals, like in most other spots in the Philippines, can understand and converse well in English.

By tricycle
By car
The province has an expansive network of national roads, as well as provincial roads. The STAR Tollway and Jose P. Laurel Highway serve as the backbone of the highway system. You may need to drive a car to reach destinations where public transport is inefficient.
Despite the excellent road network, driving can be a nightmare. Most of the city and town centers in Batangas are built in the Spanish colonial era, with grid-based streets that are not designed for the automobile, and are narrow and congested. Parking is nowhere to find in most city or town centers. In relatively large cities such as Lipa and Batangas City, traffic can be congested, especially in rush hour, just as in Metro Manila. As with the rest of the Philippines, driving habits can be aggressive, that a local driver may suddenly cut through your lane or overtake you dangerously. Motorcycles, tricycles, and trucks are perhaps your primary enemies on the highways, as they will try their way over you and other traffic.

Talk
Ala-eh! Batangueño eh!
The Tagalog dialect in Batangas has various words that are peculiar to the Tagalog typically spoken in Manila. Here are some common ones:
are (uh-REH) - this/it
bilot (bee-LOHT)- puppy
dine (DEE-neh) here
ga - particle added in a sentence as a question marker
guyam (GOO-yum) - ant
mabanas (muh-buh-NAS) - hot
mura - (moo-RAH) to scold
utoy (OO-toy ,male)/ining (ee-NING, female) - affectionate terms for a child or a younger person.
The principal language in Batangas is a dialect of Tagalog, which is very distinguishable by its resemblance to Old Tagalog, spoken before the Spanish colonization. Local speakers are noted for a distinctive accent, use of the particles
eh
at the end of sentences and
ga
as a question particle equivalent to
ba
, honorific use of pronouns, and use of words now considered archaic in other Tagalog varieties. People from Batangas that are living in Manila are usually jeered for their supposedly archaic Tagalog.
English is well understood as a second and official language, and is taught at schools and used in official government documents. The Visayan minority speak their native languages in addition to Tagalog and English.
See
Taal Volcano at Taal Lake.
Having your own Taal tour is easy. Taal volcano tour is an easy trek from the shore of the volcano island to the rim via the regular trail. If you're more adventurous, try also the Calauit trail. This allows one to go down to where the crater lake is and see the volcanic activities up close and personal.
Fire trees (caballeros), southeast Asia's answer to Japan's famed cherry blossoms, typically bloom during late summer (April) till the start of the rainy season (June).
Basilica Minor of St. Martin of Tours, located in the Taal section of Batangas, one of the biggest Catholic churches in all of southeast Asia.
Mount Maculot, a 947-m mountain in the town of Cuenca. The mountain has a great view of the Taal Lake and you can also see the Mount Makiling and Tagaytay Ridge.
Do
The province is very busy during the school vacation between March and June, particularly during Holy Week. The rainy season drench the province beginning as early as May and ending no later than November, but it will not keep you from exploring.
The coastal regions has an active
beach
and
diving
scene, concentrated in western Batangas, but if peak season bothers you, there are other seaside destinations as well. Inland resorts with swimming pools, some with slides, are another option, if you want to escape the crowds.
The province provides many destinations for history buffs; most towns have old downtowns with houses and churches deserving a mention.
Taal
is one major destinations for historical travel, but the mid-sized cities of
Batangas
and
Lipa
also provide cultural and historical options.
Buy
The Barong Tagalog, a type of shirt used as formal wear for men.
Batangas is famous for the Balisong knife, commonly called butterfly knives outside of the country. They are illegal in many countries, so if you buy one you risk having problems at Customs, perhaps even being prosecuted.
Batangas is famous for its panutsa (Peanut Brittle), Sinaing na Tulingan (small tuna simmered in a broth of water, rock salt, sampaloc/tamarind, and dried kamias), suman (rice cakes wrapped in banana leaves), and the longganisa and tapa made in Taal Town, the achara of Calaca, and Bagoong of Balayan towns.
Sweets like macapuno, ube and pastillas are famous in the town of Malvar, particularly the Elsa's Sweet Candies in San Gregorio Malvar Batangas.
Saplot Batangenyo, Batangas novelty shirts.
Eat
The Batangueños culinary scene is dominated by both Filipino and Chinese cuisine, and the province has its contributions to the Philippine culinary scene, such as
lomi
,
goto
,
tawilis
,
maliputo
,
bulalo
and
tamales
.
What to eat
Ask the locals about their "kilawin", it is fresh fish soaked in vinegar and acidic juices like lemon, lime, or the local kalamansi, with lots of tiny chopped onions, fresh garlic, and hot peppers, its really good when the fish is still very fresh, as in just caught and straight ahead to the chopping board.
Fried longganisa and Tapang Taal with Atchara
Gotong Batangas at Gotohan sa Barangay in Lipa City
Crispy Pata at The Only Place and The Other Place Restaurants
Pritong Tilapia caught fresh from Taal Lake
Maliputo is a delicious fish found only at Taal Lake
Tawilis is another delicacy - small fishes caught only in Taal Lake
Pancit Tikyano (red stir-fried noodles) from Letty's in Batangas City
Hot Chocolate in a roadside stand en route to Mabini and Anilao
Kapeng Barako, the coffee that made the province famous particularly in Lipa City for its famous Cafe de Lipa (with branches at SM-Mall of Asia, SM City Lipa, Petron Star Toll, Market Market and main office at 032 San Carlos Drive Mataasnalupa Lipa City, opposite to Robinson's Lipa Exit
Bulalo and Halo-Halo at Almarius Grill in Lipa City
Lomi Noodles at Lomihan sa Bario in Ibaan Batangas
tamales of rhemars in Ibaan batangas.
Drink
if you want refreshing drink, try the mura juice with mura meat. its is young coconut juice with the fruit's meat, really good when served very cold mixed with condensed milk for sweetness.
Try Lambanog from San Juan town. It's a local brew from cane.

Sleep
The reputation of Batangas as a tourist destination has resulted in the sudden growth of one-stars, numerous bungalows over the water accessed by boardwalks, with wooden stairs leading down to the sea, and three-stars that are cheap by international standards.
Lago De Oro Cable Ski Park and Resort

phone: +63 43 2132006

address: Bo. Balibago, Calatagan

Facing South China Sea, Lago de Oro Beach Club is in Balibago, in the town of Calatagan. The first cable wakeboarding park in the Philippines. The beachfront resort offers cable television, refrigerator, and a mini-bar in their rooms. They also have a balcony/deck.
Stay safe
Temperatures don't reach beyond , but the heat index can soar. Always have sun protection when on the beach. Weather is very changeable during the hot dry and wet seasons, and it's possible to be sunny and rainy within the same day. Heavy downpours are common, but flooding is less of a concern. Typhoons are possible to hit Batangas from June to October.
Roads outside STAR Tollway, in the province are of medium to high quality, but can be narrow, with houses encroaching the shoulder. Driving habits can be unnerving, and motorcyclists are suicidal; many road accident deaths in the provinces are due to impaired driving or dangerous overtaking especially by motorcyclists.
Tricycles are readiliy available from hotels or bars to transport terminals and vice versa in, but watch out for drivers ripping you off; a trip by tricycle from the east and west sides of the Calumpang River in Batangas City, are notorious for scam attempts during evening hours when jeepneys are limited. Better take a jeepney if possible.
Petty crime is rare in the province generally, but watch out when staying in the cities, especially if you look touristy. Pickpocketing at jeepneys is possible during rush hour.
There is risk from Taal Volcano, roughly at the center of the province. Destructive earthquakes are rare, but can happen. In 2017, an earthquake off
Mabini
has damaged some structures around the Metro Batangas area and some coastal towns to the west, including historical churches such as the Taal Basilica and the Basilica of the Immaculate Conception; the former having masonry falling off its façade and the latter being closed for six months for repairs.
Stay healthy
The key cities and municipalities have good coverage of hospitals and clinics, as well as pharmacies and drug stores. Elsewhere, they are spotty.
Dengue is a general health concern, especially during the rainy season from June to September. Vaccine against dengue is available, but because of health concerns and ongoing controversy, it has been taken off the shelves. Bringing mosquito repellant is adequate.
Stray cats and dogs are widespread in most parts of the province, and rabies is another concern. Antirabies vaccines is recommended, especially when dealing with local animal life.
Heat stroke can be another risk during the summer months, and do not forget to drink lots of water and wear light.

Respect
By and large, Batangueños are conservative, religious, environmentalist, regionalist and relaxed over their Manila counterparts.
Batangueño Tagalogs speak with a distinctive rural twang, often mistaken for shouting or anger. Trying to emulate their accent can be seen as mockery than communication. Most locals can understand standard Tagalog well, but having a grasp of the local dialect can make them smile. English is well understood and spoken by many, but as you veer away from the cities, expect rudimentary English skills, so having at least knowledge of Tagalog can bring you far.
Unlike in other Tagalog areas, kinship titles are less used outside family circles, so, don't always expect your friends will call you kuya (KOO-yuh, "big. brother"), ate (UH-tay, "big sister"), etc., or the other way around. General Tagalog honorifics still applies, despite the dialectal differences. In addition to the distinction between formal and informal "you", ho is often used over po, and the third-person sila ("they") is used as a formal "you".
Local folk still dress conservatively, and being a foreigner can be disadvantageous, unless you stay in cities. Churches and religious sites follow strict dress codes; you may be turned away from Mass if you violate the dress code. Women travellers should wear modestly: a T-shirt or blouse along with jeans or a long skirt, or a sun dress will suffice. Skimpy shorts and miniskirts are discouraged, and in some places, sleeveless tops and dresses are also prohibited. Some locations will provide shawls or wraparound skirts for those who did not follow the dress code. Men should worry less about dress codes, but sleeveless shirts (tank tops, muscle shirts) and jersey shorts are discouraged. Caps and sunglasses are also prohibited.
Environmental protection, especially regarding power plants, is a very sensitive topic in Batangas. Despite all the wealth the province has today, Batangueños continue to value environmentalist views supported by the Roman Catholic Church; right-leaning or denialist views are not tolerated in any way whenever you talk with locals, so steer clear of it whenever someone brings up that topic. And most importantly, respect the province's sensitive environment.

Cope
Visa renewals can be done at the Bureau of Immigration office in Batangas City, minutes away from the port.

Go next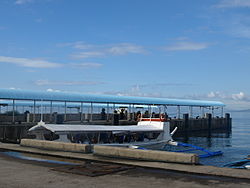 Many travellers transit through Batangas to catch a ferry to another island. Batangas has a large port with ferries going to many places in the Philippines. The boats/ferries called RoRo (Roll-on, Roll-off) usually can accommodate your own vehicles. Schedules change frequently so check ahead of time. Also, the terminal is a focal point for many islands and therefore sees a lot of traffic. Expect longer lines and waiting times especially during public holidays, especially Holy Week. The Filipino culture observes and respects queueing so lines move orderly and quickly.