Batangas (city)
Batangas
, the capital of
Batangas
province, is a major seaport, second to Manila among the ports on Luzon, and a gateway to the rest of the archipelago. With a population of over 300,000, Batangas is seeing fast growth, but its prominent sights like the city's religious sites and heritage homes are yet to have a mention to the tourist trail.
Understand
The name "Batangas" can be ambiguous; it can either refer to the city, the minor metropolitan area,
Metro Batangas
, or the province. The term is far more used to refer to the province, but "Batangas" is also the original name of the town before it became the city it is today. Media will use "Batangas City" to disambiguate it from the province, but in ordinary speech, the city is just referred to as "Batangas", the same as the eponymous province.
Though considered their own government units, this article covers also municipalities that belong to the larger area called
Metro Batangas
:
Batangas city proper (329,874)
San Pascual, to the west (65,424)
Bauan
Alongside the towns of Bauan and San Pascual, Batangas City forms a minor metropolitan area, Metro Batangas. The two municipalities has seen major growth in industry and real estate and commercial developments are on the rise. Many residents of those towns commute to Batangas City to shop, study and work.
The city is home to the Philippines's second most important seaport, the Batangas Port, making this an important entry point to Luzon and the rest of the Philippines. Batangas City is also the educational capital of Batangas and a university town on its own, hosting major universities in the province like Batangas State University, Lyceum Philippines University and University of Batangas. There is a small expat community in the city, composed of Chinese business owners, some Nigerian students, and a few Caucasians. Life in the city is rather laid back and living costs are cheaper.
The city is continuing to grow, but it is yet to grow its skyline, and growth remains horizontal, leading into urban sprawl until this day. You can travel around by jeepney, tricycle, or car, but driving on your own is not for the faint-hearted. Many travellers taking the land and sea route from Manila to the beaches in the south will have a layover in Batangas, and there is an oversupply of hotels to accommodate travellers making a stop in the city or avoiding overbooked seaside resorts.
History
The area served as the center of the ancient barangay of Comintang (
Kumintang
) long before Spanish colonization. Spanish settlement began in 1572 and the original town center was founded in 1581, on the present-day area of sitio Hilltop in barangay Kumintang Ibaba. After the destructive eruption of Taal Volcano destroyed the original capital at Bonbon (present-day
Taal
), the settlement became the new administrative center and capital of Batangas, then called the province of
Bonbon
.
The current local government was set up by the American military in 1901. During World War II, the town served as a landing point by the Japanese, and dive bombers devastated most of the original town and its air field. The town was rebuilt after the war. The current city, originally intended to be named
Laurel City
after Philippine president Jose P. Laurel, was chartered in July 14, 1969. The completion of STAR Tollway in 2007 further boosted Batangas City's status as an international port, alongsides the expansion of it port complex. In 2017, the city was affected by an earthquake swarm that originated off Balayan Bay
Climate
The city has a dry and wet climate, but it greatly influenced by the monsoon climate that cause frequent rainfall to the east. Temperatures can be as high as or as low as , with little difference by month, as in tropical countries. The dry season is very short, running only between January and April, but sporadic thunderstorms still occur. The rainy season starts as early as May or late as June. Batangas City is not as rainy as its nearest large city, Lipa or even Manila, but it is relatively hotter than the two.
Location
Batangas City is surrounded by of San Jose and Cuenca to the north, San Pascual and Bauan to the south, Ibaan, Taysan and Lobo to the east, and Verde Island to the south. The city covers of lowland, mountains, and the island of Isla Verde. Most parts of the city remains rural, and the population is largely concentrated on the mouth of the Calumpang River.
Batangas City is prone to typhoons, but the city is less prone to earthquakes. The last recorded earthquake was an earthquake swarm in 2017 that damaged some buildings, especially its historic Basilica of the Immaculate Conception. Typhoons frequently pass through the city, especially from June to September. Some of them made major damage, especially on crossings between the Calumpang River.
Economy
Much of the rural areas of the city relies on agriculture, but the urban areas rely on trade and an expanding industrial base. Real estate developments are also part of the local economy. The city is also the educational center for Batangas, and the city is home to many major colleges and universities in the province.
The city center, in the Poblacion area, is a fast growing central business district, with new and larger buildings and establishments being constructed. Most shops, offices, and schools are in this area.
People
Batangas City has about 329,874 inhabitants according to the 2015 census.
The locals are mostly
Tagalogs
, with a large Visayan (especially Cebuano) and Chinese minority. There is also a small Muslim minority as well, mostly settled in Cuta and Malitam. The city also has a growing African, especially Nigerian, community, mostly living to study in the universities, and a few have formed their families in the city. There are a few who leave for
Metro Manila
for work and study.
Orientation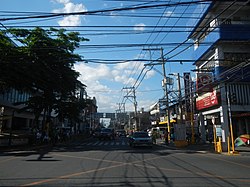 The city is divided into 105 barangays, ranging from an urban neighborhood to a rural village; many barangays with suffixed names are grouped into unofficial clusters (e.g. Kumintang, Pallocan). In general, the city can be divided into five broad areas, but this guide considers the area around Batangas port a separate district.
Poblacion - The city proper, and the old downtown, further divided into 22 numbered barangays; has most of the shopping and higher education institutions. Batangas City Hall, Plaza Mabini, and the Minor Basilica of the Immaculate Conception lies in this district. Various ancestral houses, most notably the Pastor Mansion, have Poblacion their home.
East - Much of this area's activity is centered on five suburban barangays east of the Calumpang. You can find most food and shopping at SM City Batangas, but there are also scattered local food destinations. The rest is rather mountainside country off the beaten path
North of Poblacion - Includes barangays Alangilan, Balagtas, Kumintang Ilaya and Kumintang Ibaba . It has the capitol and government offices, growing nightlife, mid-class subdivisions, and another major university, the Lyceum of the Philippines University Batangas. Along the Diversion Road are ongoing commercial developments surrounding the new central terminal, Largely agricultural lands with scattered barangays.
Pier Area - Low to mid-class area west of Poblacion, composed of barangays Cuta, Malitam, Santa Clara, and Wawa. This district hosts the Philippines' second major seaport, Batangas Port. Not far from the port are low-cost hotels, guest houses, recreation, and the city's second major market, Julian Pastor Memorial Market (Bagong Palengke or simply, Bago).
Southern Batangas City - More of seaside and foothill communities. This area houses new industrial developments, Pilipinas Shell's refinery, and Monte Maria.
Western Batangas City - Coastal suburbs, with inland barangays to the north. There is not much any food destinations here, but you can find places to relax not too far from downtown.
The towns of San Pascual and Bauan are considered their own local government units, but is grouped as part of Batangas City for this guide.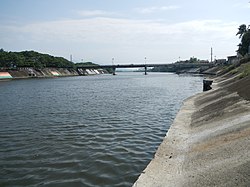 The
Calumpang River
serves as an important reference point: everything west is highly urbanized, and everything east is generally rural, save for Gulod, Pallocan, and Libjo.
The Poblacion is the old downtown, with P. Burgos Street dividing the district into a commercial area and residential district. The western part is the classic commercial center, while the eastern part of Poblacion is largely residential. Most accommodations within Poblacion are east of P. Burgos.
Tourism information
Batangas City Tourism Office

address: City Hall Complex, P. Burgos

The city's official website also provides an overview of destinations in town, and maps for transportation in the Poblacion.
Get in
Batangas's nearest airport is in Manila, but the city is a major sea transport hub, with good connections to the rest of the archipelago through frequent ferry and boat services. You will most likely to have a layover in Batangas if travelling from Manila to Mindoro and/or Visayas through a combination of land and sea travel; most travellers from either way stop at Batangas before continuing onward in either direction.
By bus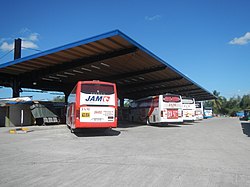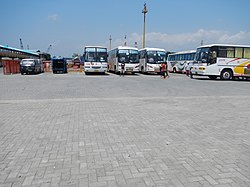 Most travelers come to Batangas City by bus; most buses come from Manila, but there are services within the province and from nearby
Quezon
province.
Batangas City Grand Terminal

address: Diversion Road, Alangilan

Central bus station, serving trips to and from Metro Manila and Lucena. Buses boarding RoRo ferries also stop here to drop off passengers. Jeepneys and UV Express are available from there.

Batangas Port Bus TerminalTerminal for southbound buses from Manila, and stopover for buses taking ferries.
From about 2013, all bus services terminating at Batangas City share a common terminal at Diversion Road, with connections to local jeepney services to downtown. Bus companies used to have their own terminal within the urbanized area, rather like the situation in Manila until today. Southbound buses, however only stop at the Central Terminal to drop off some passengers, and head for the port (where they terminate, or take the ferry).
Jeepneys to downtown or
Mabini
are available from the Grand Terminal; there are convenience stores, food stalls,
pasalubong
shops, a Shopwise supermarket (opened December 2018) and a two-storey strip mall under development, Transit Point. Nearby, along Diversion Road, are some fast food restaurants and some mid-range dining. Restrooms are available for free at the Grand Terminal since June 2019; before that, there is a fee, depending whether you urinate or defecate.
The terminal at Batangas Port has good connections with boat services and one local jeepney route to downtown (BP-01 Batangas-Pier), but is rather more Spartan and functional over the Central Terminal. Other food and drink options are rather found across the boat terminal itself, and are generally accessible only to boat passengers.
Bus companies and fares
There are multiple bus operators operating routes to Batangas City from Metro Manila. Bus trips usually take the STAR Tollway or Jose P. Laurel Highway, or both, with the turning point at Lipa, and trips may take 1½-2 hours via STAR Tollway, or even 5 hours via Jose P. Laurel Highway.
Bus tickets approximately range from to the Grand Terminal or to the port one-way. You can avail for a 20% discount if you are a student, senior citizen, or a person with disability by provide a valid ID to the conductor or ticket seller, though conductors are reluctant to provide discounts if you produce a foreign ID. Tickets can be bought inside the bus, or at the terminal. Buses are congested during the weekend and holiday periods (Holy Week, All Saints Day, Christmas, New Year), and it is inadvisable to travel by bus at those periods. With the exception of P&O, no ticket booking is needed for most carriers terminating at Batangas City (many will have a conductor who hands out a ticket based on your point of origin), as they don't run beyond 200 km.
Both of the city's terminals are busy through the day, with arrivals and departures between 15 to 30 minutes, and there is stiff competition on level of service between operators on services from Manila. There are services from Lucena as well, but are less frequent.
ALPS The BusOwned by Al Perez, a Batangas local, they provide half-hourly departures from their Metro Manila terminals: Alabang (Muntinlupa), Buendia (Pasay) Cubao (Quezon City), Manila and Marikina.

Batangas Starexpress CorporationOperates from Alabang, Buendia and Cubao, but trips are slightly slower with stops at STAR Tollway exits. BSC operates also half-hourly services to Nasugbu, reviving again the route ALPS once operated until the early 2010s.

Ceres TransportOperates from Alabang, Buendia and Cubao terminals, including trips bound for destinations in Visayas using RoRo ferries. This bus company is related to Ceres Liner which serves most of the Visayas, and is owned by the Bacolod-based Yanson Group.
Gold StarPart of Ceres Transport, this one use larger imported Chinese buses, some with onboard restrooms (look for the "With CR" sign). Their buses have a vivid yellow livery. Most of these buses run the slower route through the centers of Tanauan and Lipa, so if you are seeking faster services that bypass those cities, find one with "ACTEX Derecho" or "CALABARZON" signs on the windshield.
DLTBCoHistorically known also as BLTB (Batangas-Laguna-Tayabas Bus Company), they travel also from their Buendia, EDSA and Cubao terminals.
JamUses all-AC coaches on services from Cubao or Pasay. Low-floor city buses are used as well, especially on peak hour services.
N. Dela Rosa LinerHas an all-AC bus fleet with 2–2 seating (3-2 for some of its older buses), departing from Alabang (and occasionally, from Cubao).
P&O TransportationHourly departures to Tagkawayan, Quezon. Advanced booking required if coming from Tagkawayan.
Supreme TransportOperates a mix of AC and non-AC buses to Lucena (via San Juan), and held a near monopoly on the Batangas–Lucena route until recently.
Premium express bus
services, branded Point-to-Point (P2P) buses, are proposed to run to the Grand Terminal from points in Metro Manila, namely Alabang Town Center and Starmall Alabang in Muntinlupa, The Circuit and Greenbelt in Makati, PITX in Parañaque, and Ortigas Center in Pasig, but no operators have been granted franchises for any of these routes as of July 2019.
By car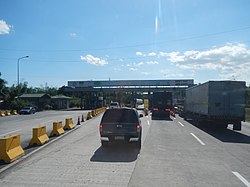 Batangas City serves as the southern terminus for the STAR Tollway, and a drive from Metro Manila may take 1½-2 hours. Tolls are required to be paid upon entry and exit, so a toll-free option is the parallel but congested Jose P. Laurel Highway. Another option is to drive through STAR Tollway and exit at Lipa, then head for Jose P. Laurel Highway.
Because of new economic developments and plans by the provincial government for the area, new expressway-grade bypasses has begun construction since 2018, that will further make access by car travel easier.
By boat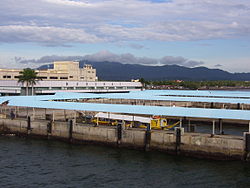 Batangas Port

address: Santa Clara

Locally known as the Pier (pronounced as pee-YUHR locally), this is the sea transport hub for the Southern Luzon region, and the alternative to Manila's congested seaport for both passenger and freight boats.

Sitio Berberabe boat pier

address: Pinamucan Proper

Serves smaller wooden motorboats (bancas) from Sabang pier at Puerto Galera, since those boats are banned from Batangas Port since 2018 (see the Sabang article for further information).
Batangas City is a major seaport serving ferry and shipping services to and from the rest of the archipelago. There are roll-on/roll-off (RoRo) ferry service connecting Calapan in Mindoro, and interisland ships that call at Batangas Port. The port becomes congested during major holiday periods (Holy Week, All Saints' Day, Christmas and New Year), so better avoid travel by sea during those times.
Motor boats with wooden hulls used to leave at Batangas Port, but are since banned, and only depart from the smaller boat pier at Sitio Berberabe, far to the south, and only accessible by rather inefficient and infrequent jeepney services from the city proper.
Shipping companies
Montenegro Shipping Lines - Odiongan
Super Shuttle - Calapan, Roxas (Mindoro), Caticlan, Odiongan, Dumaguit, Culasi, Masbate City, Iloilo City, Bacolod, Cebu, Cagayan de Oro
By rail
Philippine National Railways once operated rail service to Batangas City, but it has been closed, and its former tracks now part of slum communities. Rail service is now being revived under the government infrastructure program, with support from the provincial government, and Batangas City can be accessed by rail once again when completed. Construction of the railway, however, is expected to begin in 2019 or 2020, and will involve extensive right-of-way clearing, including removal of many existing houses and roads.
By plane
The only nearby airport is
Ninoy Aquino International Airport
(NAIA) in
Metro Manila
, but there are proposals to construct a new airport as a redevelopment of the Fernando Airbase in nearby
Lipa
. From NAIA, you can either bring your rental car or take the airport bus to Alabang or Pasay and transfer to provincial buses.
Get around
Jeepney
and
tricycles
are the economical ways to get around Batangas City and its suburbs. When getting to the other towns, jeepneys are the most efficient way to travel without bringing a car, though buses might be another alternative, which is however best advised for longer distances.
The downtown areas follow the Spanish-era grid system, providing easy navigation on foot or by car, but one-ways are the enemy if you travel by car. Batangas City and Bauan has numerous one-way streets, and it is advisable to use navigation apps or paper maps if you choose to drive. Public transport is still the well-advised option, as parking spaces are scarce, and traffic is hectic.
There are no air-conditioned taxis within the city, and after sunset, public transport to the downtown becomes hard to find. The risk of getting scammed by trike drivers taking advantage of the lack of jeepneys to destinations they serve increases at these times, so always ask before you hitch a ride.
By jeepney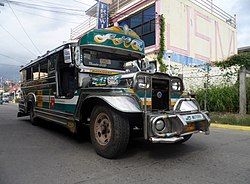 The easiest way to go around Batangas City is by jeepney, which follow a numbered network divided into 5 color-coded sectors:
BE (orange) - eastern barangays, Dagatan in Taysan, Lobo
BN (red) - northern barangays, San Jose, Lipa, Rosario
BP (yellow) - urban barangays (Poblacion, Alangilan, Kumintang Ilaya/Ibaba). The Batangas–Capitolio/Hospital/SM route (route BP-03) is an exception, being coded white.
BS (green) - southern barangays (e.g. Pallocan West, Libjo, San Isidro, etc.)
BW (blue) - western barangays, San Pascual, Bauan, Mabini, Lemery
Routes are numbered, but they are not used by locals, and routes are called by their destinations instead.
Jeepneys travel on the major thoroughfares of the city, as well to some destinations in the rural areas. You may find jeepneys in the terminal once you alighted the bus. Just ask for the destination or look at the signs. As of 2019, fares cost at least for the first , with an additional for each kilometer added. During rush hours, jeepneys can become crowded, with students and workers filling almost all room inside, and some passengers riding on the roof or the rear running board (which are common but dangerous and illegal practices). Pickpocketing incidents have increased recently, so watch out if bringing valuables with you, though most victims are students and wealthy locals.
By tricycle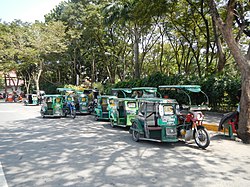 Tricycles
are a common mode of transport in Batangas City, and is generally a motorcycle with a sidecar with a roof and windshield, as in most parts of the Philippines. Tricycles do not only serve as a kind of taxi: many also serve as school buses during school days and some are used to carry goods from marketplaces to homes and vice versa. Foreigners will not generally fit into the sidecar, which is designed for the smaller locals. Tricycles will practically find detours as some roads ban them outright. The fare is generally per kilometer, and it becomes expensive when travelling farther away. Beware of dishonest drivers who tout unwary passengers, especially at night, and of unlicensed tricycles, where safety is uncertain (and is banned by the city).
Haggling
is practical when going to far-away spots away from the city proper.
By car
Jose P. Laurel Highway, STAR Tollway, Palico-Balayan-Batangas Road, and Batangas-Quezon Road are the major highways in the area, but only STAR Tollway is free-flowing and limited access (with toll payment required) All the other highways are generally undivided, and they will pass through residential barangays.
Traffic is very awful in Batangas City and the suburbs of San Pascual and Bauan, and be prepared for unending traffic jams on busy days. Traffic is pleasant on the towns of San Jose and Ibaan, but watch out for careless drivers, especially at night. Motorcycles, tricycles, and trucks are perhaps the worst offenders in the roads, as they will try their way all over other traffic. Drunk driving is very common, especially on the weekend where locals get together for a drink.
Expressway-grade bypasses have been under construction since 2018, but will not open until 2022.
See
Batangas is a major midpoint for travel between Manila and the rest of the Philippines, and the city does have some spots that remains untouched to travellers with the common layover in the city. The city has much squalor as most Philippine cities, but it is a little laid back, and exploring some spots in the city may provide an overview of the Batangueño life and culture.
The city dates back to colonial times; the
Poblacion
area houses architectural and cultural heritage from both the Spanish and American colonial periods. Most cultural options lie in the area east of P. Burgos Street.
Churches and religious sites
Basilica of the Immaculate Conception

address: M.H. del Pilar Street

A historical church in the center of the downtown area, it dates back to the late 16th century. The church was damaged by an earthquake swarm in March 2017, and was closed for over ten months. It has been since renovated.

Monte Maria BatangasConstructed in 2013, it includes chapels and largest statue of the Virgin Mary in Asia as Mary, Mother of All Asia. The location in the coast also provides views of Puerto Galera and Verde Island.
Parks
Plaza Mabini

address: P. Burgos Street, Poblacion

The classical downtown plaza in Poblacion, renamed in honor to revolutionary Apolinario Mabini. Inside the plaza is a monument to Apolinario Mabini, and a souvenir shop, Pasalubong Batangueño. The park hosts a giant Christmas tree, Nativity scene and mock white Christmas scenes during Christmas season. Free WiFi available.

Laurel Park

address: National Highway corner Telecom Road

Little circular park, now part of the Batangas Provincial complex. Park hosts busts of important historical figures from the province, a burned Hummer where Luisito Icaro and Eric Landicho were killed in 2006, and a monument written in Baybayin to honor the Filipino language. Entry to the capitol complex needed.

Batangas Provincial Community Park

address: Tolentino Road, Kumintang Ibaba

Provincially-maintained park, with wide grassy spaces and mini-amphitheatre
Museums
Acosta Pastor HouseHeritage house built in 1883, now a museum.

Museo Puntong Batangan

address: City Hall Complex, P. Burgos

Presents the city's cultural heritage and history.
Other sites
Batangas Provincial Capitol

address: Jose P. Laurel Highway, Kumintang Ibaba

Though found inside a gated government complex, the Provincial Capitol building is resplendent of American-era Neoclassical architecture. It hosts a museum of Batangas history, and also art from various local artists.

Bahay Pamahalaan, Lungsod ng Batangas

address: P. Burgos Street

Historic city hall, housing the city local government.
Do
Travelers to the rest of
Batangas Province
use Batangas City as a jumping off point, but the city serves also as a starting point for travelers to
Puerto Galera
. There are few any unpolluted beach areas around the city, and one beach in the Santa Rita area near the port complex, while popular with some locals, is badly littered with waste from seaside residential areas. In-city beach resorts can be found in Pagkilatan, just south of the Monte Maria pilgrimage site. Nearby seaside resorts are found in
Mabini
and
San Juan
. Inland resorts are also numerous, but access is mostly poor in many of them.
Festivals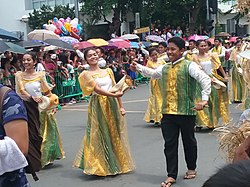 Feast of the Holy Child (Santo Niño) - Held every January 16, and dedicated to the Santo Niño ng Batangan. The festivities start with the fluvial parade of the Santo Niño on Calumpang River. Residents invite everyone into lavish feasts they prepared for that day. Major streets in the Poblacion are closed, causing traffic jams outside. The city is heavily packed, making the local festivities an alternative to the ones in Cebu and Iloilo, but not as lively as the celebrations in Visayas.
Good Friday procession - A solemn procession where various Catholic religious images are paraded through the Poblacion and is returned to the Basilica of the Immaculate Conception. Devotees hold candles throughout the parade. Major streets are closed to traffic.
Sublian Festival - A week-long festival reviving the old Batangas Tagalog tradition of subli, a rain-making dance. Festivities last a week, culminating with the Batangas City Founding Day. Various schools and companies send groups to compete in dance competitions, with winning groups parading in Batangas City Founding Day.
Batangas City Founding Day - July 23 - The most colorful of the local festivities in Batangas City, commemmorating its cityhood since 1969. Various local businesses are also promoted in the festival.
Sports
Batangas City Sports ComplexHas a 20 by 50-meter 8-lane swimming pool, running track and basketball courts.
Batangas ColiseumMulti-purpose arena, sometimes hosts professional league games held in Batangas, as well as local sports events and concerts.
Learn
Batangas City is the education center of Batangas, and hosts the province's major higher education institutions. Major higher education institutions include the Batangas State University (including annex in Alangilan), Lyceum Philippines University Batangas, St. Bridget College and University of Batangas, and a number of colleges and vocational schools. There are a few international schools that cater to children of foreigners. There have been an increase in foreign students, especially Nigerians, in local universities.
There is one public library along P. Burgos, between the central police station and University of Batangas' elementary department, but is being reconstructed as a 3-storey building since 2018 and is not expected to open until about late 2019 or early 2020.

Buy
The major shopping area is found on the area in Poblacion approximately bordered by P. Burgos to the east, Rizal Avenue to the south, and D. Silang to the west and northwest.
Inside Poblacion
Bay City MallOwned by a local retail company, it is a local favorite. It houses a Citimart department store and supermarket, a National Book Store, numerous ukay-ukay outlets, Jollibee and Chowking, and other local businesses.

Citimart

address: Rizal Avenue

Owned also by the retailer owning Bay City Mall, this is a large department store building with a supermarket below. The department store remains closed, but it hosts a Greenwich and a Chowking restaurant.

Unitop

address: A. Evangelista Street

A local favorite, with its own supermarket, in the basement. It sells household items, clothes, and groceries.
Outside Poblacion
Puregold

address: Calicanto Road

Has a Mang Inasal and a BDO ATM.

phone: +63 43 722-0276

address: National Highway, Pallocan West

Opened in 2005, it hosts a large department store, hundreds of shops, and movie theaters. It underwent expansion that added more restaurants, and a Kidzoona children's play area. Also has a SM Supermarket.

SM Hypermarket

address: National Highway, Balagtas

This branch of this nationwide chain used to be a Makro store, and has large parking space, perfect if you bring a car with you. Prices are expensive compared to the others downtown. Has a BDO ATM, food court and a Watson's pharmacy, everything you need in one place.

Xentro Mall Batangas

address: Diversion Road, Alangilan

Opened May 2018. Single-story mall with a Savemore supermarket, and some shops and restaurants.
Public markets and talipapas
There are also public markets and
talipapas
(wet markets) in the downtowns and some major barangays, and are good for local fruits, vegetables, meat and fish. Batangas City has two major public markets, with a number of
talipapas
in key barangays. The other towns also have one public market.
Batangas City Public Market

address: D. Silang Street

An important marketplace for the city for years since the 1900s, it hosts small services, clothing stalls, and local meat, fish and produce. It also has some small restaurants specializing in the regional cuisine and a McDonald's ice cream stall. Parking is also available at a fee of .

Julian Pastor Memorial Market

address: DJPMM Access Road, Cuta

A newer public market built to the south. Has a wet and dry section. A dry section to the west is under construction and almost complete, but still unopened.
Eat
Batangas City has a lot of restaurants, but a more local experience is to eat at the plainer restaurants selling homemade dishes or Batangas specialties. The city abounds in places catering to local tastes, and better locations for local specialties are not hard to find. For a mid-size city like this, items are in overall, moderately priced.
Budget-friendly options are mostly found downtown, but upscale local dining is mostly in suburban locations like Alangilan.
Poblacion
The downtown has many restaurants, not limited to fast food chains, and you can also find the Filipino-style eateries, which are plain but they can provide cheap and local food.
West of P. Burgos
Bafoo's

address: Ricardo Building, Rizal Avenue

Specializes in the Batangueño favorite, lomi, but also serves other regional dishes. It now has branches in Pallocan West (near Calumpang Bridge) and Kumintang Ibaba (near University of Batangas).

Ng Wanam Food House

address: 20 A. Evangelista Street

Best noted for their affordable pancit, but only open during the morning. Location is also not too far from downtown shopping areas.

Johanna's Grill

phone: +63 43-723-2289

Retro-themed restaurant specializing in baby-back ribs.
The "
Lumang Palengke
" does have a
East of P. Burgos
Eat n' Be Well Vegetarian Haven

address: 25 C. Tirona Street

Cooperative-owned restaurant serving vegetarian dishes.

Ho Tsai

address: A. Evangelista Street

One of the first Filipino-Chinese restaurants in the city. Serves Filipino-Chinese fast food like pansit, lomi and mami, as well as common Filipino favourites, like Filipino-style spaghetti, fried rice and pulutan dishes.

Hungry Hippo

address: National Highway

Small hamburger restaurant with stall below and tables above.

Mirellis Diner

phone: +63 43 984-3846

address: Lt. Col. D. Atienza Street

Little sit-in restaurant serving Filipino and Western meals, including burgers, sandwiches, pancit, silog, and others.

Nung Ru Thai

phone: +63 943 335-5079

address: M.H. Del Pilar Street

Owned by a Filipino who lived in Thailand, this is only one of a few restaurants that serve Thai and Indian cuisine in Batangas.

address: 69 P. Burgos Street

Small, but nice and chic place to hang out and eat if you stay on the hotel just above.

Mr. Kimchi

address: The Plaza, P. Dandan Street

Korean dining, complete with hot pot, barbecue, and soju, within the downtown at a reasonable price.

Taza Mia!

address: P. Dandan

Part of local coffeeshop chain, serving coffee and pastries.
East of Poblacion
Big Mike's Grill House

address: 5 Pastor Avenue, Pallocan West

Serves sizzling favorites like sisig, bangus and gambas. You can also try their house style baby back ribs, fried rice, and burger.

F. Baylosis Crispy Pata

phone: +63 43 708-6820

address: G.C. Berberabe Subdivision, Pallocan West

Houses the city's favorite crispy pata and chicken, for locals and tourists alike. There is also a wide variety of Filipino dishes and sides, starting at . The restaurant has an ambient atmosphere and friendly staff, and prices of meals are reasonable. You can eat with the sounds and voice of an acoustic guitar player. Private karaoke rooms are available for rent for those who want a feast with eating, drinking and singing. There is also a function hall, "Hall of Fame" for large events and meetings.

Wanam sa Bukid

address: Doña Romana Building, National Highway, Gulod Labac

Serves various Filipino favorites, such as chop suey, miki noodles, fried chicken, fried lumpia (spring rolls), and crispy pata.

Jocas Lomi Haus

phone: +63 43 402-0558

Open-air eatery specializing in lomi, Batangas's major contribution to the Filipino cuisine.
North of Poblacion
A&M Village Restaurant

address: Arce Subdivision, Kumintang Ibaba

Serves a variety of Filipino dishes, but its specialty is its beef caldereta and tadyang

Al Goto King

phone: +63 43 783 0702

address: Diversion Road, Balagtas

Small and often crowded restaurant, specializing in bulalo and goto. The restaurant has parking spaces beside.

phone: +63 43 984-7859

address: National Road, Balagtas

Restaurant serving a fusion of Filipino breakfast and American fast food.

Cafe de Alps

address: Ciudad Food Avenue, Diversion Road, Alangilan

Bus-themed restaurant and cafe, serving Western and Filipino dishes

Hinomaru

address: Diversion Road, Alangilan

Jhorjanes

address: National Highway, Balagtas

Specializes in the lomi and bulalo recipes, but they also serve local seafood, chicken, and vegetable dishes.

Kainan sa Sawali

address: Antonio Carpio Road, Kumintang Ibaba
Port Area
Jovita Cafe

address: DJPMM Access Road, Santa Clara

Casual restaurant not far from 3 nearby hotels, and another branch near SM City Batangas. They serve coffee, pasta, pastries, and other. This is the only place in town that serve bagel sandwiches.

The Other Place

phone: +63 43 723 1891

address: Rizal Avenue Extension, Santa Clara

Filipino-themed restaurant serving common local fare.
Food parks or food courts
Drink
There are rather a few bars found in town, in contrast of Lipa, but if you are seeking a drink for the night, you can find some bars scattered around the city proper.
8th Avenue Restobar

phone: +63 43 702-5754

address: Pastor Avenue, Pallocan West

Perfect place to jam and drink through the night, also near to hotels. No WiFi is available in-restaurant.

D' Brothers Sports Bar

address: G.C. Berberabe Subdivision,

Sports-themed restaurant and bar, perfect place to talk, drink, and watch sports. Popular among locals and foreigners alike
Sleep
Batangas City hosts many hotels and guest houses, many of which are not listed. Guest houses and apartments are increasing in demand as both local and foreign students flock the city. DJPMM Access Road near the port is home to hotels popular for travellers who will stay in the city for the night before going to board. Many of the available accommodations are found in Cuta, Santa Clara, and Sorosoro Karsada.
Budget
Avenue Pension House 1, now the PGR Travelers Inn, 30 JP Rizal Avenue Batangas city. +63 43 300-1964. from per night.

City Star Travel Lodge

phone: +63-43-702-1467

address: Jose P. Laurel Highway, Sorosoro Karsada

Yellowbell Country Inn

address: P. Panganiban Street

Clean, has parking, cold water shower, TV, free Wi-Fi, generator. They also have some 2-bedroom 2-storey apartments with kitchen at a night. Tricycles can usually be found parked right outside.

Mac-Ro Lodge

phone: +63 43 722 1038

address: P. Panganiban Street

Air-conditioned rooms with cable TV and backup generator.
Mac-Ro and Yellowbell are on the same street a short block apart, and their signs are visible from the other, so if one is full it will be convenient to try the other.
RGR Traveller's Inn

phone: +63 43 723-6021

address: DJPMM Access Road

Air-conditioned rooms, but without cable TV or Wi-Fi. You can board a jeepney if you are going to Mabini once you check out.
Hotel Quinio

phone: +63 43 723-8395

address: P. Burgos Street

Cheaper option downtown, but lacks most frills. Has no Wi-Fi or elevator
La Tropicana Motorists' Lodge
address: Jose P. Laurel Highway, Sorosoro Karsada
RLR Travellers Inn

phone: +63 43 723-2309

address: DJPMM Access Road

AC rooms with cable TV, hot water shower and free Wi-Fi. No free breakfast and swimming pool.
Meaco Royal Hotel Batangas City

address: 7 A. Evangelista Street

Relatively new mid-range choice not far from cheap shopping spots at Poblacion. You can either stay in a single or twin room, or family rooms, all with air-conditioning, cable TV, and Wi-Fi. Refreshments are available just on the third floor. Free parking available.
Mid-range
D' Mariners' Hotel

phone: +63 925 853-7928

address: Arceo Road, Kumintang Ibaba

Air-conditioned rooms, with an option of Deluxe (single or twin) and Family, with cable TV, telephone, and room service. Has WiFi, free breakfast and swimming pool.

The Alpa Hotel and Restaurant

address: Tolentino Road, Kumintang Ibaba

Under new management and ongoing refurbishment. Air-conditioned rooms with cable TV, but without much of the frills carried over by the old management. Has swimming pool.
Splurge
address: Bolbok Road, Bolbok

Classy hotel and resort within of Batangas Port, mostly serving travellers to Mabini or Puerto Galera. A/C rooms with cable TV, Wi-Fi, laundry, coffee or tea makers, and restaurant. Has amenities like swimming pool, billiard hall, and gym.

phone: +63 43 980-7321

address: Pastor Avenue, Pallocan West

Tours to churches and communities in Taal, Lipa, Malvar and Tanuan can be arranged.

phone: +63 43-723-3466

address: Pastor Village, Gulod Labac

A/C rooms equipped with internet access and cable TV. Some of its facilities and services are business center, fitness room/ gym and recreational room.

phone: +63 43 302 1000

address: Juaning Road

Though housed in a small 3-story building, it is the most luxurious in town, having air-conditioned rooms with cable TV, free Wi-Fi, living room and kitchen. Amenities include indoor pools, sauna, billiard room, café, and spa.

SM Travelodge

phone: +63 43 723-4101

address: Batangas-Quezon Road, Tinga Labac

Luxury traveller's hotel, with air-conditioned bedrooms with cable TV, living room, and hot tub bathrooms. You can also arrange tricycle services to Poblacion or to the port once you check out.
Long-term stays
Stay safe
Batangas City has its problem of crime, with illegal drug trade and gun possession being the major concern. Some areas in the Poblacion area are haven of criminals and drug dealers, and it is best to avoid them.
Beggars
can be spotted in the streets, and
pickpocket
can be a major concern, especially if you bring valuables with you. The city remains relatively safe, if you follow common sense.
Tricycle scams are often a hassle after sunset, and it is best to arrive before 7PM (or generally, after sunset), where after it, jeepneys become hard to find (most will abruptly turn around at the middle of the trip after unloading their remaining passengers). Otherwise, wait with a local seeking a tricycle, wait for the next jeepney with passengers, or walk to the nearest stop where jeepneys still stop.
Traffic is also hectic, and noisy. Traffic lights can be seen in the major crossings, but elsewhere, watch out, as stop or give way signs are ignored. Running on red is a common sight. Honking is prevalent, jeepneys will practically stop anywhere, and motorcycles will cut through lanes when others are stuck in a traffic jam. Traffic will snarl to a halt in rush hours. Traffic enforcers can be frequently sighted, but numbers can be passive about obvious violators, and others are outright corrupt.
Walking must be taken with caution. Jaywalking is illegal in Batangas City, but a number can be still seen crossing practically anywhere; the common refrain is that the nearest crossing or overpass is too far. Many roads lack sidewalks, but in some spots where there are, they are blocked by illegally parked vehicles. Crossing must be taken with caution in marked places because some drivers, especially motorcyclists, will just zip through without stopping.
Communist rebels under the New People's Army continue to hide in the forests in the mountainous areas to the southeast, and some minor encounters may occur. There may be chances that rebels form checkpoints in remote roads. Gun ownership is high in areas where communist rebels are present, but the chance to be shot is low, as locals use guns for defense.
Emergencies
Batangas City Police

phone: +63-43-723-2030

address: Gusaling Pangkalikasan at Pangkapayapaan, P. Burgos
Stay healthy
Tap water supplied by the city-owned Batangas City Water District is potable, but might taste like cough syrup in many places. Locals, however, enjoy drinking tap water no matter how it tastes like. Also, better avoid buying ice chopped from blocks, as their cleanliness is often questionable. Better buy bottled water from convenience stores, or boil your water before drinking.
The city also has lots of stray or feral cats and dogs, rather common on other Philippine cities of similar size. Dengue is a health concern every summer and wet season, so bring mosquito repellant, and cover the arms and legs, whenever possible.
Hospitals
Batangas Medical Center

address: Ebora Road, Kumintang Ibaba

United Doctors of St. Camillus de Lellis Hospital

address: Diversion Road, Bolbok

Saint Patrick's Hospital

address: P. Panganiban Street

Offers all-day emergency service.
Pharmacies
BP Generic Express

address: P. Burgos Street

Local pharmacy chain with numerous branches in Batangas City

Cantos Pharmacy

address: National Road, Kumintang Ibaba

Another local pharmacy chain with 2 branches.

Farmacia ni Dok

address: A. Evangelista Street

Generika

address: Rizal Avenue

Part of nationwide chain with numerous branches in Batangas City and nearby municipalities. Provides low-cost medicines and blood pressure check.

South Star Drug

address: A. Evangelista Street

Most of this nationwide chain's locations are rebranded Chavez Pharmacy branches.
Cope
Bureau of Immigration Batangas

address: Diversion Road, Bolbok

PHLPost post office

address: Batangas City Hall complex, P. Burgos
Plastics
Batangas City passed an ordinance that banned the use of single-use plastics and Styrofoam from 2011, and businesses are required to use reusable material for packaging. In restaurants, containers for food takeaways are required to be recyclable, but utensils (spoons, forks, and straws) remain exempt. Supermarkets use paper bags for packaging, and may offer reusable cloth bags for a fee.
Smoking
Batangas City enforces ordinances that ban smoking in public places. Smoking is banned in public transport, and many public places, like parks, churches, shopping malls, public markets, and government offices. Smoking is prohibited in most restaurants, though some may offer smoking outside for those who cannot resist the craving for nicotine.
For vapers, components and juice can be bought at convenience stores (e.g. 7-Eleven), but here is a local vape shop:
Vape Xtreme

address: Hilltop Road, Kumintang Ibaba

Vaporizers, spare parts, and juice.
Newspapers
Newspapers published in Metro Manila are also sold in Batangas City, but the city also has its two local newspapers:
Sun Star Daily Courier
(in English) and
Balikas
(in Tagalog).
Radio
Radio in Batangas City is almost broadcast in Tagalog, and DJs will be generally speaking in English and Tagalog, usually in Taglish. The city is the center of the Batangas radio market, with the majority of radio stations based here.
FM
AL FM Radyo Totoo (95.9 MHz): Owned by the Roman Catholic Archdiocese of Lipa, but based in Lipa, it primarily airs religious programs and Christian music. It also broadcasts Catholic prayers in English like the Angelus during 6AM, 12 noon and 6PM, and the Rosary between 5-6AM.
Spirit FM (99.1 MHz): Also owned by the Archdiocese of Lipa, it plays popular modern music, Filipino and Western, including latest hits, but also airs religious programs and Catholic prayers. Every Sunday, it airs slow rock, oldies music, and 1990s retro music, as well as live Mass broadcasts from Lipa, especially in the morning after signing in.
Brigada News FM (104.7 MHz): Broadcasts news and public affairs shows in Tagalog, but also plays slow music in various hours in the day.
Connect
You can top up (load) your SIM cards almost everywhere, from sari-sari stores to convenience stores. There are not many internet cafés anymore because of increased cell phone ownership, but you can find pisonet Internet cafés if you're lucky. Free Wi-Fi is available at malls, on Plaza Mabini, and most hotels.

Go next
Most travellers use Batangas City as a stopover to visit the other destinations in the province, such as the diving spots in
Mabini
, or as a stop en route to the white sand beaches in
Puerto Galera
in Mindoro, half hour away by boat.