Bathurst (New Brunswick)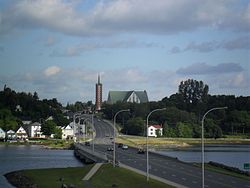 Bathurst
is a city of 13,000 people (2011) on the
Acadian Coast
of
New Brunswick
, and 30,000 people in its metro area.
Understand

Bathurst is at the southernmost part of Chaleur Bay on Bathurst Harbour, an estuary at the mouth of four rivers: the Nepisiguit River, the Middle River, Little River, and the Tetagouche River. Two spits of land, Carron Point and Alston Point, form the enclosure for the harbour.
Several of the salt marshes around Bathurst Harbour play host to a Chaleur Bay-specific butterfly: the Maritime Ringlet, which flies late July to late August.

Economy
The economy is primarily focused on mining, fishing and forestry. Other sectors include: tourism, phone call centres, manufacturing, and provincial and federal government. The service sector is the city's largest employer. The city is serviced by one health care facility, Chaleur Regional Hospital.
The Bathurst Mining Camp provided for almost 50 years a lot of jobs to the regional economy. After it closed in 2013, unemployment rose over 20% in northern New Brunswick. A regional Tax Services Canada and a Transport Canada Marine Safety Service centre are located in the old downtown.

History
Bathurst had been the location of the annual Mi'kmaq (an Aboriginal people) summer coastal community of Nepisiguit prior to European settlement. Europeans first reached the shores of the Baie des Chaleurs when in 1534 it was named by Jacques Cartier. Early settlers from France came to the area in the 17th century in what became part of the colony of Acadia. In 1607 Samuel de Champlain sailed into the Miramichi, and in 1636, Nicolas Denys was granted a seignory by the French crown, apparently the third grant in the colony of Acadie.
Little is known about the region between the death of Nicholas Denys in 1688 and the Treaty of Utrecht (1713), whereby Louis XIV ceded the territory of Acadia to Anne, Queen of Great Britain. The British attempted to remove the remaining scattered Acadians from the Nepisiguit basin and Caraquet in late October 1761. Following the transfer of this part of Acadia to British control in 1763 by the Treaty of Paris, many English and Scottish settlers arrived, eager to exploit the region's natural resources.
The community, which up to 1828 had been named St. Peters, was renamed in honour of Henry Bathurst, 3rd Earl Bathurst (1762–1834), Secretary of State for the Colonies of the British government. Its economic activities included farming, lumbering, and fishing.
Joseph Cunard, attracted by the county's timber resources, set up a branch of his family's shipbuilding firm here in 1837 and his production of ships in Bathurst harbor began in earnest. The age of timber ships began its decline in 1848. This event caused the shipbuilding firm to founder, and with it went New Brunswick's economy. A shipbuilder who followed in Cunard's wake by the name of John O'Brien built more than 60 ships from 1858 to 1877. It was not unusual during the heyday of Bathurst shipbuilding to see anywhere from five to fifteen ships in various stages of construction along the waterfront.
In the 19th century, men were eager to fell trees in the forest around Bathurst all winter long from sunup to sundown (Sundays excepted) for eight to ten dollars a month. Timber camps typically housed 50 men, who were each employed in one of several job descriptions.
The population of the Parish of Bathurst in 1861 was 3,771. Agriculture was the primary occupation of the denizens, and potatoes were the crop of choice. After the closure of Cunard, by 1871 Bathurst's population fell to 600.
The opening of the Intercolonial Railway of Canada in 1876 provided a fast connection from the port of Bathurst to the rest of North America which was essential for developing the region's principal industries in forestry and zinc mining. By 1904 Bathurst was a seaport, a port of entry on the Intercolonial Railway and the Caraquet and Gulf Shore Railway.

Get in
Bathurst is 90 km south of Dalhousie, and 90 km north of Miramichi.
By plane
Bathurst Regional AirportAir service to Montreal with Air Canada Express. There are car rentals at the airport, and there is taxi service into town. International flights fly into Moncton, and one can either travel to Bathurst with a rental car, or take the train to Bathurst (see below).
By train
Bathurst Via Rail stationVia Rail's Atlantic train The Ocean stops in Bathurst twice a day, three days a week: in the morning having departed from Montreal, and in the evening having departed from Halifax.
By bus
The
Maritime Bus
travels between several locations in the Maritimes and eastern Quebec, and has daily service in Bathurst. The station is located at the Ste Anne and Evangeline corner store.
By car
From Moncton
: Bathurst is 220 km on highways 15, 11 and 8.
From Quebec City
: the most popular route is Highway 132 East through Matapedia, down to Campbellton, and then to Bathurst on Highway 11 South. Travelling down the Trans-Canada from Riviere-du-Loup, down to St-Leonard, NB, up to St-Quentin on Highway 17 North, and over to Bathurst on Highway 180 East takes you directly through the Appalachian mountains, and is quite an experience for the adventurous traveller.
From the U.S.
: the fastest way to Bathurst is most likely across I-95 to Woodstock, NB, and up the Trans-Canada 2 West to St-Leonard, over to St-Quentin on Highway 17 North, and across to Bathurst on Highway 180 East. However, this route has few amenities between St-Leonard and Bathurst, with the exception of St-Quentin. A less-isolated route would be taking the Trans-Canada 2 East from Woodstock to Fredericton, then taking Highway 8 North to Bathurst.
From Nova Scotia
: take Highway 104 across to Sackville, NB and continue to Moncton on Highway 2 West. Then take Highway 15 East to Shediac. From Shediac, take Highway 11 North to Bathurst.
From Prince Edward Island
: cross the Confederation Bridge and continue to the 15/16 traffic circle. At the traffic circle, go on Highway 15 West to Shediac. From Shediac, take Highway 11 North to Bathurst.
Get around

Bathurst is a lovely, picturesque city. Driving around it from the Basin to the Marina is a pleasant experience. Some recommended scenic routes are along Queen Elizabeth Way, by the coastal cottages and houses, and Basin Street/Riverside Drive, around the Bathurst Basin. For biking, jogging, or walking, the New Brunswick Trail can be found all over Bathurst and is a good way of getting around.

See
There are all sorts of remarkable sites to see in Bathurst. The ocean is, of course, the most predominant of all sites.
Youghall BeachYoughall Beach Provincial Park lies to the north of town. There, you can have a fantastic view of the ocean, and you can even see the Gaspe Peninsula a little to the right. When the tide is low, the sandbars surface, and people can walk for miles down the beach on them. Swimming, volleyball, and windsurfing. Bathurst Marina is next to the beach.

Daly Point Wildlife Reserveis a fantastic place to see all sorts of wildlife, especially birds. Its extensive trail and boardwalk tour will take you around the marsh and woods near the water.

Tetagouche Fallsa magnificent sight. In addition to the falls, there are some ruins in the river just below the falls that may be of some interest.

La Promenade Waterfront is cluster of shops, art, boutiques, a visitor information center, and an outdoor pavilion that hosts a variety of activities throughout the year. There are boardwalks with views of the Bay of Chaleur.
Bathurst Hospitality Days is a week-long festival with many activities. It includes four nights of concerts, featuring a mix of classic rock, Acadian and maritime music.
Bathurst Chamber Music Festival is an annual week-long classical music festival which features over 30 emerging musicians and composers from around Canada and abroad.
Do
KC Irving Regional Centre

address: 850 Sainte-Anne St

watch a hockey game, or the carnival that comes every summer.

Coronation Park
Buy

Bathurst has two malls: the Superstore Mall, and the Place Bathurst Mall (both on St. Peter's Avenue). The Place Bathurst Mall is the only one that is still kicking, although the new grocery store in the Superstore Mall has somewhat rejuvenated it. There is also a good bookstore in the Superstore Mall. There are some lovely boutiques in downtown Bathurst, and of course, the usual tourist gift shops. For someone from outside of Canada, there is a Tim Horton's on practically every corner, so it's impossible to avoid the place.

Eat
Drink
phone: +1 506-226-3172

address: 100 Main St

Industrial vintage atmosphere, local craft beers on tap.
Sleep
phone: +1 506-500-5896

address: 1450 Vanier Blvd

Free parking, wheelchair accessibility, full-service restaurant & bar, games room, heated indoor pool, sauna & gym.

phone: +1 506-549-4100

address: 1810 Vallee Lourdes Dr

A spa offering beauty treatments and massages, a lounge and French bistro where you can relax enjoying a good glass of wine. Indoor pool, a sauna and whirlpool.

Danny's Hotel Suites Event Centre

phone: +1 506 546-6621

address: 1223 Principale St, Beresford

Pool, free parking, free Wi-Fi, fitness centre, restaurant, bar/lounge, accessible rooms, family rooms.
Go next