Baton Rouge
Baton Rouge
is the capital of
Louisiana
,
USA
. Located on the east bank of the mighty
Mississippi River
, Baton Rouge is Louisiana's second largest city, home of Louisiana State University, major port facilities, and a variety of attractions.
Understand
The name of Baton Rouge was given over 300 years ago when on 17 March 1699, Pierre Le Moyne, Sieur d'Iberville, led an expedition along the Mississippi River. The early French explorers found a pole stained with blood of fish and animals that served as the dividing line between the Bayougoula and Houmas Indians. It is from this "red stick" that Iberville called the city "le Baton Rouge", French for "red stick". The city was founded in 1721.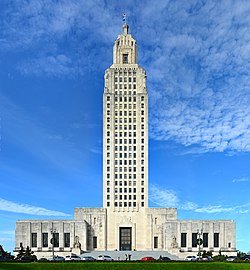 The small town here was selected as the new capital of state of Louisiana in 1817, and it's been growing since. The capital was returned to
New Orleans
for a while during and after the troubles of the American Civil War, but it's been back here since 1882.
Climate
Baton Rouge has a semi-tropical climate, perfect for outdoor activities.
The weather is consistently warm from May to September. Be warned that, like the rest of the Southern United States during the summer, it can become down-right miserable, with sustained temperatures in the 90s (°F) with 100% humidity. Proper medical precautions should be taken if you plan on partaking in outdoor activities, such as ample amounts of sunscreen and hydration. Also, there are many days throughout July that are classified as "ozone days" due to severe ground-level ozone, which can damage the health of sensitive individuals.
Winter is usually mild and short-lived. Spring is glorious with cool nights and warm, sunny days. A light jacket is all that is needed. Fall is mild and only a light sweater is needed in the evenings.
Precipitation is reasonably well-distributed and ample throughout the year with an average annual precipitation of 55 in (140 cm)
Average summer temperature: 81.3°F (27°C)
Average winter temperature: 52.5°F (11°C)
Average annual temperature: 67.5°F (20°C)
Baton Rouge, like many cities in the Gulf States, has what is known as 5 seasons. The 5th season is hurricane season, the time of year between June 1 and November 30 when hurricanes are most likely to form.
Get in
By plane
By train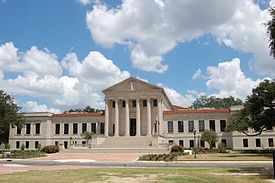 While there is no proper
Amtrak
service to Baton Rouge, connecting bus service can be booked with the
Sunset Limited
between
New Orleans
and
Los Angeles
as well as with
City of New Orleans
, which runs to and from
Chicago
.
By car
From
New Orleans
, Baton Rouge is an 80-mi (129 km) northwest drive on I-10, which drives into the heart of downtown. The distance between the two Louisiana cities is an easy 90-min drive if you avoid weekday rush hours; if you catch the traffic of commuter rush hours at either end it can take a lot longer.
If you're driving in from anywhere east of Louisiana, come into Baton Rouge via I-12, which will take you north of Lake Ponchartrain and bypasses New Orleans. From the west, I-10 connects
Lafayette
,
Houston
, San Antonio, Tucson, Phoenix, and
Los Angeles
with Baton Rouge. From the east, I-10 connects Baton Rouge with New Orleans,
Mobile
,
Pensacola
, and
Jacksonville
. If you're coming from
Chicago
,
St. Louis
, or
Memphis
follow I-55 South and merge onto I-12 West and continue driving for roughly 45 mi (72 km).
By bus
In town the bus companies have their own separate stations & stops in downtown (Flixbus, Greyhound and Megabus) and in the east side of town (Turimex):
See
Do
Blue Bayou Water Park / Dixie Landin'

phone: +1 225 753-3333

address: 18142 Perkins Rd.

Swine Palace ProductionsOriginally a livestock-judging pavilion, Swine Palace are Baton Rouge's premier professional theater company.

Shaw Center for the ArtsThis is the city's newest major performing arts complex. It features the Manship Theatre and a rooftop sushi restaurant.

Blue Bayou Water Park/Dixie Landin'

address: 10 and Highland Rd

This is the largest amusement park in the area. The main attraction is the enormous waterslide "Conja".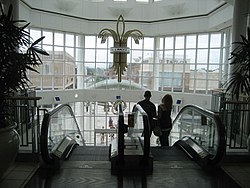 Red Stick Farmers Market

address: 501 Main St

The Red Stick Farmers Market, operated by BREADA (Big River Economic and Agricultural Development Alliance), is a producer only market with over 50 vendors that has been in operation for nearly ten years. Located on Downtown Baton Rouge, the market is open in conjunction with The Main Street Market. Going to the Market is a great way to experience culture and goods from local vendors and farmers.

LSU Lakes

address: LSU

The LSU Lakes are an attraction for residents in Baton Rouge. Composed of several lakes near LSU, they are open to the public for fishing. In addition, there are extensive running tracks that run next to the lakes for miles for walking, jogging, and running. You can easily mix and mingle with LSU college students, all of whom consider the LSU Lakes part of their home campus.

Tour the USS Kid

address: 305 South River Rd

The USS Kid, a WWII era US Navy destroyer, offers tours to locals and tourists alike. A real delight if you are a WWII or military enthusiast or if you have children.

Tailgate during an LSU home game

phone: +1 225 635-6277

address: LSU

LSU has an incredible tailgating scene. It's not uncommon for 100,000+ people to be tailgating in and around LSUTiger Stadium has a seating capacity of over 102,000! You'll be amazed at the number and friendliness of the crowd. Plan on arriving hours before the game to be able to park within a reasonable distance (
*always* feel free to ask for a burger or gumbo from fellow tail-gaters as it's tradition to be friendly and open with fellow fans.
phone: +1 225 377-7022

Baton Rouge's only microbrewery. Excellent guided tours every Friday at 6PM with three free beer samples for those over 21. Definitely a must for any beer lover.
Buy
phone: +1 225 761-7228

address: 6401 Bluebonnet Blvd

Large shopping mall in the south part of town, just off the Bluebonnett exit of I-10. Mall also includes nearby shopping centers, the AMC Movie Theater, and many restaurants.

Perkins RoweA new mixed-use development at the corner of Perkins Road and Bluebonnet Blvd. Has many retail shops, restaurants, and Cinemark Movie Theater
Eat
phone: +1 225-272-6817

address: 10248 Florida Blvd

This is a great place to go for good deli food and classic Italian dishes like spaghetti and meat balls and great muffuletta. Eat at the deli and enjoy the atmosphere and the personalities.

The ChimesAn LSU staple for generations, at the North Gates of campus on Highland. Predominantly frequented by students and faculty, The Chimes serves a mix of standards with Louisiana Cajun/Creole fare, and has one of the best beer selections in town.

phone: +1 225 924-2904

address: 5655 Government St

Baton Rouge's other half-century old pizza parlor, originally a gas station on the outskirts of town, the Fleur de Lis is a family restaurant with a dedicated old Baton Rouge clientele. Cash or check only.

George's

address: Perkins Road

Rock n Sake

address: Perkins Rd

Sushi restaurant and bar; fun hip place with an awesome bar and fantastic food.

India's Restaurant

address: 5230 Essen Ln

Southern part of the city, convenient just west of the Essen Ln. I-10 exit, +1 225 769-0600. Good, reasonably priced Indian food; buffet or menu.

Louie'sA traditional diner right at LSU's North Gate.

Parrain'sAlthough it is only a recent entry to the Baton Rouge eatery scene, Parrain's has already established itself as one of the best places to experience traditional Louisiana cuisine, most notably its fried seafood.

The PastimeA half-century old pizza parlor and bar serving easily the best pizza in the city. Also the home of "Boudin Pizza", a unique South Louisiana concoction representing the collision of Acadian and Italian cultures.

Piccadilly RestaurantsHeadquartered in Baton Rouge, the Piccadilly chain has been serving traditional, home-style meals since 1944 at affordable prices. Southern favorites include: Fried Chicken, Crawfish Etouffee, Carrot Souffle and Pecan Pie. Meals include entree, two sides and bread. $5-10.

Raising Cane's Chicken Fingers

phone: +1 225 408-1658

address: 14929 Market St

Home-grown chain of fast-food restaurants that serve only chicken finger meals, and have proven so adept at doing it that they have successfully expanded to other markets in the South and increasingly beyond. Side items available include crinkle-cut fries, Texas Toast, cole slaw, and the mysterious-yet-addictive special dipping sauce.

phone: +1 225 636-5347

address: 4848 Constitution Ave

Sporting News Grill's casual upscale atmosphere encourages everyone to relax and have a great time while catching sports action on high definition flat screen TVs placed strategically throughout the restaurant.

TJ Ribs

phone: +1 225 383-7427

address: 2324 S Acadian Thrwy

The de facto standard for barbecue by which all other local BBQ restaurants are judged. Famous for pork and beef ribs, but also accommodates diners with other eating habits. LSU legend Billy Cannon's Heisman Trophy is on display here, as he exchanged it for lifetime eating privileges.

TsunamiA sushi restaurant perched high above the city on the roof of the Shaw Center. The establishment has one of the best views in the entire city.

Zeeland Street MarketLocated in the Garden District just north of the LSU Campus, it is one of the best places in town to get soul food. Locally famous for their delicious heaping plate lunches, Zeeland Street Market is a favorite for college students with a hankering for a home cooked meal. The plate lunch menu rotates daily and all of the ingredients are fresh from local markets. Take special note that Zeeland's is only open for breakfast and lunch.

Bystro ByronzTwo locations: Mid-City on Government Street and Willow Grove off of Perkins Road near Perkins Rowe. A neighborhood restaurant known for burgers and other bistro-inspired dishes.
Drink
The Baton Rouge Metro Council recently outlawed many drink specials in establishments classified as bars, so if you're looking to save a buck, you should stick with drinking in restaurants. However, if you're looking for that bar atmosphere, there are several places to choose from. Baton Rouge's blue laws were repealed in October 2007, but restrictions on drink specials are still in effect.
Port Royal

phone: +1 225 201-9900

address: 2363 College Dr

The best pirate-themed bar (located next to a Waffle House) in all of Baton Rouge. A service industry hangout with an alt-rock leaning clientele.

Chimes Restaurant and Oyster Bar

phone: +1 225 383-1754

address: 3357 Highland Rd

The largest selection of beer, both bottled and on tap, in the Capitol City area and maybe the entire state. They serve practically anything you can think of. Be sure to ask about "Drinking around the world". There are several reports of bottled beer being served past its prime, but anything on draft seems fine.

phone: +1 225 296-4981

address: 10870 Coursey Blvd

A newer sister store of the Chimes Restaurant.

phone: +1 225 490-6355

address: 4250 Burbank Dr

A pizza place with a very funky, hippie-influenced decor.

phone: +1 225 927-4211

address: 7949 Jefferson Hwy Ste C

"Premium Cigars & Elixirs", also frequently has live music and tastings.

Happy's Irish Pub

address: 136 Third St

A low-key downtown bar with an eclectic mix of college kids, professionals and everyone in between.

Tigerland

address: Bob Pettit Blvd

A group of bars just south of LSU for those really into the college bar scene; with student favorites such as Freds, Tiger Bar, JL's Place, etc. This is also a place fraught with druken bar fights.

phone: +1 225 303-9400

address: 4385 Perkins Rd

Great place to socialize with friends and drink a lot of different beers. They have passable food and cocktails as well. Make sure to have valid ID as they will card.
Sleep
Connect
Go next