Battambang
Battambang
is
Cambodia
's second most populous city, and a popular tourist destination due to the nearby ancient temples, the circus, and the bamboo railway. It is the capital of Battambang Province.
Understand
Despite being Cambodia's second largest city, Battambang is often overlooked in favor of the more popular Siem Reap and Phnom Penh. Battambang is quieter, less commercial and cheaper, and provides an opportunity to see a slightly less Westernized Cambodian city. Remnants of French colonial architecture can be spotted around the city, and there are food and lodging options that will cater to most budgets and tastes.

Get in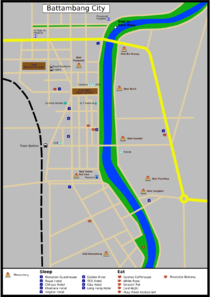 By road
National Hwy 5 from
Phnom Penh
is 80% paved, though it's a very rough trip in parts. Hwy 5 runs northwest to
Sisophon
and
Poipet
. At
Sisophon
, Hwy 6 branches off to
Siem Reap
(also a rough trip in parts). In a car,
Phnom Penh
is around 5 hours away and
Sisophon
1 hour. By bus, Phnom Penh takes 5–7 hours and costs USD5-12. Siem Reap takes 4 hours and costs USD4-5. Poipet (Thai border): 2–3 hours, USD4–5.
Paramount Angkor Buses run twice daily from Battambang to Pailin via Hwy 57 (2 hours) for USD4.
PP Sorya buses go from Battambang to Bangkok, Phnom Penh, Poipet.
By boat
One boat a day travels from
Siem Reap
(for
Angkor
) to Battambang, departing Siem Reap at 07:00 and costs USD20. An interesting and very scenic journey along small rivers, the boat threads its way through numerous charming floating villages and past dozens of towering cantilevered fishing net installations. It can take between 6–12 hours, depending on the time of year (and hence the water level), however the time can be fairly accurately predicted by checking the time that the same boat arrived yesterday.
During the dry season, when the water level gets very low, the boats cannot get all the way to Battambang, and the journey is completed by minibus or pick-up truck.
By rail
Daily trains from
Poipet
on the Thai border through
Sisophon
will connect to Battambang by the end of May 2018, and to
Phnom Penh
by the end of 2018.
Get around
The city centre is pretty compact and can be mostly explored by foot. Unhappily, the locals have named the main cross-street 'Pub Street', after the Siem Reap abomination it doesn't resemble at all. Bicycles can be rented from most hotels or private companies for USD1-2 per day. Motorcycles can be rented from USD5 a day. The driving habits of locals are hazardous. Police may try to fine tourists on motorbikes. If pulled over, stay calm, smile, take the key out of the ignition (to prevent the police trying to ransom it), and pay a small fine of USD1–2.
Tuk-tuks and motorbike drivers hang around popular tourist areas. As most of the interesting and useful destinations are quite close to each other, most rides should only cost you USD2–4. More distant trips like Phnom Sampouv (the "killing caves") will cost around USD10, and can be combined with other destinations for a total of USD12–15.
Don't be too stingy with tips. Tuk tuk and motorcycle taxi guys make barely enough to live, especially in the low season.
Small boats serve as ferries (500 riel) and cross the river from in front of the market.

See
phone: +855 53 952424

address: Phare Ponleu Selpak

The shows are fun, energetic and exciting and include a range of circus disciplines. The ticket price helps support the NGO school which works with disadvantaged children and teenagers.

Phnom SampeuA hill with the killing caves of the Khmer Rouge, a few others caves adorned with Buddhist statues, and a monastery with two Buddhist stupas on the hilltop. The admission charge also includes Wat Banan. It takes about 1 hr to climb the circuit to the monastery on top, with a short-cut leading back down to the shops and restaurants which line the approach road.

StatuesBattambang is known for its statues, which seemingly decorate every public place. Most are of animals (mythical and real) and divinities. The most famous of these statues is on the main road in from Phnom Penh and is of an ancient Khmer King holding a stick which he used to quell rebellions in the Battambang area. The name of the town and province derives from this legend.

Wat BananThe so-called mini-Angkor Wat, an impressive flight of stairs lead up to a dilapidated Angkor-style temple which is still in use as a Buddhist shrine.

Wat BaydamramA temple where hundreds of fruit bats live in trees under the protection of the Buddhist monks.

Wat Ek PhnomAngkor-type temple ruin. The road runs along lovely small rivers flanked by trees and small villages making it a generally nice area. Approaching Wat Ek Phnom, you suddenly encounter a giant Buddha statue in the wat, which is certainly picture-worthy. The grounds of the wat also have an Angkorian-era temple which is in relatively good shape and with some interesting carvings.

Wat Samraong KnongRoughly translates as "wat in the forest". An extremely old pagoda on the east side of the Sangker River. The eerie old wat was used as a Khmer Rouge prison, and there were many executions on the premises. A new pagoda is now being built, and there is a memorial to the victims of the Khmer Rouge regime, with graphic illustrations, just to the north.
Do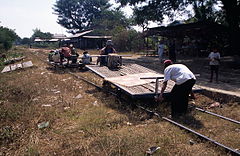 Bamboo TrainThe term "train" is here used loosely: a large bamboo platform mounted on train axles powered by a small go-kart engine. A trip on the train can be booked in most hotels or arranged with a motorbike/tuk-tuk driver. It is regulated by Battambang's Tourist Police, with a standard rate of USD5 per person, minimum 2 people or USD10 for one person, with discounts for larger groups. Ask the driver to pause at scenic places. The Bamboo Train is running along the new track: it takes about 10 minutes to get to a stop where you can buy drinks and t-shirts:; it then returns along the same route.

phone: +855 12542019

address: Street 1.5,

Soksabike is a social enterprise dedicated to sustainable tourism in Battambang. They offer half day and full day bike tours around the countryside where guests can learn about the everyday life and culture of Cambodia. The money for the tour is distributed to families in the community along the way and goes to pay the salaries of the guides, all local university students. They use high-quality mountain bikes, provide a helmet and even include a coffee at one of the best cafes in town. Hotel pickup included and group discounts are available.

phone: +855 89 297070

Takes you on a half-day or full-day trip to various sites around Battambang. The tour is an initiative run by university students. The guides are students of English at the university level and provide an interesting local insight into life in Cambodia. Hotel pickups in Battambang.

Green Orange Kayak

phone: +855 77 204 121

Go on a beautiful Stung Sangker River voyage from the small village of Ksach Poy to Battambang, past riverside terraces and traditional bamboo houses. Get away from the dusty roads and learn first hand about traditional fishing and farming techniques. Half-day trip, 11 km.

phone: +855 12 326577

Stay at a home stay in Samroang Khnong Village and volunteer to help teach English to children. Call Mr. Sophorn and he will pick you up from town and make you very welcome indeed. No experience or special skills are required, just a willingness to help the delightful local children speak a bit more English. The small price includes accommodation and three delicious meals a day.

phone: +855 77 854 044

Offers tuk-tuk day trips to the countryside surrounding Battambang including seeing local crafts, temples and other major sites. Customised trips available.
Cooking classes
Ch'Ngainh Ch'Ngainh

phone: +855 12 639350

A homey, familial approach to cookery conducted in a family home.

phone: +855 12 763950

Battambang's original cooking school, and still highly popular. Hotel pick-up, market tour to buy ingredients. $10 (4 separate dishes; vegetarian available; free cookbook to take away).

Smokin' Pot

phone: +855 12 821 400

address: corner of Street 121 and Road 1.5

You'll meet Chef-owner Vannak outside the restaurant and go by tuk-tuk to a produce market south of town to buy herbs, vegetables and fish; then you'll go to his house outside of town and spend about two hours cooking up several Khmer dishes. The patio-turned-training-kitchen is authentically Khmer, an insight into how most of Cambodia cooks and eats. Vannak's is very knowledgable about Khmer cuisine and speaks excellent English, so everyone (from amateurs to pro cooks) will learn something.
Buy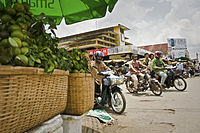 ATMs very occasionally swallow cards (and banks don't give them back), so use cards that are cancellable online, and bring a spare.
Heng Chhay Ly Supermarket

phone: +855 53-6555566

address: Borei Road off Street 1

Chea Neang Drink Shop Supermarket

phone: +855 12697097

address: 611 Street 3

Psar Nath & Psar Boeung Chhoeuk (Public markets)Fruit stalls.

address: NE corner of intersection @Hwy 5, Street 524/106, La He St
Eat
There are plenty of places to eat, but after 19:00 some places close and lots of streets become dark, so eating early (around 18:00) is recommended.
You can get some great French-style bread (by French standards) for 1,000 riel a medium-size baguette up north, between the French cultural centre and the giant statue marking the entry in Battambang from the main inter-provincial road. The bread that street sellers have elsewhere in town is of a much lower standard for the same price, similar to that found in
Phnom Penh
, baguette-shapes, but sprinkled with sugar. Some people do not notice any difference between the bread sold in the north and elsewhere in Battambang. It is generally of decent quality all across the city.
phone: +855 12 415513, +855 12 963189

address: St 2.5, #63

Khmer cuisine with a French twist, sophisticated and creative with pleasant staff. Wine list.

phone: +855 53 6562000,+855 77 991384

address: Toul Ta Ek, Otakom 2

Traditional Cambodian dishes, their speciality is fish amok, complemented by a French-style menu that includes desserts and wine.

Bamboo Train Café & Bar'Relaxed atmosphere, delicious food and friendly staff.

Cafe EdenWestern-style river front cafe restaurant run by an American woman. Serves Western and Asian food, and coffee. Kitchen works to Western food handling and preparation standards.

phone: +855 16 399 339

address: Street 111

Offers a nice compact menu with mainly Khmer dishes. The food is recommendable.
Choco l'art Cafe, Street 117 (1½ blocks west of Street 3), +855 10 661 617. 08:00–23:00. Coffee shop with assorted omelets and both sweet and savory crepes. Popular with local NGO workers and some expats.
Flavors of India, Street 121 (Near intersection with Road 1.5), +855 53 731 553. 11:00–22:00. Excellent North Indian dishes with local and imported beers, lassi and noteworthy entrees. Mains from USD 3-5.

Gecko Cafe

address: St 3

Nice atmosphere, limited but very tasty menu. Free Wi-Fi.

Natural

phone: +855 89 409 958

address: N091-G34 Rd 3. 20 Ousaphear Village, Svaypoar Commune

A shop and organic coffee place. The shop sells handmade clothes, bags and wallets made by local home based producers and from other local NGOs, watercolour post cards, and pictures made by art students from another NGO. Organic fruit shakes, green tea with fruits and vegetarian breakfast & brunch options. There is also a Khmer lady weaving using an authentic old loom.

Smokin' Pot

address: corner of Street 121 and Road 1.5

This Battambang mainstay offers a good variety of Khmer, Thai and Western food in an aging-yet-charming setting that echoes the city itself. Vegetarian friendly. Good drinks.

White RoseHuge menu, and some great fruit shakes. This place is a bit more 'Asian' than Western, but is still full of foreigners. Service is chaotic, food is quite good, and the upstairs provides one of the few Battambang eateries where you get an outlook and a breeze.

Ambrosia Cafe

phone: +855 92766938

address: 112 Street 2

Excellent cafe with good western and Khymer food at reasonable prices. They also have a selection of board games and an xbox if you want to play. They have a film night on Tuesdays using a good projector (free, as long as you are eating/drinking there).

Heng Chhay Ly Food Court (3rd Floor)

address: Borei Road off Street 1

phone: +855 12 763 950

Home of Battambang's original cooking school, this restaurant remains highly popular. A nice range of Asian and Western dishes, $3 to $4.50. Nice shakes. Host speaks fluent English and French. Central.
Drink
Center Cafe

address: St 3

Cheap and tasty Western and Khmer dishes. The usual beer, coffee and smoothies. Nice atmosphere and tours/bus tickets available at prices much cheaper than the hotels (half the price for a day-bus ticket to Phnom Penh than what the Lux Hotel quotes). Staff speak decent English and the manager/owner is very friendly.

Espresso CafeEverything is provided with a smile. Great smoothies. A good family-run Khmer restaurant.

Fresh Eats

address: St 2.5

NGO restaurant with a reasonably-priced menu with lots of fruit juices, breakfast foods and make-your-own sandwiches.

phone: +855 12 415 513

address: St 2.5

The unique pub in town. Enjoy a drink, draught beer, cocktail, home-made rum and a wide range of ice creams and local snacks. Some of the best crepes in Cambodia. A popular meeting place.

phone: +855 53 953255

address: KO St, Romcheak 5, Sangkat Ratanak

Live sports on a 40 in LCD and 2 LCD 30 inches. Good cocktails, free tapas and snacks. Happy hour 17:00-19:99 and 22:00-23:30: draught beer USD0.75, buy 2 get 1 free, all cocktails USD2.50).

Street One and a Half

address: End of St 1.5

Good cafe menu with a few snacks but mainly just excellent coffee and drinks. Cool alleyway atmosphere.
Sleep
Budget
Chhaya Hotel and Serviced Apartments

phone: +855 53 952170, +855 12 882500

address: 118, St 3, Svaypor

Single, double, and triple rooms, both air-con and fan. Cable TV. The cheaper hotel rooms have a shared bathroom, the more expensive ones have private facilities and a refrigerator. Serviced apartments have large rooms with kitchenette and balconies, large en suite bath, Wi-Fi, cable TV. 24 hr security, free airport/bus station/boat harbour transfers.

Golden River Hotel

address: Street 3

Good clean hotel with the standard facilities you will find elsewhere in Battambang. Staff are helpful and friendly.

phone: +855 89264895

address: Riversise East

six bed dorm and private rooms

phone: +855 81 999006

address: #695, St. 4

Good hotel with elevator and large reception area. Rooms have air-con, Wi-Fi, cable TV, and en suite bath.

phone: +855 16-912034

address: 115 Street

Rooftop restaurant. Spacious double rooms with bathroom, hot water and air-con. Clean fan singles and doubles available with shared bathroom and toilets.

phone: +855 53 952900, +855 12 530327 (cell)

address: No 1008B, Rd 02

Good hotel with elevator and large reception area. Rooms have air-con or optional cheaper fan, free Wi-Fi, cable TV, refrigerator, hot and cold water, and en suite bathroom. Swimming pool. Rooftop with 360⁰ views. (NB: There is a new Seng Hout a few doors from the original - on the corner facing the market. They're of roughly equal quality.)

phone: +855 92-135570

address: Street 1. 5

dorm and rooms

Frist Hotel

phone: +855-87-550008

address: 210 Street 101

6-bed dorm and rooms. Security lockers. Free wifi. Hot water. Air con 6-bed dorm USD5 per person

Hostel BTB Cambodia

phone: +855-17-728038

address: Road 121 & Road 102

Air-conditioned 6-12 bed dorms. Security lockers. Free Wi-Fi

phone: +855 77 306410

address: Street 1

Air-con double room with own bathroom, cable TV, and free Wi-Fi.
Mid-range
phone: +855 77 707789, +855 61 577777

address: National Rd No 5

Close to bus station and city centre. Helpful staff. Free Wi-Fi, free bicycles.

phone: +855 53 732727

address: No 224, Old National Rd No 5, Roumcheck 4 Village, Sangkat Rathanak

Very comfortable beds, clean rooms with Internet access (LAN cable, but in some rooms a connection from a nearby Wi-Fi network is available), TV, air-con, fan and a fridge. Car parking possible. Also has great outdoor swimming pool. In room massage available from USD5/hr. Bicycle hire USD4/day.

Lux Guest House

phone: +855 92 335767

Rooms include hot water, air-con, fan, cable TV, free Wi-Fi, fridge, and minibar. Rooms are big clean and nicely decorated, as goes for the entire hotel. Staff are friendly, helpful and a little bit shy. Location is close to nice eating places and at a road which is lighted at night.

Phka Villa Hotel/Resort

phone: +855 53 953255

address: KO St, Romchea 5, Sankat Ratanak

10 en suite bungalow rooms, 13 m x 18 m swimming pool, free Internet and in-room Wi-Fi, free bicycles, free shuttle to town, airport shuttle (surcharge), car or taxi arranged. All rooms have hot water, air-con, fan, network cable LCD TV, DVD player, in-room safe, mini bar, hair dryer, bathrobe, toiletries. 2 private terraces, one is sun terrace facing the swimming pool. Restaurant and bar open from 06:00–24:00.

President HotelIncompetently run with plumbing leaks and reception can rarely help with anything. Quite new and quite cheap for a nice room with modern conveniences.

Teo Hotel

phone: +855 53 952288, +855 12 8570487 (mobile)

address: St 3

Immaculately clean and well-maintained rooms with double bed, air-con, and fan, hot water, TV, and fridge. Visa and MasterCard accepted. If you are in a room far from the router then Wi-Fi reception may be very poor or unavailable. Indoor restaurant is closed. Unhelpful staff.
Splurge
phone: +855 53 6562000, +855 77 991384

address: Toul Ta Ek, Otakom 2

Bungalows around a natural swimming pool. Library, parking, free Internet, tours, car and motorbike, electric bike and tuk-tuk hire arranged, international telephone, laundry and historic film screenings.

phone: +855 53 953900

address: Phum Romchek 5, Sangkat Rottanak, KO St

16 rooms, including 4 suite rooms (32 sq m including bath), 6 deluxe superior rooms (27 sq m including bath), 4 deluxe standard rooms (27 sq m including bath). All have en suite baths, air-con, telephone, cable TV, DVD player, access to DVD library, iPod docker, mini bar, safe and private terrace or balcony. Free Wi-Fi, 2 computer terminals in reception for use by guests, salt water swimming pool (14 m x 6) open from 08:00–21:00. Restaurant open 06:00–22:00.

phone: +855 53 730151 ,+855 17 411880 (cell)

address: N 185 Pom Romchek 5 Kom, Rattanak Srok

Guesthouse with a swimming pool in a renovated 1930s French colonial period villa, art Deco furniture and fittings. 7 rooms (6 in the main house and 1 in the house nearby the swimming pool). Each room has a private toilet with bath or shower, hot and cold water, air-con, fan, TV and cable network, 4 poster bed with mosquito net, light summer duvet, wardrobe, work desk, safe, coffee and tea facilities, DVD player with DVD for rent. Book ahead as it is often full.
Stay safe
Battambang has a very high temperature Feb–May, when air conditioning (which adds perhaps $5 to room cost) is hard to do without. For those with vulnerable stomachs, the hot season is also the least safe, food-wise. Like all Cambodian cities, Battambang is dusty, and eye infections can result. Wear your largest sunglasses when moving around on foot or by tuk tuk. Mosquito-borne diseases such as dengue, malaria and Japanese encephalitis are around, so keep up the mosquito repellant.
Street dogs (including those fed by stallholders in the main market, Psar Nath) occasionally attack non-locals, so carrying stick or stones is a good precaution if out walking. As with everywhere in SE Asia, women with bags are the prime target of thieves. The thief will more often than not be on a motorbike.
Boys aged 7 to early teens begging on the streets are generally glue-sniffers: buy them food but don't give them money. Adults with 'charity ID' collecting money 'for the children', generally near the river, are scammers. Sometimes they'll ask you to volunteer to teach local kids English: this generally ends in an attempt to get money from you.
Whilst many Westerners find love in Cambodia, many are taken in by very convincing scammers - be careful. As for sex workers, a high number have HIV and STDs. In the more traditional Asian societies, skimpy clothing is generally only worn by prostitutes. Foreigners baring too much flesh is disrespectful.
Traffic officially keeps right, but in reality is all over the road. Look both ways before moving. Pedestrian crossings are disregarded by drivers, and will afford no safety. ATMs occasionally swallow your card: bring a spare.
If you're sick or injured, see a Western-trained doctor, not one trained in Cambodia. There is often at least one of these at the Handa Medical Centre - including a Filipino woman doctor trained to Western standards. (No appointment needed: just show up.)

Connect
phone: +855 12 870993

A free guide book. Available at restaurants throughout Battambang.
Battambang Connect is a Google group for residents, though visitors sometimes drop in to get advice.
Go next