Batu Ferringhi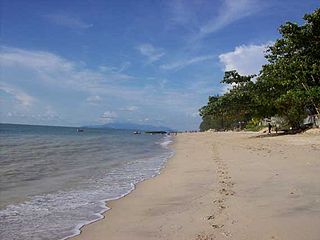 Batu Ferringhi
is a beach town in
Penang
,
Malaysia
. It takes up the northern coast of Penang island along with the nearby beach town of
Tanjung Bungah
and the local fishing village of
Teluk Bahang
, which are also covered on this page.
Understand
Probably the single most heavily developed stretch of tourist resorts in the entire country, the scenery and the beaches have undeniably suffered under the assault of all that concrete. Still, while the beaches aren't the best in Malaysia, there are still miles of white sand and palm trees left. Fierce competition keeps hotel prices low and there's some great food to be found too. Also a notable fact making the decision to visit Batu Ferringhi an easier one is, that the more you approach to the west, the less the touristisation has infected the beaches. Beaches near the famous night-market are very nice, though with less than perfect water quality because of the extensive powered water sports and infestations of jellyfish.
Orientation
From east to west (that is, moving further 'out' from
George Town
and the airport), the main beaches are
Tanjung Bungah
,
Batu Ferringhi
proper and
Teluk Bahang
.
Get in
From
Kuala Lumpur
, a 45 minute
flight
to Penang Airport, or several hours by bus or car.
On
Penang
Island (and neighbouring
Butterworth
), Penang's Rapid Transit
bus system
is very efficient, with a fleet of modern buses (some even have free wi-fi). It's possible to catch a bus #102 all the way to Batu Ferringhi from the airport, or you might have to go to the central transport hub — Komtar in
George Town
first and then catch a #101 bus. Bus drivers are usually quite helpful.
Taxis
are the alternative - they almost never use the meter, so negotiate a price first.
Get around
Taxis
trawl up and down the windy roads of the north coast. Fares are negotiable but tourists will have a hard time getting anywhere for less than RM 15. Most hotels have shuttle services too.
Penang Rapid
buses
are fairly regular till about 11PM, plying the route from Georgetown through Tanjung Bungah, Batu Ferringhi to Teluk Bahang. One bus route goes down the western coast from Teluk Bahang, but with an average frequency of 2 hours at best, and reputedly can't be relied on. 7-day Rapid Transit Passport cards (30RM) give unlimited travel, though are available from limited locations including Komtar and the airport (see
website
for complete details). Bus stops can be unmarked, so ask a local.
See
Teluk Bahang
Muka Head Lighthouse

address: at the northwestern cape of the Penang island

This impressive lighthouse serves as a beacon to sailors and ships in the region. The tower, while not as accessible as other structures on the island, offers spectacular ocean views. There is 2 ways to reach the site: taking boat from Teluk Bahang jetty or climb over the hills by foot.
Teluk Bahang Forest Eco Park

address: next entrance after Entopia

A huge recreational forest with about a dozen of marked trails leading to other parts of the island, including Batu Ferringhi proper and Penang Hill, as well as nearby hills and small waterfalls. Part of the park near the entrance is equipped with parking lot, toilets, picnicking and camping facilities, ponds, children playground. Though it's a bit rundown and some maintenance won't harm. There is also a that can be found near the entrance.
Tanjung Bungah
Floating Mosque

Mount Erskine Peak
Do
Sunbathe on the beach, enjoy the foot or body massage could be a good idea to rest and relax.
Watersports are on the agenda for many visitors, although the waters are a bit too murky for scuba diving and a bit too calm for surfing or more extreme pursuits. Beware of the jellyfish! If stung, apply vinegar and if you experience chest pain, consider seeing the doctor for something to combat the allergic reaction.
Festivals
Penang International Dragon Boat Festival

phone: +60 4-650 5133

Staged annually since 1979 and has successfully attracted teams from all over the world including Australia, China, Hong Kong, Japan, Indonesia, the Netherlands, the Philippines, South Africa, Thailand, Canada, and the USA. The event is now usually held at the Teluk Bahang Dam. In 2015, it will take place from 9 AM - 5 PM on 30-31 May.
Buy
Batu Ferringhi Night Market

address: Jl Batu Ferringhi

A nightly market that runs the length of the main road through Batu Ferringhi. Set-up along the side walk, this market sells all the typical nick nacks you would expect including DVDs, Jewellery, artworks, crafts, clothing and everything in between. Be prepared to haggle hard as prices are typically inflated due to the markets location along this tourist strip.

Tanjung Bungah Market

address: Jl Sungai Kelian

In the morning a local wet market comes to life selling local fruits, vegetables and other produce. Food is also on the agenda, with many stalls selling food for breakfast. Every Tuesday evening the market opens as a local Pasar Malam, with even more food to entice your taste buds. There are also stalls selling all the typical goods and wares at this market.

Tesco SupermarketBig supermarket with a few other shops and small food court.
Eat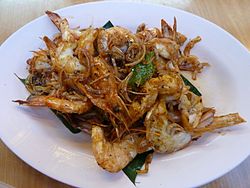 There are plenty of places to eat all around, although discerning gourmands might want to explore less watered-down Malaysian cuisine in George Town.
One option worth a special trip are the seafood restaurants at the pier of
Teluk Bahang
, at the northwestern tip of the island, past the hotels and the little village. The famed "End of the World" has closed, but quite a few have sprung up to take its place.
For families, or those who just want to get out of the resort, you can't go past the hawker centres and fresh fruit stalls on the side of the road. At the hawker centres the kids can pick and choose what they like from the different shops, you just pay the bill when it is delivered to your table. For best results, stick with the Asian cuisines, the attempts at Western food are not worth eating.
Viva Food Court, formerly known as "Golden Sands Bayview food court; this eatery is located just outside the Naza Hotel and it provides a wide range of Malaysian food (mostly Penang hawker).
Ferringhi Garden, just south of the Parkroyal Plaza. A little pricey, but a wonderful atmosphere and a very wide ranging menu.
Gerai Makanan, hawker centre near the Golden Sands Resort Hotel, a dozen or so food and drink stalls. Covers a range of cuisines, with Indian, Chinese, Malay, Seafood and reasonably priced beer.
Khaleel Nasi, at the south end of Eden Parade mall, serves reasonable Muslim Indian food such as roti, prata and nasi kandar. Good for breakfast, brunch or lunch and expect to pay RM8 per person for a filling meal and a soft drink.
Summer Beach House Seafood, good quality seafood restaurant at reasonable prices almost on the beach near the Lone Pine Hotel.

Rainbow Modern Western Cuisine Cafe

phone: +60 4-8995190

address: 26, Permai 32, Lebuh Lembah Permai 4, Off Jalan Permai, Tanjung Bungah

Serve healthy food & beverage. No M.S.G. or artificial flavoring or food enhancer being used in the cooking, Only herbs & spices. All the meals are freshly cooked - individually cooked upon order - the home cooking style. They serve light bites, soups, sandwiches, pasta, mains, desserts. Beverages include fresh fruits juice without any sugar and water being added, fresh brewed coffee & chilled beers also available.

address: Jalan Batu Ferringhi

Good Indian food and air conditioning.

Hard Rock CafeWestern food, including good burgers. Air conditioned.
Drink
Fresh juice at the hawker centre about halfway through the markets. At RM2 each, these are a bargain and there are many different combinations, helpful if you are travelling with fussy kids!

Sleep
There are lots of options with rack rates above RM500, but only in peak season (notably Christmas/New Year) will you have to pay this much. The cheaper places charge around RM50.
Budget
Almost all backpacker accommodation, in the form of local guest houses opposite the beach past the Parkroyal Resort has been destroyed and it's really difficult to find some cheap bed. A simple room with a fan begin at around RM15-60 per night, it is some times cheaper to sleep in Georgetown (also much more services and better local meals) and travel back and forth by public bus. If arriving by bus get off at the post office and walk down to the beach.
penang-resorts Holiday Apartments

phone: +60 12-4269180

address: Batu Ferrinhghi

Self-Catered Apartments /Condominiums/ Bungalows

Sapphire Resorts-Penang Island Holiday Apartment

phone: +60 14-3494464

At Batu Ferringhi, (Meg)

Eden Seaview Condominium

phone: +60 16-4522505 (Mr. Tan)

address: Batu Ferringhi

Offering fully furnished units with basic amenities for rental.

phone: +60 14 7256619

address: Batu Ferrinhghi

Beach Front Chalet and Cafe

EQ Ferringhi Hotel

phone: +60 48851533

address: No. 17 Lorong Sungai Emas, Batu Ferringhi

Offers standard and triple sharing rooms, all of which are equipped with television, air conditioning, fan, high pressure water heater, bathroom and shower. Free Wi-Fi and satellite TV with ASTRO channels at the lobby.

phone: +60 4-8811859

56, Batu Ferringhi.

Ah Beng Guest House

phone: +60 4-8811036

54C, Batu Ferringi.

Ali'sFerringi Guest House

phone: +60 4-8811316

53&54B, Batu Ferringi.

Baba's Guest House

phone: +60 48811686

address: 52, Batu Ferringhi

Rooms are pretty basic but still nice. Inside the building rooms have shared bathroom on the floor, but the rooms in front of the house have an own bathroom with shower. Air conditioned rooms start MYR 85 in the building and MYR 100 outside. Walk distance to beach: 25 meters. Staff: at least the owner speaks fluent English, and is very friendly. Perfect for backpackers who want to enjoy direct beach access and walk over the vast night-bazar. Very clean, NO BEDBUGS as reported on other travel-sites.

phone: +60 4 892-3333

address: Tanjung Bungah

Located at Tanjung Bungah facing the sea.

E.T Budget Guest House

phone: +60 4-8811553

47,Batu Ferringi.

Ismail's Beach Guest House

phone: +60 4-8812569

Batu Ferringhi.

Feringghibackpacker

phone: +60 13-4829292

Beach Front Chalet, Batu Feringhi,

Boomerang Lodge Guest House

phone: +60 14-7256619

Batu Ferringhi,

Daniel's Beach Guest House

phone: +60 16-4112874

Batu Ferringhi,

Miss Lohs Guest house

phone: +60 4-885-1227

address: 159 Jl Telek Bahang. Teluk bahang

fan dorm/single/double. out side bathroom. rents bikes.

Fishermans Village Guest house

address: Teluk Bahang

fan rooms
Mid-range
Bayview Beach Resort Penang

phone: +60 4 881-2123

Located a couple of kilometres before the main Batu Ferringhi strip, Double Tree Hotel is cheaper because of its location, which offers some advantages. Miami Beach is just across the road (accessible by elevated walkway), and is relatively unspoilt compared with Batu Ferringhi - little or no pollution, no jet skis, picturesque with large granite boulders and a pleasant view. Rapid Transit bus stops right outside hotel driveway on both sides of the road (bus stop not marked on side heading to Batu Ferringhi), and is very regular during the day/evening. Staff generally helpful, standard good for price - pick of rooms probably VIP suites, large suites with 2 balconies having sea views. Clean, spacious without being especially glamorous. Still under construction in 2016.

phone: +60166708017

address: Jalan Batu Ferringhi

Available for daily,weekly and monthly rental.
Splurge
Go next
There is still plenty more of
Penang
to visit, simply hop on one of the local Rapid Penang buses and explore.
Head south to discover Penang's backcountry at Balik Pulau. The area is literally the back of the Island and is a slice of an undeveloped Penang. Around the expansive area you will find kampungs, fruit farms and rice paddies scattered throughout.
Visit Air Itam, a town just west of George Town. Explore the famous Penang Hill, either by funicular train or spend a few hours and trek to the top. The views of Penang are exceptional from the hill. Be sure to check out the local markets and the gigantic Kek Lok Si Temple.
Cross over to Penang's mainland, which is somewhat off the tourist track. The towns of Butterworth and Bukit Mertajam are a great place to start.