Bautzen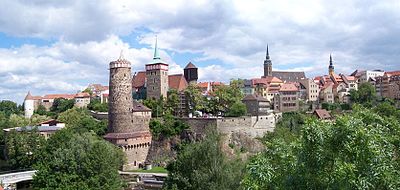 Bautzen
(Sorbian: Budyšin) is an old city in
Saxony
, Germany. It is a well preserved medieval city and the cultural center of the Sorbian community in Germany.
Understand
While an eastern Germanic settlement existed in the 3rd century AD and
archaeology
finds habitation back to the late Stone Age, the oldest written records date from 1002, when the Sorbian fortress of "Budusin" was mentioned as the centre of Upper Lusatia. One of the battlefields of the Napoleonic War Battle of Bautzen in 1813 and the
World War II
Battle of Bautzen, the town has at various times been part of
Poland
, Bohemia,
Hungary
, Saxony,
Germany
or East Germany.
Bautzen was infamous throughout East Germany for its penitentiaries. During World War II, a subcamp of the Groß-Rosen concentration camp operated in Bautzen; in
Cold War Europe
, Bautzen I was an official prison (which remains operational today) while the secret Bautzen II imprisoned prisoners of conscience. Since 1993, Bautzen II has served as a memorial.
Bautzen's
medieval town centre
is defended by a city wall on the steep embankment to the river Spree. St. Peter's Cathedral is Eastern Germany's only historic interdenominational church edifice; the Hexenhaus (Witch's House, built 1604) is the oldest preserved residential building. The Reichenturm is one of the steepest leaning towers north of the Alps to still be passable. The Old Waterworks (built 1558), an architectural monument and museum, is one of the oldest preserved waterworks in central Europe. Other sites of interest include Ortenburg Castle and four museums including the Stadtmuseum Bautzen ("Bautzen city Museum") and the Sorbisches Museum ("Sorbian Museum", Sorbian: Serbski muzej).
Get in
By train
By car
Bautzen can be reached without problems by car from the rest of Germany. It is connected with the German highway system via motorway A4. The best way to get there is from
Dresden
.
By bus
Flixbus
offers service to
Berlin
.
By plane
Besides flying into the close-by major airports of Dresden (
DRS
), Berlin (BER) or Prague (PRG) there is also a small general aviation airfield

Get around

The best way of getting around is on foot. The city center is compact. You can also easily use a bus or bicycle. If you got in by car, it is best to park it outside the city wall or at Schliebenstraße and walk.

See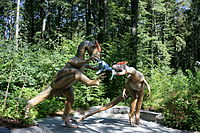 Above all Bautzen is renowned for its historical town centre with its skyline of medieval towers.
Some examples:
The Reichenturm

address: at end of the Reichenstraße

One of the steepest leaning and still passable towers north of the Alps stands on the Kornmarkt , opposite the Liebfrauenkirche.

Ortenburg CastleA tenth-century castle in Bautzen's old town on a rocky plateau overlooking the Spree River.

Hexenhaus

address: Vor der Fischerpforte

The Hexenhäusel (aka Hexenhäuschen or Hexenhäusl) is one of the oldest residential buildings in Bautzen. A former fisherman's house built before 1604, it survived the great 1634 fire which caused great damage to the city; it also survived subsequent fires and wars. According to popular lore, the house was said to have withstood all fires because it was protected by a Gypsy's spell. A distinctive listed historic building widely depicted in postcards circa-1900 and reconstructed in 1959/60, it has old-style wooden roof shingles and wooden gutters.

The Old WaterworksArchitectural monument and museum; landmark of Bautzen.

Saint Peter's CathedralGermany's oldest and Eastern Germany's only historic interdenominational church edifice. The tower is passable, take the door at west side.
Bautzen is the most important cultural center of the Sorbs, who make up 10% of the city population. You will find many places of Sorbian cultural importance in the city. As a result the city uses bilingual signs with street names both in German and Sorbian.
In the Kleinwelka subdivision of Bautzen, you can visit the largest maze of Germany.
phone: +49 3591-40474

address: Weigangstraße 8a

The former Stasi prison, Bautzen II commemorates victims incarcerated in the Bautzen prisons under inhuman conditions during the Soviet occupation and communist dictatorship. See detention cells, the isolation tract, exercise yards and permanent exhibitions documenting victims' suffering and the political and historical context. Free public guided tours F 17:00, Sa Su 11:00 and 14:00. Individual guided tours €60 (in English €70) by appointment.

phone: +49 3591-270870-0

address: Ortenburg 3

Sorbian trade and traditional costumes, music and religious faith, settlement history and contemporary art.

Museum Bautzen
Do
Go on a tour through town or rest at romantic places, go into the museums (city museum or Sorbian museum) or go shopping
Visit the notorious Stasi prison
The city nestled in the heart of Upper Lusatia offers plenty of opportunities for memeroable hikes and day trips. The biosphere preserve "Upper Lusation Pond and Heath Region" extends an area of 21,800 hectares with over 240 ponds. You can easily do day trips to the Upper Lusatian Highlands.
Do water sports at the Bautzen reservoir
Events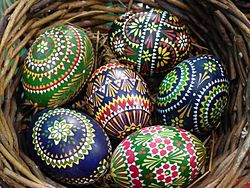 Bautzen is often called the "Easter capital". Sorbian and German customs, including famous processions during Easter, meet with a great deal of interest.
Easter events:
Easter eggs market (the Sorbian Easter eggs are known for their beauty and are made with special techniques)
Easter riding in Bautzen and the villages around
"Eierschieben"
Other events:
Wedding of the Birds ("Ptači kwas"; January 25th)
Bautzen has an important summer open air theater
street festival "Bautzener Frühling"
Buy
Easter eggs
Bautz'ner Senf (mustard) - one of East Germany's best-known specialities. In fact if people hear Bautzen, they usually think one of two things: the notorious Stasi prison - or mustard.
Eat
Sorbian and traditional German-Lusatian cuisine.
phone: +49 3591 490141

address: Burglehn 1

"Medieval" style restaurant with occasional live music. Website in German and English.

phone: +49 3591 42060

address: Kornstraße 7

Sorbian restaurant with traditional food.
Drink
Bautzen beer is only obtainable in only a few places in the city, but it's worth trying.

Sleep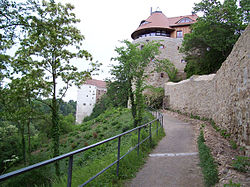 The Youth Hostel is in an old bastion. There are also some rooms of a hotel in another bastion. There are many other places to stay in Bautzen.
Budget
phone: +49 3591 272390

address: Uferwerg1

All room prices include breakfast. The hotel is close to the river.

phone: +49 3591 48960

address: Fischergasse 6

Pension Am Schloss

phone: +49 3591 40921

address: Schlossstr. 11

phone: +49 3591 47590

address: Schlossstr. 1
Mid-range
phone: +49 3591 501330

address: Breitengasse 2

phone: +49 3591 304990

phone: +49 3591 492-0

address: Wendischer Graben 20
Splurge
phone: +49 3591 48660

address: Hauptmarkt 4
Go next