Bavaria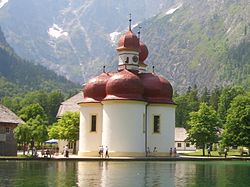 Bavaria
(German:
Bayern
) is the largest federal state (
Bundesland
) of
Germany
, situated in the south-east of the country. It extends from the middle german hills down into the
Alps
. It is bordered by the German federal states of
Baden-Württemberg
,
Hesse
,
Thuringia
and
Saxony
in the west and north, as well as the
Czech Republic
in the east and
Austria
and
Switzerland
in the south. Bavarian folk culture has shaped many non-Germans' view of Germany, though ironically, much of Bavaria has more in common culturally with its southern neighbours Austria and Switzerland, than with the rest of Germany. Stereotypes about Bavaria include leather trousers (
Lederhosen
), sausages and lots of beer - however, the state has much more to offer to the traveller. Along with the
Rheinland
and
Berlin
, it is Germany's most popular tourist destination, so expect long lines and high prices, especially in summer and in ski resorts in winter.
Regions
Old Bavaria (Altbayern)
If you think of Bavaria (and by extension if you think of Germany) this is it. Lederhosen? check. Oktoberfest? (around September) check. White and blue skies? check. (also the national colors) fairy-tale castles like Neuschwanstein? check. FC Bayern, BMW, and Munich, the "world city with a heart"? check check and very much check. This part of Germany has long been a staple in the itineraries of international tourists to Germany, and it is very popular with Japanese and American organized tour groups to Germany who hardly leave Bavaria (not at all if you don't count Rothenburg ob der Tauber, which is in
Franconia
). You might think that Bavaria is "overgrazed" and has nothing to offer to all but the most casual visitors, but you'd be very much mistaken, as there is lots and lots of nature that allow you to "get away from it all" and Munich draws visitors year round, not only for Oktoberfest. So whether you're a first time visitor with only limited time or come here every year, there is bound to be something new to discover for you.
The Bavarian heartland, where economic strength meets natural beauty
A region of wide, open farmland and vivid traditions
A densely wooded mountainous area, close to the Czech border
This part looks and feels different from Bavaria "proper" (Altbaiern) and shares little history before the beginning of the 19th century when the many small and medium-sized (e.g. the margravedom of Ansbach-Bayreuth) territories as well as several self-governing
Reichsstädte
(such as Nuremberg or Rothenburg ob der Tauber) and dioceses (e.g. Würzburg) were absorbed by Bavaria in the course of the
Napoleonic wars
. While some areas of Franconia are just as Catholic as Bavaria, the rule
cuius regio eius religio
(who owns the territory decides the religion of its inhabitants) caused some fiercely Lutheran areas as well, which - together with linguistic differences and the peculiarities of pork barrel spending - make for some lingering resentment against the "Bavarians" in Munich. Franconia is culturally very diverse and includes one of Europe's best climbing areas outside the Alps with the
Franconian Switzerland
, as well as prime wine and beer producing regions and cozy medieval towns such as Würzburg, Bamberg or Forchheim.
An area best known for Richard Wagner and the Bayreuth Festival. It is also the region with the highest brewery density globally.
The industrial center of Franconia around the tri-cities of Nuremberg, Fürth and Erlangen
The state's extreme north-west, with magnificent historic towns and cities. Some excellent wines are grown along the banks of the Main river
Bavarian Swabia (Schwaben)
The cultural region of "Swabia" (Schwaben) has been divided administratively between the
Länder
of Baden Württemberg and Bavaria. However, there are still more things in common across both sides of the border than sets them apart. Swabians are known as hard working no-nonsense types with a reputation for thriftiness (in fact there are many jokes where the requisite Scotsman has been replaced for a Swabian in Germany) and a (supposed) propensity to live in their own house rather than renting. Swabia also has a reputation for being clean and the
Schwäbische Kehrwoche
(roughly translatable as "Swabian sweeping week", a tradition of communally keeping streets and houses spotless) is well known and notorious throughout Germany. That being said, Swabia boasts lovely old towns and - you might be surprised to hear - a bustling nightlife where even Swabians let the rules be rules from time to time. Swabia is also a region where the regional dialect is very much alive and for some standard German is their first "foreign language". However, you should be able to get by with English just as well as it is basically a job requirement for most tourism related professions nowadays and mandatory in almost all schools.
Cities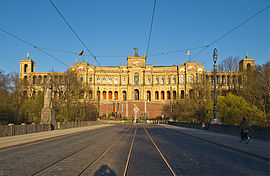 (München) — the capital of Bavaria, known for the annual Oktoberfest and one of Europe's economic powerhouses.
— an important medieval city and the capital of Swabia
— a festival city in Upper Franconia and home of the composer Richard Wagner
— historical town in Upper Franconia that is listed on the UNESCO World Heritage List in its entirety; also famous for its smoked beer (Rauchbier)
– charming medieval city center, which is stage to the quadrennial Landshut Wedding re-enactment
(Nürnberg) — a city of toys, famous for Christmas markets, a medieval castle towering over the old-town, the infamous Nazi Party rallies and the Nuremberg Trials against the main Nazi war criminals
- a small beautiful university town on the Austrian border
— the city on the banks of the river Danube (Donau), the center of which is listed on the UNESCO World Heritage List
— a wonderfully attractive university city in the northwest of Franconia
Other destinations
- the German part of the magnificent and rough mountain range
— including the deepest lake in the alps near Berchtesgaden
— a mountain range and national park along the Czech border
— the largest lake within Bavaria, complete with a copy of Versailles and mountain backdrop
– the Lake District comprises seven lakes
– castle ruins, hiking, canoeing, world class rock climbing
— amazing romantic castle near Füssen, a small town rich in culture and art
(Bodensee) - biggest lake in Central Europe, shared by Switzerland, Austria and the German states of Bavaria and Baden-Württemberg
— popular itinerary through the region past romantic castles and medieval villages
Understand
Bavarians are among the proudest and most independent minded people in Germany. Locals are loyal to their roots and traditions. Bavaria is also the most autonomous of German states, and many Bavarians see themselves as Bavarians first and foremost, Germans second. Some people have called it the "Texas of Germany". The German stereotypes of beer drinking, sausage-eating and
Lederhosen
, is found only in rural Bavaria and mainly in the south and east towards Austria and the Alps or the thick forests that border the Czech Republic and Bohemia.
About 60% of Bavarians are Catholic and are usually more conservative than the rest of Germany.
Munich
, however, is a liberal city with a huge number of people from other parts of Germany, Europe, and the world, and it has a large English-speaking community. It actually can be quite hard to find someone with truly Bavarian origins in this city.
History
Historically, Bavarians are Germans. Bavarians have often emphasized a separate national identity considered themselves "Bavarians". This feeling started to come about more strongly among Bavarians when the Kingdom of Bavaria joined the Protestant-Prussian dominated German Empire in 1871 while the Bavarian nationalists wanted to keep Bavaria as a Catholic and independent German state.
Franconia and in some respects Swabia still resent being lumped together with Bavaria, as they have their own cultural and religious heritage and traditions. As Franconia didn't become Bavarian until around 1806 (several small territories were annexed sooner or later than that date), the rest of Bavaria is often called "Alt-Baiern" (old Bavaria) and there is still a vocal group of Franconians that would rather separate from Bavaria, given the chance.
Get in
A Bavarian has held the post of German federal minister of transportation continuously since 2005 and it shows in the quality of long distance transportation infrastructure serving Bavaria.
By plane
Most international travellers will arrive at
Munich Airport
(
MUC
), which is the sixth busiest airport in Europe with a large number of international and intercontinental flights. Other alternatives are the airports of Nuremberg (NUE) and Salzburg (SZG). Furthermore, Memmingen Airport (FMM) is a destination for a number of low-cost airlines. Würzburg is also reasonably close (direct 1:25 hour ICE connections to the airport) to Frankfurt Airport (FRA), Germany's busiest airport, Lufthansa's main European hub), that it might be best for some travellers to arrive there.

By train
From Berlin
With the completion of the high speed rail line between Nuremberg and Erfurt, the travel time on high speed ICE trains between Berlin and Munich has been reduced to about 4.5 hours, with 3 daily ICE Sprinters completing the trip in just 4 hours. Tickets can be had starting at €19 when bought in advance or up to €130 when bought immediately prior to departure or on the train.

From the rest of Germany
See Germany - Get around by train.
See also rail travel in Germany
The main routes Frankfurt-Nuremberg and Stuttgart-Munich are not yet upgraded for speeds higher than and respectively along much of their length, leading to comparatively long travel times. That said, the Stuttgart-Ulm line is being upgraded with a tentative opening date some time in the 2020s.
====From Austria====
There are plenty of long-distance trains (category EC, ICE and Railjet) from Vienna, Linz, Salzburg, Villach and Klagenfurt. If you travel in a group and want to save money, use a regional trains with combination of Einfach-Raus-Ticket and Bayern-Ticket.

From France
There is one daily TGV high-speed connection between Paris and Munich, via Augsburg, Stuttgart and Strasbourg. You can also buy through tickets with a change at Strasbourg, Stuttgart or Frankfurt for other departures if the direct train doesn't fit your plans

By night train (Nightjet)
After a long and precipitous decline, Deutsche Bahn finally abolished their night train brand "City Night Line" with the December 2016 schedule change. Thankfully for fans of sleeper trains, their Austrian counterpart ÖBB has bought up some assets and taken over some routes at the same time, now operating them under the name Nightjet with a couple of connections to / from Munich. Prices vary from regular seats to bunk beds of varying room sizes but early booking can get you surprisingly affordable rates. Nuremberg and Würzburg are also "on the line" but departure and arrival times are awkwardly in the middle of the night.

By bus
There are now several domestic bus routes in and out of Bavaria, as well as a couple of international routes (mostly serving the Balkans as well as countries from the former eastern bloc) that have already existed pre-2012. The Romantic Road is another route that has already been served by buses before 2012.

Get around
There is a pretty clear north south divide in the quality and price of transportation infrastructure. While Munich and its environs enjoy one of the best public transit networks in Europe, Nuremberg has the most expensive single ticket for a trip within the city and rural Franconia is even more neglected with many places lacking adequate bus service and many former rail lines abandoned.
By train
Trains are the main mode of transport for visitors since they easily connect towns with larger cities.
If you're travelling within Bavaria, you can purchase the
Bayern-Ticket
, which will give you all-day travel in regional trains (categories S, RB, RE and IRE) within Bavaria and even to the border towns of
Salzburg
,
Reutte
or
Ulm
. You can use it also for private trains and most of local buses and city transport. On working days the ticket is valid 09:00-03:00 the following day. On weekends it is valid from midnight.
There are variants of regional
Bayern-Ticket
:
Bayern-Ticket: €25 for one person, €7 for every additional person for up to a party of five. Valid from 9:00-3:00 the following day on weekdays, and from 0:00-3:00 the following day on weekends and public holidays.
Bayern-Ticket Nacht: €23 for one person, €4 for every additional person for up to a party of five. Valid 18:00-06:00 the following day (07:00 if the following day is a weekend day or public holiday)
Bayern-Böhmen-Ticket: €28 for one person, €7.60 for every additional person for up to a party of five - valid also in border regions of the Czech Republic. On Czech territory it is only valid in trains, not in buses.
Quer-durchs-Land-Ticket: €44 for one person, €8 for every additional person for up to a party of five, allows travel on all regional trains in Germany.
For general information about network tickets see
Germany#Network tickets
.
By car
Bavaria is well served by the German autobahn network. The main grid is made up by the north-south autobahn
A 9
, and the east-west autobahns
A 3
,
A 6
and
A 8
. Going by car is sometimes the only way to get around, especially deep in Bavaria's rural and mountainous areas. In the countryside, roads are winding, tricky, and sometimes cut dramatically through farmland, but are otherwise EU-standardised and generally well-paved.
By bus
Intercity buses are mostly limited to longer distances than you'll commonly find in Bavaria, but they are a good option along the Romantic Road or for airport transfers.
By boat
The
Main Donau Kanal
links
Kelheim
in
Lower Bavaria
with
Bamberg
in
Upper Franconia
. There are cruises by major riverboat cruise operators even though the original purpose of this costly and controversial canal was freight.
Talk
Of course all Bavarians understand and most speak standard
German
. However, in southern Bavaria, outside of Munich, Bavarian or Swabian is the native language of many, which can differ dramatically from standard German. In the north Franconian is the traditional language. In the cities (including Munich) standard German is the local language, but Bavarian-speakers and Swabian-speakers typically do speak standard German as well (except possibly older people in the far south).
Most people in Bavaria speak at least basic English, especially the younger generation, since learning a foreign language is compulsory in German schools. Bavarian education policy stipulates the teaching of the British version first and foremost, but in reality the American has been more popular and more widely understood ever since Bavaria came to be home of many American soldiers as part of the American zone of occupation Ayer the war. Media and the popularity of
American football
have ensured the continuation of this trend into the 21st century. Curiously, even when speaking English, many traits of the local dialect may be audible, such as a difficulty to differentiate between
b
and
p
or
d
and
t
in Franconia, or replying "please" to "thank you" (as is correct in German).
Other foreign languages are taught in school, with French and Spanish being particularly common. University towns will have notable presences of foreign students, particularly from other parts of the European Union who usually speak several languages but not always German. Speakers of immigrant languages such as
Turkish
and
Serbo-Croatian
are also found in the bigger cities.
In university cities, there is a fair chance that someone (especially younger people) will speak (in descending order of likeliness) French, Spanish or Italian. On the very eastern edge of Bavaria, mostly Upper Franconia and Upper Palatinate, some people also speak Czech, or have at least had some course in it.
See
Bavaria has many family-friendly places, as well as those for the younger generations. Places to see include the medieval walled city of
Rothenburg ob der Tauber
, Herrenchiemsee Palace - Ludwig II's unfinished castle, based on Versailles, on its own island in the beautiful lake Chiemsee, the historical city of Nuremberg (
Nürnberg
), the scenic city of Regensburg, Bodenmais (known for its fine crystal), and of course the famous Neuschwanstein Castle, often called the "fairytale castle" - the role model for the "Magic Kingdom" of Walt Disney.
Of course, for kids, there is the Playmobil park in Zirndorf near Nuremberg, an indoor Trampoline funpark in Regensburg, and the town of Riedenburg at the river Altmühl, that has a castle with daily falconry shows.
Also,
many
towns have some historical features within their city limits. There are castle ruins, full castles still being used as residences, local museums, caves, and old mines that most tourists will never see. Some of these are better than the typical €20 fee to join a boring, guided tour at one of the more famous cities in Germany. Why pay a fee for seeing only a small part of the castle when you can find an old castle in the countryside that you can explore and maybe discover something new that is not even documented? It's sad to see tourists who pay too much money to see "tourist castles" when the price of a rental car and the will to explore can yield many free or cheap sites, which are sometimes better than the overpriced attractions, that limit what you can see or do.
Do
The
Bavarian Alps
are Bavaria's main attraction for
Doing
things. There you can find skiing a snowboard resorts, which are very well maintained and not too expensive, though much smaller than those of neighbouring Austria and Switzerland. In summertime hiking and mountain biking is the sporty thing to do in Bavaria.
Another great thing to participate are the regular traditional beer festivals. Of course, everybody knows
Oktoberfest
in Munich, but actually every city and town in Bavaria has its own festivities at least once a year for a few days. In fact, those are mostly much more traditional and fun is guaranteed, as those obviously come with the same beer drinking culture but lower prices smaller crowds and arguably more authenticity.
Eat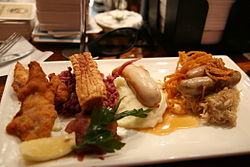 Bavarian cuisine
is the stereotypical
German cuisine
, famous for roast pork (
Schweinsbraten
),
Bratwürstl
sausages,
Nürnberger Bratwurst
(probably the smallest sausage in Germany), veal sausages (
Weißwurst
) eaten for breakfast,
Leberkäse
(a type of meat loaf), grilled pork knuckle (
Schweinshaxe
), as well as a variety of different dumplings (
Knödel
/
Klöße
) and potato salad (
Kartoffelsalat
). In the
Oberallgäu
, the south-westernmost part of Bavaria, the traditional food is
Kässpatzen
made with much Bavarian cheese.
Also, some restaurants have various seasonal specials based on what is available locally at that time. There can be specials like truffle dishes in the southern mountain areas, specialty mushrooms in the Upper Palatinate area, seasonal salmon dishes on the Danube and Altmühl area, local trout specials in all small villages, seasonal asparagus dishes, and occasional fresh wild boar and venison dishes during hunting season – Bavaria is a gastronomic wonderland, especially for the meat aficionado!
If you want to eat seasonally, then look for these things:
Early spring: Wild garlic appears in many dishes. Look for "Frankfurt green sauce" on beef or white fish.
Mid-April to mid-June is Spargelzeit.  It will be easy to find asparagus dishes. White asparagus is a delicacy. You'll also see strawberry punch during this time.
July and August is Zwetschgenzeit ("plum time") – the time for cherries, plums, and other stone fruits. Almost every bakery will offer Zwetschgendatschi (a thick layer of quartered plums on top of yeast dough or pastry) throughout the plum season, and many will offer several baked goods that feature plums or cherries.
August to October is a great time for apples and mushrooms. Apples and pears appear in many baked goods as the stone fruits of summer fade away and the autumn fruits reach the market. The main mushroom season begins with chanterelles (Pfifferlinge) in August and ends with porcini mushrooms (Steinpilz). If you somehow tire of mushrooms during this season, then try to find Federweißer (young wine), which pairs well with an onion tart.
Late fall and winter feature wild game with sauerkraut, potatoes or dumplings.
The Christmas season comes with its own treats, including marzipan, candied almonds, mulled wine, and gingerbread. The strongly spiced Lebkuchen hearts, which look like large, thick, crisp gingerbread cookies with hard icing decorations, are available year-round in most tourist spots and larger bakeries. A small one will usually cost 4 to 5 Euros. During the Christmas season, it's easy to find soft, round Lebkuchen cookies in the bakeries as well. Nuremberg in particular is famous for its Lebkuchen as the wealthy trading town had easy access to the spices needed during the early modern era. In many cases the same business will be an ice cream parlor in the summer and a Lebkuchen shop in winter.
Drink
Beer
Bavarians love their
beer
. One of the most beloved is wheat beer (
Weißbier
), a cloudy, top-fermented beer brewed with malted wheat, which is commonly consumed earlier in the day with a
Weißwurst
and sweet mustard. It's good to know that there exists a special ritual with this beer: Normally it will be served in a special glass, called
Weißbierglas
. But if you get the empty glass and the bottle of beer, you have to fill it by yourself: in one step without dropping the bottle. Weissbier is more carbonated than most other beers and produces a lot of foam so it is not easy to fill without spilling something.
Bavaria could easily opt for the title of "Promised Land of Brewing". Not only is it home to
Oktoberfest
, the world's biggest beer festival, but also the highest brewery density in the world is in the north of the state, in
Franconia
. There, you can find a brewery in almost every village (it is sometimes very small and maintained among a few families). You can find a lot of local beer specialities, as for instance the
Bamberger Schlenkerla
(a beer with a taste of smoked bacon). So always try to stick with the local beers - especially tasty (and supposedly healthy) are the unfiltered beers (served only in pubs, because they don't store well for a long time).
In summer, you can generally find
beer festivals
everywhere: not only in the bigger cities but also in the smaller villages; be warned, however, that the beer there is normally served in 1 L ceramic glasses called
Maß
. The biggest beer festival certainly is the
Munich
Oktoberfest
, followed twice a year by the
Nuremberg
Volksfest
and
Gäubodenfest
in
Straubing
. Also very nice is
Bergkirchweih
in
Erlangen
. If you are touring Upper Bavaria in August, you shouldn´t miss
Barthelmarkt
in Oberstimm, next to Ingolstadt, which is one of the oldest traditional beer festivals in Bavaria. It´s still kind of a local insider tip. You will hardly find foreigners there. On Monday there is a big horse market and the beer tents open already at 05:30 and they are packed with people at 06:00.
Bavaria's beer garden
(
Biergarten
) season starts in mid April and runs right through well into October. The shade of ancient horse chestnut trees become a rendezvous point for both young and old, white and blue collar workers, rich and not-so-rich, and locals and visitors alike: a place to enjoy a convivial glass of cold local beer and some tasty Bavarian snacks. You can even bring your own food (but not drinks).
Franconia is known as the home of beer cellars. What is called beer gardens in the south are called
beer cellars
(Bierkeller) in the north. But rather than sitting
in
the beer cellar you actually sit on top of it. The ancient underground cellars, that are just perfect for storing beer, are usually in idyllic rural settings. So it really was a natural step to set up a few beer tables and serve the beer to people right on site. As many Bierkeller are too far away from town to walk and driving there presents obvious DUI problems, Franconians like to visit them with a bicycle (the DUI limit being notably higher at 0.13% and less strictly enforced). It is perfectly okay in the great majority of them to bring your own food, as long as you order at least one drink (alcoholic or not). A common choice in drink is
Radler
(literally cyclist, so called probably because it is an ideal refreshment for cyclists that leaves them sober enough to drive on) a mix of roughly equal parts lemonade (Sprite or 7up or a generic clone) and beer. The selection of food in a Bierkeller includes mostly cold foods like
Kellerplatte
(mostly different types of sausage and bread) or
Obatzda
(a type of cottage cheese) or
Handkäs mit Musik
(literally hand-cheese with "music" the "music" being caused by the onions...). More and more
Bierkeller
also offer warm food including all the Franconian food listed above and in the
Franconia
article.
Breweries in Franconia
lists breweries, beer cellars, brewery museums.
Brandy
Germans generally make brandy out of everything; most common are the fruit brandies (
Obstler
) and the herb liqueurs (such as
Sechsämtertropfen
from eastern Upper Franconia). For a real
Altbayern
feeling, try
Bärwurz
,
Kräuterwurz
, or
Blutwurz
.
Wines
The north of Bavaria is famous not only for its beer but especially for its (white) wines that come in special bottles called
Bocksbeutel
(bottles with a big round yet flat belly). For a sweet treat, try ice wine (
Eiswein
), made from grapes that are allowed to stay until the first severe frost and then pressed and made into a
very
sweet wine.
Stay safe
Statistically, Bavaria is one of the safest regions (if not the safest) in Germany and maybe Europe. The biggest threat to your wallet are the (perfectly legal) high prices, and the beer drinking culture in combination with the easy availability of alcohol.
Be aware that there is a big difference between the Bavarian police and the police from basically all other states. In Berlin, it might not pose a problem, if you are caught with a few joints in your pocket (because you may carry it for your personal use). In Bavaria, it definitely is a big problem for you. Police presence is notably higher than in other states, particularly in urban areas. In part this is due to the propensity of the "natural governing" CSU (a conservative party only active in Bavaria) to talk about "law & order" and being "tough on crime" and in part it is just to show presence. Police are very strict about their rules and you won't find a crooked cop, but they may be equally strict about you breaking even minor rules. Don't provoke them and don't let them provoke you and especially do not insinuate that there might be any racism, because cops get allergic to that especially when it is accurate. Still, you won't have any problems if you drink alcohol in public as in the rest of Germany and Central Europe though local and municipal restrictions are becoming more and more common in places like train stations or some cities. Beer or wine is permitted if you are at least 16, spirits at least 18, but the law is loosely enforced, if at all. Especially in mid sized towns at night police might get bored by the small amount of serious crime they get to catch, so they might fine you for a DUI on a bicycle, not walking on the sidewalk or other minor nuisances that police in Berlin usually don't have the time to care about.
While police are armed and the 2010s terror scare has seen an increased militarization of police, police all throughout Germany rarely make use of their firearms and shooting on unarmed people is basically unheard of. Police may be more disposed towards reacting aggressively during political demonstrations (particularly when the fringes of the political spectrum are involved) or important soccer games when police on horseback, riot gear clad "robocops" and the likes are a common sight. However, the worst that will happen is a liberal use of nightstick, pepper spray, tear gas and water cannon as - supposed or actual - riot and crowd control. Stay away from this and you won't get in trouble, but you may have your own opinion on Bavarian policing.

Go next