Bavarian Forest National Park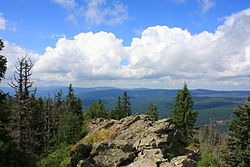 The
Bavarian Forest
or (in German)
Bayerischer Wald
is a mountainous region on the
German
-
Czech
border in
Bavaria
.
Understand
This ancient forest is the largest protected forest area of Central Europe and both the woods and the mountain range that forms its backbone stretch well into the Czech Republic (where it's called the
Bohemian Forest
) and
Austria
. Important parts of the area are made up by the
Bavarian Forest National Park
, which protects the most untouched and dense parts of the forest.
History
Landscape
Flora and fauna
Climate
Get in
By car
Getting to the edge of the area is easy enough, with several major highways getting you to the area. Depending of your location and destination, take the A3 (
Nürnberg
-
Linz
), the A92 (
München
-
Deggendorf
) or the A93 (
Hof
-
Regensburg
) to get you in the right direction. Once you're there, regional roads like the B85 or B11 that will take you further. Keep in mind that traffic jams occur during high season. When you're headed for the National Park, follow the signs for
Nationalpark Bayerischer Wald - Zwieseler Winkel
from the highway, which will take you to the designated parking lot.
By train or bus
Travelling in and around by public transport is encouraged, and indeed easy. It also allows to admire the views through the large train and bus windows while on the way. Head to
Plattling
, which serves as the main connection point. From here, special green shuttle railcars run regularly to Zwiesel, Bayerisch Eisenstein, Bodenmais and (once every two hours) to Frauenau, Spiegelau and Grafenau.
Get around
If you don't have your own transport, consider using the above mentioned shuttle railcars, called
Waldbahn
to travel between popular destinations in the area.
See
The main attraction here is of course the beautiful nature and lovely scenic views. The ancient forest is a remnant of the vast Hercynian Forest that dominated the area south of the Rhine in Roman times, and was described by Julius Caesar and Tacitus as they sought to conquer the German tribes that inhabited it. The wooded mountainous terrain, the many lush valleys and picturesque villages in them make for some excellent panoramas.
Firmly on the tourist map, the people ensure a good number of additional attractions to entertain people in their towns. There are many small museums to see as well as charming festivals and events in summer, many of which are traditional rather than invented in nature. There's the canopy walkway and small zoo in Neuschönau, or the open air museum village near Ringelai. Of course the lovely little villages with their historic churches are attractions in their own right.

Do
As in any natural area, hiking and other outdoor activities are a popular activity. Nonetheless, the Bavarian Forest is also a known wellness-region, packed with small spa's for relaxation and therapy.
Buy
Deggendorf
is the main town for shopping in the area.
Sleep

Accommodation options are plentiful, and vary from countless hotels in all price ranges to B&Bs and camp sites.

Lodging
Camping
Backcountry
Go next