Baxter Springs
Baxter Springs
population 4250, is a city on historic
Route 66
in
Southeastern Kansas
. During the US Civil War, it briefly hosted a US fortress (Fort Baxter, aka Fort Blair, abandoned 1863) and was the site of the Baxter Springs Massacre battle.
Understand
The area from
Joplin
, Missouri through
Galena
, Riverton and Baxter Springs, Kansas to
Picher
, Oklahoma was lead and zinc mining country, extracting galena (lead sulphide) ore until the 1960s. The closure of the mines, followed by the bypassing of US Route 66 by Interstate highways, led to a decline in the local economy and a drop in local population.
As mining was never permitted within the Baxter Springs city limits, the town escaped the ecological damage which turned nearby Picher into a ghost town. The original motels and campgrounds which served motorists on the dozen miles of US Route 66 in Kansas are now gone, but portions of the city's Route 66 legacy live on to attract visitors today.
Get in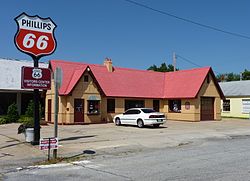 Baxter Springs is accessible by motorcar on the former US
Route 66
, where it is sixteen miles (22 km) west of
Joplin
, Missouri. There is no local transit service.
When Interstate 44 bypassed Route 66, it avoided
Kansas
entirely by crossing directly from
Missouri
to
Oklahoma
. To get back to Route 66 (Alternate US 69) from I-44, exit to US Route 400 at the Missouri state line and drive 8 miles (13 km) west to Baxter Springs.
See
Baxter Springs Heritage Center and Museum

phone: +1 620 856-2385

address: 740 East Ave

Local history including Quantrill's Battle & Massacre, US Civil War, both world wars, the retail main street in the 1870s and 1930s, a Lincoln school room, US Route 66, the local tri-state mining district, native and black American history. Souvenir shop.

Baxter Springs Independent Oil and Gas Service Station

phone: +1 620 856-2066

address: 940 Military Ave

This 1930s service station dispensed first Independent Oil and Gas and later Phillips Petroleum; the building was restored in 2007 as the Kansas Route 66 Visitor Center.

Soldiers' Lot, Baxter Springs City Cemetery

address: US 166 West

A place of burial and Civil War memorial for those who fought in the 1863 Battle of Baxter Springs.
Do
Cowtown DaysAnnual summer festival with entertainment, arts and craft fair, gospel music, contests and a car show.
Buy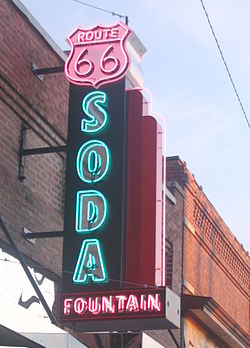 Carol's Flea Market and Appraisals

phone: +1 620 856-5570

address: 1141 Military Ave.

Antiques and Route 66 memorabilia.
Eat
phone: +1 620 856-3287

address: 2320 Military Ave

Smoked meats, steaks, burgers, sandwiches and seafood, takeout.
Chili Willy's

phone: +1 620 856-3833

address: 2327 Military Ave.

El Cabrito

phone: +1 620-856-3733

address: 2135 Military Ave

Mexican, steakhouse.

Route 66 Soda Fountain

phone: +1 620 856-5520

address: 1136 Military Ave

phone: +1 620-856-4414

address: 1737 Military

Rebuilt/reopened after an April 27, 2014 EF2 tornado hit.
Sleep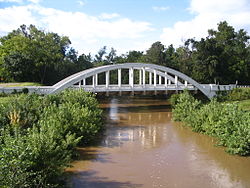 Baxter Inn

phone: +1 620 856-2106

address: 2451 Military Ave

phone: +1 620 856-2112

address: US Route 166, south side, at east edge of Baxter Springs

Park with local campground on Spring River. Fishing, boat ramp, RV electrical hook-up, shelter houses, tables, grills and rest rooms. Contact the Baxter Springs Police Department (121 W 11th St.) for a permit to camp.
Nearby
Riverton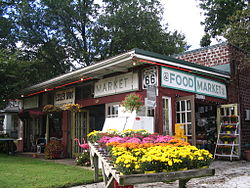 An unincorporated Route 66 community, population 930, at what is now the junction of K-66 and U.S. Route 69 Alternate.
phone: +1 620 848-3330

address: 7109 SE Oriole Lane, Riverton

1925 country store with groceries, produce, flowers, deli sandwiches, souvenirs and memorabilia. One of the stops on Pixar's US 66 research trip for 2006 film "Cars", where Route 66 Association president Dean Walker showed the film's makers his ability to twist his feet around 180° and walk backwards. (The corresponding character in the animated film, a rusty tow truck, teaches how to drive backwards.) According to route 66 historian and guide Michael Wallis, "As luck would have it, we had just eaten a sandwich at the Eisler Brothers when we met Dean, He was proud as punch to show them his exorcist feet and regale them with stories of the Ghost Light."

Rainbow Bridge

address: Brush Creek

Sole surviving single-span concrete Marsh arch bridge on Route 66. Built in 1923.