Bayan Lepas
Bayan Lepas
is a town in
Penang
,
Malaysia
. The area makes up the south-east region of Pulau Pinang and includes the mid-way town of
Gelugor
, which separates Bayan Lepas and
George Town
, along with
Batu Muang
at the south-eastern tip of the island.
Get in
By plane
Penang International AirportFrom the airport you can take either a bus or taxi depending where in Bayan Lepas you need to go. Further information on the airport can be found in the main Penang article.
By bus
Sungai Nibong Bus Terminal, located in the Bayan Lepas Area, provides connections mainly from Kuala Lumpur and Thailand by buses and serves the whole Penang Island. The ticket price for the buses are in the range of RM60-80 to Kuala Lumpur.
By car
Bayan Lepas has 2 bridge connections (Penang Bridge & 2nd Penang Bridge) with the mainland (Seberang Perai). The two bridges are easily accessible from the North-South Expressway which connects the whole west coast of Peninsular Malaysia.
Get around
By car
Cars can be easily rented from the Penang International Airport. A wide selection of car rental companies and cars available to choose.
By bus
Rapid Penang offers good bus services to go around and connecting other areas to the Bayan Lepas Area. There is a Rapid Penang bus hub just in front of Bukit Jambul Complex that serves the Bayan Lepas Area, all bus lines which begins with the number 3 (eg.301) and bus line 401E would pass through the hub.
Line 301 Relau to Jetty
Line 302 Batu Maung to Jetty
Line 303 Bukit Gedung to Jety
Line 304 Bukit Gedung to Gurney Plaza
Line 305 Sungai Nibong Bus Terminal to Teluk Tempoyak
Line 306 Airport to Hospital Pulau Pinang (Penang General Hospital)
Line 307 Batu Maung to Jetty
Line 308 Sungai Nibong Bus Terminal to Gertak Sanggul
Line 401E Jetty to Balik Pulau
See
Fisheries Research Institute Aquarium

phone: +60 4 626-3925

address: Jl Batu Muang

A medium-sized aquarium that showcases mostly fish found in regional waters. Nothing fancy but quite informative and enjoyable.

Penang BridgeWith a span of 8.4km over water, it is one of the longest bridges in Asia. The bridge connects the island to the mainland (Seberang Perai) and offers great views of the port and city. You are not supposed to stop on the bridge but many people use the emergency stop areas for a quick photo shoot. The bridge opened to public in 1985 and still is a major national landmark for Malaysia. The , an even longer bridge, opened in Nov 2013 and links Batu Muang to Batu Kawan on the mainland.

Pulau JerejakAlso known as the Alcatraz of Malaysia, because the island was once the location of the Jerejak Prison. This beautiful 362 hectare tropical island, is located directly across the channel from Bayan Lepas. The island is now open to the public as a recreational resort. Numerous outdoor activities including nature & historical trekking, mountain biking, and archery are available; personal care such as aromatherapy massage, tired foot treatment, body scrub are also available. Unfortunately, you are advised not to swim in the sea around the Jerejak island because it is not quite clean. Ferries from Penang operate 06:30-00:30. Return trip fare for guests with room / event reservations: Adult RM6, Children RM3. Day trippers: Adult RM16 (include meals), Children RM3. Various accommodation option available: tent for 2 persons costs RM80 per night, 2-bed room RM115, chalet RM220 or promotional 3D/2N package for 2 persons costs RM499.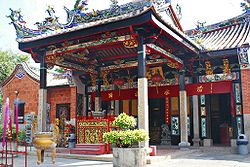 Snake TempleBuilt in 1850 in memory of the renowned Chinese monk Chor Soo Kong. The Snake Temple is on the edge of a highway and is famous for the fact that it has pit vipers living within the temple grounds. Legend has it that Chor Soo Kong, who was also a healer, gave shelter to the snakes of jungle. After the completion of the temple, snakes appeared on their own accord. Today, the snake population of the Temple of the Azure Cloud is very small, due to the urbanization of the area, but you can still see them coiled up on the altar tables, and you can touch them, if you are brave enough. Originally, the snakes were said to be rendered harmless by the smell of the burning incense, but today, to be safe, the resident vipers are devenomed. There is a snake museum beside the temple where there are snakes galore and you can see a staff member occasionally handling an albino Burmese python. Museum admission RM5 for adults, free admission for temple.

War Museum

phone: +60 4 626-5142,+60 4 391-0067

address: Lot 1350, Mukim 12, Batu Maung

Located at southeastern tip of Penang, it's a large abandoned military fortress built in the 1930s by the British to protect the southern approaches to the island. The British Royal Engineers and a work force of local labourers blasted and dug into the hill to create a fort with underground military tunnels, an intelligence and logistic centre, halls, offices, ventilation shafts, artillery firing bays, sleeping quarters, cook houses as well as an infirmary.
Do
phone: +60 4 644-2255

address: 2 Jl Bukit Jambul

Renovated in 2012, this Golf club is home to an 18 hole course and driving range. The club also has other facilities including a Japanese restaurant, squash courts, gym, tennis court and snooker rooms.
Buy
phone: +60 4 645 6788

address: Jalan Rumbia, 11900, Bayan Lepas, Pulau Pinang, Malaysia

A shopping complex with 414 shops, a Mydin-hypermarket, food court, an amusement center that contain a 40-lane bowling alley and 6 cinema complexes. Lots of shops in the complex have been closed down, but you still get some cheap goods.

Queensbay MallBayan Baru. Opened in December 2006, Queensbay Mall is the island's largest mall. It is located next to the sea opposite Pulau Jerejak and is about 20 min drive from the centre of Georgetown. Five levels of retail and 8 levels of parking, Jusco as its anchor tenant, 17 junior anchors, a cineplex, many restaurants and more than 500 retail merchants, including a Borders bookstore.
Sleep
phone: +60 4 612-1111

address: 1 Solok Bayan Indah

phone: +60 4 643 8111

address: 1 Jalan Bukit Jambul , Bayan Lepas , 11900 Penang, Malaysia

Set 250 feet above sea level, Hotel Equatorial Penang is a 5-star hotel peacefully tucked away on a hillock. The hotel houses 662 guestrooms and suites. It is a popular choice for executive retreats and incentive group gatherings. It houses two columnless ballrooms, the Grand Ballroom and Matahari Ballroom, able to hold up to 1,300 people, and also 21 function rooms with various dimensions. The hotel also has a variety of dining outlets, ranging from classic French cuisine at The View to authentic Japanese fare at Kampachi. Other hotel facilities include a very well-equipped fitness centre, outdoor swimming pool, squash and tennis courts, a business centre and scheduled shuttle services.
Go next
Continue up north to George Town, the capital of Penang and a UNESCO World Heritage Site.
Relax on the beach at Batu Ferringhi and the nearby resort town of Tanjung Bungah. If you're hungry for seafood look no further than the fishing village of Teluk Bahang and, if time permits, go for a leisurely trek in Penang National Park.
Visit Penang's mainland, which is somewhat off the tourist track. The towns of Butterworth and Bukit Mertajam are great places to start.