Bayeux
Bayeux
is a small town (population 16,000) in northern
France
within
Lower Normandy
. Bayeux is best known for the remarkable
Bayeux Tapestry
that chronicles in visual form the conquest of
England
by William the Conqueror, Duke of Normandy, in 1066.
Understand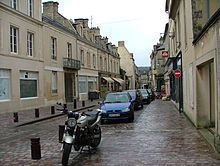 Bayeux is linked to two famous cross-Channel invasions. The Norman conquest of England by William the Conqueror in 1066 is depicted in a famous
tapestry
that has been kept in Bayeux for so many centuries it now bears the town's name. On 6 June 1944 the Allied
D-Day
(French:
Jour-J
) invasion force struck the
beaches
just north of the town. Bayeux was the first significant French town to be liberated from Nazi occupation during the 1944 Battle of Normandy and survived almost completely unscathed. On 16 June 1944 General Charles de Gaulle made his first important speech on liberated French soil in Bayeux. The town now hosts the largest Commonwealth war cemetery in Normandy and is an excellent base for visiting the Normandy beaches.
Get in
By train
Bayeux can be accessed by train through the SNCF rail system. It is on the line from Paris (Saint-Lazare station) to Cherbourg, between Caen and Cherbourg. There are several trains a day from Paris that go through to Bayeux but sometimes it is necessary to change at Caen. It is not necessary to pre-book a ticket on this line and it is not possible to book seats. The train journey from Paris to Bayeux is just over 2 hours.
By bicycle
The town lies on the
Eurovelo 4 Cycle route
.
Get around

Most of the town can be navigated by foot after arriving at the train station (South of the city), even with a wheeled suitcase. The town centre, a ten minute walk from the train station, mostly lines the main street which changes names a few times as it goes along.
Streets are narrow and uneven and often cobblestone or similar, so bring comfortable footwear (especially if going on local expedition tours—see below for more information).

See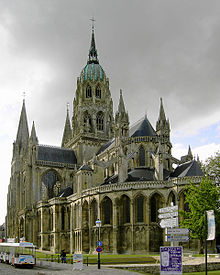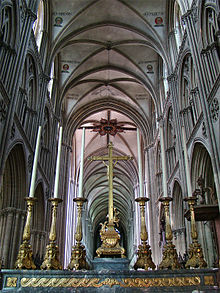 phone: +33 2 31 51 25 50

address: Centre Guillaume le Conquérant, Rue de Nesmond

the historically unique Bayeux Tapestry is a 70 metre-long, 50 cm high embroidery made from wool on a linen canvas in the late 11th century to chronicle the conquest of England by William the Conqueror, Duke of Normandy, in 1066. Scenes include the Channel crossing, the Battle of Hastings (14 October 1066), the death of the Saxon English king Harold and the subsequent coronation of Duke William as King of England. Multi-language audioguides are available and strongly recommended, as there are few visual interpretation aids accompanying the Tapestry itself. Allow 1–2 hours to visit, including the adjacent exhibition.

phone: +33 2 31 92 48 48

address: Rue du Bienvenu

Towers over the entire town, and is interesting to circle around outside and explore inside. The exterior is surrounded by the occasional helpful informational signage on stone or wood blocks, each explaining aspects of the church's construction or architectural features. The interior has some excellent views of the architecture, statues and murals, and there are several (empty) crypts you can visit beneath the church. Open for touring during the daytime hours (when no church services are in session), and definitely worth a visit.

phone: +33 2 31 51 46 90

address: Boulevard Fabian Ware

One of the best on the topic, with a good balance of explanations of the battle together with small and large artefacts and an absence of the glibness and sensationalism present in other 'museums' of the area. Movie in English and French. Dioramas, small arms, and photos. Outside are four armoured vehicles (Sherman, Marder, Crocodile, and M-10 Hellcat). Inside are Self-propelled 105 mm howitzer, Quad-50 cal. anti-aircraft "meat chopper," radio truck, bulldozer, and several other large items.

address: Boulevard Fabian Ware

The largest British and Commonwealth cemetery in France from the Second World War, beautifully maintained by the Commonwealth War Graves Commission. There is a service in English every 6 June.

phone: +33 2 31 227076

address: Les Noires Terres, 14230 La Cambe

Containing in excess of 21,000 German war dead, it is maintained and managed by the German War Graves Commission.

Reporters' Memorial

address: 1939, Boulevard Fabian Ware

A moving memorial garden to the soberingly large number of journalists killed on active duty around the world since the Second World War to the present day, with names being added on an ongoing basis. Many were casualties of various conflicts, while others were murdered by those opposed to a free press.
Buy

Shopping in Bayeux is a sensible combination of French authenticity and touristic gaudiness—almost at a one-to-one ratio. Shops toward the centre-ville (city center) tend to be more overpriced than some of their counterparts about 3 km (1.8 mi) north.

Eat
Food can be procured for as little or as much as you wish: the main boulevard through town is lined with
boulangeries
and even a supermarket near the south end of town.
Budget
Le Marsala - Pizzeria-Grill Restaurantrue des Cuisiniers, - great pizzas at a reasonable price, friendly service
Mid-range
Le Petit Bistrot2, rue du bienvenu, closed We,
Sleep
phone: +33 2 31 21 31 80

address: 14 Rue Saint-Jean

Provides 3 star accommodation with a friendly attentive management.

Hotel D'Argougesprovides 3 star accommodation, and the staff were very helpful. A family photo Christmas card from travel guru Rick Steves and his brood is on prominent display, so he must have enjoyed his visit at some point as well! Included French breakfast. Rooms are very clean, and are excellent value for the money.

Clos des Fleurs

address: Juaye Mondaye

Clos des Fleurs is a luxury self-catering property (gite) comprising a three bedroom house and optional three bedroom annex, 8km south of Bayeux and 25 mins from the beautiful Normandy coast. The secluded property features a beautiful walled garden, large rooms, open fires, comfy king size beds and plenty of room for entertaining inside or out

address: Normandy

Luxury B&B Chateau Hotel near Bayeux and D-Day Landing Beaches, recommended by Travel & leisure and Michelin Guide

Hotel Lion D'Oris friendly, centrally located, and has a comfy bar with fireplace and signed photos of Eisenhower and a number of other generals. English spoken. Wifi is available. Internet-connected computer in lobby for guest use.
Go next
D-Day beaches
. From Bayeux train station, you can catch a bus to some of the D-Day beaches. On the bus website there is a map of the bus route to the D-Day beaches. Bus No. 70 takes you to Omaha beach, the American cemetery, and to Pointe Du Hoc. Bus No. 74 takes you to Arromanches beach - the location of the Mulberry harbors. According to Wikipedia: "Omaha beach is 5 miles (8 km) long, from east of Sainte-Honorine-des-Pertes to west of Vierville-sur-Mer" and these villages are accessible via the No. 70 bus. Note very carefully from the bus timetable that buses are few and far between, hence, you would schedule your bus trip to take into account the few buses. The buses are mainly for local school children and workers so tend to be early morning and late afternoon/early evening. It is almost impossible to visit the D-Day sites via bus. Also, buses do not run when there is heavy snow, so check the bus website beforehand during snow season.
World War II Normandy American Cemetery and MemorialThe cemetery is the final resting place for 9,387 American military dead, most lost during the Normandy Invasion. A monument is inscribed with the names of 1,557 Americans whose remains were never found or identified. The memorial contains maps and narratives of the military operations in Normandy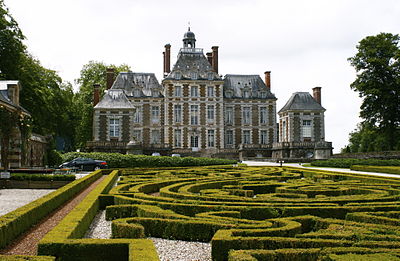 Guided Tours of World War II Historic Sites
(
There are several guided tour companies in the area; Bayeux has a central designated meeting spot where all of the tours embark from in the morning and return to each afternoon
).
Normandy Sightseeing Tours, or NST provide tours on every parts of the Normandy Beaches and elsewhere in Normandy. The tours available are Omaha beach (morning or afternoon tours), Gold beach (morning), Juno and the Canadian sector (afternoon), Sword (afternoon), as well as a US beaches tour including the paratroopers, Utah and Omaha (full day), and a US paratroopers tour (full day). The company is offering as well private tours to visit Mont Saint Michel, Honfleur, Deauville, Rouen, Giverny, and many more places depending of your wishes. NST is offering shuttle service for Paris to Bayeux. The company own comfortable and air-conditioned vehicles, from a luxury 4-seater car to a 57-seater coach.
Battlebus offer guided tours of sights including all the landing beaches, museums and cemeteries, and countless other hard-to-find sites. Tours offered are divided into zones of coverage (American, British, Canadian, and others), as each zone is fairly large. A one-day tour gives you a good overview of most of the highlights the region has to offer. Guides are experienced, interested, and respectful of the great history of the region. Pick up and drop off from your accommodation
Chateau de Balleroy
- Not far from Bayeux, on the edge of the Cerisy Forest, is the small village of Balleroy with its 17th century chateau. The site offers the historic castle, built by a relative of Louis XIII, along with a good gift shop, an adequate tea room, extensive grounds, and a hot air balloon museum dedicated to the ballooning obsession of its latter day owner Malcolm Forbes (of
Forbes
magazine)
Cerisy-la-Forêt
- From Balleroy, drive through Cerisy Forest, which is an interesting area of woodland home to its own endemic species of beetle,
Carabus auronitens
(French:
carabe doré à reflet cuivré
- the golden beetle with copper hints), and other common forest animals such as deer, badgers, foxes and boar. Leaving the forest by the D13 road, you come to the village of Cerisy-la-Forêt, noted for its magnificent neoclassical abbey and international sculpture park.