Bayonne (New Jersey)
Bayonne
is a city in
New Jersey
. It is home to Cape Liberty Cruise Port.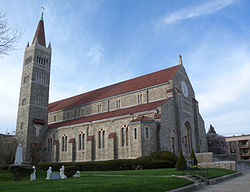 Understand
Bayonne is a largely working-class city, with a mix of private houses and small apartment buildings, just south of the larger, more built-up
Jersey City
and right across the Bayonne Bridge from the North Shore of
Staten Island
. The city is not a usual tourist destination for daytrippers from New York City, but it does have the authenticity of a suburban town with a relatively low-density, often tree-lined urban feel that harkens back to the times before gentrification. And like some of the lower-density neighborhoods in
Brooklyn
, Bayonne has many churches.
Get in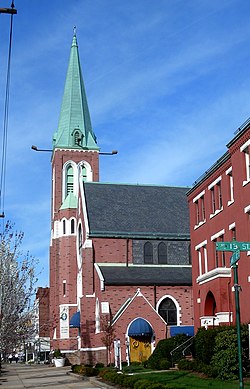 By car
There are only three ways to get in and out of the city by car: the Bayonne Bridge from
Staten Island
, Route 440 from Jersey City, and the New Jersey Turnpike (I-78) from
Newark
/
New York City
. During rush hour this results in traffic jams when exiting the city via New Jersey Turnpike.
By bus
Bus transportation is provided on three main north-south streets of the city: Broadway, Kennedy Boulevard, and Avenue C, both by the state-operated New Jersey Transit and several private bus lines. The Broadway line runs solely inside Bayonne city limits, while bus lines on Avenue C and Kennedy Boulevard run to various end points in Jersey City. One Kennedy Boulevard service (the Coach USA 99S) runs to the Port Authority Bus Terminal in midtown Manhattan, New York City, and rush hours peak direction the NJ Transit 120 runs between Avenue C in Bayonne and Battery Park in downtown Manhattan.
By train
New Jersey Transit's Hudson-Bergen Light Rail system provides service throughout Bayonne, Jersey City, Hoboken, Weehawken, Union City and North Bergen.
Stations in Bayonne are:
45th Street, Avenue E at East 45th Street
34th Street, Avenue E at East 34th Street
22nd Street, Avenue E at East 22nd Street
8th Street, Avenue C at West 8th Street/North Street
Service within Bayonne is available between these four stations. Northbound service from Bayonne runs through Jersey City, mostly near the waterfront, to Hoboken Terminal. Other parts of the system can be accessed via transfers. The Liberty State Park station is the nearest transfer station for those traveling between Bayonne and stations on the West Side Avenue line. PATH trains for Midtown Manhattan and New Jersey Transit commuter train service throughout the state are available at Hoboken Terminal. PATH trains for Newark, Harrison, and Downtown Manhattan are available at Exchange Place.
Get around

Bayonne doesn't have much public transportation other than bus (NJ Transit, A&C Bus) and the train (Light Rail). Most visitors come to Bayonne for either the two shopping centers along Hwy 440 or to walk around the only county-owned park, which is also the largest in the city. NJ Transit offers buses at Kennedy Blvd (10-Journal Square, 119-New York), Ave C (81-Exchange Pl, 120-Lower Manhattan NY) and Broadway which has their own bus that you can transfer to the Journal Square Transportation Center in Jersey City (33). New York's MTA offers the S89 bus to Staten Island from the 34th St Light Rail Station

See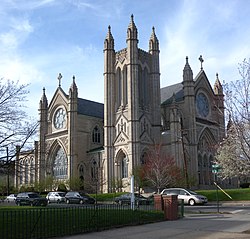 address: 51 Port Terminal Boulevard

Nicknames include "To the Struggle Against World Terrorism" and "Tear of Grief," Bayonne's Tear Drop Memorial is a 10-story sculpture by Russian artist Zurab Tsereteli that was dedicated by Bill Clinton and Vladimir Putin in 2006. It's a dedication to both the 9/11 and 1993 attacks on the World Trade Center in New York Giant sculpture dedicated to the memory or 9/11 and all victims of Global Terrorism. Full name is "To The Struggle Against World Terrorism". Located at the end of the Former Military Ocean Terminal Dock past the Cruiser Terminal. No pedestrian or bus access so if you take the HBLR to 34th Street you will have to take a 3-mile taxi ride using a local taxi service or Uber.

phone: +1 201 217-5484

address: Kennedy Blvd between 37th and 48th St

Established in 1916 as Bayonne Park. It was designed by Charles N. Lowrie. The park was renamed in honor of life-long Bayonne resident, Stephen R. Gregg, who was awarded the Congressional Medal of Honor in World War II for his courageous charge on a German outpost in France enabling the rescue of seven severely wounded American soldiers. Gregg was also a member of the Hudson County Sheriff's Department for 51 years and retired as chief of court officers. The park offers several sports facilities, a historic monuments area, fishing pier, an ornamental garden, two century-old sun houses, and a panoramic view of Port Elizabeth and Newark

Bayonne Community Museum

address: 229 Broadway

It was built as a bank in 1912, and was preserved in the 1970s for its architecture. Since 2002, it has been owned by the city as a museum. In 2006, it was listed on the National Register of Historic Places.

phone: +1 201-436-2080

address: Port Terminal Blvd (next to Tear Drop Memorial)

The Cape Liberty Cruise Port is one of the few trans-Atlantic passenger terminals in the New York Harbor. Royal Caribbean and Celebrity Cruises base their ships at this port and sail mostly to the Caribbean and Canada.

First Reformed Church

address: 761 Ave C

Bayonne's oldest church dating back to 1866. It was listed on the National Register of Historic Places in 1981.
Do
phone: +1 201-823-4800

address: One Lefante Way
==Buy==
South Cove Commons

address: Lefante Way

Shopping centre in Bayonne. Has a supermarket (Stop & Shop), clothing store (TJ Maxx), restaurants (Houlihans, Otaki Hibachi, Wendy's), movie theater (Frank Theaters), spa, GameStop, Subway, phone centers (AT&T, Verizon), laundromat, and a tanning parlor

phone: +1 201 437 - 6000

address: 583 Ave C

Bayonne Crossing

address: Bayonne Crossing Way/New Hook Rd

Offers Walmart (supermarket), New York's Sports Club (fitness), Lowes (home decor), VisionWorks (eye doctor), GNC (wellness center), places to eat (Popeye's, TGI Fridays, Qdoba, Sonic, WonderBagels, Subway), and Michael's (art supply).
Eat
Drink
Bake N Brew Cafe

phone: +1 201-339-5500

address: 162 Broadway
Sleep
phone: +1 201-823-2000

address: 190 W 63rd St at NJ 440
Go next