Beatty
Beatty
is a small town in
Nevada
located between
Las Vegas
and
Death Valley National Park
.
Understand
Before the arrival of Euro-Americans in the 19th century, the region was home to groups of Shoshone. Established in 1905, the town was named after Montillus (Montillion), Murray "Old Man" Beatty, who settled on a ranch in the Oasis Valley in 1896 and became the town's first postmaster. With the arrival of the Las Vegas and Tonopah Railroad in 1905, Beatty became a railway center for the Bullfrog Mining District, including mining towns such as nearby Rhyolite. Starting in the 1940s, Nellis Air Force Base and other federal installations contributed to the town's economy as did tourism related to Death Valley National Park and the rise of Las Vegas as an entertainment center.
Beatty is home to the Beatty Museum and Historical Society, a casino, and hundreds of motel rooms and recreational vehicle spaces. The ghost town of Rhyolite and the Goldwell Open Air Museum (a sculpture park), are about to the west, and Yucca Mountain and the Nevada Test Site are about to the east.

Get in
By car
Beatty is located at the intersection of US Highway 95 and Nevada State Route 374.
By air
McCarran International Airport
(
LAS
) in Las Vegas, from which US-95 goes straight to Beatty, is the nearest airport.

By bus
Trailways (+1-855-519-6502) operates from Las Vegas, North Las Vegas and Pahrump to 900 U.S. 95 in Beatty.

See
Do
Art exhibits on the way to ghost town: drive Stove Pipe Wells on a dirt road up and over a pass at about through a deserted silver mine town that existed for 2 years. Finally drive through Titus canyon, ending in Stove Pipe Wells. It takes at least 3 hours with stops. The road is one way very narrow and quite drivable if dry.
Gambling
If you win...
Chances are if you win it big in Beatty and you are a foreigner you will get dinged by the
IRS 30% withholding tax
. That $10,000 slot winning can dwindle quite quickly if that is taken off the top. Not to worry though you can reclaim your gambling winnings tax through a 1042-S form. You should get this from the casino. Don't lose it: it is your starting ticket to getting your gambling winnings back.
Opportunities to gamble are found at the Stagecoach Hotel. It is state law that
all gamblers must be at least 21 years of age.
Even if you are at least 21 years old, you are required to bring to the casino a valid ID that shows your current age or complete date of birth (e.g. driver's license, passport) as proof of your age. Photocopies of valid IDs are usually not considered valid. In-house security makes rounds of inspections to check compliance. If you are under age or without a valid ID to prove your age and found in the gambling premises, hotel staff will ask you to leave, and could ask the metro police to issue you a citation. Moreover, underage gamblers cannot collect any jackpot; such bets are void and the casino will at best return your wager before asking you to leave the premises. There is a curfew for anyone under the age of 18 and police are comfortable transporting violators to a juvenile center.
Eat
Stagecoach Hotel

phone: +1 553-9090

Offers a steakhouse and a cafe.

Cool BreezeCheap and nice indian takeaway.

K&C's Outpost

phone: +1 775-553-9175

address: 100 E Main

Fresh tasty sandwiches!
Sleep
phone: +1 775-553-2250

address: 350 South First St

Death Valley Inn & RV

address: Rte. 95

Exchange Club Motel

phone: +1 775-553-2333

address: 119 Main St

Motel 6

phone: +1 775 553-9090

address: Rte. 95

Stagecoach Hotel

phone: +1-800-424-4946

address: Rte.95

phone: +1 775-553-2912

address: 420 Main St

Amenities include an outdoor pool, and fridge and microwave in every room.
Go next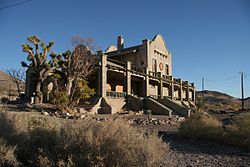 Rhyolite, a classic Western "ghost town," is about 10 miles west of town. Rhyolite was founded in 1905 after gold was discovered in the area, and within a few years its population had grown to 8,000 people. Rhyolite reached its heyday about 1908, when it was the third largest city in Nevada. At this time it had 3 railroads, 3 newspapers, 3 hospitals, 19 hotels, 18 stores, an opera house, a symphony, about 50 mines and most importantly, 53 saloons. By 1914 the gold mines were exhausted and the decline of the city was as fast as its growth. In 1919 the post office was officially closed and the last inhabitants moved out. Rhyolite quickly became a ghost town as the disintegration of the buildings started and the desert took back its territory. Today all the wooden houses are gone, and just a few stone buildings are still standing. The Bureau of Land Management has volunteers during the daytime hours. Rhyolite is the home of the World Famous Bottle House made of 30,000 bottles. The most photographed ruin in Nevada is the Cook Bank further up Golden Street. Known as the "Golden Horseshoe", Rhyolite was the mining center for the Bullfrog Mining District. Classic ruins, interesting history and a day of exploring awaits you.