Beddgelert
Beddgelert
is a picturesque village in
Gwynedd
, renowned for the grave of Prince Llywelyn's dog Gelert.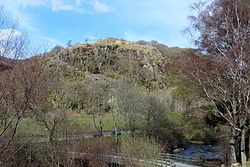 Get in
See
Gelert's GraveThe village is reputedly named after this place. Gelert was a hound, slain by his master under the erroneous belief that he had killed the master's son when he had saved him from a wolf - or so they say.

Sygun Copper MineOn the A485 to the east of the village. A tour of a 19th-century copper mine.

Dinas EmrysPre-Roman hillfort, the site of many Welsh and Arthurian legends. The fort is supposed to be the burial place of the Red Dragon of Wales and the White Dragon of the Saxons. The wizard Merlin is also reputed to have buried his treasure in a cave here. Legend tells that the treasure will one day be rediscovered. The discoverer will be 'golden-haired and blue-eyed'. When he or she is close to Dinas Emrys a bell will ring to invite them into the cave, which will open as soon as their foot touches it. If you fit the description there's nothing to lose by giving it a try!

Fisherman's Path - follow the footpath past Gelert's Grave and continue along the Fisherman's Path (denoted by the gate with two carved fish). A picturesque path alongside Aber Glaslyn (the Glaslyn river).

St Mary's ChurchSite of 6th-century AD Christian community and 13th-century Augustinian priory.
Do
HillwalkingMoel Hebog and the Nantlle Ridge rise above the village. One of the many tracks up Snowdon starts close by.
Eat
phone: +44 1766 890 339

phone: +44 1766 890400
Sleep
Hostels
YHA Bryn GwynantNant Gwynant. Four miles east of the village on the A498. 0870 770 5732. 73 beds. Family Rooms available. An old manor house in a lovely location overlooking the lake of Llyn Gwynant.

Craflwyn BunkhouseCraflwyn, Beddgelert. Just under a mile outside the village on the A498. Owned and run by the National Trust. Can only be booked by groups, flexible accommodation for groups of 5 to 12 people.
Hotels
The Royal Goat HotelIncongruously named historic hotel on the edge of the village heading towards Porthmadog. The "Gelert" legend has been attributed to a former (early 19th century) landlord, seeking to increase tourist interest in the village. As his hotel has continued to thrive we must consider his ploy a successful one.

Sygun Fawr Country HouseSet on the side of Sygun Mountain, this accommodation has views of the Gwynant Valley. The original part of the house dates back to 1644. Henry McKellar, High Sheriff of Caernarvonshire, resided at Sygun Fawr in 1861. The house was later purchased by the owner of the local mine, Sygun Copper Mine, and was converted to guest accommodations in the mid-20th century.
Go next