Beira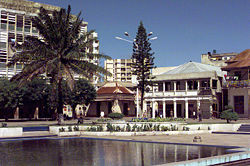 Beira
is a port town in
Mozambique
.
Understand
Beira is the second largest city in Mozambique and capital of the Sofala Province. During the 1950s and 60s, before the independence of Mozambique, Beira was a playground for white and rich Rhodesians as then-ruler Portugal did not a UN embargo against Rhodesia. Still an important port city, few tourists find their way here today. Those who do will discover a beautiful, but crumbling, city by the sea with great food and hospitality.

Get in
By plane
Beira International AirportThe national carrier LAM has flights from Johannesburg, Harare and from the capital Maputo, as well as other regional cities in Mozambique. South African Airways also offers flights from Johannesburg. Malawi airlines has flights to Lilongwe. The airport has a shop, bar, restaurant and post office.
By train
Rail services are slowly returning to, after having been completely halted due to the long civil war. here are daily commuter trains from nearby Dondo and a once-weekly long-distance service from Moatize, just outside
Tete
which is the largest city of inland north-western Mozambique. , a prime example modernist architecture, tells tales of a bygone era when Beira was a major terminus for long-distance trains from then Rhodesia.
By boat
By road
The main road between Zimbabwe and Beira is in good condition, but with some deep pot holes. The Zimbabwe economy relies heavily on this route and it carries many trucks and buses, mostly overloaded. Road travel is best done by daylight as many pedestrians and animals are hard to see after dusk. Minibuses to Chimoio take 3 hours and cost Mtc200.
there is direct buses to Vilankulo Mtc550 which takes 7 hours.
Get around

Minibuses, so called chapas, are easily available for local transport and for connections to neighboring cities like Chimoio.

See
Savanna Beach (20–30 km out of town) ask around if someone is going. You could venture and take a chapa heading in the direction. You have to take a little boat across to the beach, worth the effort. Water is cleaner than Beira and waves are better. Good fishing. Simple restaurant with nice atmosphere.
Gorongosa (200–300 km) in Sofala Province. Once a very well known park. Now starting to recover, good investments. Good challets and food.

Grande Hotel BeiraMore of an anti-attraction, this former luxury hotel which once was known as the "pride of Africa" is since the last 30 years occupied by thousands of squatters displaced by the country's long civil war. It serves as a living memory of better times and the horrors of war.

Rio Maria (10–15 km). When traveling from Macuti to Airport, turn right at Monte Verde and take the sandy road. At Rio Maria is a nice river and sea. No facilities there. Don't get car stuck in mud close to beach. Very relaxing.
Buy
Mercado Central(The central market) offers some craftworks, spices, fish and fruits.

Eat
Beira Sol Opposite Hotel Tivoli.
2mais1 Center.

Biques

phone: +258 23 312451

address: Av. FPLM

Is a camping and bar/restaurant about two km out of the centre of Beira. Worthwhile the trip but not so easy to find. Terrace overlooking the sea, excellent food and drink. Pool table. This place is popular with locals and tourists.

Cá te Espero

phone: +258 23 326970

address: Rua Companhia Moçambique

"Beisl"
Kanimambo Chinese restaurant with excellent food in the city center. Average atmosphere, aircon.
Nautico Nice views of the sea, swimming pool. Need to pay small entrance fee of 20Mtn if non-member.

Pappas, officially called Shakila snacksBest food in town, also expensive. Close to Hotel Tivoli.

Restaurante Macuti (formerly Wings)

phone: +258 23 312520

Chinese/portuguese cooking. Inside Macuti Housing Complex, park outside. Good food, can take a while if the restaurant is full. Aircon inside and nice seating area outside. Chicken with cashew and pineaplle or the Bife Cremoso is nice.

Solange

phone: +258 23 322992

address: Av. Eduardo Mondlane 836

Portuguese owned. Good food, including Pizza. Good ambiente. Also has a bar.

address: Rua Luis Inacio

The best hamburgers in town. In the city centre around the corner of the Banco de Moçambique. Good hygiene, friendly staff and popular with locals.
Drink
Café Bulha in the Bulha shopping center has unfortunately closed in July 2009.

Café Rivieraon the same Praça has easy chairs, good coffee and pastries.

Só BolosGreat to have breakfast or coffee.

Beira BarNice restaurant and bar serving meals and drinks located on the beach. Two levels with an outside deck overlooking the hustle and bustle of the street beach adjacent road and great view of beach. A good selection of food including seafood, chicken, pizza, vegetarian. Downstairs entertainment (band) late week and over weekends. Good prices.

Barbeque BeachLocated on the beach strip, 2nd level, casual relaxed bar and barbeque restaurant, serves range of soft drinks, beers and spirits and casual food including burgers, chicken, ribs and steaks cooked downstairs on the charcoal bbq. Great value relaxed setting.
Sleep
Beira Guesthouse

phone: +258 23 324030

address: Av. Eduardo Mondlane 1311

Beira Sol

address: Rua da Madeira Barrio da Mquinino 168

Jardim das Velas

phone: +258 2331 2209

address: Av. das F.P.L.M., n. 282

A Mediterranean-style lodge on the beach front. There are 12 rooms in total, 6 with an ocean view, and 6 on the ground floor. No restaurant, so no breakfast available. But bars and restaurants are not far away.

Hotel Indico

phone: +258 82 329944

Hotel Moçambique

phone: +258 233 29354, +258 233 29352, +258 82 3870250

Many rooms: single, double, single suite, double suite. Simple, close to center of town. Bring your own towels.

Hotel Savoy

phone: +258 23 329302

address: Rua de Pedro Alvares Cabral

Centrally located but run-down hotel in a 60s highrise, offering a glimpse of yesterdays charm and how Beira was in Portuguese times. Probably the cheapest accommodation in central Beira though.

Hotel Tivoli

phone: +258 23 320300

address: Avenida Bagamoyo 336

Your best bet for a decent sleep in a clean place. The rooms are small. A/C. One PC with free internet access in the lobby. Some rooms have wireless Internet - ask for it. Restaurant and bar in the hotel but expensive. A few meters from the hotel (turn right at the entry) a large interesting food market with lots of small places to eat. Freshly grilled fish.

Pensao Moderna

phone: +258 23 329901

address: Rua Travessa de Igreja 263

A mid-range alternative with good rooms.

Sena Hotel

phone: +258 233 110 70

address: Av Martires da Revolcao N 189

New Hotel on the way to airport. Clean and well kept however the restaurant desperately needs improvement.

Hotel Miramar

phone: +258 23-322283

address: Rue Vilas Boas Ttuao

Single/double rooms.
Stay safe
Don't walk in the Baixa area at night alone. If you walk around during day time just keep your precious stuff at the hotel. Don't walk around with a fat wallet or your expensive cellphone. Most crime is on a "give me your phone and/or wallet because I have a big knife" basis. If driving at night just keep doors locked and windows almost closed to avoid issues.
Friday, Saturday and Sunday night people party and can get very drunk, if you run over someone as a foreigner it's gonna cause you a big headache so drive slowly. Kids also run across the road often without looking out for cars. Avoid driving at night.
The city was 90% destroyed by Cyclone Idai, in March 2019.