Bekasi
Bekasi
is a city in the province of West Java in Indonesia, and is part of the
Jabodetabek
Greater Jakarta
metropolitan area. The city is both a commuter city for Jakarta and an industrial city in its own right, with a large number of factories located in and around the city. Apart from a few historic buildings and recreation parks, the city mainly draws visitors for its extensive shopping malls and restaurants.
Get in
By plane
The nearest airport to Bekasi is Jakarta's Halim Perdanakusuma Airport (
HLP
), which is just across Bekasi's city border. Halim Airport is served by various domestic flights and international flights.
The much larger Soekarno-Hatta International Airport (CGK), with a large number of domestic and international flights, is on the other side of Jakarta. The drive from the airport to Bekasi is about 50 km, but its duration very much depends on the traffic conditions (on average 1 to 2 hours). There is a frequent scheduled airport bus (operated by DAMRI) between the airport and Bekasi's , that departs on average every 30 minutes (from the airport to Bekasi between 4:00 and 22:00, from Bekasi to the airport between 3:00 and 21:00). The travel time is on average 1h 30m, but this depends on the traffic conditions. A one-way ticket is Rp45,000.

By bus
Frequent bus service from all parts of Jakarta to Bekasi Barat (West Bekasi) and Bekasi Timur (East Bekasi) bus terminals. From Central or South Jakarta, the fare for an airconditioned bus ticket is approximately Rp6,0000. Travel time is, depending on traffic conditions, about 1 hour.
Bekasi is also served by the Transjakarta bus rapid transit system. From West Bekasi (bus stop in front of the Metropolitan Mall), bus routes are available to Tosari in Central Jakarta and the Tanjung Priok port in North Jakarta. From East Bekasi bus terminal, there are bus routes to Pasar Baru in Central Jakarta and to Grogol in West Jakarta.
Long distance buses arrive at and depart from , with regular buses to cities throughout Western Java, as well as daily buses to cities further away, including Semarang, Yogyakarta, and Palembang.

By train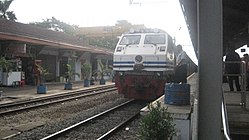 is the eastern terminus of the blue line of Jakarta's commuter train system (KA Commuter Jabodetabek). The blue line runs from Kota station in Jakarta's old town (West Jakarta) via among others Juanda station in Central Jakarta, Manggarai station in South Jakarta and Jatinegara station in East Jakarta to Bekasi. The economy class train, which is usually very crowded, takes about 1 hour from Kota to Bekasi (one-way ticket Rp3,000). Bekasi's station is also served by business and executive class long-distance trains, among others from Jakarta's Gambir station (25m), Bandung (2h 30m), and Cirebon (2h 30m). These trains run only several times per day, and in many cases taking a bus is faster and cheaper.

Get around
The easiest way to get around in Bekasi is by taxi. Taxi ranks are available outside the shopping malls and hotels. The main reputable taxi companies of Jakarta, including Blue Bird and Express, also have a branch in Bekasi. Online ride-hailing such as GrabCar and GoCar is also a popular choice for the residents to travel around Bekasi and to/from
Jakarta
.
Hiring a
becak
(cycle rickshaw') is a popular way to get around in Bekasi. The price is negotiable, but usually they ask a reasonable fare (Rp10,000) for a ride of a couple of kilometres. For a single traveller, hiring an
ojek
(motorcycle taxi) through an online ride-hailing app, e.g. Grab and Gojek, is also an effective form of transportation to use in Bekasi.
The cheapest way to get around in Bekasi is, as in the other major Indonesian cities, by minibus (
angkot
). Angkots follow a fixed route (there are various routes throughout the city), but there is no fixed schedule and there are no fixed stops. To get on, simply raise your hand. To get off, simply shout "Kiri!" to the driver, so he will pull over on the left (Indonesian:
kiri
) side of the road. The price of an angkot ride within the city is usually about Rp2,000 to 5,000. It is best to ask a local which angkot route to take, and how to recognise the location you want to get off.
Buy
Pasar Proyek

address: Jalan Mayor Oking / Jalan Ir. H. Juanda, Bekasi

Traditional shopping area with many shops and stalls, not far from the railway station.

address: Jalan KH. Noer Ali, Bekasi

Modern shopping mall with a wide range of shops, cafés, and restaurants.

Mega Bekasi Hypermall

address: Jl. Jend. Ahmad Yani No.1, Bekasi

Shopping mall with XXI cinema, NAV family karaoke, and many shops, restaurants, and cafés.

address: Jalan Boulevard Ahmad Yani Blok M, Bekasi

The newest mall of Bekasi in the middle of a large new housing development. In addition to the huge selection of shops, there is a large outdoor area with restaurants, cafés, and streetfood.
Eat
There are lots of roadside restaurants and stalls scattered all over the city, with all kinds of Indonesian food. In all of the shopping malls there is a large selection of restaurants.
Ruko Kemang Pratama

address: Kemang Pratama Bekasi

Ruko (3-story building normally used to do business on the first floor and use the second and third as house) Kemang Pratama is located along the main road of Kemang Pratama. It's across 2 major school in Bekasi, Marsudirini and Al-Azhar. There are many choices of food from HEMA (Dutch food), Pawon Bulis (Javanese food) , NORIKO (International food) to Klenger Burger. Also there are Chinese food restaurant and variative Indonesian food (Baso, Empal Gentong, etc.)

Ruko Galaxi

address: Taman Galaxi Indah

Try the menus from the street-sellers and stalls, they could provide many Indonesian traditional dishes such as Nasi Kucing (rice with smaller size combined with fried dishes and sambal), Es Doger (shredded ice with syrups and coconut milk, mixed with fermented rice and tapioka), Es Campur (shredded ice with syrups and sliced tropical fruits), Mi Ayam (chicken noodles), Nasi Uduk Pecel Lele (rice, cooked with coconut milk, combined with fried catfish and special sauce), Kue Putu (steamed cookies made of flour rice, shredded coconut and palm sugar), Kue Cenil (cookies made of tapioca flour, sugar and shredded coconut), Bubur Ayam (chicken porridge).
Sleep
phone: +62 21 8895 9091

address: Jl. Jend. Ahmad Yani No.99

address: Jl. Jend Ahmad Yani No. 88, Bekasi

Modern four-star hotel in a convenient location near the toll road exit of West Bekasi.

phone: +62 21 2851 9080

address: Jl. Raya Bulevard Ahmad Yani Blok M, Bekasi

Modern hotel and convention centre, with outdoor swimming pool, next to the Summarecon mall.

Horison Bekasi Hotel

phone: +62 21 8848888

address: Jalan KH. Noer Alie No.1, Bekasi

In the building of the Metropolitan mall.

Hotel Bunga Karang

phone: +62 21 8808136

address: Jalan RA. Kartini No. 5, Bekasi

Budget hotel in the city centre.
Go next
Bogor — Another city that is part of the Greater Jakarta metropolitan area. Bogor is famous for its extensive botanical gardens.
Bandung — The provincial capital of West Java is about 2 hours driving southeast of Bekasi.
Batujaya — Possibly the oldest temple complex of Java island, about 30 km north of Bekasi.