Belfast
Belfast
(
Irish:
Béal Feirste
, meaning "the mouth of the river Farset") is the capital and largest city of
Northern Ireland
and the second largest city on the island of Ireland after
Dublin
, the capital of the
Republic of Ireland
. Situated at the mouth of the River Lagan on Belfast Lough, Belfast is surrounded by low hills and has a population of 267,500. This figure refers only to the Belfast City Council area whose borders date back to the 1950s. Since then the city has expanded and the population of the Belfast Metropolitan Urban Area which incorporates the surrounding suburbs and towns is 483,000.
Understand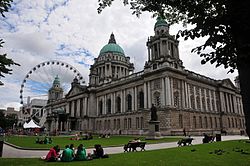 Belfast gained notoriety around the world during
The Troubles
(1969-1997) due to the frequency of gun and bomb attacks in the city. Parts of Belfast were effectively no-go areas for security forces and therefore took on a lawless quality. Today, the scars of Belfast's troubled past make it an intriguing destination for travellers from around the world.
Since the signing of the Good Friday Agreement in 1998, most of the politically-motivated violence has evaporated. Belfast has since been awarded the accolade of being the safest city in the UK, based on a comparison of nation-wide crime figures, and, as part of its commitment to maintain peace, now seeks tourism from around the world, especially from countries other than the Irish Republic and the rest of the UK.
Those who live in Belfast tend to either absolutely love the city or loathe it, although the outsider's perspective tends to be more forgiving, as Belfast was voted the fourth best city in the UK for a city break in the
Guardian
/
Observer
travel awards. Needless to say, a visit to Belfast will be rewarded by a glimpse of a unique city that has finally begun to celebrate, rather than fight over, its place as a cultural meeting-point of Britain and Ireland. Belfast is certainly exhibiting an air of determined optimism, with new hotels, bars, restaurants, clubs and shops opening at an incredible rate. It is a city that is proud of its Victorian and Edwardian heritage and efforts to restore historic buildings are proving successful. Tourism is on the increase in Northern Ireland, especially among those seeking a weekend away or short break in Ireland as Belfast can offer a significantly cheaper and more rewarding alternative to the busier, more expensive and more tourist-driven
Dublin
.
Belfast remains a great place to explore, as it is still relatively undiscovered compared with its neighbour in Dublin and is ideal for the tourist who enjoys a city with character, yet still has a raw, unspoilt energy. A visit to the capital of Northern Ireland will provide a more stimulating trip as, once you scratch the surface, it is easy to see beyond the ethno-political conflict of past years. It is a city which has changed dramatically in a decade due to this peace and prosperity and you will be greeted with warmth from locals who feel a new-found sense of pride in their city. Indeed, the old cliche that you will be welcomed like an old friend by the patrons of Belfast's many pubs and bars is actually true, as the locals love to find out what draws you to their little part of the world and, of course, they like the chance to share a little bit of their history with you! Ask any local and they will tell you that a trip to Belfast will mean that you learn far more about the Irish and British psyche than a trip to a cheesy Irish pub in Dublin or on a tourist-orientated tour in
London
.
Some recent events, mostly the flag protests, may have put people off going to Belfast but violence is minimal and more or less peaceful.
In recent times, Belfast has also gained some degree of international fame for being the production centre of the famous television series
Game of Thrones
.
Tourist information
phone: +44 28 9024 6609

address: 9 Donegall Square North, BT1 5GB

To make the most of your time in the city your first point of contact should be the centrally located tourist information. The first floor centre is accessible by elevator and escalator just to the left of the Boots Pharmacy. The staff can provide maps, book accommodation and tours, recommend itineraries and places of interest and sell you overpriced and tacky souvenirs. There is also a useful left luggage facility.

phone: +44 28 9024-1100

address: 217 Falls Rd

Tourist Information office and welcome centre in the heart of the Falls. The office distributes free maps, offers tours and general information about this part of the city.
Get in
By plane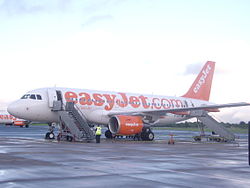 Belfast has two airports. Flying to
Dublin
is another option.
George Best Belfast City Airport
George Best Belfast City AirportWith magnificent views of the city of Belfast or Belfast Lough on approach and departure, the airport principally serves routes to domestic UK and Ireland; however, British Airways has extensive worldwide connections through the OneWorld Alliance.
Airlines using the airport include:
The terminal is served every 20-30 minutes from 06:00 to 22:00 by the
Metro 600 bus
(£2.50 single, £3.80 return). Depending on traffic, the journey to Belfast's Laganside Bus Centre and Europa Bus Centre should take no more than 15 minutes.
Alternatively,
NIR trains
serve the airport at Sydenham station twice an hour on the Portadown/Belfast/
Bangor
line. Upon arrival, ask at the airport information desk for a free shuttle ride to the station. If arriving by train, the courtesy bus may be requested just inside the airport perimeter across the bridge from Sydenham station. A single fare to Belfast Central, Botanic, City Hospital or Great Victoria Street costs £1.90. A single to Bangor costs £4.40.
Taxis
cost approximately £10 to most parts of the city and are an economical choice for small groups. There is a surcharge of £2 that taxis add on if you are taking one from the airport. Some drivers don't make this clear until you've reached your destination.
Belfast International Airport
Belfast International AirportOffers significantly more international destinations than Belfast City Airport. United Airlines has connections available to destinations throughout the Americas and beyond.
Easyjet to Alicante, Amsterdam, Barcelona, Berlin Schoenefeld, Bristol, Edinburgh, Faro, Geneva, Glasgow, Ibiza, Kraków, Liverpool John Lennon, London Gatwick, London Luton, London Stansted, Malaga, Newcastle, Nice, Palma, Paris Charles de Gaulle, Prague, Rome Ciampino, Venice
Jet2 to Blackpool, Chambéry, Dubrovnik, Gran Canaria, Ibiza, Jersey, Leeds Bradford, Malaga, Murcia, Palma, Pisa, Tenerife South and Toulouse
Ryanair to Alicante, Bergamo, Berlin–Schönefeld, Gdańsk, Kraków, Lanzarote, London–Stansted, Málaga, Malta, Manchester, Tenerife–South, Warsaw–Modlin, Wrocław, and seasonal flights to Faro, Girona
The terminal is served up to every 30 min from 05:35 to 23:20 by the
300 Airport bus
(£7.50 single, £10.50 return). Depending on traffic, the journey to Belfast's Laganside Bus Center and Europa Bus Centre takes about 45 minutes.
There is a cheaper, but slower route available by taking the Ulsterbus 109A service to Antrim train and bus station https://www.translink.co.uk/Services/Ulsterbus-Service-Page/Timetables/?lrn=109a&spn=&spns= from the stand outside the airport (look left as you exit arrivals). Then take a
train
from the adjacent Antrim Train Station (from platform 2 up over the footbridge) to Belfast Great Victoria Street. Train times can be found on timetables at the station. Check the digital departure boards above each platform for train information.
Do not use
the 300 service if you wish to travel north of Antrim. Use the 109A Ulsterbus service instead to the bus and train station and take the train on all stations to Londonderry/Derry.
Taxis
should cost no more than £25-30 to Belfast City Centre.
From Dublin
Dublin Airport
(
DUB
) is from Belfast. The fastest way to get to Belfast is by bus directly from the airport, which only takes about 1 hr 30 min. Do not take the train to Belfast, since the train station is in Dublin city centre, nowhere near the airport.
Hourly buses (24 hours, daytime services operated by Ulsterbus, night services by Bus Éireann) that leave at 20 minutes past the hour (e.g. 14:20, 15:20) link Dublin Airport and the Belfast Europa Bus Centre.
Aircoach also run a bus service every hour from Dublin Airport to Belfast, you get dropped off in Glengall Street (just outside the Belfast Europa Bus Centre). They leave on the hour. The Aircoach is normally faster than the Ulsterbus/Bus Éireann service as there are fewer stops.

By train

Northern Ireland Railways (NIR) is a division of Translink (Northern Ireland's public transport operator) and manages to maintain a small but increasingly reliable passenger rail network around the province, despite decades of underinvestment and service cutbacks.
Great Victoria Street Station is in the centre of Belfast on, as the name suggests, Great Victoria Street. Just yards from the Grand Opera House and beside the Europa Hotel, the Great Victoria Station is part of a combined bus/rail station. The bus centre is called Europa Bus Centre. Look for the sign above the door to access the station from Great Victoria Street, Great Northern Mall.
Lanyon Place station (formerly known as Central Station) is not very central at all - it's about half a mile ( from the city centre but is close to Belfast Courts, the Waterfront Hall and bus routes to east Belfast.
There are four rail corridors in/out of Belfast:
Belfast - Bangor
Belfast - Portadown
Belfast - Larne
Belfast - Coleraine - Londonderry/Derry or Portrush

Service is most frequent and reliable on the Portadown - Belfast - Bangor corridor, on which new trains offer frequent and fast suburban service. The line to Londonderry/Derry is exceptionally beautiful as it passes along the north coast after Coleraine, however the railway line is slower (2 hours or more) than the equivalent Ulsterbus Goldline express coach (1 hour and 40 minutes).
Contact NIR for information on tourist passes for exploring Northern Ireland by bus and train: with integrated bus and train stations in most major towns, the province is easily explored without a car. On Sundays, NIR offer the Day Tracker, a £7.50 ticket which offers unlimited travel all day across the NIR network.
Services to Dublin (with connections to other destinations in the Republic of Ireland) is offered by the Enterprise, a modern, comfortable, but relatively slow train jointly operated by Northern Ireland Railways and Iarnrod Eireann (which operates trains in the Republic of Ireland). Journeys between Dublin and Belfast take two hours and twenty minutes, and there are up to eight trains a day, offering two classes of service. The train takes a less direct route than the road, but offers some superb views and is still generally quicker than equivalent buses. Standard fare is £25 one-way when purchased on the day of travel. Cheap day returns are available to those willing to book online.

By bus

Ulsterbus (a division of Translink, Northern Ireland's public transport operator) operate the intercity bus network in Northern Ireland, linking most major towns and cities. Services are well-used and, in most cases, reasonably priced. The most frequent service is to Londonderry/Derry. Bus Éireann jointly operate cross-border services with Ulsterbus and operate almost all intercity routes in the Republic of Ireland. Bus Éireann offer a €15 single fare and €22 return fare from Dublin Busaras (bus station) and Dublin Airport to the Europa Bus Centre in Belfast (no online purchase); Ulsterbus offers similar specials in the opposite direction. There is also a daily bus to Cork, via Athlone and one to Galway via Cavan.
Dublin Coach provides return tickets between Dublin and Belfast for €20 from Custom House every hour. AirCoach provides same trip for €20 from Gresham Hotel.
Under the Eurolines banner, Ulsterbus offer 2 daily services to Glasgow and Edinburgh, and 2 daily services to London via Manchester and Birmingham. All of these are via the fast ferry Stranraer. Connections are available via National Express to virtually every destination in Great Britain.
For less independent travellers, you can also book day trips from Dublin to Belfast on Wednesdays, Saturdays and Sundays. This includes a bus trip to Belfast followed by a black taxi cab ride through the two neighbourhoods and a visit to the peace wall. See Belfast Taxi Tours for info.
Local bus travel in Northern Ireland can be expensive outside of Belfast, but services are frequent and reliable. Belfast itself is small enough to walk anywhere comfortably.
There is also a bus based Park and Ride facility available, see National Park and Ride Directory

By car
Belfast is the focus of the road network in Northern Ireland, and as such is very well connected. While there are only three motorways in Northern Ireland (M1, M2 and M22), the rest of the country is very well provided for with high quality trunk roads.
Access to Belfast from the Republic of Ireland has never been better. Due to the great improvements the peace process in Northern Ireland has gained, crossing the border into Northern Ireland is now nothing more noticeable than a change in signposts and road markings. The M1 connects Dublin to Dundalk and almost to the border with Northern Ireland. The M1 is 83 km long and has one toll over the bridge of peace in Drogheda (€1.80 for a car).

Car rental

Belfast is not as well served by car rental companies as Ireland in general. Some Irish car rental companies offer a drop off option in Belfast while others have locations in Belfast City. If you plan to rent a car in the Republic of Ireland and drive it into Northern Ireland be aware of a potential additional insurance charge.
phone: +44 28 9581-0701 (Belfast International Airport), +44 28 9581-0701 (Belfast City Airport)

Avis Rent a Car Ltd

address: 69-71 Great Victoria St.

address: Belfast International Airport

Offers meet and greet service at Belfast City Airport and in the Belfast Docks.

Budget

address: Great Victoria St.

Europcar

address: 105 Great Victoria St.

Car Hire IrelandDrop-off option at Belfast International by request only.

phone: +44 28 9066-6767

address: Unit 1 Boucher Crescent
phone: +44 28 9084-3749

address: Unit 3, Bldg 10 Central Park Mallusk

If you need a car for the duration of your stay us the branch. Will be able to meet you and drop you off at either airport or the ferry terminals.
By boat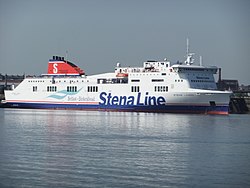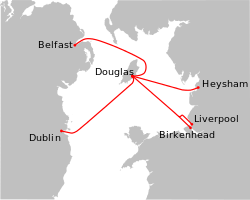 Frequent sailings across the Irish Sea connect Belfast to Great Britain. All the operators listed below offer special promotions throughout the year, and some also offer through ticketing with rail and bus services at each end. For foot passengers without through tickets the only public transport link to the Belfast Stena terminals is bus 96 from Belfast city centre (North Queen Street and High Street) but this does not run at weekend. The coaches used by passengers with through tickets are not available to walk-up passengers (i.e. they do not sell tickets on board).

By sail and rail from Great Britain

It is possible to buy a through train ticket between any railway station in Great Britain and any railway station in Ireland, north or south. It is generally cheaper to do this than buy separate train tickets to ferry ports and then foot passenger tickets on the boat, and this remains one of the cheapest ways of reaching Northern Ireland, especially at short notice.
For journeys from Great Britain tickets can be bought from any staffed station and from some automated ticket machines. Few online ticket agents sell cross-channel rail tickets, and those that do add additional booking fees. Since tickets are no cheaper booked in advance, they can usually be bought at the station on departure.
For journeys from Northern Ireland cross-channel tickets (and, in fact, all rail tickets for travel within Great Britain) can be bought from NI Railways Travel, the travel agency in Great Victoria Street railway station (with a small handling fee) or at the Stena Line terminal in Belfast.
Most rail and sail passengers between Great Britain and Northern Ireland are routed via Stena Line's Belfast/Stranraer Stena HSS fast ferry. Stranraer railway station is immediately adjacent to the ferry terminal, although Stena Line will leave Stranraer for the non-rail connected Cairnryan in 2011. Fares are priced by zones within Great Britain, starting at £25 single/£50 return (£16.50/£33 with a National Rail railcard) between Belfast and destinations in south-west Scotland. London to Belfast via Stranraer costs £46 single/£92 return. Tickets include rail travel to Stranraer and passage on the Stena HSS, although not the transfer from Stena's terminal in the Port of Belfast. Metro 96 runs hourly throughout the day between the terminal and the city centre, or for slightly more rail and sail passengers can travel on the faster coach transfer to the Europa Bus Centre offered free for cross-channel coach passengers.
An alternative 'rail and sail' routing from London and southern Britain is via Holyhead and Dublin.

Get around
The centre of Belfast is small enough to be explored by foot. However, to explore the suburbs of the city, as in any city, requires some sort of transport. From the centre of Belfast to the city limits at any point is perhaps a distance of eight miles.
By bus
Within the city there are two very distinct bus systems.
Translink
, a private company, operates the 'Metro' (previously Citybus). Buses run along colour coded high frequency routes that radiate from the city centre from around 6AM until 11PM. All major bus routes start or pass through Donegall Square, and a Metro information kiosk is on the West side of the square (Donegall Square West). Tourist passes are available from here; more frequent travellers can purchase and pre-load a Smartlink card with credit for bus trips. While the routes are extensive, the travel is expensive, as it is for the whole of the country. Buses frequently do not turn up and staff can at times be unhelpful. Since 2018 Belfast has a rapid transit system,
Glider
, essentially a big long bendy bus that looks like a tram on wheels and is purple. The key difference between the Glider and the pink-coloured Metro services is that, with Glider, you purchase your tickets from a ticket vending machine at each halt, and you don't have any contact with the driver (unlike the Metro buses where you pay the driver). Also, the Glider operates a continuous west to east route, starting at McKinstry road in West Belfast and going via the city centre to Dundonald, in the east. There will be a Glider service into the Titanic Quarter as well, which will be convenient for the Titanic Belfast and docks.
By taxi bus
Belfast's second 'Bus' service is the 'Taxi Bus' or more commonly known as the 'Black Taxis'. These London-style Black Taxis were brought to Belfast in the early 1970s at a time when the 'Troubles' was in its infancy. Riots and armed conflict were a daily occurrence and the established bus company would suspend its services to sections, or all of Belfast in response to this conflict. This suspension of services left much of Belfast without a regular transport service. It had a negative effect on many working-class areas of Belfast which found that they were unable to get to or from work, or in the case of children, school. The community's response to this was for individuals to travel to England and to purchase old London taxis. These taxis initially appeared in Republican areas of Belfast and later in Loyalist areas of the city. The taxis operated as buses and were shared by members of the public who would hail the taxi and pay a nominal fare. For more almost 50 years this system has existed and developed.
The primary provider is the
Belfast Taxis CIC
which operates this service in Nationalist/Republican areas. They have a fleet of around 220 taxis and service, from their base at King Street, Belfast areas such as the Falls, Whiterock, Glen, Andersonstown, Stewartstown and Shaws Roads as well as outlying areas such as Twinbrook and Poleglass. The Association also provides a similar service in the north of the city covering the New Lodge and Ardoyne areas.
Belfast Taxis CIC operate a remarkably efficient service from Belfast city centre to areas of West and North Belfast. Taxis run every few minutes up the Falls Road to destinations including Whiterock, Andersonstown and Twinbrook. The services operate as taxi buses, with passengers sharing a black cab with others who are going to roughly the same place. The routes are similar to bus routes, but the driver will stop and let you out at any point. Taxis can be hailed along the Falls and Andersonstown Roads. Fare from the city centre to Andersonstown are £1.50 one-way, cheaper and more convenient than the equivalent bus service.
To avail of the 'Taxi Bus' service, one merely has to put ones hand out to stop a taxi. Most taxis have a display which states their destination. However, should a visitor to the city be unsure of the exact etiquette surrounding this form of transport or destination, they should just hail any 'Taxi Bus' and ask advice from the driver. The fares are (for the journeys) £1.00 for a pensionerand for any child still at school and £1.50 for an adult. The longest journey is slightly more expensive, but still cheaper than the regular buses (£1.00 for a pensioner; £1.00 for any child still at school and £1.90 for an adult). This Association instigated and developed the now famous 'Black Taxi Tour (Taxitrax)'.
Unionist/Loyalist areas of the City are served by the
Shankill Taxis
who provide services on the Shankill and Shore Roads. This operation is considerably smaller given that there are perhaps only a dozen taxis working these routes.
By tour bus
If your time is limited, the open-top 'Belfast Sightseeing' bus tours are recommended, costing about £10 per person for a 2 hour journey. You will be shown the sights in the city centre and suburbs including famous murals painted on the ends of terraced houses during 'The Troubles' in the Falls Road area, the Harland and Wolff shipyards where the
RMS Titanic
was built and Queens University. The guides are friendly, well informed and interesting, although many locals still remark that is unusual to see bright red open top tour buses passing through once troubled neighbourhoods. You may prefer a less obvious exploration of the city.
By taxi
Belfast is now famous for its
Black Taxi tours
of the city, which are highly recommended, and can be arranged by most hostels, hotels and at the tourist office (47 Donegall Place, above the Boots pharmacy, just north of the City Hall). These tours are given by regular taxi drivers who have worked through the troubled years, and have a wealth of knowledge and very personal experiences, which they are glad to share during a tour that can last up to two hours.
Uber is also available in Belfast and has quickly grown in popularity. Many people still don't use it though so it can be handy to get back after a night out instead of trying to wave down a taxi in the street ( a very common sight on a Saturday night)
By bicycle
Belfast Bikes
, the public bike hire scheme operated by Nextbike, has 40 rental stations. You need to register once and pay either £5 for a 3-day membership or £20 for a yearly membership. This gives you free bike rides for 30 min. Rentals up to 1 hour cost £0.50, up to 2 hours £1.50. You can only rent bikes between 06:00-24:00, but you can return them at any time. You can rent one bike for a maximum of 24 hr, otherwise a late-return fee of £120 is automatically charged. It is worth returning bikes frequently, as the hourly price gets more expensive the longer you keep your bike.
See
Central
Belfast city centre is focused on Donegall Square and Belfast City Hall in its centre. All major city bus routes converge here and, on sunny days, this is where shoppers and office workers can be found enjoying their breaks. The City Hall is the grand centerpiece of the city and the orientation point for your exploration of Belfast. Running north from the centre of Donegall Square is Donegall Place, a broad and bustling shopping street, which will lead you towards the Cathedral Quarter and the Arts School. The city centre is bordered to the east by the River Lagan, and to the south by the area around Donegall Pass. Where Belfast city centre meets the River Lagan, windswept pavements prove that meaningless sculptures and grandiose attempts at urban planning do not necessarily make for a popular urban space. The horrendous dual carriageway known as the Westlink separated the centre of Belfast from the western suburbs of the city in the 1970s; this borders the city centre to the west. On the plus side, the network of dual carriageways and motorways mean that one can get from the city centre to all the surrounding suburbs and satellite towns in less than fifteen minutes, even during the rush hour, something which is impossible in many other cities, for example Dublin.
In between these rough boundaries, you'll find Belfast's heart. Parts of it are blighted by dereliction, others are blighted by narrow-minded money-grabbing redevelopment. While largely safe at all times, years of city centre curfews during the troubles means that the centre of Belfast can be startlingly empty of pedestrians after 8PM. City centre living has yet to become as popular here as in other parts of Britain and Ireland.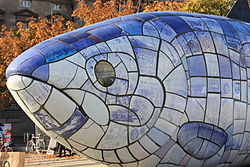 phone: +44 28 9033-4455

address: 2 Lanyon Pl

Standing on the northern side of Donegall Square, Belfast's imposing concert and conference venue is visible to the east where Chichester St meets the riverside. Built in 1997, it has been credited with generating £10 for the Belfast economy for every £1 spent on its construction. The main auditorium offers some of the best performance hall acoustics anywhere in Europe, and it is worth checking with the box office for upcoming shows.

The Bar Council & Bar Library of Northern Ireland

address: 414 Chichester St

Not open to the public, but notable for its striking architectural design. The northern half of the building is the opulent home of Belfast's (privately employed) barristers; meanwhile the southern end of the building (visible from May St) is occupied by the more modest Royal Courts of Justice Stamp Office (a tax-payer-funded government agency). Presented with two clients with two wildly different budgets, local architects Robinson McIlwaine successfully designed one building which seamlessly merge a more modest design and cheaper materials for the southern half of the building and a more elaborate and expensive design at the northern end.

address: 1 Olympic Way, Queens Road, Titanic Quarter, BT3 9EP

Exhibition about the Titanic.

Samson & Goliath CranesTwin cranes for shipbuilding completed in 1969 (Goliath) and 1974 (Samson).

Victoria Square DomeFrom the glass dome in the Victoria Square shopping centre you get decent views from the city.
South
Belfast's leafiest and most accessible suburbs are found south of the city centre along Botanic Ave, and University Rd around the Queen's University. Apart from the small loyalist community around Donegall Pass, the areas between University Rd and Lisburn Rd are mostly mixed, and there is a dense student population living in rented accommodation. It's a 20 min walk from Donegall Place to Botanic Avenue. The commercial core of Belfast is apparent on Bedford St, and the lively bars, takeaways of Dublin Rd are busy most nights of the week. Botanic Ave is somewhat quieter with less traffic and is lined with cafés, restaurants and small shops. Farther south, beyond the University, is the Lisburn Rd, recently christened "Belfast's Bond Street", with its eclectic mix of boutiques, chic bars and restaurants, and lively coffee shops. This part of town is the most affluent of the city, and is regularly referred to by its postcode: BT9.
North
phone: +44 28 9077-6277

address: Antrim Rd

A substantial modernisation programme has recently been finished, and the zoo has a very good variety of animals. The prairie dogs are of particular interest, as their tunnels extend throughout the park, rendering any open space looking like a giant game of 'whack-a-rat'. Much merriment was caused when the zoo was praised for letting the prairie dogs run wild and free, an accident that was caused after much effort was spent preventing them from digging out of their enclosure but no one checked on their ability to climb and they simply scampered over their small enclosing wall. The Zoo is home to Lily, the first Barbary lion cub to be born in Ireland.

phone: +44 28 9077-6925

address: Antrim Rd

The castle (more accurately a large stately home) dates from 1870 and was restored in 1988. It is situated on Cave Hill and has good views of the city and coast. Cave Hill Country Park has marked walking routes and is an excellent viewpoint from which to get a view of Belfast.
West
phone: +44 28 9096-4180

address: 216 Falls Road, BT12 6AH

The hub of Irish language activities in Belfast. Cultúrlann McAdam Ó Fiaich, at the heart of the Gaeltacht Quarter on the Falls Road is the Belfast Irish Experience, a friendly drop-in space where you can engage with the locals and experience Irish culture, but depending on your interests, it is also a dynamic arts centre, a centre for traditional music, a tourist information point, a café, a place to buy crafts or books, a place to learn the Irish language or take up new hobbies, to meet friends or book a tour, a place to feel proud of your heritage or to explore Irish culture.

Political MuralsThroughout Falls Rd and Shankill Rd. Visit the world renowned murals in the nationalist Falls and unionist Shankill portions of West Belfast. The main murals are on gable walls of buildings on both the Falls and Shankill roads, but others are in the lower Shankill estate (off the lower Shankill Rd onto North Boundary St) and Bombay St (off the Falls Rd onto Clonard Gardens).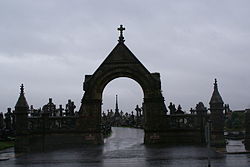 East
East Belfast is the largest of the city's 4 electoral wards and is serviced by a number of large arterial roads (Cregagh Road, Castlereagh Road, Newtownards Road and Holywood Road), which all start in or close to the city centre.
East Belfast is a mainly residential and largely Protestant area encompassing a wide range of housing from the working class terraced streets along the Beersbridge road, to wide tree lined avenues of Belmont, and all areas in between. Despite its largely Protestant nature East Belfast is generally the area of the city where newcomers to Belfast of all religious and political persuasions from within Northern Ireland will look to purchase houses in when they arrive in the city. The rationale for this may be that although South Belfast is often thought of as a desirable locale it is in many cases prohibitively expensive. North and West Belfast are even cheaper than the East but whilst both contain many pleasant neighbourhoods they still have a lot of echoes from the troubles that can put newcomers off. North Belfast especially has a large number of "interface areas" (regions where working class loyalist and republican areas meet) that can occasionally flare up into trouble. East Belfast, possibly because it has only one interface area and is relatively homogeneously Protestant, was less on the "coalface" of the troubles than both the North and the West.
phone: +44 28 9025-0000

address: Ballymiscaw, Stormont, BT4 3XX

The parliament buildings are the home of the Northern Ireland Assembly. The buildings are massive and have marble interiors. The grounds are interesting in themselves, and a walk down the mile-long road to the main parliament buildings is well recommended. Guided tours may be possible, telephone in advance.to get there take the Glider service from the City centre the G1 service and get off at Stormont halt

Ulster Folk and Transport Museum

phone: +44 28 9042-8428

address: Cultra, Holywood, BT18 0EU

It is one of Ireland's premier tourist attractions. It has a vast collection, and you could spend days exploring all of it. Highlights of the transport museum include a DeLorean (great scott!, etc.) and two train sheds full full of old steam locomotives and buses from Northern Ireland's past. The Folk Museum, on the other side of the railway line features a re-creation of an old Irish town. On Saturdays, there is a miniature railway operating, which is great fun. The folk museum is outdoors, so come prepared for the changeable Irish climate.

phone: +44 28 9042 5212

address: 30 Station Rd, Holywood

It is the guide headquarters for Northern Ireland but to access you must be part of the guiding community, e.g. Brownie, Guide.
Belfast Metropolitan Area
Whilst the urban area of Belfast itself has a population of just over 480,000 people, the larger Belfast Metropolitan Area encompasses neighbouring councils of Lisburn, Newtownabbey, Carrickfergus, North Down and Castlereagh with a total population of just over 640,000.
A lot of the City's daily commuters come from these areas and the areas themselves have certain sights worth visiting.
Rail links go to all Belfast Metropolitan areas via Belfast Central Station and Great Victoria Street Station. Bus links are also an option from Great Victoria Street Station. Prices vary, where buses are typically cheaper but take slightly longer, usually not more than around 30–40 minutes in total.
Do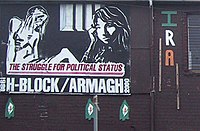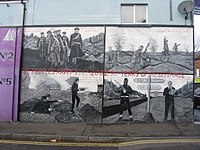 Belfast MuralsThe two political groupings in the Northern Ireland (Republican and Loyalist, the former predominantly being Catholic and the latter predominantly Protestant) have a strong tradition of large wall mural painting in their communities, particularly the poorer ones. If you head to The Falls Road or Shankill you will get a good look at what are some of the world's finest house-sized political murals. They change frequently depending on the political climate but they are definitely something to see. The areas they are in are very safe, however do be aware that politics and religion can be tense topics. Ask around and somebody will be able to point you to the murals.

The Golden MileThe name given to the mile or so between Belfast City Hall and Queen's University. It sometimes disappoints tourists because it's less immediately evident and less densely packed together than the name suggests. It's also not the safest part of Belfast at night, especially at weekends and a large police presence is usually in evidence. Be careful using cash machines, and if you're having trouble getting a taxi it's probably better to start walking than to stick around for too long on street corners. Exploring the area in the day time will help you if you come back later for a night out. You'll find the lion's share of the City Centre's best bars and some good places to eat here. The Golden Mile starts around the Europa Hotel on Great Victoria Street, takes a skip to the left to continue down Dublin Road, reaches a buzzing climax around Bradbury Place (just south of the big screen overlooking the junction) and graduates to student friendly but welcoming bars along Botanic Avenue and University Road. See the Drink section for specific recommendations.

Odyssey Pavillion

phone: +44 28 9045 1055

address: 2 Queen's Quay

Across the bridge from the Lagan Weir is the Odyssey centre. This complex contains a 12-screen cinema, the SSE (formerly Odyssey) Arena (home of ice hockey team Belfast Giants), a bowling alley, W5 (an interactive science discovery centre) and a range of restaurants and bars. It can be very quiet on weeknights, but on weekend when ice hockey games are on, blockbusters are released in the cinema and the nightclubs and bars open, you can easily expect to see 12,000 people in the building.

Parks and open spacesBelfast is home to a wide range of parks and open spaces, making it one of the greenest cities in Ireland. The main parks include Sir Thomas and Lady Dixon Park, Ormeau Park and Botanic Gardens (in the south of the city), Waterworks, Belfast Castle estate, Cave Hill Country Park and Alexandra Park (north Belfast), Dunville and Falls Park (west Belfast) and Orangefield and Victoria Park (in the east of the city). There are a host of walking routes through these parks and many include play facilities for children. Slightly further out from the City Centre, the Lagan Towpath is a delightful, peaceful and safe walk particularly during the summer months.
Theatres
Belfast has a great thriving night life with many
Show and Gig
venues throughout the city Belfast Shows.
phone: +44 28 9024-1919 (Booking)

address: Great Victoria Street

Possibly the finest remaining example of Georgian theatre architecture in the UK, this century-old building is a must-see for theatre and art lovers alike. Plays tend to show every evening except Sundays, with matinee performances on Thursdays and Saturdays. Discount is often available for students and senior citizens. The theatre also features an art gallery, displaying local artwork: viewing the pictures is free. If you ask nicely staff are usually pleased to give you a short tour of the theatre so you can take photos and learn a little bit about the theatre's history. The theatre also has a contemporary bar and cafe for people to relax during the day or have lunch. The staff are very friendly and helpful, with a good knowledge of the area. The theatre is next to Great Victoria Street Station, making it an easy place to visit when you arrive. Showcases large local and touring productions.

phone: +44 28 9038-1081

address: 55 Ridgeway St

The diminutive Lyric remains the only full-time producing theatre in Northern Ireland. A busy schedule of productions can be found online.

Metropolitan Arts Centre (MAC)

phone: +44 28 9023 5053 (Box Office)

address: 10 Exchange Street West, BT1 2NJ

The MAC opened in 2012 and is a cultural center for art, theatre, and dance.
Tours
Sports
Watch Rugby Union ie 15-a-side. Ulster Rugby are one of the four Irish professional teams playing in Pro14, the top European (predominantly Celtic) league. Their home ground is Ravenhill, capacity 18,000, south of Ormeau Park.
Buy
Belfast has the full complement of high street chain stores that can be found in any other UK and Irish city. It does however have a variety of more interesting places to browse and shop, and a visit to Belfast would not be complete without experiencing them. Cornmarket, at the centre of Belfast's retail area. Visitors from Britain and Ireland will feel immediately at home with the bland selection of high street chains.
You will also find a number of interesting shops on and around College Street, and on Dublin Road.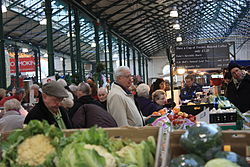 Eat
Belfast has everything to quench any appetite, and best of all, eating meat on a Friday during Lent is no longer regarded as an expression of anti-Nationalism.
Budget
phone: +44 28 9032-3713

address: 53 Dublin Rd

A great Indian restaurant with even better deals at lunchtime.

phone: +44 28 9031 5334

address: 67-69 Botanic Avenue

Opened in 2008, this Mexican grill offers superb burritos, fajitas and tacos. Similar in style, and layout to the U.S. chain Chipotle. All ingredients are sourced direct from Mexico. A delicious, reasonable and very satisfying alternative.

Bright's Restaurant

phone: +44 28 9024-5688

address: 41-43 Castle St and 23-25 High St

Two locations in the city centre known for serving the best traditional breakfast in town for only £3.95 before 12:00. Large portions and good service. Can be very busy at times.

Delaney's

phone: +44 28 9023-1572

address: 19 Lombard St

A diner with a cosy, old fashioned interior Cooked breakfast from £1.50 and lunches from £2.95. A local favourite.

phone: +44 28 9068-1645

address: 455 Lisburn Rd

A good place for sandwiches, which are large enough to justify the name of the café, and which are exceptionally good value.

phone: +44 28 9030 1112

address: 86 Shaws Rd

phone: +44 28 9023-3768

address: 51 Donegall St

Decently priced meals are available during the day and until 9PM in this popular Cathedral Quarter pub. Big plates with well sourced local ingredients and traditional meals. One of the best pubs for lunch in the city. Gay friendly pub.

Little Italy Pizza

phone: +44 28 9031-4914

address: 13 Amelia St

If you're out on the town, this is the perfect place for something to soak up the booze. Just around the corner from the Crown Bar, this place does the very best (and the cheapest) pizza in Belfast.

Loaf Cafe

phone: +44 28 9090-0071

address: Maureen Sheehan Centre, 106 Albert St

This lovely little cafe which serves a great range of breakfast, lunch and afternoon tea options. Check out their lovely lunch specials and pizza meal deal for 2 on a Wednesday! Profits from Loaf are used to support local people with learning disabilities.

phone: +44 28 9032-2662

address: 50 Botanic Ave; the other branch is on 2 Malone Rd

Anyone who has had a hangover in Belfast has had Maggie Mays' Ulster fry. Serves a hefty, but far from the best, traditional Ulster breakfast (bacon, sausage, egg, fried bread, soda bread, etc.) The cosy interior is decorated with paintings and street signs from around Belfast. Service can be patchy, but the main reason to come here is the food. Often difficult to get a table, but well worth it if you can! Avoid more than weekly visits, your heart will thank you.

Moghul Restaurant

phone: +44 28 9032-6677

address: 62a, Botanic Ave

This fine Indian restaurant has good value lunch deals, and is a handy starting point for a night out on the Golden Mile. Try for the special Friday lunch buffet.

SPUDS

address: 37 Bradbury Pl

Long established (since 1971) and very popular traditional diner and take-away serving an array of local specialities. Known for its baked potatoes, served with pretty much anything you can imagine. Serves the best 'champ' in the city (a local dish consisting of creamed potatoes, butter and spring onion).

The Bridge House (J.D. Wetherspoon)

address: 35-43 Bedford St

Ubiquitous chain pub found in almost every UK town. Serves undeniably good value food, though quality is sometimes sacrificed for price. Many meals served with free pint.
Mid-range
Splurge
Aldens Restaurant

phone: +44 28 9065-0079

address: 229 Upper Newtownards Rd

This restaurant is further out of town but serves excellent food with great service.

Cayenne Restaurant

phone: +44 28 9033-1532

address: 7 Ascot House, Shaftsbury Sq

Famous chefs Paul & Jeanne Rankin's Cayenne is a well established place for quality and funky food. Pre-theater menus cost £12.

phone: +44 28 9050-9950

address: 829 Lisburn Rd

After a major refurbishment, The King's Head re-opened . It combines fresh food and local character. A 120-seat restaurant, dedicated live lounge, gastro pub & beer garden.

The Merchant HotelBelfast's most opulent hotel. A sumptuous, intimate and welcoming hotel in the heart of the Cathedral Quarter, in Belfast's city centre.

Restaurant Michael Deane

phone: +44 28 9033-1134

address: 1F 36-40 Howard St (Brasserie on ground floor)

Belfast's only Michelin Star restaurant, ideal for all the frills dining but despite the accolades it is not overly stuffy.

ShuOn the lower Lisburn Road, this is a perennially popular restaurant in a modern and stylish dining room.

phone: +44 28 9067-7707

address: 4 Clarence Street West, Off Bedford Street, BT2 7GP

All day dining in a relaxing atmosphere at the heart of the city. Live music on Friday and Saturday nights.
Drink
Belfast has a vibrant and bustling nightlife even though it is a relatively small city. Pubs around the city centre are generally open until 1AM several days a week, though some may close around 11:30PM. Clubs generally run from around 9PM through until 2AM, though a small number do stay open much later.
Style bars
phone: +44 28 9050-9880

address: 2-10 Bridge St

The Northern Whig oozes sultry European style! What is most striking about The Northern Whig is the set of huge granite statues depicting Communist workers, which were acquired by the owners after the fall of Communism in Prague. At night this smart & cosmopolitan venue comes to life with a varied mix of people & live music by some of Belfast's finest DJs. The Northern Whig has an extensive choice of original & house cocktails.
Night club bars
phone: +44 28 9050-9740

address: 23-27 Malone Rd

Affectionately known as 'The Bot', this bar is very popular, especially with students during the university term. It has a reputation for great atmosphere and craic, though can get very crowded at weekends. Downstairs is a large, attractive bar that regularly shows live sport, while upstairs has a highly regarded club. Good food is offered and drinks are reasonably priced.

phone: +44 28 9050-9750

5-6 Lower Cresent. Centrally located just off Botanic Avenue, Scratch has been recently refurbished and regularly hosts popular club nights. The bar/club stretches over three floors and has a great reputation as the place to dance the night away. Open six nights a week, Scratch caters for all tastes. Friday and Saturday nights are the most popular.

phone: +44 28 9050-9840

address: 36 University Rd

Another popular university area bar, the Globe is open 7 days a week, serving fantastic food at a reasonable price. Like most of the university area bars, The Globe hosts regular club nights, but is also popular for big screen sports.

Brickies BarBrickies is in Queen's University Student Union and is usually a good starting point for a night out. Don't hesitate to ask the students about the best place to go on any particular night.

ThompsonsSeems to be the place to be. This club plays music too loud and too late, with good DJs and a foggy somewhat underground atmosphere. Next to the City Hall, look for the narrow entry across the street from the Titanic Memorial Garden.

phone: +44 28 9031-9061

address: Donegall Street

Gay-owned dance club for men and women. Voted best Gay Venue in Ireland on numerous occasions.
Traditional bars
Alternative and Indie bars
Limelight/Katy Dalys/Spring and Airbrake

address: 17 Ormeau Ave

A great trio of adjacent venues that open up into each other for live music and alternative club nights. Tuesday nights are the most popular and can be very crowded; be sure to come before 10PM to make sure you get in. Famous bands can regularly be found gigging here, and there are always a at least a couple of live gigs a week.

The Menagerie Bar

phone: +44 28 9023-5678

address: 130 University St

This hidden away place near the Holiday Inn Express is a fun, atmospheric place. Dilapidated, but nice. Its popularity has declined a lot, not as funky as it used to be.
The following bars are beside each other in the Cathedral quarter. These all get a friendly, alternative crowd:
The Spaniard

phone: +44 28 9023-2448

address: 3 Skipper St

A fantastic small friendly bar and "Tapas Bar". The "Belfast/Basque" style bar is worth a visit for its tapas and cocktails. Great fun. Lesbian friendly.

phone: +44 28 9024-1062

address: 7-11 Commercial Court

A very popular bar, check it out on Thursday where they have traditional music. They have a lot of benches for outside seating. There are also interesting murals in the court accessed from Commercial Court.

phone: +44 28 9031 2582

address: 2-4 Wincellar Entry

Founded in 1630, one of the many bars to claim to be Belfasts oldest. Cosy downstairs bar with live music on Friday nights, upstairs has a jumping alternative disco on Friday and Saturday nights that is usually crammed to the roof.
Mainstream bars
Europa Piano Bar

phone: +44 28 9027-1066

address: Great Victoria St

For the more mature drinker, this place is relaxed and offers great views of the Golden Mile below.

Empire Bar

phone: +44 28 9024-9276

address: 40 Botanic Ave

This place, a former church, is a cosy bar downstairs, featuring traditional Irish music some nights. The upstairs section features live music and comedy.

Errigle Inn

phone: +44 28 9064-1410

address: 320 Ormeau Rd

Unchanged since the 1930s, this bar is a popular authentic Belfast boozer. A great local bar, but a bit out of the way if you are only in Belfast for a short space of time.

Odyssey ComplexDepending on your point of view its either a souless hole of a place populated with underage kiddies, or Belfast's entertainment mecca. It features about 3 bars, 6 restaurants, cinema, IMAX and a bowling alley. Not the safest place to go clubbing although there is always a heavy police presence.

phone: +44 28 9023-4888

address: 35-39 Waring St

The Cloth Ear is the Merchant Hotel's comfortable public bar. The warm and welcoming interior provides the ideal environment to relax and enjoy oneself in style. Combining both modern and traditional elements with a healthy dose of the eccentric. For example, the many unique items of vintage and antique clothing, the wooden moose and deer heads and the classic 1930s – 1950s sheet music that adorn the walls. Alternatively, go next door to the Merchant Hotel's own classic cocktail bar, simply named "The Bar". The Victorian grandeur of the building is abundantly evident, with its ornate ceilings, silk damask walls, antique Baccarat chandeliers and a cocktail list to which all the superlatives apply. Also home to possibly the world's most expensive cocktail, at £750 each.
Traditional music
phone: +44 28 9024 7447

address: 38-42 Great Victoria Street

Has traditional music every day in the back bar (Fibber Magees).

address: 130 Ormeau Rd

About as far from a tourist trap as one could possibly get. Go to the Hatfield for an undiluted local experience - this is a real Irish pub, but be forewarned, it is very likely you will be the only tourist in the place. Very popular with a young crowd on weeknights and always busy on match days when Gaelic sports are shown on the big screen. Live music most nights.

phone: +44 28 9024 6058

address: 30-32 Bank St

Has traditional music at weekends. Another place with a claim to the title of "Belfast's Oldest Bar".

Maddens BarHas traditional music at the weekends, gets an intellectual political crowd. You may have to press the buzzer for entry although it is quite safe.
Gay venues
If you're gay and looking for fun in Belfast you'll not leave disappointed.
Union Street BarA trendy gay bar. Union Street, has an excellent late club night on Saturday - Event Horizon.

Forbidden Fruitis the only place to be on a Monday nite. Taking place at the Rain Nightclub in Tomb Street, it's the best gay venue on a Monday nite, followed by Bang which is almost as good, taking place in the Shoe Factory beside the Union Street Bar.

The Nest

phone: +44 28 9024-5558

address: Skipper Street

Gay-owned pub that attracts an older mixed crowd. Serves food. .

Kitty KillersA place for women to come, relax and have a boogie in any of their three nights of every month in Belfast and Derry. Men are welcome as guests. Always check the website for updates on acts etc. 1st Friday of month. The venue changes check the website- Alternative, pop, chart and dance.

Sirens @Ten Square

phone: +44 28 9024-1001

A friendly and welcoming women-only crowd gets together on an ad hoc basis at the super-chic Ten Square Hotel. The perfect laid-back intro to the local lesbian scene.

Queens Bar

phone: +44 28 9032-1347

Gay-friendly city centre pub at Queens Arcade.
Also try Muriels and the Roost two lovely gay-friendly bars just off the top of High St in Church Lane, very popular with lesbians.
Coffee
Clements Coffee

address: 4 Donegall Square W, Castle St, 37-39 Rosemary St, 66 Botanic Ave, 139 Stranmillis Rd, 342 Lisburn Rd

Another reason why Starbucks Coffee have yet to make much progress in Belfast, largely due to the popularity of this Belfast coffee chain, which only sells fair-trade coffee. Bagels, sandwiches, cakes, soups and snacks are all reasonably priced.

phone: +44 28 9032-6589

address: 12-24 University Ave

Fresh soups, chunky sandwiches, divine cakes and frequent live music or poetry reading events. This bright yet cosy café underneath a church hall has great food, tea and coffee, and a large room to the rear for events. A portion of each month's profits go to help a community project or charity in the third world.

phone: +44 28 9031-9416

address: 54 Hill St, BT1 2LB

Choose from 1 of 3 coffee beans and choose how you like it done (Espresso, Latte, Americano, Filter). The staff are great and will explain the process. They are well practiced in knowing what grind each bean should be and how long any brewing should take.
Sleep
Budget
City Backpacker

phone: +44 28 9066-0030

address: 53-55 Malone Ave

Close to the Botanic Gardens and Queens University and a 20 minute stroll into town.

Lagan Backpackers

address: 121 Fitzroy Ave

This small hostel is good for meeting other travellers and you can have a lot of fun there.

Belfast International Youth Hostel

phone: +44 28 9031-5435

address: 22-32 Donegall Road, BT12 5JN

A good HI hostel near Shaftesbury Sq. This hostel has internet access and a great breakfast restaurant with vast range of meals between 7AM-11AM including an innovative school-kid type take away lunch pack for those who are on the road.

phone: +44 28 9024-2867

address: 63 Fitzwilliam St

A small independent hostel, with a good atmosphere and good location. Rates from £10 for a 8-bed dorm and £12-for a 4 bed dorm. This hostel offers free Wi-fi, tea and coffee.

phone: +44 28 9032-9626

address: 18 University St

Another small independent hostel, between University Rd and Botanic Ave. Rooms in near-by apartments also available to rent by the week and month.

phone: +44 870 1911-687

address: 15 Brunswick St

Part of the national chain of high value low frills motel-cum-hotels. Unusually brilliant central location for a Travelodge, and a popular base for the Easyjet weekenders who want to fall off the Airport bus at Europa and make the most of their time in the city's bars. Book ahead and online for 'Saver' rooms from £26.

Loughconnolly B+B

phone: +44 7761014434

address: 103 Carnlough Rd

Broughshane (just east of Ballymena, road heading in direction of Carnlough). High quality B+B at refreshingly low rates in a beautiful area. This B+B is about 35 min north of Belfast so a car would be necessary. Makes an ideal base for exploring the Glens of Antrim and worth a stop if you are making an onwards journey to the North Coast.

phone: +44 28 9031-3533

address: 87 University Street
Mid-range
phone: +44 28 9038-8060

address: 60 Eglantine Ave

Malone Rd.

phone: +44 28 9059-0900

address: 36 Cromwell Rd

Botanic Avenue, Belfast, BT7 1JW. Highly recommended on both Tripadvisor and Trivago, Tara Lodge is near Queen's University Belfast and is on the doorstep of nearly everything Belfast has to offer!

Self Catering Accommodation Belfast

phone: +44 7967972186

address: Dublin Rd

3 rental self-catering holiday and serviced business apartments in the lively Belfast city centre just off 'The Golden Mile'. Each of these Belfast apartments is N.Ireland Tourist Board Approved, 4-star certified. They are also particularly suitable for families with children of all ages, for business or as a holiday rental.
Splurge
Stay safe
Belfast's reputation as a dangerous city is often exaggerated. A recent study by the United Nations International Crime Victimisation Survey (ICVS) shows that Northern Ireland has one of the lowest crime rates in Europe. The majority of incidents are committed by local people against local people, unsurprisingly following religious, sectarian or political differences. Tourists are outside this culture and should not be very concerned. As with any other city, it pays to be careful and always be aware of your surroundings. Do not flash valuables or money or walk around reading your guidebook or map. If you need directions, ask in any shop or bar.
There are areas in Belfast which have been scarred by trouble in the past. Though these areas are largely safe to visit, it is important to be aware of where you are. In nationalist areas of the city, it would be foolish to wear a Glasgow Rangers, England, or Northern Ireland football jersey. In unionist areas, wearing Glasgow Celtic, Republic of Ireland and Gaelic Football (GAA) jerseys would almost certainly lead to trouble. Though this is unlikely to affect tourists.
The City Centre is generally a safe area and is also regarded as a neutral zone. Avoid leaving the main streets at night and try not to venture into dimly lit streets.
North Belfast is not usually on the tourist trail but is becoming increasingly popular with the more adventurous traveller. Tiger's Bay is a unionist enclave which is generally safe during the day but should be avoided at night. The New Lodge, a nationalist area, is similarly patchy. The Antrim Road (including Carlisle Circus) and Shore Road areas are best avoided at night. The Limestone Road is an interface (on one side is a nationalist area, the other a unionist enclave) and should be avoided at night due to occasional violence. It is best to avoid the nationalist Ardoyne area at night, especially the interface area which links it with the Crumlin Road and Shankill areas of the city.
West Belfast is perfectly safe and generally tourist-friendly during the day as long as you don't venture too far from the main roads. Do not venture off the Falls Road at night. The Shankill Road itself is best avoided at night. The nationalist Turf Lodge estate in Andersonstown is best avoided altogether. Falls Park and the area around it is dimly lit at night and is best avoided. The Crumlin Road is a unionist area and is generally safe during the day but not at night.
South Belfast is the most affluent part of the city and is generally trouble-free. Student night life can lead to altercations outside the bars and clubs on Bradbury Place at night. Sandy Row is a unionist neighbourhood that would probably be best avoided at night but is perfectly safe during the day and usually very quiet. The unionist Village area which lies further on from Sandy Row between the Lisburn Road and Boucher Road is quiet and residential but best avoided at night. The mixed Holylands and Ormeau Road areas do not deserve their reputations as trouble spots as they are generally both very quiet other than the occasional student party.
East Belfast is a predominantly unionist, working-class district that suffers from the same social problems as similar areas in other cities in Britain and Ireland. The Newtownards Road is generally safe and well lit at night. One potential flashpoint is the interface with the nationalist Short Strand neighbourhood. Though fairly well kept and safe during the day, it is best to avoid this area at night.
Perhaps more importantly, it is not advisable to make any overtly political statements about Northern Ireland, even if you think that your comments will align with the views of the people to whom you're making them. It is unlikely that anyone will ask your thoughts about the political situation; however, if this does happen, it's best just to say you don't have an opinion. Otherwise, ask locals for advice and enjoy the hospitality of the majority of Belfast people.
Connect
There are free internet kiosks throughout Belfast which allow anyone to browse the internet. Here you can find up-to-date travel information and timetables.
Television
Northern Ireland receives the same basic package of national television and radio services as the rest of the United Kingdom, with regional variations on the BBC channels and UTV. UTV carries most of ITV-1's national programming, but is branded as UTV. It is the last remaining television channel in Britain to feature a live, on camera announcer introducing the evening's programming; usually the effervescent Julian Simmons. To get an understanding of what is happening, you'll find high quality regional news programming on BBC One at 1:30PM, 6:30PM and 10:30PM and on UTV at 6PM.
Depending on geographic location and the availability of a signal, you may also receive stations from broadcasters in the Republic of Ireland.
Radio
Local radio stations include:
Regional variations of shows on the national
BBC Radio One
and the excellent
Across the Line
on BBC Radio Ulster promote local music, and can be listened to online. These are a great way to find out about forthcoming concerts and gigs. Like television from south of the border, there are a number of Irish republic radio broadcasts which tend to spill over into Northern Ireland such as Today FM and RTÉ 2FM.
Press
Locally published newspapers include:
Cope
Consulates
phone: +44 28 9038-6100, +44 7545-507-738 (after hours emergencies)

address: Danesfort House, 223 Stranmillis Rd
Go next
Translink operate all public transport (Northern Ireland has been spared the process of privatisation that has made Britain's public transport system so confusing to visitors). Most bus and train services operate out of Belfast, so the city is a perfect base to explore the province.
The Giant's Causeway and the scenic north coast – Easily accessible by public train and bus from Belfast. See Translink's website for fare and schedule information. If you have a car take the M2 to Newtownabbey, then the A8 to Larne. From Larne follow the astonishingly beautiful A2 road right along the coast. Leave yourself enough time for a day to meander up to the Giant's Causeway, stopping en route in Cushendall, Cushendun and Ballycastle. A speedier return to Belfast can be made inland from the coast along the A26.
Bangor – An attractive seaside town with more than its fair share of good fish and chip shops, and makes for a good day out from the city on a sunny day. Trains from Belfast Great Victoria Street, Botanic and Belfast Central take about twenty minutes.
Hillsborough – The picturesque village in County Down is easily accessible by car or frequent Ulsterbus services from the Europa Bus Centre.
By boat