Bella Unión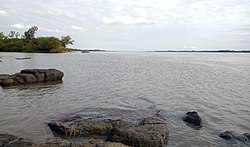 Bella Unión
is more or less at the northwestern tip of
Uruguay
. Located on the Uruguay River in the
northern interior
of the country, it is close to the tripoint where Uruguay,
Brazil
, and
Argentina
meet.
If you come to Bella Unión on the bus from
Salto
, you'll see lots of
gauchos
riding horses, and maybe even riding the bus with you. This is a preview of what's to come: Bella Unión is solidly in gaucho territory. It's perfectly normal to see men and even surprisingly young boys riding horses down the street, and if you head to the outskirts of town, you'll see plenty of cows and horses grazing, usually (but not always) with someone keeping an eye on them.
Aside from agriculture, Bella Unión is known for its main tourist draw: the duty-free shops (
free shops
). They primarily cater to visitors from across the border in
Argentina
and
Brazil
, but are open to anyone with a foreign passport.
Get in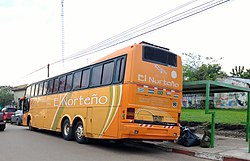 From elsewhere in Uruguay
Bella Unión is on Uruguay
Route 3
just before it reaches the Brazilian border.
Chadre
buses run twice a day from
Montevideo
, stopping in various cities along the way including
Colonia
and
Salto
.
El Norteño
buses also offer service from
Montevideo
,
Paysandú
,
Salto
, and other cities.
COTABU
serves Bella Unión as well.
Bella Unión doesn't have a bus terminal, so instead, buses stop near the centrally located Plaza 25 de Agosto, and they let passengers off on the way into town too. From Salto, expect to pay U$270–300 each way (as of 2017). El Norteño gives a discount for round-trip tickets.
From Argentina
Bella Unión is across the Uruguay River from
Monte Caseros
. There is no bridge, but boats are available multiple times a day on weekdays. It's about a 10-minute boat ride across the river.
From Brazil
Bella Unión is close to
Barra do Quaraí
, just across the border in Brazil. There is a bridge.
Get around
The main part of the city, including most of the duty-free shops, is small enough to walk around pretty easily. To get to places on the outskirts of town (such as Macanudo Free Shop), you're better off driving or riding a motorcycle. If you have a horse to ride, you'll be right at home getting around that way as well.

See
Bella Unión isn't exactly known for its sights. There's one museum, some public art, and a few decent parks, but this is mostly a destination for shopping rather than sightseeing.
Plaza 25 de Agosto

address: Artigas and Quintela

The main square, with trees, benches, and the obligatory statue of Artigas as in every other city in Uruguay. The park, which is centrally located in the city, has free, poorly maintained public toilets (underground behind the Artigas statue) and a couple of small restaurants.

Parque RiveraRiverside park to the west of the city, dotted with eucalyptus trees, brightly colored benches, and white barbecue grills. Includes a small playground for children with swings and seesaws.

Plazoleta J. Pedro Varela

address: Artigas and Ruta 3

A small park conveniently located near one of the duty-free shops, with its own colorful benches and lovely pink blossoms at the end of winter.

Museo Santa Rosa del Cuareim

phone: +598 477 92589

address: Enrique Ferreira 1164

A private museum with an archaeological collection from Uruguay's indigenous history.

Plazoleta de la Memoria

address: Rivera and Rodó

Piece of public art memorializing bellaunionenses who were disappeared during the dictatorship in the 1970s.
Buy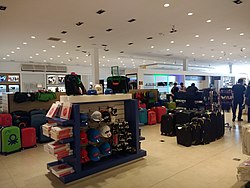 Shopping is Bella Unión's main attraction: it has several
duty-free shops
(
free shops
) catering to visitors from across the border. While mostly frequented by Argentinians and Brazilians, they are open to anyone with a foreign passport. They're happy to accept US dollars, Brazilian reales, Argentinian pesos, or Uruguayan pesos.
Eat
La Exclusiva

phone: +598 4779 4174

address: Romero Bianchi 1489

Typical inexpensive Uruguayan fare: milanesas, chivitos, pizza, pasta, and so on. Casual vibe, pop art paintings, and both indoor and outdoor seating.
Sleep
phone: +598 4779 3517

address: Wilson Ferreira Aldunate

Hotel Bella Unión

phone: +598 4779 3456

address: Gral Fructuoso Rivera 1291

phone: +598 4779 5295

address: Lirio Moraes 1427
Connect
As elsewhere in Uruguay, the Uruguayan government's free Plan Ceibal wifi is available in some parks, and some restaurants have wifi as well.

Go next