Bellevue
Bellevue
is a city in the
Puget Sound
region of
Washington
state, and often considered a suburb of
Seattle
. Bellevue has a population of 350,000.
Bellevue is perhaps the most ritzy district of the Seattle metro area, mainly due to the presence of Microsoft at nearby Redmond and other tech companies occupying the downtown office towers. It also results in neighborhoods mostly comprising families or retirees with large house and excellent vistas of the water for the lucky few; which reflects on many of the family-friendly attractions especially parks. It may actually be more pleasant and safer to walk here than in Seattle because of the virtual absence of homelessness. On the flip side however, the experience is somewhat
blander
than the latter due to less variety of sightseeing options, although the shopping experience can be said as better here.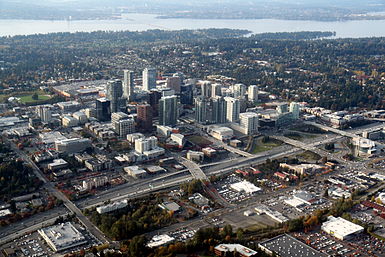 Get in
By plane
The nearest airport is
Seattle-Tacoma International Airport
. To get to Bellevue, take eastbound State Route 518 and continue straight towards Interstate 405.
By car
State Route 520 connects Bellevue to Seattle, via the Evergreen Point floating bridge on Lake Washington. The bridge is tolled, hence less busier than Interstate 90.
The more modern and capacious Interstate 90 provides another route from Seattle across Lake Washington, via Mercer Island. For Bellevue, exit to Bellevue Way SE or Interstate 405.
Interstate 405 is the outer loop of Interstate 5 that runs from Everett to Tukwila (and the airport) and cuts right through Bellevue. Keep in mind that rush hour traffic can be very daunting: expect a 45 minute to 1 hour drive from both ends of the freeway to Bellevue.
By bus
Almost every King County Metro and Sound Transit bus that runs through Bellevue stops at the located on 6th Street between 108th Ave NE & 110th Ave NE in Downtown Bellevue. Bike lockers are available for rental during regular business hours.
King County Metro
From Kenmore and Kirkland, take route 234 and 235, respectively.
Route 271 passes through Bellevue on its way between University District in Seattle and Issaquah.
RapidRide Line B terminates at Bellevue from Redmond and Kirkland
Express Bus fare is $2.75 per trip within King County and $3.75 to go into Snohomish or Pierce Counties.
Intercity bus services
address: (bus stops) Southcenter, NW corner; Novilhos Brazilian Steak House, 12405 SE 38th Street, Bellevue

Every Friday, the Weekend Express takes you from Pullman (where Washington State University is at), Ellensburg (Central Washington University) and Moscow (University of Idaho) to Seattle, and the other way around every Sunday. A special service is also deployed during the holiday season. Journeys take more than 6 hours.

phone: +1 509 293-5773

address: (bus stop) Eastgate Plaza Shell/Jackson Store @ 3670 150th Ave SE

A shared shuttle service that operates several daily departures to Wenatchee and Peshastin in Eastern Washington from Sea-Tac and Bellevue.
Greyhound, Amtrak and most other ground transport services to Vancouver BC; Portland, Bellingham, Spokane and other parts of the state are available in Downtown Seattle and at the airport.
Get around
Bellevue has a reliable transportation access to Seattle and the Puget Sound area. For intra-city service, the King County Metro is the only thing available.
Route 221 runs from Bellevue Transit Center to Redmond
Route 226 from Bellevue Transit Center to Eastgate Park & Ride, via Crossroads Mall and Lake Hills Park
Route 240 travels south from Bellevue Transit Center and passes Factoria before continuing to Renton.
Route 271 continues from Bellevue TC to Bellevue College, via Kelsey Creek Park & Wilburton Hill Park to Bellevue College before continuing to Issaquah.
RapidRide Line B operates frequently to Redmond, with numerous stops along NE 8th St and turns left at Crossroads Mall.
For trips outside of the core city, you'll probably want a car.
See
Nestled between two lakes, Bellevue is blessed with high terrain that offers beautiful natural vistas at its parks and a chance to unwind into natural habitats.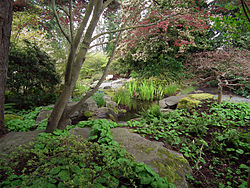 phone: +1 425 452-2750

address: 12001 Main St

A must see especially the Garden d'Lights in the winter with extended hours until 21:30.

phone: +1 425 452-6914

address: 4400 Lake Washington Blvd SE

A beach playground park, one of the few places where you can dunk in Lake Washington on a hot day.
Do
See a movie at
Lincoln Square Cinemas
Swim at
Somerset Recreation Club
Cougar Mountain Regional Wildland ParkCougar Mountain Regional Wildland Park (CMRWP) is a 3000+ acre park with 36 miles of hiking trails (12 miles suitable for equestrian use). It showcases a variety of natural features from forests and waterfalls to meadows and cliffs. There are four primary trailheads, each offering a different experience.

phone: +1 425 637-8100

address: 1116 108th Ave NE

Museums for kids with curiosity, opportunities for hands-on learning abound.

Mercer Slough ParkNatural undisturbed wetland park with multiple trails. Some activities include boating to Lake Washington and blueberry picking along the Heritage Loop Trail
Buy
If you want to find something luxurious that Seattle doesn't offer, chances are Bellevue might have it (i.e. the only Neiman Marcus in the metro area)
phone: +1 425 454-8096

address: 575 Bellevue Square

The flagship mall of the city, with department stores and clothing lines galore. Food options are mainly concentrated in the "Lodge" building on Bellevue Way, and Lincoln Square which is connected to it by a skybridge.

phone: +1 425 644-1111

address: 15600 NE 8th St

A 'cheaper' and livelier mall than Bellevue Square, with more options of food, live music and some eccentric shops with several arranged weekly meetups. Best option if visiting as a family.

phone: +1 425 456-8795

address: 11111 NE 8th St

European-inspired shopping destination with upscale retailers (the likes of Hermes & Louis Vuitton) & restaurants.
Eat
Bellevue contains a whole lot more Chinese & Japanese restaurants than Seattle. You may also have better luck finding Indian dishes here, where its tech workers would typically flock for lunch.
Due to the nature of the district however, prices tend to be a tad more expensive than Seattle.
Budget
phone: +1 425 455-0141 or +1 425 214-9903

address: 317 Bellevue Way NE and 14309 NE 20th St

A pizza joint where you can pick your own ingredients and quickly baked in wooden ovens. Various lemonade flavors for the drink.

Cafe Bollywood

phone: +1 425 641-9997

address: 102B Bellevue Way NE

Cheap yet delicious Indian food, with the combos and biryani being the best seller.

phone: +1 425 455-0439

address: 12015 NE 8th St

If you are peckish for a Vietnamese fix, this is where you can get it cheaply.

phone: +1 425 401-0823

address: 15045 Bel-Red Rd

Perhaps the most vegetarian-friendly restaurant of the bunch, with its lunch buffets and on-the-menu items at best containing fish for meats.

phone: +1 425 505-2270

address: 707 148th Ave NE

Cavernous restaurant offering Chinese delicacies and some Japanese, plus karaoke bar.
Mid-range
Din Tai Fung

phone: +1 425 698-1095

address: 700 Bellevue Way NE

Home of the world renowned xiao long bao (soup in dumpling) complemented with dim sum and Taiwanese fares.

Facing East

phone: +1 425 688-2986

address: 1075 Bellevue Way NE

A cheaper variety of Taiwanese food, specializing in street or night market dishes, bubble tea and sweet desserts.

phone: +1 425 455-5650

address: 10024 Main St

Serves excellent breakfasts & deli sandwiches, wide assortment of bagel choices, and great coffee.

phone: +1 425 641-3386

address: 12450 SE 38th St

Chinese restaurant meant for communal enjoyment; delicious dim sum, noodles, and a la carte Cantonese dishes.
Splurge
phone: +1 425 462-4662

address: 10500 NE 8th - 21st floor

Located on the 21st floor of the Bank of America Building, with spectacular views of the Cascade Mountains and Lake Washington available from every table. Serves traditional steak & seafood dishes, exclusively uses USDA Prime Beef.

Ishoni

phone: +1 425 455-0898

address: 10630 NE 8th St

High quality beef (or the premium wagyu) or pork flame-grilled by yourself, which leaves a melting taste. A5 wagyu rib eye at $90 being the most favorite. Due to the small restaurant, reservations are highly recommended at least two days before & limited to 60 minutes per seating.

phone: +1 425 519-6476

address: 10455 NE 8th St

Array of Italian fare and expensive steaks, accompanied with hospitable service.

phone: +1 425 495-8889

address: 508 Bellevue Way NE

Fragrant exotic dishes primarily from Southeast Asia and seafood.

phone: +1 425 450-4004

address: 440 Bellevue Way NE

For those with a humongous appetite. All you can eat meat (including prime ribs & fillet mignon!) carved tableside, plus Market Table (fruits & salads, cured meats & cheeses, antipasti) and feiojada bar (rice with black beans stew & beef or pork)
Drink
Tap House Bar and Grill160 beers on tap.

Rock Bottom BreweryBrews their own beers.

Joey'sA decent restaurant and bar.

phone: +1 425 497-8686

address: 1820 130th Ave NE

Bellevue's first local brewery.

Black Bottle

phone: +1 425 223-5143

address: 919 Bellevue Way NE

Large collection of wine, a couple drafts, and tapas
Sleep
As Bellevue mainly houses business & industrial meetings, a few hotel rooms may be sold out on some weekdays; the cheapest prices are actually easier to be found on weekends, with prices half of those of weekdays!
Due to the generally cheaper price than Seattle, travelers can make Bellevue as an alternative place to stay, and head down to Seattle using public transportation or a car.
Budget
Mid-range
Courtyard Seattle - Bellevue/Downtown

phone: +1 425 454-5888

address: 11010 NE 8th St

A moderately priced hotel that is the closest to the Meydenbauer Convention Center. Some rooms offer whirlpool and ironing. Free WiFi at all places, house a restaurant & a 24-hour Starbucks.

phone: +1 425 453-4100

address: 11405 NE 2nd Pl

Modern and spacious rooms.peppered with a couple of suites.

phone: +1 425 454-4424

address: 11200 SE 6th St

Combination of suites and large deluxe rooms, with extensive fitness and dining facilities belonging to the Bellevue Club property.

phone: +1 425 455-1300

address: 300 112th Ave SE

Cavernous rooms with dedicated executive level. On-demand omelettes & buffet for breakfast or Starbucks coffee & pastries at the lobby for something light.

Residence Inn Seattle Bellevue

phone: +1 425 637-8500

address: 605 114th Ave SE

The most luxurious of the Marriott chain hotels in the area. All-suites with personalized & warm service, free WiFi and breakfast. Roomy lobby with 24-hour minimart. Leisure-friendly with swimming pool, social nights, and Xbox lounge.

Embassy Suites

phone: +1 425 644-2500

address: 3225 158th Ave SE

All-suite hotel, spacious rooms with shades of white interior. Complimentary breakfast & happy hour.

phone: +1 425 373-1212

address: 15805 S.E. 37th St

Rooms have FeatherBorne Beds and full kitchens. Laundry facility, fitness room, grocery shopping.

Silver Cloud Inn

phone: +1 425 637-7000

address: 10621 NE 12th St

Mid-range hotel just four blocks away from Bellevue Square. Moderately spacious rooms offering large TV, complemented with free breakfast, laundry, WiFi, and shuttle within 2 miles.
Splurge
Go next