Bellingham (Washington)
Bellingham
is a city in the
North Cascades
region of
Washington State
.
Understand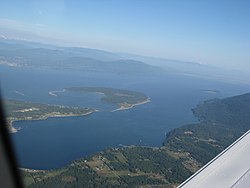 The
City of Bellingham
(aka the City of Subdued Excitement) is the northernmost city in the contiguous 48 states. This is not widely known, as the state of
Maine
in the Northeast often appears to be further north on many maps. It was formed in 1903 when the cities of New Whatcom and Fairhaven consolidated from what were once four separate settlements. The local economy got its start in resource extraction, notably coal and timber. The Georgia-Pacific mill on the waterfront, whose site is now being redeveloped into a dynamic mixed-use neighborhood, sustained the local economy for many years. Employment has diversified from heavy industry to education, services, tourism, and retail.
Situated on Bellingham Bay, you can venture from downtown and in minutes be in rural farmland, the North Cascades or out on the salt waters around the
San Juan Islands
. Bellingham is about 80 miles north of
Seattle
and 55 miles south of
Vancouver
, BC. Bellingham is the seat of Whatcom County.
The historic
Fairhaven District
at the south end of the city is probably the most tourist-oriented area, with a number of nice shops and restaurants. Many of the buildings in Fairhaven date back to the late 19th and early 20th century. Beautiful historic homes overlook the bay from the South Hill neighborhood, just north of Fairhaven.
Western Washington University
on the flank of Sehome Hill boasts an outdoor sculpture garden and adjoins the Sehome Hill Arboretum, with a number of trails and a lookout tower at the top.
Downtown
lies to the north of the University. Although less touristy than Fairhaven, it is still vibrant during regular business hours, and caters to college revelers at night.
Culture
Environmentally friendly practices, such as recycling, are part of the culture here. Bellingham is known for being a town that cares for its environment and its residents enjoy the many outdoor activities the region supports. Outdoor adventure is a key reason why people live and visit here. Activities range from skiing on nearby Mt. Baker to
whale watching
near the San Juan Islands.
The city's downtown has a variety of locally owned businesses, fine dining and nightlife options. It is also the cultural core of the city, with an eclectic mix of museums and performance venues all within blocks of each other. Coffee is a way of life in the Northwest, and Bellingham certainly has its share of local espresso stands.
Western Washington University attracts students from across the region to Bellingham. This keeps the city relatively young and vibrant, and contributes to an unusually rich local cultural scene. WWU is also home to one of the largest & finest collections of outdoor sculpture on the West Coast, featuring works of internationally renowned artists including Richard Serra, Isamu Noguchi, Beverly Pepper and Anthony Caro.
While the community is growing, it still retains much of its authentic self and its commitment to a laid back, progressive style.
Get in
Visit the Tourism Bureau's
transporation page
for more information on accessing Bellingham and travel within the region.
By plane
Offering scheduled flights with:
Alaska Airlines to Portland, Seattle, Honolulu, Kahului, Kona & Las Vegas
Allegiant Air to Oakland, Phoenix/Mesa, Las Vegas, Los Angeles, Palm Springs & San Diego.
San Juan Airlines operates scheduled flights to Eastsound, Friday Harbor and Lopez as well as chartered air services to British Columbia and the San Juan Islands.
Island Air provides on demand chartered services to the San Juan Islands, British Columbia and anywhere in the area on request.
Additional charter flights operated by XTRA and Sun Country to Wendover, NV or some other (vacation) destination. Contact the tour operator, casino or travel agent regarding those flights.
In addition to regular airline services,
Bell Air
operate regular scheduled buses to
Sea-Tac
along I-5 (for connections to additional flights) while
SeaTac Whidbey Shuttle
goes through
Whidbey Island
to get to Sea-Tac. Going north,
Quick Shuttle
goes to Vancouver and the
Vancouver International Airport
while Bellair only goes up to Blaine. Southbound Quick Shuttle Buses can only drop off while northbound buses can only pick up in the United States and vice-versa in Canada. They all make stops at the Bellingham Airport and the Fairhaven Transportation Center while in town (See 'By bus').
Major national rental car agencies at the Bellingham Airport are Avis, Alamo, Hertz, and Enterprise/Alamo.
The parking rate is $9 per 24-hour period.
By train
By car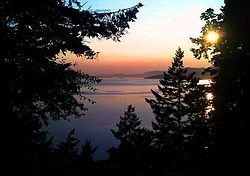 Access to Bellingham is primarily from the seven exits off
Interstate 5
, although travelers using the Lynden/Aldergrove border crossing will arrive via State Route 539, a.k.a. Guide Meridian. Fairhaven is served by Exit 250, and downtown is served by Exit 253 Lakeway Drive.
A scenic alternative when coming from the south is
Chuckanut Drive
(State Route 11), a winding road that follows the side of Chuckanut Mountain along the water overlooking the San Juan Islands. Turn off I-5 at Exit 231, reach the village of
Bow
at State Route 11, and turn right (north). Expect to take an extra 20 minutes to reach downtown. This route is also popular with cyclists (warning: narrow shoulders) and has been used frequently for national car commercials.
Another rural alternative in the eastern part of the county is State Route 9, which parallels Interstate 5 and can be accessed south of Whatcom County via Skagit County. This route carves through a valley east of Stewart Mountain and the Mt. Baker foothills. On a two-lane highway, you pass through small towns and by various farms, follow the south fork of the Nooksack River, and end up at the border community of Sumas on the U.S. and Canadian border. Be sure to stop in at Everybody's Store in Van Zandt for unique provisions and treats. To connect back to Bellingham, visitors should go west on Highway 542 when it intersects with Highway 9.
By bus
By boat
Alaska State FerryWeekly sailings between Fairhaven and Alaska for passengers and vehicles.
Get around
You can get around on foot within the Fairhaven district, downtown, and the University, but transportation between these areas is best by bicycle, car, or bus.
By car
Parking is 75¢ per hour downtown, and notably more expensive at the University. On-street parking is available at most hours, except in resident parking areas, and there are some free lots. Downtown Bellingham, though small, is something of a maze, with many odd angles and one-way streets. It may be helpful to have a detailed map handy when navigating this area. Free maps are available at the Visitor Center just off I-5 at exit 253. Some Whatcom County roads outside of Bellingham are referred to by locals with a preceding
the
: Guide Meridian is "The Guide," and so on.
Because traffic is relatively light and parking is relatively easy, most locals get around by car. Many students, some ecologically-minded souls, and other people walk, ride a bicycle, or use the local buses.
phone: +1 360-733-7420

A family-run business with multiple types of vehicles for rent at affordable rates. In line with Bellingham's culture, they even offer electric cars for rent.
By bus
phone: +1 360-676-7433

address: 4111 Bakerview Spur
By bicycle
There is a network of bike and pedestrian paths, with a
map available online
. Riding a bicycle upon a sidewalk in a business district is prohibited.
By taxi
By powered wheelchair
Powered wheelchairs can give some visitors better mobility, but are difficult to transport on airliners. They can be rented from some stores, and a few are available for a donation from the local
Lion's Club
charity.
Lion's Club Mobility Equipment Warehouse

phone: +1 360-752-5526

address: 4141 Maplewood Ave

An assortment of powered wheelchairs are available to visitors and residents alike. Also scooters, walkers, unpowered wheelchairs, commodes, crutches, and more.
See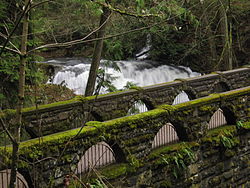 Lake Padden

phone: +1 360-676-6985

address: 4882 Samish Way

Motor boats are banned on this smaller lake, so it is ideal for relaxed kayaking, rowing, or swimming. The lake can be circled on shady paths in an hour or so of easy walking. Lake Padden also offers the best off leash dog park in the county with two acres of completely fenced area for dogs to run and socialize.

Lake WhatcomThis lake lies to the east of the City. It is a 9.2-mile long lake that also serves as a drinking water reservoir for about 88,000 local residents. Bloedel-Donovan park offers a swimming area, and the North Lake Whatcom trail offers a good view of the less-developed half of the lake.

Maritime Heritage Center

phone: +1 360-676-6806

address: 2014 C St

phone: +1 360-734-6080

address: 104 N. Commercial St

Built in 1927, is listed on the register of National Historic Places; its Moorish style architecture is a vibrant setting for Broadway shows, family programs, and rock acts.

phone: +1 360-384-3444

address: 2600 Sunset Dr

Spark Museum of Electrical Invention

phone: +1 360-738-3886

address: 1312 Bay St

Houses a collection of over 1,000 vintage radios and offers visitors the chance to listen to radio programs from the 1930s, and a glimpse into a replica of the Titanic's radio room.

phone: +1 360-733-8855

address: 1200 Bay St

Founded by local improv comic Ryan Stiles, this theatre offers a mixture of improvisational comedy shows by local and touring performers. See the web site for details about current shows. Generally, the earlier show is more kid-friendly. The Up Front also offers classes in improv comedy.

Whatcom Children's Museum

address: 227 Prospect St

Whatcom Museum of History and Art

phone: +1 360-676-6981

address: 121 Prospect St

Housed in the 1892 Old City Hall Building, a major red-brick presence in downtown, this museum has fixed collections of artwork and local history artifacts, plus some visiting exhibitions. The museum is also in three other buildings, which are also on Prospect Street between Central Avenue and Champion Street. The other buildings are: Syre Education Center, 201 Prospect Street, Photo archive open W-F 1PM-4:45PM, other parts open by appointment, admission free; ARCO Exhibits Building, 206 Prospect Street.

Whatcom Falls Park

address: 1401 Electric Ave

A beautiful park at the center of the city with a depression-era sandstone bridge overlooking Whatcom Falls, a cascade of water that drops 20 feet directly towards the city, down to Whatcom Creek. Numerous paths connect to the city's system of bicycle and pedestrian trails. Part of this park was the site of a massive pipeline explosion in 1999.

address: 519 E Maple St

A cooperative lending library and community arts center.

phone: +1 360-393-7540

address: 1320 Commercial St

phone: +1 360-778-7000
Do
Deming Log ShowWatch loggers perform daredevil maneuvers and feats of strength, and check out the equipment and truck displays. Second weekend in June

Scottish Highland Games

Ski to SeaA historical race held in Bellingham. The race has been held annually since 1973. It consists of an eight man team that travels 85 miles from Mount Baker to Bellingham Bay, each individual does a different event. The events start with cross-country skiing, then it goes to downhill skiing, running, bicycling, canoeing, mountain biking and sea kayaking. The Ski to Sea takes place on Memorial Day weekend on the fourth Sunday in May 27. There are many other fun family activities leading up to the race also on Memorial Day weekend, such as parades, art shows, and boat shows. The weekend prior to the main race on is the Junior Ski to Sea Race. This is a wonderful activity for all the kids.
Festivals
April Brews DayBellingham's biggest party. On the last Saturday in April every year, this benefit event brings in local brewers (and some not-so-local) for a 5-hour-long beer tasting bash. Nearly two dozen brewers compete for judges' and people's choice awards. Proceeds go to the local Max Higbee Center, which provides recreational opportunities for the developmentally disabled.

Mt. Baker Blues FestivalVoted best Blues event in the state, featuring three days of national and international Blues and R&B acts.

Scandinavian Fair

True/False Film Festival
Water
Learn
Work
Major employers in Whatcom county represent about 25% of the total jobs in the county. The city encourages small business development and small businesses make up a large percentage of employment. The top ten employers in the county are:
Alcoa Intalco Works
Bellingham School District
Bellis Fair Mall
BP/Cherry Point Refinery
Haggen Foods
ConocoPhillips Company
St. Joseph Hospital
Western Washington University
Buy
A major retail center is the Guide-Meridian Street, off I-5 in the North end of town. This includes Bellis Fair Mall and a variety of strip malls and major retail outlets.
For those in search of something authentic, downtown Bellingham and the historic district of Fairhaven offer a number of small one-of-a-kind shops, restaurants, bakeries and unique services. Nearby communities like
Lynden
and Ferndale are smaller, but have some interesting retail and dining options. Throughout the region there are seasonal produce stands and orchards that offer locally grown items.
address: Downtown at the corner of Railroad and Chestnut

Saturdays from April through October, 10AM-3PM. Pick up local fruits, vegetables, and meats (many organics) for a barbeque. Try any of the prepared food stalls for a quick and easy lunch. Though still called a farmers' market, there are several craft and souvenir tables as well.

phone: +1 360-756-6770 or +1 360-393-7633

address: 1628 Huntley Rd

5 minutes from exit 255 I-5 there is a boutique winery with its excellent wines to enjoy. Small, women-owned and -operated winery by Margarita Vartanyan produces some of the finest limited edition wines. Share the beauty and the bounty of magnificent Mount Baker view from tasting room/gallery or outside patio with the fireplace. Sample wonderful wines and check the art of local artists!

address: 1200 11th St

Bellingham's largest independent bookstore.
Eat
Budget
phone: +1 360-676-5288

address: 1319 Railroad Ave

13 kinds of bagels, baked fresh on the premises. 12 cream cheese spreads. Bagel-based sandwiches and omelettes for breakfast, lunch, and snacks. Plenty of tables for eating with friends, rapid service for take-out. The Bagelry is a great place for a bagel.

phone: +1 360-733-8996

address: 114 West Magnolia Street #102

Breakfasts (pancakes, omelettes, and the like) and lunches (burgers, pizzas, and the like) in a bright, friendly environment.

phone: +1 360-734-3884

address: 1323 Railroad Ave

In downtown. Serves a wide variety of ice cream and other deserts. Favorite of locals, and the servers are very friendly.

Rudy's Pizzeria

phone: +1 360-647-7547

address: 1230 North State Street

In a converted bar with hardwood floors, giving it an ambience somewhere between beer hall and coffee house. A wide range of toppings, from avocado to zucchini, plus taco, Greek, and white pizzas. Friendly, low-key service. Great for groups with appetites.

phone: +1 360-734-8158

address: 1220 North Forest Street

In the Community Food Co-op, the Swan Cafe offers a variety of healthy organic food with numerous vegetarian dishes and an in-house bakery with options for those with allergies or other dietary restrictions. Another branch at 315 Westerly Rd.

Taco Lobo

address: 117 W Magnolia St

A great place to get fresh, inexpensive Mexican food and many kinds of homemade salsa. It's the best Mexican in town.
Mid-range
phone: +1 360-752-2422

address: 4285 Meridian St #101

Don't be unnerved by the curious presence of sushi in a Thai restaurant. The tasty menu has some interesting touches, such as the option of dishes made with Splenda instead of sugar, and a range of vegan and vegetarian items. The large dining room includes a cocktail bar and sushi bar. Rises above the uninspiring standards of Bellis Fair-Guide Meridian area restaurants.

Boundary Bay Brewery and Bistro

phone: +1 360-647-5593

address: 1107 Railroad Ave

Opens 11AM daily. This brewery, bar, and restaurant is a good place for a drink or food. Minors are welcome in the restaurant. Seafood, steaks, and Mexican food on the menu. Try the beer sampler with a friend to get an idea of all the brews they produce.

phone: +1 360-647-0092

address: 1208 11th St

Serves soups, salads, sandwiched, and others. Also has great desserts!

Diego's Mexican Grill

phone: +1 360-714-9426

address: 300 N. Samish Way

Popular eating spot for university students, excellent salsa, free wi-fi!

Dos Padres

phone: +1 360-733-9900

address: 1111 Harris Ave

Standard Mexican food such as fajitas, burritos, and so on. The restaurant side is comfortable and relaxed. Note the separate bar entrance to the right if you are mainly interested in the margaritas. The building was extensivly damaged by fire but re-opened Nov '07.

phone: +1 360-366-8090

address: 1015 Harris Ave

On the corner of Harris and 11th in the Fairhaven district of Bellingham. Three stories of seating, including 2 outdoor locations with an amazing view of Bellingham and Fairhaven. Three options of pizza styles: Chicago Deep Dish Style, Brooklyn Style, and Detroit Style. 3 options for deep dish or regular crust pizza. Twelve standard combinations, from a meat lover's delight to vegetarian. You can pick from the list of 35 ingredients to make your own pizza in any of the three styles. Slices, too.

phone: +1 360-734-0380

address: 113 E. Holly St

On Holly Street since 1886, it's an old-fashioned diner with breakfast most of the day and burgers for lunch and dinner, enough modern sensibility to offer free wireless internet access, and waitstaff that call you "honey" and/or sport the latest piercings. Reasonably priced.

phone: +1 360-647-0060

address: 200 E. Chestnut St

Excellent pizza in loud, friendly environment.

phone: +1 (360) 746-8098

address: 1125 Finnegan Way, Suite 101

Thai and Lao cuisine, with an emphasis on fresh, local ingredients. If you like Thai food, you will probably like Lao, which emphasises seafood a bit more. Most of the entrees can be made vegetarian. Friendly chef and owner Usanee Klimo combines the food of her childhood, near the Thai-Lao border, with a career in catering in the San Francisco area. The result is Maikham (pron. "my-cam").

phone: +1 360-715-2195

address: 308C West Champion St

A crêperie crossed with a café. Eggs Benedict breakfast $10.55 (served all day), Crepes with soup, salad, or potatoes $8.95, quiche, salads. Family owned and operated by Olivier Vrambout. Their "slow food" approach allows gastronomic pleasure and fun with the waiters, but means a lunch can take two hours. 15% off any one item when you arrive by bike. Cash or checks only, no credit cards.

Old Town Café

phone: +1 360-671-4431

address: 316 W Holly St

One of the local hot-spots for weekend breakfasts, they offer a diner menu. A rich assortment of pancakes, omelettes, and home fries for breakfast. Sandwiches and grilled items for lunch. Plenty of vegetarian, organic, and locally-sourced options. They don't take reservations, so sign your name on the wait list and sit on the bench (or at the kids play area) until your turn comes up.

Skylarks Hidden Cafe

phone: +1 360-715-3642

address: 1308 11th St

In the historic Fairhaven district serves breakfast, lunch, and dinner and has a late night menu. Courtyard dining next to the fire is a nice option on cool, spring evenings. Sometimes has live music.

Tony's Coffee

address: 1101 Harris Ave
Splurge
phone: +1 360-738-8099

address: 355 Harris Avenue #104

Chuckanut Cracked Crab dinner cruises, wine and beer tasting cruises, and a full-day San Juan Adventure tour that includes whale-watching, lunch and a 2-hour stop in Friday Harbor.
Drink
Sleep
Budget
EconoLodge Inn & Suites

phone: +1 360-671-4600

address: 3750 Meridian

Rodeway Inn

phone: +1 360-738-6000

address: 3710 Meridian

Part of the Choice Hotels group.
Mid-range
phone: +1 360-671-1011

address: 714 Lakeway Dr

A full service hotel including two restaurants, a martini bar, indoor pool and hot tub. "The Lakeway" is often used for conventions and meetings.

phone: +1 360-738-1100

address: 4282 Meridian St

Comfortable rooms for business or leisure travel. Offers and indoor pool, spa, and sauna. Free wireless internet, local phone calls, and local newspaper. Close to Bellis Fair mall.

phone: +1 360-671-9600

address: 805 Lakeway Dr

Serves tourists and business travellers. Free wireless internet. Free hot continental breakfast. Some pet-friendly rooms.
Splurge
phone: +1 360-756-1005

address: 804 10th St

A waterfront boutique hotel with day spa facilities and wine bar within walking distance to the Fairhaven Historic district. With oversized jetted tubs in each room and one of the most complete spa menus in the Northwest this is the place to go for a pampered stay.

phone: +1 360-733-1311

address: 1200 10th St

Charming, unique Inn four blocks from the ferry and train stations in Bellingham's historic Fairhaven district. Restaurants, live music, and boutique shopping, all right out the front door, with Western Washington University just over a mile away. Complimentary breakfast, private parking, and wireless internet. Bayside rooms have a fireplace and a small balcony overlooking the harbor. Fresh cookies everyday at 3 and tea and coffee in the library. AAA and WWU rates.

phone: +1 360-392-1000

address: 1 Bellwether Way

High-end lodging on the waterfront with walking access to fine dining, specialty shops.
Stay safe
Crime
The crime rate is relatively low for an urban area by American standards. Violent crime perpetrated by strangers is nearly unheard of, but property crime is more common. If you are parked at a trailhead or in a park, keep your valuables out of sight, or better yet leave them where you're staying.
There are few areas of the city that couldn't be considered safe at all hours of the day and night. The downtown bar scene sometimes attracts a drunk and somewhat rowdy crowd at night, and a few street corners downtown attract groups of loiterers that have occasionally become belligerent. But overall no unusual precautions need be taken. Certain areas in Alabama neighbourhood should be avoided.

Rail/trail crossings
When hiking in the area, it's not unusual to have to cross the railroad tracks that hug the shoreline south of the city, or in some cases walk along the tracks (though both are considered trespassing). Stay alert: while the many freight trains that pass through make plenty of noise, the passenger trains are surprisingly quiet and can easily sneak up on an unwary hiker.

Cope
Bellingham's winters are often long and rainy, and it's the northernmost city of its size in the lower 48 states. If you visit between the months of October and May be prepared for a good deal of wind and precipitation.
Consulates
phone: +1 206 443-1777

address: Century Square @ 1501 4th Ave, Suite 600; Seattle

Visa applications and further inquiries (such as Canadian permanent residency documents and criminal inadmissibility to Canada) must be submitted and approved through their Visa Offices in either Los Angeles or New York before proceeding up to the border. Canada does not maintain consulates near the border for last-minute visas.
All other foreign consulates are in
Seattle
Go next
Mount Baker: A glacier-covered volcano with a popular outdoor recreation area and ski resort, east of Bellingham on Mount Baker Highway, Highway 542.
Chuckanut Mountains has numerous hiking trails south of the city. Lookout (Galbraith) Mountain offers some of the best mountain biking in the area. Chuckanut Drive (state route 11) is a scenic drive leading south of Bellingham overlooking the Salish Sea, while hugging the cliffs of these mountains
North Lake Whatcom Trail is a treat on hot summer days, as it has numerous spots to take a dip in the lake or just take in the scenery. Follow North Shore Drive nearly to the end and follow the signs to the trail head. Come early, as the insects can be a bit overwhelming in the evening.
Bellingham Bay and the local rivers and lakes provide for some great boating opportunities. Rent a sailboat or kayak on the Bay or Lake Whatcom. Join a charter trip to the stunning San Juan Islands or Victoria. Watch the mighty Orca whales glide majestically in their home waterways. Take an exhilarating raft trip on the Nooksack River. Spending time on the water is a great way to experience Bellingham.
North Cascades Highway: No major city in Washington has quicker access. Take I-5 south to exit 232 Cook Road, and turn left. Make another left turn when you meet the highway in the town of Sedro Woolley (4.5 miles).
San Juan Islands by boat, or commuter plane from the airport
Vancouver: Just an hour north of Bellingham across the border in Canada, this beautiful city hosted the 2010 Winter Olympics.
Seattle: Surrounded by water, mountains and picturesque isles, this city has something for everyone. About 2 hours south of Bellingham on I-5.