Belmopan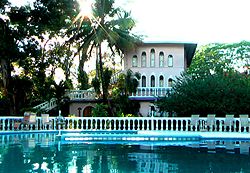 Belmopan
is the capital of
Belize
, nearer the geographic center of the country than (former capital) Belize City. It was established following the massive damage that occurred when Hurricane Hattie struck
Belize City
in 1961. An inland location was deemed a safer location for the national government than the low-lying seaside metropolis of
Belize City
.
Understand
Climate
Get in
Getting into Belmopan is easy. Two highways serve as a entrance to Belmopan: the
Hummingbird Highway
and George Price Highway (formerly known as Western Highway). Travel from Belmopan to Belize City using the
novelos
or the
batty
bus lines is less than BZ$12 (
Belizean dollars
) - US$6 - per person.
Get around

You can get around Belmopan by car or taxi, but Belmopan is a small city. Walking can get you around and really show you the true city.

See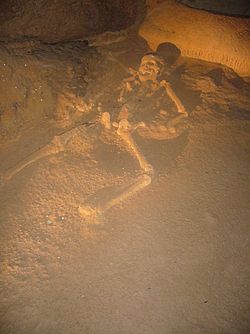 Many tour companies in and around Belmopan,
Belize Jungle Masters
being the best for zip lining and run tours to a wide variety of interesting caves, ruins, and jungle trails.
Belize True Adventures
and
Upside Down Tours
are known for providing amazing tours to St. Herman's Cave and Crystal Cave at the Blue Hole National Park.
It's a good idea to look for reviews for other tour companies on review sites before booking, in case some of them may have treated guests poorly.
Most of these are day trips, leaving early in the morning and returning the same afternoon. Note that not all tours are available on any given day. Most tour companies require a certain minimum number of registrations before they'll make the run. Checking in the night before for which tours are available the next day is often the best option.
St. Herman's CaveExploring a remote cave once used by the ancient Mayas for ceremonial purposes. Hundreds of pieces of Mayan pottery chard's can be seen inside the cave. The cave is approximately a mile long and is adorned with beautiful stalactite and stalagmite making this a beautiful place for photographs
Cave tubing - Enjoy floating past side windows that filters the jungle light trough the mist as you swirl around stalactites and stalagmites looming from above and below through the underworld mystic cave caverns. Cave tubing can be done at either Jaguar Paw or St. Herman's Blue Hole National park, just minutes away from Belmopan.
St. Herman's Blue Hole National Park575 acres of forest rich with wildlife with Blue Hole.
Mountain Cow/Crystal Cave Entry to cave is only allowed with tour/approved guide
Zip lining - is as close as you can get to flying over the jungle. As you soar from tree to tree, experience a bird's-eye view of the Belize jungle, and scenery that cannot be seen from the ground. You will be securely fastened to a harness that is attached to a cable. You push off from a platform up in a tree and zip along the cable to another platform
Actun Tunichil Muknal (ATM) is a Mayan sacrificial burial site near Belmopan. The site is contained entirely within a cave system, and access to the relics is gained via some 500 metres of climbing over rocks, wading and swimming through water that is at times over 1.5 metres deep. The cave was a sacred site for the Mayans and it contains many examples of pottery, ceramics and stoneware, as well as several sets of human sacrificial remains, one of which (known as the "Crystal Maiden") has been almost entirely covered in limestone crystals by the water in the cave. The site is about 45 minutes drive from San Ignacio, and, due to the caving aspect, it may only be visited when accompanied by an official guide (who will provide appropriate safety equipment). Most tour companies in San Ignacio are able to offer officially guided tours.
Barton Creek Cave Barton Creek Outpost: Take the road in Georgeville to Mountain Pine Ridge, drive 50-60 minutes and turn at the large brown sign on the left to Barton Creek Archaeological Reserve. It's about 4 miles (6.4 km) from there.
Caracol Biggest ruin in Belize, yet mostly unexcavated, so you really feel like you are in a national park on a ruin. Ca'ana, place of the sky, is one of the biggest and most massive temples in the Mayan world. Definitely a must-see ruin, and it comes with stops at Rio On Pools and Rio Frio Cave too.
Xunantunich (Maya Ruins)
The Artbox, an art gallery which is great for tourists.
phone: +501 822 8000

address: Mile 29 on the George Price Highway (Western Highway)

A zoo that aims to bring visitors closer to Belize's natural heritage: the country's natural environment is kept intact here, and the animals in the zoo (well over 100 of them) are all native to Belize. None of the animals were taken from the wild—all were rescued, born at the zoo, injured and brought in for rehabilitation, or sent from other facilities. Wheelchair accessible.
Do
Belmopan is a good place to walk around the neighbourhoods and market plazas. It is a great place to discover, as it has a low crime rate and is very laid back and relaxing.

Buy
Things to buy in Belmopan include Belizean groceries and gifts from the gift shops. Angelus Press is a great place to shop for gifts where you can buy flags, maps, books, and Belizean trinkets.
Every Tuesday and Friday there is a market held in the centre of the city. Many locals set up booths selling inexpensive clothes, DVDs, trinkets, food, and produce. Many Belizians from surrounding towns and villages ride the bus to get to Belmopan's market day so it is a great way to experience the culture. If you want to experience it at its busiest point, plan to come early, because many booths close down during the hottest part of the day.

Eat
There are a lot of clean, Chinese-owned restaurants in Belmopan that make great Belizean food. The Yim Saan restaurant has great food and is a 4-star restaurant/hotel.
phone: +501 832-2203

address: 7753 Hummingbird Highway

Authentic and spicy Caribbean food. One of the best places in Belmopan to get jerk chicken.
==Drink==
Drink only the bottled water.
Sleep
phone: +501 820-2020

address: Mile 49 Western Hwy

A very nice accommodation a few miles outside of Belmopan next to the Belize River. They own a huge section of the jungle and provide horseback riding. Have awesome cabanas and a great pool.

phone: +501 822-2124

address: Banana Bank

Owned by a former UK soccer player and MTV presenter. Facilities include 5 lodge rooms, 3-bedroom garden cottage, 4-bedroom villa, Wi-Fi, swimming pool, on-site travel company, and tour operator.

Bullfrog InnA long standby in Belmopan, a standard hotel and average restaurant.

Yim SaanA 12-storey hotel with a restaurant, a bar, and beautiful suites.
Cope
Embassies and High Commissions
Some of the foreign diplomatic missions are located in Belmopan (the national capital) while others are in Belize City. Other countries maintain non-resident diplomatic representation to Belize through their embassy in
Mexico City
,
Guatemala City
,
San Salvador
,
Washington DC
or elsewhere in the region:
phone: +1 868 822-5450

address: 18 Herbert Street, St Clair, Port of Spain

The Australian High Commission to Belize is accredited from the Australian High Commission in Port of Spain, Trinidad and Tobago.

phone: +501 822-0460

address: 12 Floral Park St, Belmopan

phone: +501 223-1060

address: 80 Princess Margaret Drive, PO Box 610, Belize City

The Canadian High Commission to Belize is accredited from the Canadian Embassy in Guatemala City at 13 Calle 8-44 Zona 10, Edificio Edyma Plaza

Embassy of the Republic of China (Taiwan)

phone: +501 227-8744, +501 223-1862

address: 20 N Park St, Belize City

Belize has full diplomatic relations with Taiwan as the Republic of China. Therefore, Mainland China does not have diplomatic relations with Belize. Some of the nearby PRC embassies are in Mexico City, Havana, Washington DC, San Salvador and San Jose

Costa Rica

phone: +501 822-1582

address: 8 Floriana Street, P.O. Box 288, Belmopan

phone: +501 223-5345

address: 6087 Manatee Drive, Buttonwood Bay, Belize City

El Salvador

phone: +501 832-2404, +501 832-2569

address: 20 Tangerine Street, Cohune Walk Area, Belmopan

phone: +501 223-0399

address: 109 New Rd, PO Box 976, Belize City

The French Embassy to Belize is accredited from the French Embassy in San Salvador at 1a. Calle Poniente, #3718 - Colonia Escalón

phone: +501 226-0896

address: 104 Barrack Rd, PO Box 468, Belize City

The German Embassy to Belize is accredited from the German Embassy in Guatemala City at Stadt Avenida La Reforma 9-55, Zona 10, Edificio Reforma 10, Nivel 10

Guatemala

phone: +501 223-3150

address: 8 'A' St, Kings Park; PO Box 1771, Belize City

Honduras

phone: +501 224-5889

address: 6 'A' Street, Kings Parks Area, P.O. Box 285, Belize City

phone: +501 822-4011

address: 3 North Ring Rd, Embassy Square, Belmopan

The Netherlands (Consulate General)

phone: +501 223-2953

address: 12 Corner Baymen Avenue & Calle Al Mar, P.O. Box 201, Belize City

Nicaragua

phone: +501 223-26-66

address: 124 Barracks Road, Belize City

Panama

phone: +501 838-6969

address: 40 A Princess Margaret Drive, Belize City

phone: +501 610-1615, +501 223-5040

address: 8 'D' Street, Kings Parks Area, Belize City

The Spanish embassy to Belize is accredited from the Spanish Embassy in Guatemala City at 6ª Calle 6-48, Zona 9

phone: +501 822-2146

address: North Ring Road and Melhado Parade, PO Box 91, Belmopan

phone: +501 822-4011

address: Floral Park Rd
Go next
Head to the largest city and former capital Belize city