Belur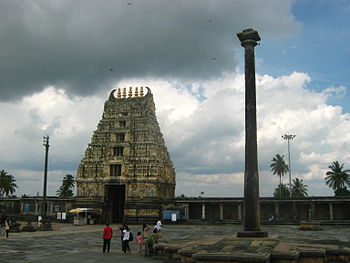 Belur
(
Kannada
: ಬೇಲೂರು) is a historic town in
Hassan
district of
Karnataka
state.
Understand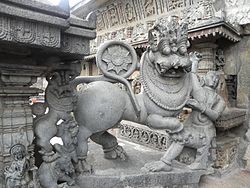 Belur is a historic town with beautiful, famous temples, some dating to the times of the Hoysala Dynasty (11th-13th centuries). It sits on the banks of the river Bhadra, that originates close to this place, and forms the junction of the
Hassan
-
Chikmaglur
and
Arsikere
-
Mudigere
highways, a.k.a
Charmadi
Ghat, which acts as a substitute road for descending towards the Western Coast of Karnataka.
Talk
Kannada is the official state language but English is also widely understood.

Get in
By air
The nearest airport is Mangalore (154 km).
By bus
Well connected to all important cities of Karnataka. Regular buses connect Belur to Hassan (37 km) Halibeedu (16 km) Arsikere (60 km) Dharmastala (98 km) Bangalore (224 km) Belgaum (424 km) Chickmagular (27 km) Madikeri (136 km) Mysore (155 km) Shimoga (122 km) and Shravanabelagola (87 km).
By car
The road from
Mangalore
via Dharmastala- Mudigere to Belur- is a very beautiful ghat road, with many water falls, lovely hill side views and numerous tea estates. This route is a windy mountain road and appropriate time should be budgeted for it. It can pose a safety risk, so when driving, stay alert and focused throughout the ride
If you are driving your car from
Bangalore
(233 km, about 4hr 40min):
Start from Bangalore Railway Station, take the Tumkur Road National Highway No.4 and head for Yeswantpur and reach Nelamangala (30 km from Bangalore)
At Nelamangala turn left on National Highway (NH) 48 and head towards Kunigal (44 km from Nelamangala)
From Kunigal continue on NH48 and reach Chennarayapatna (30 km from Kunigal)
From Chennarayapatna continue on NH48 until you reach Hassan (40 km from Chennarayapatna)
From Hassan take the State Highway (SH) 57 and drive to and reach Belur (40 km from Hassan)
There is a parking fee to park your vehicle (or taxi) in front of the temple - which is valid for the day (true for both temples- Belur and Halebedu).
If you are returning from Belur/Halebid back to Bangalore, then you can consider stopping over at Shravanabelogala to see the giant Bahubali statue.
By rail
Nearest railway station is Hassan (37 km) which is connected to Bangalore, Mangalore and Mysore. Chikmaglur (18 km) is connected to Bangalore and Shimoga.
Get around

The sites are difficult to reach by public transportation.
Karbataka State Tourism Department (KSTDC) runs a Belur, Halebid, and Sravanabelagola tour from Bengaluru and Mysuru daily April-June and Sept-Nov, and four times a week the rest of the year. There are also tours run by private operators departing almost every day.
KSTDC uses a luxury four-seats-across bus while the private companies use small, bumpy (especially if sitting in the back) minibuses. Both the private company and KSTDC tours pick you up at your hotel. If you want to book the KSTDC tour make sure you book on a weekend as the volvo buses are only available on Sat and Sun. On all the other days Non AC buses ply to these places.

See
The following temples are open daily 7:30AM-5:30PM. Inner Sanctum of main deity is closed from 10AM-11AM, 1PM-3PM, 5PM-5:30PM. Many government-approved tour guides can be hired to show around the temple for ₹125-250.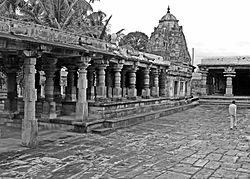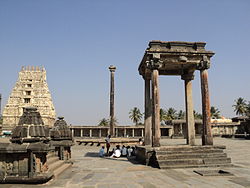 Chenna Kesava TempleThe temple of Chenna Kesava (literally meaning "Handsome Kesava" in the Kananda language) is dedicated to Lord Vijayanarayana, one of the 24 incarnations of Vishnu. It was built over a century beginning in 1116 CE. The temple is roughly 30 m (100 feet) high and has a magnificent threshold or Gopuram. Its inner walls are adorned with sculptured stories from the Puranas, the Upanishads and the epics of Ramayana and Mahabharata. Chenna Kesava Temple is surrounded by Kappe Chennigaraya Temple on the south and Veera Narayana temple on the west and other shrines and mandapas within the main temple complex.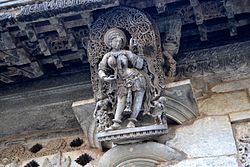 Kappe Chennigaraya TempleThis small shrine resembling the main temple is located south of the main sanctum. It is dedicated to Kappe Chennigaraya and was consecrated by Shantala Devi, a queen. The icon of Lord Kappe Chennigaraya is located near the Chennakesava Temple.

The Gravity PillarThis 23 m tall (42 feet) pillar was constructed in 1414 and is still standing.

Veera Narayana TempleThis small shrine, west of Chenna Kesava temple, is dedicated to Veera Narayana or Lakshmi Narayana. Its outer walls are decorated with large images of divinities.

Vishnu Samudra



Do
The main thing to see are the temples. No other major activity to do here though. The temple itself takes up most of your time.
Make sure you take a camera along, these historic monuments and sculptures make interesting visual delights and are worth capturing. The guides that you get at Belur and Halibidu are ok. Some part of what they tell you is made up, but the other part is actual history.

Buy
As you exit the temple you may be approached by vendors stalking you to try and sell various books, trinkets and other souvenirs.
You get some nice bronze and stone statuettes that you can buy as souvenirs. There is nothing much to shop about in this temple town.

Eat
Ragi mudde (Kannada: ರಾಗಿ ಮುದ್ದೆ)] is a wholesome meal in Karnataka and it is mainly popular with the rural folk of Karnataka.
Avarekaalina Saaru and raagi mudde are very famous in Hassan. Also, avarekaalina saaru tastes good with all kinds of rotis and chapathis also.
Puliyogare (Kannada: ಪುಳಿಯೋಗರೆ)] is a south Indian rice preparation usually eaten as a snack. Puli means sour taste and Ogara means rice in Halegannada, thus Puliyogare translates as sour tasting rice. Puliyogare is also known as Huli anna or Tamarind rice in some parts of Karnataka.
Sakre Pongal- freshly harvested rice and jaggery ('palm sugar') are put to boil in pots the out is bubbly mixture. Served hot-Enjoy Sakre Pongal.
Drink
It is customary to serve coffee to visitors. The best coffee beans in India are grown in Karnataka and in Hassan & chikmaglur District.

Sleep
Mayura Velapuri

phone: +91 8177-222209

address: Temple Road

A very basic hotel run by KSTDC (Karbataka State Tourism Department), within walking distance to the Belur Temple (there is another Mayura hotel close to Halibidu Temple as well). The proximity is the only thing good about this hotel which offers air-con, fan and dormitory rooms. The manager would arrange for water (hot and cold) to be brought to your room when you need it. The rooms themselves are new and clean, but the bedding is modest, although clean. The lodging is therefore not top class, but the proximity to the temple (you can see the temple at the end of the street from the lodge—maybe a 5-minute stroll through the shop lined streets) is its plus. There is a restaurant on-site as well, the food and coffee there are in poor taste, though.

Sudha LodgeA decent place to stay in the small town, situated opposite to the bus stand and the Chennakesava Temple is 5-min walk from here.

Sumukha Residency

phone: +91-08177 222181

address: Temple Road

Vishnu Lodge

address: Temple Road

Vishnu Residency
Good hotels are also available at Hassan:
Hotel Amblee Palika, Hassan Tel:66307.

phone: +91-08172-268731

address: P.B. No. 121, B.M. Road

Kotari Hotels

address: Station Road, Hassan

Hoysala Village Resort

phone: +91 8172 256764

address: Handinkere, Belur Road

Hoysala Village Resort is on Belur - Chikmagalur Highway. The resort has 33 rooms, out of which 29 are standard rooms and 4 suites. The amenities provided are doctor on call, travel desk, laundry service, swimming pool, car parking and conference hall. The resort also has an in-house restaurant and a bar and provides sightseeing packages.

Hotel Suvarna Arcade

phone: +91 8172 67422

B.M.Road, Hassan.
Go next
Dharmasthala - Belur - Halebidu - Shravanabelagola would complete a brief Heritage tour of southern Karnataka. They call Belur, Halebeedu and Shravanabelagola as the triangle eloquence in stone and are nominated to be UNESCO World Heritage Centers.
You can go north and to Chikmagalur (27 km) (3000–3500 ft ASL) - Coffee plantations and forests combine to give a feel that is a little different to Coorg. The area is less populated and plantations are larger, surrounded with hills, forests and river streams.
You can go south to Madikeri- also known as Coorg or Mercara, travel via Shimoga. At Medikeri you can go to Talakaveri and Nagarhole National Park, they are both must see places.
You can go east towards Bangalore (224 km)– Karnataka capital. Bangalore, officially known as Bengaluru, is one of the most hip and happening cities in India and also a major center of the I.T. industry
Enroute you can visit Halebidu, Hassan and Shravanabelagola.
You can go west towards Mangalore a port city and the headquarters of Dakshina Kannada district in the coastal region of Karnataka State in India.
En route to Mangalore you can visit the famous Dharmastala which is 98 km away. Dharmastala is a renowned pilgrimage destination where Manjunatha Swamy temple is situated.