Bend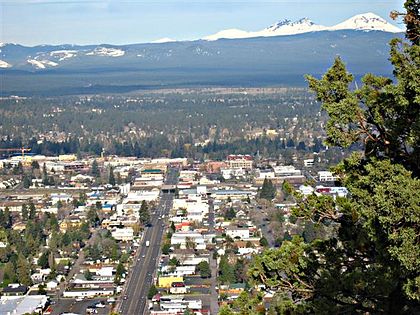 Bend
is the county seat of Deschutes County in
Central Oregon
.
Understand
The city of Bend, which is nestled between the Cascade Range and the Maury Mountains, is a tourist destination in summer and winter.
Visitor information
phone: +1 541-382-8048

address: 750 NW Lava Rd, Suite 160
Get in
By plane
Redmond Municipal AirportIt is the major airport for commercial flights serving Redmond, Bend, Sunriver, Prineville and the surrounding communities in Central Oregon. The airport is north of town along US Hwy 97 in the southeastern part of Redmond. It is served by:
CoBreeze Bus
and other bus companies serving the area also serve the airport in addition to Hawthorne Station in Bend and the Redmond Transit Hub (see below under 'By bus'). The next nearest airport for commercial flights with additional airlines from more places is at
Portland International Airport
PDX
northwest of town, which is also served by Cobreeze bus.
In town, there's a city-owned for public general aviation use. The airport is northeast of the city center at NE Butler Market Rd & Powell Butte Hwy.

By car
Bend is served by U.S. Routes 20 and 97. From the west, U.S. 20 carries traffic from Santiam Pass and the Willamette Valley, and from Burns and southeastern Oregon. U.S. 97 passes north-south through the city, carrying traffic from Klamath Falls to the south and the Columbia River Gorge and Yakima to the north.
To get to Bend from Portland, you can take U.S. 26 east from Gresham over Mount Hood to Madras where it meets up with U.S. 97 south, and follow U.S. 97 south through Redmond to Bend. Or you can take I-5 south to Albany, then U.S. 20 east through Santiam Pass and Sisters. Either way will take about three hours, not counting rest stops. Both routes cross the Cascade Range and may receive heavy snow during the winter.

By bus
The main bus station for local public transportation and intercity buses is at the on NE 4th & Hawthorne (334 NE Hawthorne). Bus stops for Cascades East Transit are lined up along NE Hawthorne and along NE 4th while the long distance buses are along NE 4th:
phone: +1 541 385-8680

Operates local public transportation and intercity buses to the surrounding cities/towns of Culver, Redmond, Madras, Metolius, Prineville, Sisters and Warm Springs from Hawthorne Station

phone: +1 541 389-7469

address: (bus stops) Circle 'K' @ 3405 N Hwy 97; Redmond Airport and Redmond Transit Hub

Comes from Portland, Portland International Airport and Gresham via Sandy, Welches, Government Camp (Mt Hood), Madras and Prineville P&R along US Hwy 26. Buses may not make all the above stops regularly but on request in advance of travel. Check with them.

phone: +1 541 575-2370

Goes east towards Prairie City through Redmond Airport, Redmond Transit Hub, Prineville, John Day, Mitchell and Dayville. There's another route that goes towards Monument from Dayville. Check schedules.

phone: +1 541 903-0724

address: (Bus stop) Hawthorne Station

Goes up to Portland through Sisters and Salem via US Hwy 20/SR-22 and I-5. Passengers can transfer to Greyhound, Amtrak and other bus lines in Portland and Salem

phone: +1 888 846-4183

address: (bus stop) Hawthorne Transit Center

Tickets can be purchased through their website or through Greyhound.com :
Eastern Point goes across eastern Oregon to Ontario via Brothers, Hamptons, Riley, Buchanan, Burns, Drewser Jct, Harper, Vale, etc. Passengers can connect to Greyhound Lines (Portland-Boise-Salt Lake City route) in Ontario. Picks up at the Hawthorne Station ONLY.
High Desert Point & Amtrak Thruway Connects Redmond Airport to the Chemult Amtrak Station via Bend, Sunriver & La Pine along Hwy 97. Bus stops at the Hawthorne Station AND the Riverhouse on the Deschutes at 3075 N Business 97. Schedules are coordinated with the Amtrak Coast Starlight arrival in Chemult and tickets can also be purchased from Amtrak.com as a Thruway connection to/from the Coast Starlight.
phone: +1 541 923-1732

Connects Bend to Eugene and Coos Bay. Passengers connect to Amtrak and Greyhound (Seattle-Portland-Sacramento route) in Eugene
Get around
To fully enjoy the city of Bend, your best mode of transportation is the bicycle. Bend has extensive bike paths and lanes and walking paths. When visiting downtown Bend, you can park for free for the first two hours during business hours and unlimited hours after 5PM. Downtown is best explored by foot. Parking can be difficult at times but a spacious parking garage is located at the corner of Bond and Oregon Streets.
By bus
Cascade East Transit
provides limited bus service in and around Bend. Phone number: +1-866-385-8680, +1 541 385-8680. All buses stop at Hawthorne Station at fourth street and Northeast Hawthorne Ave.
See
phone: +1 541-382-4754 ext 271 (weekday business hours)

The High Desert Museum is just south of Bend on Highway 97. The High Desert Museum is a great way to gain educational experience about some of the animals and habitat that go along with Central Oregon.

phone: +1 541 317-0700

address: 835 NW Wall St

phone: +1 541-548-7501

Smith Rock State Park encompasses 651 acres on the Oregon high desert plateau which hovers around 3000 feet in elevation. The park and campground are open year-round. A $5 day use permit or a current state park camp receipt is needed for each vehicle. A yearly permit is available for $30. Hiking trails offer spectacular views of the surrounding area. You can spend 30 minutes walking along the river or a half day making a loop on the entire trail system that extends outside of the park. The major rock faces are composed of welded tuff (compressed volcanic ash) reaching a height of up to 550 feet. The picnic and campground areas sit on top of the rimrock which is made up of columnar basalt. There are over 1400 climbing routes in and around the park ranging from some of the best sport climbs in the world to. "Why would anyone want to climb that pile of choss". People climb year-round, but summer temperatures can reach over , and in the dead of winter the thermometer stays close to the freezing mark () during the day. Spring and fall are the most popular climbing months.

Deschutes RiverThe Deschutes features ruggedly beautiful scenery, outstanding whitewater boating, and a renowned sport fishery for steelhead, brown trout, and native rainbow trout. The Upper Deschutes features primarily flatwater boating with limited whitewater and excellent trout fishing opportunities. The Middle Deschutes has excellent hiking opportunities with spectacular geologic formations and waterfalls, but boating is limited. The Lower Deschutes offers the greatest opportunities for whitewater rafting and is one of Oregon's premier steelhead and trout fisheries

Newberry National Volcanic Monument

phone: +1 541 593-2421

South of Bend, See lava flows, explore lava caves and ice caves, fishing for trophy rainbow and brown trout in the two alpine lakes at the Newberry caldera (East Lake & Paulina Lake) and explore the massive Obsidian Flow. There are hiking trails, camping and resorts. Also snow parks, winter cross-country skiing and snowmobiling. Visit the Lava Lands Visitor Center for information.

Cascade lakes and MountainsThese areas are spectacular. Take a drive on the Cascade Lakes Highway and you can go to Sparks Lake, which is ideal for canoeing and kayaking, the Twin Lakes, Elk Lake and more while taking in some beautiful mountain scenery at the same time. Many of these lakes offer fishing, camping, and trailheads for hiking up into the mountains. Along the Cascade Lakes Highway, you can access trailheads as well as snow parks for snowmobiling in the winter.

Cultus LakeAbout 45 minutes outside of Bend, Oregon, on the cascades lake highway. At the lake there are a number of activities and facilities available for tourists, all centered around the crystal clear waters of the lake. At Cultus Lake there are a number of activities available. The resort's main attraction is its water sports. One can rent a number of watercrafts including jet skis, motorboats, canoes, kayaks, paddleboats and party boats. Gas and oil can be purchased on site. Another popular activity at Cultus is the fishing. The lake is filled with Rainbows, Bass, Mackinaws and Browns. There are also beaches where people can swim and enjoy the water from another perspective. At the lodge there is a restaurant open to the public. They serve a wide variety of food here and it is reasonably priced. One can also purchase groceries, although the selection is limited and prices higher than a supermarket. Cabins are available to rent at Cultus Lake. The cabins are near the lake, and have fireplaces, kitchens and appliances. There are a number of campsites available on and near the lake. They are operated by the National Forest Service, and have a small per night fee. There is running water, toilets and parking available to campers, however there are no R.V. hook ups.

Elk LakeAbout 11 miles past Mount Bachelor and just a short drive out of Bend, Oregon. It is known for its mountain scenery and relaxed atmosphere. It has clear water, making it popular to people seeking water activities. The Lake is 405 acres in size, with a depths ranging from 25'-75. The elevation of the resort is about 4884'. At Elk lake fishing is a popular activity. The lake is filled with Kokanee and brook trout. In the summer months the lake is planted with brook trout. Popular fishing techniques include: still-fishing, trolling and fly fishing. Boating is also permitted at Elk Lake. At the resort there are paddle boat, canoes, and sail boats available to rent. Prices for these boats are fairly reasonable and can be checked out by the hour or by the day. Larger motor boats are not allowed to help maintain the peacefulness on the lake. There are a number of boat docks that surround the lake to make launching a boat relatively easy. Swimming is easily accessible at the sunset and beach areas of the lake. If hiking is your choice there are miles of trails that circle the lake. At the resort there is a restaurant open to the public. It serves a wide variety of food, specializing in their hamburgers. For dessert they have a small ice cream parlor with about a dozen different flavors. There is also a small store where groceries can be purchased. Cabins are available to rent, and can be checked out at the main resort. They vary in size and location. Camping can be done at a number of different sites in the area. The different sites include: Little Fawn Campground, Little Fawn Group Camp, Point Campground, and Elk Lake Campground. There are also areas reserved specifically for day use.

phone: +1 541 388-6055

Pilot Butte State Scenic Viewpoint

phone: +1 541 388-6055

phone: +1 541-389-1813

address: 129 NW Idaho Ave

phone: +1 541-389-7275

address: 777 NW Riverside Blvd
Do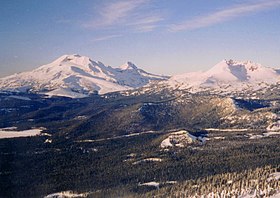 phone: +1 541-382-1709

Bachelor is Central Oregon's best Ski/Snowboard mountain. It was home to the Olympic snowboard trials years back as well. When the summit is open (depending on weather) it is some of the best skiing you will find in Oregon. The northwest territory is also great with lots of black diamond runs. It's probably not a bad idea to take some 2-way radios for the other members of your party. The mountain is quite big and keeping track of everyone is sometimes difficult.
Whitewater rafting Bend offers some great Whitewater rafting on the Deschutes River.
Mountain Bike Bend and Central Oregon have hundreds of miles of singletrack perfect for riders of all levels. There are trails for families and beginners and trails for serious mountain bikers wanting to get their ride in. Most of the trails in the Bend area are in the cross country category - great for front and full suspension bikes. The trails are pretty buff with some roots and rocks. There are some steep climbs, but mainly the trails climb for days from town 20+ miles to Mt. Bachelor and beyond. This means there are great routes for downhill and shuttling. Popular trails include Whoops, Funner, Phil's Canyon, Flagline and Mrazek. Recently more and more progressive, downhill and freeride styles of trail have been built in Bend including the Lair and ODP (Old Dirty Pirate). All the trails, new and old are thanks to COTA, Central Oregon Trail Alliance who maintain the trails as well as work on building new ones. All riders who live or visit Central Oregon are recommended to become members and support the trail alliance! Mountain biking in Bend is a great summer activity and with multiple bike shops in town renting bikes (Hutchs, Pine Mountain Sports, Webcyclery & Sunnyside Sports). Cog Wild Mountain Bike tours also offers tours and shuttles for riders of all levels. Contact them to be taken out on a great ride. Adventure Maps also sells great maps of the trails of the Bend area. You can find their maps online or at each bike shop in Bend.
Golf There are golf courses in Bend for both high and low handicappers. Bend offers several great golf courses that share amazing scenery. At 3600 feet, the ball always travels higher and longer in Bend!

phone: +1 541 382-8331

Great place to go see the stars. Camping available.
Go Fishing Bend is in the Heart of the Cascades, and due to this location Bend is surrounded by numerous Cascade lakes and the well known Deschutes River. Some of the Cascade lakes hold monster trout exceeding 10 lbs, Crane Praire is one of these lakes, and it is south of Bend near Sun River. The avid fisherman can experience almost everything when fishing around Bend. The lakes hold a variety of species of fish from Trout, Kokanee, Atlantic Salmon, Bass and other fish. While the famous Deshcutes holds an abundance of fish. The Deschutes flows right through the city of Bend. Some of the better fishing can actually be right in front of the Riverhouse right on the Deschutes off of 3rd St. If getting away from the crowds is what you like the Deschutes offers miles and miles of peaceful fishing spots.

Les Schwab AmphitheaterIn the summer time Bend offers many Sunday concerts that are performed at the Les Schwab Amphitheater. In the past artists such as Cold Play, Keith Urban, Lynyrd Skynyrd, ZZ Top and Jack Johnson have performed there. This summer Ben Harper will be performing at the Les Schwab Amphitheater.
more!
Buy
There are numerous shopping opportunities in Bend. Downtown Bend has all different kinds of shops from outdoor gear to clothes. Secondly, the
Old Mill District
has great shops including REI, Pac Sun, Victoria's Secret, American Eagle, Gap and other great stores.
phone: +1 541 385-9111

address: 211 NE Revere Ave

The multinational video-rental giant may have declared bankruptcy in 2010 and shuttered all its corporate-owned retail outlets, but a few hardy franchisees stubbornly held their own — and after the 2019 closure of the Blockbuster in Morley, Australia, Bend's location has become the last remaining one in the world. Stop in to rent a movie, pick up some popcorn or candy, or simply indulge in some nostalgia for those halcyon pre-Netflix days.
Eat
Bend has a great selection of restaurants located all over town. Ranging from cheap and easy to expensive and ritzy, you are guaranteed to get a great meal almost anywhere you go.
The Original Pancake HouseOn the West Side of Bend on the way up to Mt. Bachelor, the Pancake House has excellent food and great service.

Deschutes Brewery Public House

phone: +1 541-382-9242

address: 1044 NW Bond St

Notable for its world-renowned dark brews, the Deschutes Brewery Public House offers excellent burgers and sandwiches with a laid-back atmosphere in the heart of downtown Bend. (Note: you can also visit the Brewery itself, where you can get a tour of the beer production facilities).

Longboard Louie'sA great burrito shack on the westside of Bend that offers great food at prices college kids can afford. Louie's has all of the character of the locals and it is located just a couple hundred yards from Drake Park and the Deschutes River running through Bend.

Pizza Mondo

address: Main St

Great pizza at cheap prices and large quantities. With great lunchtime deals and is a great place to hit up after a day on the slopes.
Cibelli's New York Pizza Two locations in Bend (East & West). Eastside - 2095 NE Highway 20, +1 541 385-8646. Westside - 64670 Strickler Ave # 101B, +1 541 318-2800. This is very good New York Pizza. They also have a 24" pizza that is huge. No delivery.

phone: +1 541 318-1535

address: 945 NW Bond St

A blend of Thai, Vietnamese, Korean, Chinese and Japanese. The Spicy Shrimp Noodle Soup is very good. Under $7. (Also locations in South Bend across from Albertsons, Sisters and Salem.)

Super BurritoNot the fanciest place in Bend, but among the best Mexican food. It is on Minnesota and is easily the best taqueria around.

Toomies Thai Cuisine

phone: +1 541 388-5590

address: 119 NW Minnesota Ave

Very reasonable priced Thai food with a good selection. Lunch under $6, dinner $6 to $18.

Mangia PastaMangia Pasta is also on Bend's eastside. This quaint, romantic restaurant has great pasta and Italian food that is perfect for a dinner-date at affordable prices.

Broken Top RestaurantBroken Top's famous golf course also has a great restaurant with excellent food. Although its meals are on the pricey side, every meal is definitely worth its price. Located on Bend's westide.

Anthony's HomeporterIn Bend's developing Old Mill district, it is a chain that is in Seattle, Washington and offers excellent seafood at affordable prices. It has a nice full service bar with about six of the Oregon microbrews on tap. It also has a nice patio area that overlooks the Deschutes River

Goodies Candy ShopGoodies is a delightful little candy shop in downtown Bend that offers an array of different sorts of chocolates, candies, milkshakes, ice creams, and popcorn that is perfect for topping off a great meal.

Zydeco Kitchen & Cocktails

phone: +1 541 312-2899

address: 919 Bond

Try the Acadian Flatbread from the starter list. Good wine list and full service bar.

Pilot Butte

address: Greenwood Avenue

This restaurant has some of the best burgers in Bend! It is the home of the Pilot Butte Burger (one of them is enough to feed about 3 people) and is open only for lunch seven days a week.

phone: +1 541-728-0600

address: 375 SW Powerhouse Drive #130

Voted Best Pizza in Bend by Gusto magazine 2009. Oregon's only VPN certified Neapolitan Pizzeria & Wine Bar. Located at the Old Mill right on the Deschutes River.

phone: +1 541-382-1010

address: 10 NW Minnesota Ave

Fine dining in downtown Bend, free valet parking.

phone: +1 541-647-2323

address: 2748 NW Crossing Dr #110

The Sparrow Bakery Northwest is the second of their restaurants in Bend. In addition to Ocean Rolls and breakfast sandwiches, they offer a variety of foods for breakfast, lunch, and dinner.
Drink
28

phone: +1 541 385-0828

address: 920 NW Bond

Premium cocktails and good bistro food. This is one of the many hot spots in downtown Bend.

Astro Lounge

phone: +1 541 388-0116

address: 147 NW Minnesota

Singles bar in downtown area. This is a late night hot spot in Bend.

phone: +1 541 338-6868

address: 850 NW Brooks St

Another hot spot and favorite. Serving handcrafted small-batch distilled spirits. Tu-Sa 4:30PM-midnight.

phone: +1 541 385-8606

address: 901 SW Simpson Ave

If you're into beer, this might be worth a stop. They have some great seasonal brews as well as six others that are regularly on tap. The facility is in the heart of downtown Bend, which is next to the Deschutes River. Deschutes Brewery's "Mirror Pond Pale Ale" was once voted the number one microbrew in the United States by Men's Journal. Other Deschutes offerings have also won national and international awards. They offer free daily tours of the brewery at 1PM, 2PM, 3PM, and 4PM, which last about 45 minutes. Known to local college students the brewery burger and a beer sampler gets you fed and watered in style for cheap.

phone: +1 541 383-1599

address: 1019 NW Brooks St.

The Bend Brewing Company is another great place to grab a drink right in downtown Bend. A bit less heavily-trafficked (and hyped) than Deschutes, BBC has also won several awards for their beers. The pub and restaurant overlooks Mirror Pond.

El Rodeo

address: 3rd St

Friendly staff, family friendly, consistently fast meal preparation & a local favorite.

phone: +1 541 382-1010

address: 10 NW Minnesota Avenue Ste 120

Fine dining and full service cocktail lounge in the heart of downtown Bend, offering complimentary valet parking for all dining patrons

phone: +1 541 388-8331

address: 24 Northwest Greenwood Ave

Great beer and good service. Free Wifi. 10 craft beers available. The Hounds Tooth Amber is one of the best around.
Sleep
Eagle Crest ResortLocated between Bend and Redmond, Eagle Crest is known for its three golf courses and wonderful mountain views. The resort has a number of different amenities including, two recreation facilities including racquetball courts, basketball courts, indoor and outdoor tennis courts, weight and cardio center, three pools, two hot tubs (with adult hours only) indoor game room, day spa, café, a mini golf course-that will challenge even the most experienced golfers and a restaurant Niblick and Greenes. .

phone: +1 877-765-1501

address: 18575 SW Century Dr.

Great resort 15 minutes from ski resort Mt. Bachelor. The resort has two swimming pools, one complete with waterslide and volleyball net. The pool area is accompanied by large hot tubs, a sauna, and dressing rooms. The Inn has lots of activities including white water rafting, hay rides, mountain biking, shuttles to the mountain, and ice skating.

Mt. Bachelor Village ResortMt. Bachelor Village is on the way up to Mt. Bachelor and just outside of the city. It's close to the Old Mill District and minutes from downtown. Mt. Bachelor Village has rooms for all from business suits to family condos; during the winter season they have special packages for the winter enthusiast, which could include a ski trip or a snowshoes adventure. Almost all of the rooms face the wild Deschutes River. If you need some exercise, take a walk or run along the river trails, which run right along the river.

McMenamins Old St. Francis School

phone: +1 541 382-5174

address: 700 NW Bond St

address: 10 NW Minnesota Ave

Bend's only boutique hotel, with 59 stylish suites.

phone: +1 541-382-7011

address: 1415 NE 3rd St

Centrally located to downtown Bend and Highway 97. Pet-friendly, complimentary hot deluxe continental breakfast, complimentary wireless internet access, business center, room service and Black Bear Diner on property.

phone: +1-866-453-4480

address: 3075 U.S. 97 Business

Several rooms along the Deschutes River, with high definition TVs, fireplaces, spa, full kitchen and business suites. Free American breakfast, outdoor and indoor pools and spas, exercise room, ultra-high speed internet.

Shilo Inns Bend Hotel

phone: +1 541 389-9600

address: 3105 O.B. Riley Rd

Four stars.

West Bend Cottage

phone: +1 541-406-0234

address: NW Columbia St

Cottage on Bend's westside, walking distance to downtown and 3 nearby parks. Full kitchen, fenced backyard, bbq.
Go next