Beni (Bolivia)
Beni
is in the Tropical Lowlands of
Bolivia
.
Cities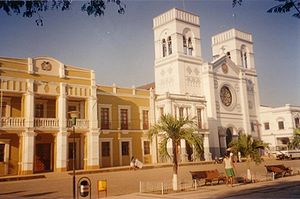 – The capital of Beni, also called the "Jewel of the Amazon". It is a very eye-catching town that is slowly but steadily becoming a city.
– An interesting town with a serious frontier-like feeling, set in the northern Bolivian jungle.
– A popular base for jungle and pampa trips.
– Famous for the indigenous Moxos people.
– Gateway into the region and interchange point.
– A cute little town deep in Beni lowlands, gateway to other towns and places nearby.
Understand
Beni department is rich in nature and culture. You can find big rivers there (most impressive is probably Mamore), and big lakes. There are nature parks and reserves (e.g., Serere). Many ethnic groups live there, most of them small and quite hard to locate, others bigger and more exposed (like Moxenos). The towns in Beni are not big, but they are charming (e.g., Rurrenabaque or Trinidad).
Being in nature, with an organized tour or on your own, you'll meet some communities, see interesting flora and fauna, maybe learn some survival techniques. Maybe you'll want to fly a bit, because the distances (i.e. to reach Riberalta) are quite big. If you can, take a chance and get on a boat trip along the river Mamore.

Get in
By bus
Buses from Yolosita to Yucumo: Many in the evening, but also during the day. 8-10 hr (+ 2 hr from La Paz, + 5 hr to Rurrenabaque, + 2-3 hr to San Borja). Bs. 40-50.
Buses between Trinidad and Santa Cruz: Mostly night buses between 18:00 and 21:00. 10-12 hr. Bs. 50-80 (semi-cama).
By plane
Flights from La Paz and others especially to
Rurrenabaque
and
Santa Cruz
exist.
By boat
Several slow and exciting cargo boat option exist to get in from the Brazilian border (
Guayaramerín
) and the Santa Cruz department (Puerto Villarroel) to Trinidad—see
below
.
Get around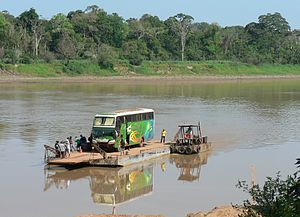 The road conditions between Yucumo and Trinidad are awful, and it can take ages to travel this "trunk road", passing by San Borja and San Ignacio de Moxos. The road is under construction and larger parts should be available for faster travel in 2019. Nevertheless, road blocks in addition make the situation unpredictable and can stretch travel time to 2-5 days. So, you better do not use this road if you have a flight from
Santa Cruz
and urgently need to get there. You are better off going by La Paz in this case.
By bus
The following are travel times for dry season:
Yucumo San Borja (vans every 30 min, 2-3 buses a day): Bs. 15/30 by bus/van, 2-3 hr
San Borja San Ignacio (vans every 60 min, 2-3 buses a day): Bs. 45/90 by bus/van, 4-5 hr
San Ignacio Trinidad (vans every 30 min, 2-3 buses a day): Bs. 30/60 by bus/van, 3 hr
By plane
If you're going east or north from Rurrenabaque, there's a flight with TAM from Reyes to the cities of San Borja, Trinidad, Riberalta and Guayaramerín (on the border with
Brazil
).
See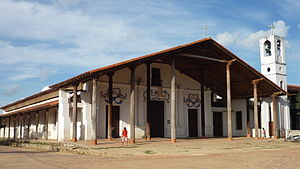 Pre-hispanic hills (lomas) north of Trinidad
Do
Eat
Keperi – Tasty piece of cooked meat. It is very tender and it is served with rice and cheese, fried yuca and cold beer. All meat dishes are usually big servings.
Piranha – The rivers are full of fish and piranha is a delicious treat.
Snake – As expected in places near a jungle, the Amazon cuisine includes species that are uncommon in other parts of the world. Those who try it ask for second servings.