Bento Gonçalves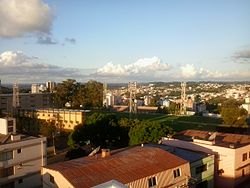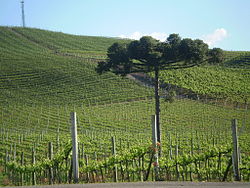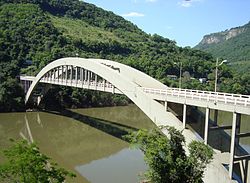 Bento Gonçalves
is in the
Northeast
of
Rio Grande do Sul
.
Understand
Bento Gonçalves is the wine capital of
Brazil
. The majority of domestic wine is produced here and most of the country's grape juice also comes from Bento Gonçalves. The city has many vineyards outside of the central business district. It was colonized by Italian immigrants near the end of the 19th century. Its rolling hills, vineyards, historic buildings and Italian heritage have made this city one of the great tourist cities in the Serra Gaúcha.
Get in
By plane
Commercial air service is available in
Caxias do Sul
(41 km / 28 miles away, about 50 minutes by car) and
Porto Alegre
(121 km / 75 miles away, about 1 hour and 45 minutes by car).
By bus
Estação Rodoviária de Bento Gonçalves (Intercity bus station)
phone: +55 54 3218-3000
address: Rua Gen. Gomes Carneiro, 19 Centro
Comfortable and air-conditioned executive coaches are available from Porto Alegre and many other cities throughout Rio Grande do Sul state to Bento Gonçalves. The bus station has a snack bar, shops with newspapers, magazines, and souvenirs. It also has a baggage storage services (guarda volumes) if you plan on just visiting town while waiting for another bus. Most travelers coming from the metropolitan
Porto Alegre
region will take the BENTO or UNESUL busline to Bento Gonçalves. Check the bus station website where you can check schedules, verify bus fare, and even purchase tickets (although a CPF, Cadastro de Pessoas Físicas, or Natural Persons Register Number is necessary). Most foreigners simply show up at the time of travel and purchase a ticket. In general, there are vacancies on the buses if you're not traveling during a holiday.
Intercity buslines that operate at the Bento Gonçalves intercity bus station:
Get around
By bus
phone: +55 (54) 3452-2977

Municipal bus service is provided by Bento Transportes. This busline also provides intercity transport to Farroupilha, Caxias do Sul and other cities throughout the Wine and Grape Region of the Serra Gaúcha.
See
Pipa Pórtico (City gate monument in the shape of a wine barrel)

address: Rua Carazinho, 322

This is one of the main symbols of the city.

Antas River Bridge

address: BR-470 KM 192

A beautiful through arch bridge that passes over the Antas River. This bridge is actually the symbol of Rio Grande do Sul state's Department of Transportation (Departamento Autônomo de Estradas de Rodagem do Estado do Rio Grande do Sul).

phone: +55 54 3455-6333

address: Rodovia Caminho das Pedras

Visit original houses of Italian immigrants in the region along this road. Many of the homes have been converted into restaurants and stores selling wine, grape juice, products derived from grapes and arts and crafts from the Serra Gaúcha region.
Do
phone: +55 54 3455-2788

address: Rua Duque de Caxias, s/n - Bairro Cidade Alta

Ride this historic tourist train from Bento Gonçalves through Garibaldi to Carlos Barbosa. Wine or grape juice tasting takes place at the Garibaldi stop.

phone: +55 54 3454-1789

address: Rua Visconde de São Gabriel, 507

Shows daily life of Italian immigrants in the region in 1875.
Eat
phone: +55 54 3452 3278

address: Rua Olavo Bilac, 200, Cidade Alta

Very expensive, even with a favorable exchange rate, but good.
Sleep
Budget
phone: +55 54 3452 0445

address: Rua Raul Moreira, 221

With a favorable exchange rate, this charming inn could fall into the budget range.
Mid-range
phone: +55 54 3455 3555

address: Rua Herny Hugo Dreher, 197

With a favorable exchange rate, this hotel isn't too expensive. A very nice place.
Splurge
phone: +55 54-2102 7200

address: Rodovia RS 444 Km 21 - Vale dos Vinhedos

Part of Marriott's Autograph Collection. This is one of your priciest options, but very luxurious.
Go next