Berbera
Berbera
is a large city in the autonomous region of
Somaliland
. Popular golden beaches such as Bathaale and Batalaale have earned the city the nickname
beach city
.
Understand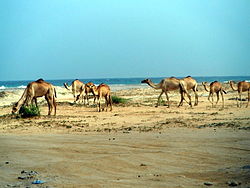 Berbera is a port city that lies on the coast of Somaliland, facing the Gulf of Aden. For this reason, it's the economic centre of Somaliland, attracting most of the trade that takes place in the country. The city while also serves
Ethiopia
's trading needs. In terms of attractions, Berbera doesn't have a whole lot to offer. The primary reason for visiting the city rather is to absorb the culture and lifestyle. Today, much of the city is simply crumbling buildings and mud-thatch houses.
Get in
Most people get to Berbera by travelling overland from
Hargeisa
, via minibus and 4WD. The journey is 150km, and usually costs $5. You will need an armed security officer to escort you between the cities, which will have to be organised in Hargeisa. Sometimes travellers are able to go independently by organising a letter of permission from the Police Commissioner in Hargeisa. If you leave Berbera by road, you will need an armed security guard again.
Get around
Public transport is limited to taxis or whatever minibuses you can find. If you wish to see the waters, take a Gulf of Aden cruise on a miniature ferry.

See
Baathela BeachA pristine, sandy beach about 4km from the centre of town.

NASA RunwayA huge runway built in the 1980s as an emergency landing for space shuttles.

Historic buildings of the different empires in the central city
Do
Swim at the very nice Batalaale beach.
Go Snorkeling in the beautiful Red Sea.
Eat
Enjoy the dinner beach hotel of Xeeb Soor with the sea waves beside you.

Sleep
Al Madiina

phone: +252 2720254

Located near the centre of Berbera. The rooms vary in quality, depending on price. The most expensive ones have air-conditioning.

address: Baathela Beach

Consists of cottages near the beach, but not facing it.