Bergamo
Bergamo
is a city in
Lombardy
, a region of
Italy
, and the capital of the namesake province. One of the most scenic cities in Italy, it is located on and around a steep hill, green in the summer and white in the winter, complemented by pastel-coloured architecture, against the backdrop of nearby Alps. Its appeal to tourists is enhanced by the nearby Orio al Serio airport. Looking at its beauty, it is hard to believe Bergamo is also one of Italy's most industrialized cities, from which it derives its relative wealth.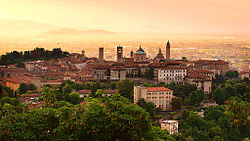 Understand

Bergamo is a pretty town of some 120,000 people nestling in the foothills of the Alps. Widely acclaimed as a city of rare beauty, Bergamo is famous for its wealth of artistic treasures and enchanting medieval atmosphere. It is a real life tale of two cities: Città Bassa, the busy and modern lower city, and Città Alta, the upper city with its rich heritage of art and history.

Get in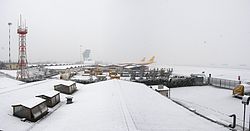 By plane
Bergamo airport is the 4th busiest airport in Italy, serving a wider area than just the province of Bergamo. It mostly hosts low-fare airlines, many of whom market it as an alternative to Milan's Malpensa and Linate airports, and therefore call it "Milan Bergamo".
Airlines serving Milan are either point-to-point low-fare carries like
Ryanair
or
Wizz Air
, as well as holiday charters going either to Italy from other European countries, or from Bergamo to warmer holiday destinations in the Mediterranean. If you would rather travel on a major airline, your only choice are the two daily flights to
Munich Airport
, operated by
Air Dolomiti
, where the Lufthansa-owned carrier connects to the
Star Alliance
network of European and intercontinental flights. Note that Munich is denoted
Monaco
in Italian when searching for the flights.
Many passengers get on a coach to Milan right after arrival, skipping Bergamo entirely.
From the airport to Bergamo
Airport BusThis service runs between the airport and important points within the city, such as the train station or the lower station of the funicular. You can find schedules and route maps on the site of ATB (the city's public transit authority).
Buses can be both unreliable and not punctual. You may want to take this bus then make sure you have 30-45 minutes before the time you actually have to be at the airport. Taxies will take about 15 min but are quite expensive given the length of the journey - cost around €15 (€21 after 21:00 in the evening)
Other bus connections
If you are at the airport and your destination is Milan or Venice, just take one of
regular coaches
. However be warned that the
autostrada
connecting Bergamo and Milan carries a lot of trucks and gets easily congested - do not therefore rely on the 'stated' journey time especially on weekdays. An alternative is to take the bus into Bergamo (see above) and take the train.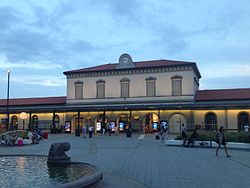 By train
There are regular trains to
Milan
(50 min),
Lecco
and
Brescia
, where you can change to trains towards
Verona
and
Venice
.
Stazione Ferroviaria

phone: +39 035 247 950, +39 035 244 812

address: piazza Marconi 7

Regional train services are operated by Trenord, the long distance trains are operated by Trenitalia. There is no left luggage service at the station, but there is one at the building of the bus station behind McDonald's (see below). Alternatively, you can leave them in the airport, but it's rather slow and works just in the daytime.
The bus no. 1 from the airport to Bergamo city, taking around 20 minutes, leaves you just in front of the train station. You can check schedules and fares on the
website of the Italian Railways
.
By bus
Regular buses to
Milan
. You can check schedules and fares on the
website of Autostradale
. The trip takes approximately one hour, depending on traffic conditions. Alternatively, you can take advantage of the direct bus connections to the Orio Al Serio airport from
Brescia
,
Milan
, Milan Rho fairgrounds,
Milano Malpensa Airport
and
Turin
.
Get around
By bus
The city's public transit authority is called ATB (
Azienda Trasporti Bergamo
) and provides a
comprehensive website in English
. ATB operates a number of bus lines, two funiculars and a tram line.
ATB's ticketing system is a complicated zone-based affair, with single-ride tickets starting at €1.30 (75 min) for zone 00 (24h card – €3.50). Basically, the whole city centre is included into this zone, but to travel to or from the
airport
you would need a
3 zone ticket
for €2.30 (75 min). There are also "Whole Network" cards: 24h for €5.00 and 72h for €7.00. These tickets are also valid at the
funiculars
and
tram
lines and allow you to travel with luggage.
Tickets can be purchased from automated or manned
points of sale
throughout the town - most importantly, at the train station, the airport, Porta Nuova and the lower station of the Citta Alta funicular.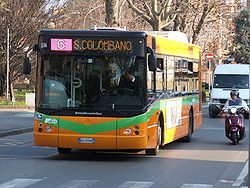 Bus line #1
is the most convinient for tourists, as it connects the airport with the railway station, the Citta Alta and several other points of interest. The important stops are:
Aeroporto for airport
Orio Center for the shopping centre opposite the airport
Stazione FS for the main railway station
Porta Nuova for the centre of Citta Bassa, some buses stop there and don't go to Citta Alta
Stazione Inf. Funicolare for the lower station of Citta Alta funicular
Stazione Sup. Funicolare for the upper station of Citta Alta funicular
Colle Aperto northwestern terminus for buses doing the full route, at the lower station of the funicular to San Vigilio
The journey from
Aeroporto
or
Orio Center
to
Colle Aperto
takes not more than 25 mins (unless there is major traffic congestion), and within the city all of the stops are not more than 15 mins from each other. Buses leave the airport three times an hour from 6AM until midnight, which is complemented by two hourly departures from Orio Center on the other side of the
Autostrada
. Within the city, the intervals are 10 mins at daytime. On Saturdays ("Sabato") and holidays ("Festivo") the schedule is slightly less intensive, but still workable.
Do note that the route has a few variations which do not run to the airport, so check
the schedule
and look for buses stopping at "Aeroporto". If you end up on a bus heading to Grassobbio, get off at "Orio Center", the shopping centre opposite the airport, and head to the airport via an underground passage under the
Autostrada
. The stop called "Orio al Serio" is for the village and is on the other side of the airport, from where you cannot get to the terminal, so make sure you do not get off there (wait for "Orio Center"). Buses to "Scanzo" and "Torre de Roveri" do not go anywhere the airport at all.
Lines 2-11
can be useful for getting around between other localities. Lines with numbers over 20 only run during weekdays and are mostly structure to handle peak hour traffic. Do take a look at the pretty extensive and exhaustive
information at the ATB website
, where you can find maps and schedules for all lines.
By funicular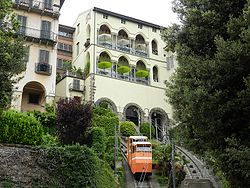 There are 2 funicular lines in Bergamo:
Linea fun.cConnects Città Bassa with Città Alta. It takes about 20–30 minutes to reach the lower funicular station on foot from the train station.

Linea fsvConnects Città Alta with locality of San Vigilio. It can be a pleasant walk down hill back to Città Alta along quaint narrow streets and houses along the way and some great views here and there.
By tram
Linea T1It is the only tram line in the city. It runs from the railway station northeast along the river Serio all the way to the city of Albino, bringing you closer to the Alps. It can hardly be used by tourists to get around Bergamo, as it has no stops in the vicinity of the city's major attractions.
By bike
Bergamo has a public bike system called
La BiGi
. It is run by
Bicincittà
and features 22 stations. It appears to be usable only after paying the yearly fee of €20 and between the hours of 6 and 23, so it might not be the best option for short visits.
By foot
The town is not large, and most of the sights can be seen comfortably on foot. To get from the
Città Bassa
up to the
Città Alta
can be quite tiring on foot, though, due to the steep and winding streets, but there is a
funicolare
(or cable railway) linking the two parts of the town.
See
Città Alta
Piazza VecchiaThe heart of the old town, displaying a mix of medieval and Renaissance architecture: Palazzo della Ragione, Torre del Comune, Palazzo Nuovo and Contarini Fountain.

Bergamo CathedralThe surviving one of the two cathedrals once existing in the city, dedicated to Saint Alexander of Bergamo. Incidentally, this cathedral was originally devoted to Saint Vincent, but once the original Saint Alexander cathedral was torn down by the Venetians, the dioceses were merged under Saint Alexander's name. The cathedral has a classic Latin Cross layout, and has seen many renovations and refurbishments, the latest being the addition of the 19th century neoclassical facade.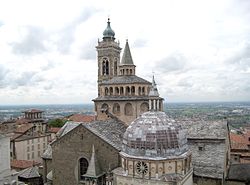 Santa Maria MaggioreA 12th century church with later alterations.

Colleoni ChapelIt is a church and mausoleum built in the 15th century with richly decorated polychrome marble façade.

Torre di GombitoA tower-house, built around 1100

RoccaA walled stronghold which houses a museum.

Piazza Mercato delle Scarpe

Chiesa di Sant'AndreaWith Madonna Enthroned with Saints by Moretto da Brescia.

Chiesa di San Michele al Pozzo BiancoFounded in the 8th century, much of it's interior belongs 1400s with frescoes in Byzantine style. There are also some frescos of 16th century by Lorenzo Lotto, Giovan Battista Guarinoni d'Averara and painting Madonna and child with Saints Peter and Paul by Giovanni Paolo Lolmo.

Palazzo Medolago AlbaniIt was built between 1783 and 1791 in neoclassical style — a typical example of bourgeois palace of the late 18th century.

Archeological Museum

Science Museum

Donizetti Museum

address: Via Arena 9

Devoted to one of Bergamo's most famous sons, the composer Gaetano Donizetti.

Museo Storico della CittaA former convent now housing the museum of the history of the city of Bergamo

San VigilioA small hilltop village that can be reached on foot or by a second funicolare from Città Alta. It offers walks with spectacular views, and a ruined castle. Entry into the castle is free, and is part of a public park. Climb all the way to the top of the castle for more views.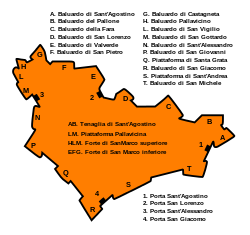 Venetian Walls
The upper town is surrounded by
world heritage listed
stone walls, built in the 16th century by the Venetians, which survive to a large extent to this day. The four gates that led through the walls to the city do survive as well.
Porta Sant'Agostino

Porta Sant'Allessandro

Porta San Giacomo

Porta San Lorenzo
Città Bassa
Accademia CarraraOne of Northern Italy's most important collections of medieval, Renaissance and Baroque paintings.

GAMeCThe city's gallery of modern and contemporary art, which usually hosts several interesting exhibitions.

Piazza Vittorio Veneto

Santa Maria delle Grazie

Santi Bartolomeo e StefanoBaroque church built in the 17th century adjacent to the convent of the same name. Its interior has had many lush decorations added in the 18th century, as well as the chorus of the former church of San Stefano, which itself was torn down in the same period and by way of that merged into one parish.
Do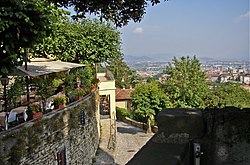 Teatro Donizetti

Teatro Sociale

Stadio Atleti Azzurri d'Italia

Ride a mountain bike in the beautiful Parco dei Colli just behind the old town. You will feel as if you are riding in the mountains.
Watch football (ie soccer) at Atalanta BC. They play in Serie A, the top tier of Italian football. Their home ground is the Gewiss Stadium, capacity 21,300, two km north of the railway station.
The Bergamo Lions are an American Football team that used to be among the best in Europe in the late 1990s and early 2000s. They are featured in the John Grisham book "playing for pizza" and do in reality also feature American players who get paid, while the bulk of the team literally or figuratively plays for pizza.
Eat
Cafe della Funicolare

address: Via Porta Dipinta, 1

For snacks, a drink or simply the great view.

Da Franco Ristorante Pizzeria

phone: +39 035238565

address: Via Colleoni 8

Try it for lunch or an evening meal.

phone: +39 035 218535

address: Via Colleoni 17

More than just a pizzeria. Indeed ! Worth a visit for the quality of food and service.

address: Via Colleoni 1

Antica Trattoria dei tre Gobbi

address: 20 Via Broseta

A very good place to eat.

La BruschettaA good value restaurant/pizzeria in the cellar of a building and worth a mention.

La Ciotola

address: Viale Papa Giovanni XXlll, 86

A good restaurant/pizzeria near the Mercure hotel.

address: Via Borgo Palazzo 27

Traditional restaurant serving lomabrdy cuisine is worth a visit if you fancy having an Italian meal not just pizza and pasta. Family run business is a well kept secret between locals.
Drink
Il CircolinoLocals here play bocce and drink lanterna (a huge drink made of white wine and campari rosso).

Bobino

address: piazza della Liberta

is a cool bar/restaurant with a long wine & cocktail list (including Champagne).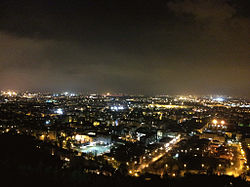 Sleep
As Bergamo is not as popular as some other destinations of Northern Italy, while being a major business hub and domestic tourism destination, it has a well-developed accommodation base at reasonable prices compared to e.g.
Milan
. The latter, being around 1.5 hrs away, can be a target of a day trip - a convenient option if you arrive on a flight to Orio al Serio airport.
phone: +39 340 2101738

address: Via XI Febbraio 25b
Città Alta (Old Town)
Relais San Lorenzo

address: Piazza Lorenzo Mascheroni 9/A

Begamo's #1 luxury hotel is a blend of modern design and historic remnants. Its highlight is the terrace, but the large and airy rooms earn a mention as well. That said, it can fall short of the luxury experience you may expect when it comes to service.

GombitHotel

address: Via Mario Lupo 6

This design hotel is squeezed into a tall stone building. The simplicity of the design may not be to everybody's liking, especially when the design surprisingly gets in the way of practicality, and it turns out that the owners' idea of simple design is IKEA. Still, it is perhaps the most centrally-located hotel in the Citta Alta.
Città Bassa (New Town)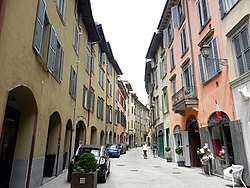 There are a number of good hotels in Citta Bassa - many on Viale Papa Giovanni XXIII (The main street from the station to the funicolare).
B&B Romeo and Juliet

phone: +39 338 143 4052

address: Via Zambonate 47

Bed & Breakfast and residence with comfortable double rooms or apartments for 2-4 people.

phone: +39 3349038874

address: Via Bartolomeo Bono 25

B&B/Hostel with great atmosphere, modern and comfortable rooms, courtyard, WiFi, flat screen and Playstation.

Best Western Capello d'Oro

Mercure Palazzo DolciOccupying a beautiful palazzo, the Mercure is a few steps from the train station and is quite modern on the inside despite the historic facades. The rooms are simple and most are painted deep blue, while the bathrooms are large and modern. The hotel generally earns good reviews and provides a good standard for a reasonable price.

Excelsior San Marco HotelGreat location offering a beautiful view of the Citta Alta from the breakfast terrace. Not exactly new, yet tons of character. Comfortable rooms, very clean, Wifi, flatscreen and a wide range of services. Great for business travel.

Hotel Donizetti

address: ldo Moro 28, Lallio

Donizetti Hotel is located near Bergamo, and access to the motorway linking Milan and surroundings

phone: +39 035 2271811

address: Via Paleocapa 1/G

The NH is hidden behind the Mercure, in a modern building slightly recessed from the street. The rooms are slightly worn and dated, and their windows are small, but this is compensated by the commendable NH breakfast buffet and the location a few steps from the train station.

Petronilla HotelThe boutique hotel earns great reviews thanks to the commitment of the family running it, even if one can find their taste in decor a bit too eclectic.

Arli Hotel

address: Largo Porta Nuova 12

A three-style hotel at the Porta Nuova, created by owners having a peculiar sense of style, but if you are looking for a decent and dependable accommodation in the centre of Bergamo, you can reply on the Arli.

NH Orio Al Serio

address: Via Portico 75, Orio al Serio

The other NH in Bergamo is an airport hotel across the autostrada from the Il Caravaggio airport, which you can reach via an underground passage. The huge Oriocenter shopping centre is also adjacent. The hotel features simple rooms, large glazed lounge (if you want to pass time watching the cars on the autostrad). Breakfast is usually included in room rates and starts at 4 AM, a shuttle to the airport is available for EUR 5. To get to the city centre, take bus line 1 from the airport. It is a good option for those arriving on late or departing on early flights.
Stezzano
Stezzano is a commune 8 km south of Bergamo. It is very easily reached both by train and by bus. The train takes approximately five minutes and Milan is also easily reachable.
phone: +39 0354379300

address: Via Santuario 43, Stezzano

Beautiful four star hotel at a price much lower than in the city centre. Modern rooms, television, mini-bar, leisure centre, spacious bathrooms

phone: +39 035591710

address: Via Galeno 8, Stezzano

Another quality four star hotel with prices lower than city accommodation. Good decor, well equipped rooms.
Go next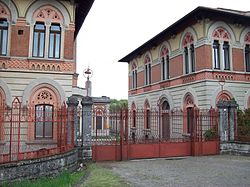 Crespi d'AddaIt is a planned industrial village between Bergamo and Milan. It has been nominated to the UNESCO World Heritage List

The Bergamo area is in the foothills of the Alps, and has a handful of Ski resorts within a one-hour drive. Notable is the Brembana Valley which contains the resorts of Foppolo, Carona and San Simone.
Lake Endine — Glorious natural scenery which ranges from lakes to woods, from high mountaintops to spectacular hills. The well-preserved environment offers a wide range of sporting activities: trekking, mountain climbing, canyoning, mountain biking, canoeing, sailing. The area has a temperate to warm climate without no summer aridity and is only slightly dry in winter. It isn't too hot in summer and the winters aren't too harsh, fog is practically unheard of and there are many cloudless days.
Lake Iseo, one of the smallest and less touristy among the Northern Italian lakes. Go by bus from the Bergamo bus station (opposite the train station) to Tavernola. Then take a ferry to Montisola.
Como (one of the main cities at the shores of beautiful Lake Como is also accessible by train, but requires almost travelling back to Milan (you change at Monza). It is worth visiting from Bergamo and vice versa. The journey takes between one and a half and two hours.
Stezzano At only 6 km from Bergamo, it is perfect for those who may want to visit Bergamo but stay in a more rural and peaceful setting. The town is well-equipped with nice cafes, two pizzerie, shops, two gelaterie and a bank.