Bergstraße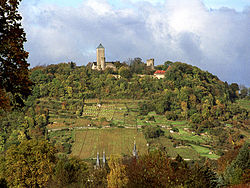 The Bergstraße
(literally the "mountain road") is the name of a mountainous theme route, and the area around it, stretching across the western edge of the Odenwald in southern
Hesse
and northern
Baden-Württemberg
, Germany.
Understand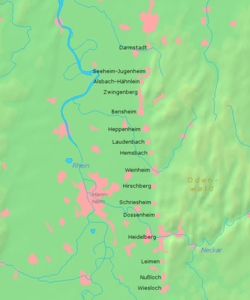 The route mostly follows the modern B3 road (
Bundesstraße 3
), and goes almost straight from north to south at the spot where the Rhine lowlands meet the western edge of the Odenwald. (The Odenwald is a low mountain range lying mainly in
Hesse
with some parts in
Baden-Württemberg
and
Bavaria
.)
The name, Bergstraße, comes from the road's route along the foot of the mountains, the Rhine lowlands once being too damp to build a road there.
The area extends from
Darmstadt
in the north to
Heidelberg
in the south. The Bergstraße used to include the towns of Leimen, Nussloch, and Wiesloch; however, that area south of Heidelberg lost its charm due to development, so that today Heidelberg is considered to be the end of the Bergstraße.)
There are vineyards along the Bergstraße because of a mild climate in the region. The
Hessische Bergstraße
(the portion of the Bergstraße in the Bundesland of
Hesse
) is one of 13 regions for quality wine in Germany.
Regions
Cities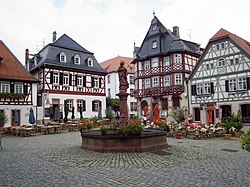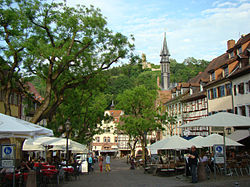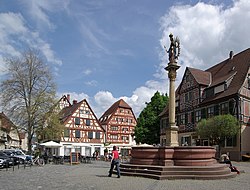 Cities and towns on the Bergstraße are, from north to south:
Bickenbach
Alsbach-Hähnlein
Zwingenberg
Laudenbach
Hemsbach
Hirschberg
Ladenburg
Dossenheim
Although the Bergstraße (the road) does not pass through Lorsch and Ladenburg, the Bergstraße website considers them to be part of the Bergstraße region. Both towns are about five kilometers from the Bergstraße road.
Other destinations
Michelstadt: classic Altstadt; 1 hour direct train trip from Darmstadt
Worms: The Nibelung city; about 45-60 minutes by train from Bensheim
Get in
By plane
Frankfurt International Airport is only 30 km north of the Bergstraße. From there you can easily reach the Bergstraße by train with a change of train at the Frankfurt Hauptbahnhof, Mainz or Mannheim. There is 1 direct train per hour from the Frankfort airport to Darmstadt at the northern end of the Bergstraße.
By train
Railway and tram lines give easy access to all communities along the Bergstraße. The ICE trains serve
Darmstadt
,
Heidelberg
and
Mannheim
and also stop at
Bensheim
and
Weinheim
. There is a interurban tram line (
Straßenbahn
) between Weinheim and Heidelberg.
By car
The Bergstraße (
Bundesstraße
B3) is well connected with the European highway network.
Get around
By regional public transportation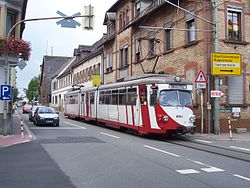 A railway line runs along the length of the Bergstraße from
Darmstadt
to
Weinheim
and Ladenburg. South of Weinheim, the railway no longer follows the Bergstraße (B3). However, there is an interurban tram line (
Straßenbahn
line number 5) that follows the Bergstraße south from Weinheim to
Heidelberg
serving the communities of Hirschberg,
Schriesheim
and Dossenheim. One can transfer between the railway and tram line 5 at the Weinheim Hauptbahnhof.
Lorsch
is not quite on the north-south line paralleling the Bergstraße but on a line branching from it at Bensheim. Thus, one may need to change trains for Lorsch.
Tariff Unions
There are two public transportation tariff unions serving the Bergstraße. The
Rhein-Main-Verkehrsverbund (RMV)
provides tickets for buses, trams and regional trains from Darmstadt to just north of Zwingenberg. The
Verkehrsverbund Rhein-Neckar (VRN)
provides tickets for buses, trams and regional trains from Zwingenberg to Heidelberg. Buses and trams will show the RMV logo north of Zwingenberg, and the VRN logo southwards from Zwingenberg. You could purchase a RMV ticket to a VRN destination (or vice-versa); however, your options for economical day tickets will be much more limited than if your trip is entirely within one tariff union either RMV or VRN.
The RMV site has a
separate page fare price enquiry
. If 2-5 people are traveling together on a day trip within the RMV tariff area, then you may find that a group day ticket (
Gruppentageskarte
) to be cheaper than either the equivalent single trip tickets or the rather pricey Hessenticket.
Ticket Purchases
The railway stations at Darmstadt, Bensheim, Weinheim and Heidelberg all have a ticket office (
DB Reisezentrum
). Besides DB (railway) tickets, these will sell regional tickets either RMV(Darmstadt) or VRN. At other railway stations along the Bergstraße, you will need to use ticket vending machines.
The railway ticket vending machines (
DB Automat
) accept Euro coins and notes. Because the machines give change in coins, the machines may refuse to accept Euro notes that are more than 10 Euros above the value of the tickets. DB staff say that the machines will not accept credit cards and might not accept foreign bank cards.
The main menu on a DB ticket vending machine is divided into 4 quadrants. The upper left quadrant is for DB (railway) tickets while the lower right quadrant is for regional tickets, be they RMV or VRN depending on the station. For regional travel, you will be using lower right (RMV/VRN) quadrant. When using the DB quadrant, buying railway tickets for regional trains is simpler than for IC trains.
Buying 2 or more single trip tickets as one transaction from a DB ticket vending machine is not obvious. After you select your destination and train, you will come to a confirmation screen and the machine will make sounds to ask for money. Instead of feeding it with money, there is a button on the last row to select another ticket. Press that button, and you will return to a screen to select destination and train again. After you do so, you will again see a confirmation screen this time asking money for the value of 2 tickets. If you don't need more tickets, feed the machine the money. Of course you could complete a separate transaction for each ticket as an alternative. If 2-5 people are traveling on a day trip then do not use this procedure; instead, purchase 1 day ticket for the appropriate number of people.
Ticket vending machines can be trying for the inexperienced; so allow yourself extra time before train departure to buy your tickets, and ask a local for help if necessary.
Ticket vending machines at stops along the tram line 5 running south from Weinheim accept only coins. Thus, try to buy a VRN day ticket at a railway station.
RMV day tickets may optionally be purchased in advance for use on a future date. However, DB and VRN tickets must be used on the day of purchase.
VRN Day Tickets
The
VRN site
offers day tickets with options for 1 person and for 2, 3, 4 or 5 persons travelling together; the more people, the more the ticket costs, but the less per person it costs. In addition, there are 3 price levels (
Preisstufe
) depending on how far you want to travel locally. To find out the fare price for single trip tickets (
Einselfahrtschein
) as well as day tickets (
Tages-Karte
), use the VRN site to display trains between the farthest points of travel. After the train schedule appears, click "
Mehr
"(more) in the
Preis
/Fare column. A pop-up box will display all the fare options and prices in German for the distance you are traveling. (To read the box,
Einselfahrtschein
means single trip ticket,
Tages-Karte
means day ticket,
Erwachsene
means adult,
Kinder
means children,
3-Tages-Karte
means 3-day ticket.)
The VRN site also describes the
conditions for day tickets (Tages-Karte)
in German. Here is a partial translation:
For a multi-person day ticket, all people must be traveling together.
You must punch your ticket in a machine to make it valid on the day of travel. Exception: Tickets from the Deutsche Bahn (DB) fare dispensing machines are issued pre-punched or pre-date-stamped.
After punching, the day ticket is valid until 3 am the following morning (or 6 am following a holiday).
The day tickets come in 3 price levels: tickets for up to 3 zones, more expensive tickets covering up to 6 zones and tickets covering the network. Unless you purchase the network ticket, your ticket will limit your scope of travel.
The day ticket is valid for all busses, trams (Straßenbahn), and RE/RB regional trains and S-Bahn trains. The ticket is not valid for IC trains.
Up to 3 children under 6 years of age can travel free of charge if accompanied by a person with a valid VRN ticket.
See
Here are some of the sights along the Bergstraße listed from north to south:
- This foritified castle is located in Darmstadt-Eberstadt.
- Above the town of Alsbach.
- Historical old town (Altstadt).
- Mountain near Zwingenberg and Bensheim with lookout tower on top.
- Altstadt; views of the Upper Rhine Plain.
- Wildlife preservation centre (between Lorsch, Bensheim und Heppenheim).
- UNESCO World Heritage Site in Lorsch.
- Half-timbered buildings; the Starkenburg hilltop castle.
- Historic half-timbered houses; Schloss (castle).
- Historic half-timbered old town; Roman finds..
- Strahlenburg castle; pleasant town centre.
- Lively Altstadt; castle overlooking the city.
Drink
Apfelwein
(apple wine/cider) is offered in many restaurants along the Bergstraße (and also in places away from the Bergstraße such as
Mainz
,
Michelstadt
and
Frankfurt
). It is served in drinking glasses of either 25 or 50 cl. You have the option of drinking it diluted with water or pure (
pur
in German) without water. You may wish to try it both ways (with water or pure) to determine which you prefer.