Berkeley (California)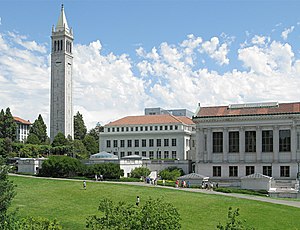 Berkeley
is a city in the
East Bay
region of the
San Francisco Bay Area
, in the
United States
. Famous for its liberal politics, Berkeley is home to the University of California Berkeley, an ethnically diverse community, and numerous cultural and culinary attractions.
Understand
Set on sparkling San Francisco Bay, Berkeley will surprise those who recall it as the counter-culture center of the 1960s. Free Speech and flower power are forever in the city "DNA," but Berkeley has evolved into a culinary and cultural travel destination. You'll still see more tie-dye per capita in Berkeley, but a deeper look reveals a dynamic city filled with superb theaters, restaurants, and shops. Berkeley's progressive, free-thinking environment has seen the birth of quality attractions, great food from many cultures, and of course the internationally renowned University of California, Berkeley. For a city of just over 100,000 people—barely a medium-sized city in the California context—Berkeley is extremely complex.

Climate

Like the rest of the Bay Area, Berkeley has a mild climate, with wet, mild winters and dry summers. The high temperature is typically in the 60s °F (between 15 and 20 °C). The city's position directly across the bay from the Golden Gate ensures that Berkeley gets its share of fog, with mornings typically cool and foggy, followed by sunny afternoons, with the fog returning at night. The city's location also means you may experience brisk winds coming off the bay if in an exposed area: typically, the marina or a hillside facing the bay.

Get in
By plane
Oakland International Airport (OAK

) is the closest option. Take the BART to OAK "people mover" ($6 extra fare) or the AC Transit #73 bus ($2.10) to the Bay Area Rapid Transit (BART) Oakland Airport station, and then take a Richmond-bound train to the Downtown Berkeley station ($2.40). Alternatively, you can use a rental car and drive up Interstates 880 and 80 to the University Avenue exit. There are also shuttle van services, providing door-to-door service.

San Francisco International Airport is also convenient. BART runs from the International Terminal to Berkeley in just under 1 hour. Driving without traffic is as short as 35 minutes, but at commute hours can take up to 2 hours. From SFO, take the US Highway 101 north and then Interstate 80 east, crossing the San Francisco Bay Bridge. Stay on I-80 east and exit at one of the 3 Berkeley exits: Ashby Avenue, University Avenue, or Gilman Street.
San Jose International Airport (SJC) is in the region. A rental car or shuttle service is likely fastest and easiest, public transportation is possible but very time-consuming (a little over two hours). San Jose is considerably farther from Berkeley than San Francisco (at least an hour's drive in no traffic) and is not recommended.
By train
Bay Area Rapid Transit (BART), +1 415 989-2278, the regional subway system, offers excellent service to Berkeley from other parts of the San Francisco Bay Area. Berkeley is directly served by two lines, one of which heads south through Oakland to Fremont, while the other runs through West Oakland and under the San Francisco Bay to San Francisco and the peninsula. There are three stations in Berkeley: Ashby, Downtown Berkeley (sometimes just "Berkeley" on older signs), and North Berkeley. The Downtown Berkeley stop is at Shattuck Avenue and Center Street one block from the UC Berkeley campus, and is the best stop for tourists. Fares vary depending with distance traveled; the fare for a one-way trip from any of the Market Street stations in San Francisco (Embarcadero, Montgomery, Powell, Civic Center) is $3.90, $1.85 one-way to downtown Oakland, $2.50 one-way to the Oakland Coliseum/Airport station, and $9.25 one-way to the San Francisco International Airport station.
Amtrak offers service to Berkeley via the Berkeley station, Emeryville station, or Richmond station. Consult 511.org for details on how to get from the Amtrak stations to your destination. Sadly, the Berkeley Amtrak station is at the edge of the city, under University Avenue at 4th Street, near the marina. However, it is at the start of the line for the #51B AC Transit bus, which runs every 10 minutes at peak times, 15–20 minutes at most other times, and once an hour after midnight, and will take you to downtown Berkeley, the University, College Avenue, and just about every shopping area in town. Alternatively, if you are traveling to downtown Berkeley or the University, transfer to BART at the Richmond station and travel on BART to the downtown Berkeley station.
By car
From San Francisco, Berkeley is a simple 15-minute drive (45 minutes or more with congestion) east on Interstate 80 across the Bay Bridge and up to University Avenue.
From Sacramento, Berkeley is an hour and a half drive west on Interstate 80.
From Los Angeles and Southern California, Berkeley is a 6-hour drive up Interstate 5, then west on Interstate 580.
By bus
Greyhound offers bus service to nearby Oakland and San Francisco.
Local bus service is provided by AC Transit. For specific itineraries, visit the 511.org website.
During the school year, the university has buses (Bear Transit) that run every 15 minutes between downtown, the BART station, and most parts of campus. If boarding downtown, the stop is on the uphill side of Shattuck Avenue in front of the Arinell Pizza. Fare is $1 during the day, and free at night after 7:30PM.
By boat
There are ferries from
Marin County
and San Francisco to nearby Oakland, but are probably most useful as a scenic method of travel.
If you are traveling by private boat or charter yacht, Berkeley has a 1,000 berth
marina
, the largest municipal marina in the Bay Area. Both the Berkeley Marina and the Berkeley Yacht Club offer guest berthing.
Get around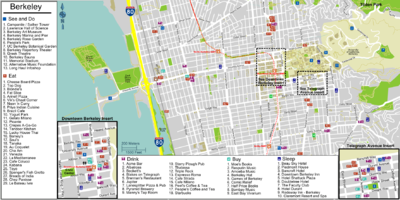 By car
Cars are most useful far away from downtown (i.e. not near the campus) or in Berkeley's steep hills. It's often better to stay on the main roads unless you know your way because of the many road barriers to prevent through traffic in residential areas. Be mindful of cyclists and pedestrians; many cyclists often ride in lanes (as is their legal right in California), and pedestrians may expect cars to stop for them. Remember that as a motorist, you need to be especially cautious in order to avoid harming cyclists and pedestrians. Be very careful when driving near the University as students tend to have the mindset that they have the right of way. To further confuse drivers many roads near the university are one way roads (and can turn so spontaneously - so watch signs at major intersections) or are closed to certain drivers.
Parking
can be difficult and expensive near campus and downtown. The easiest and most expensive means of parking is in one of the several garages. The biggest garage near campus is the Telegraph Channing Garage. Many stores on Telegraph have validation coupons discounting hourly parking 50% or $5 off all-day parking. Arrive after 8PM and pay only $4 night rate until closing. Most street parking is either metered or 2-hour, but free after 6PM. If you are visiting a resident, they can purchase one day, 7-day, or 21-day street parking passes (not valid in metered spots) for you at city services in downtown. If you are fortunate to find a non-metered street parking close to your destination, you can park for free—some people are known to wipe off the chalk mark left by the meter maid (normally back of rear tire) every three hours or so. Be warned: This is not legal. In an extreme emergency (i.e., ten minutes late for your final exam), you can almost always find parking near the UC Berkeley police station near Sproul Hall. You might get a ticket, but you'll definitely get a kick-ass parking spot. Be aware of street sweeping signs, street sweeping is usually once a month, but the day varies from street to street (even from one side of the street to the other), a good rule of thumb is that if it seems like the street parking on one side is too good to be true - double check it isn't street sweeping. City parking fines run from $48 (Street sweeping and lack of permit in 2 hours spot) to over $300 (Disabled spot violations) and city parking enforcement is particularly vigilant so be aware - you can and will get multiple tickets for the same violation if you don't move quickly (parking 30 minutes in the 5 minute yellow zone can yield 5 $80 tickets). Check this
parking map of Berkeley
to find free parking and know when street cleaning applies.
The Eastshore Freeway which runs along the city's western edge is part of a short concurrency of I-80 and I-580 that may confuse some drivers. Heading south on the freeway toward the Bay Bridge and San Francisco, drivers are simultaneously following I-80 west and I-580 east. Drivers unfamiliar with the area should ensure they know whether their destination is toward Oakland and San Francisco or toward Richmond and Sacramento. These cities supplement the route designations at entrances to this freeway.
Car sharing
Rates are usually by the hour or the day, depending on the individual service.
Getaround
,
Gig Car Share
,
Upshift
and
Zipcar
offer easily-accessible services to account holders city-wide.
By public transit
Public transportation is thus an important consideration in getting to and around downtown and near the university. BART is the fastest connection to Oakland and San Francisco. The Berkeley BART station in Downtown Berkeley is usually the best option for travelers; the Ashby station is in a seedier part of South Berkeley and the North Berkeley station is located in a residential neighborhood near University Ave. AC Transit goes places BART doesn't, such as the trendy Fourth Street commercial district (line 51B), the upscale Rockridge neighborhood (line 51B to 51A) and the resurgent Temescal commercial district in nearby North Oakland (line 6 or nearby 18). Check
511.org
for trip planning for more information.
By bicycle
Weather permitting, the best way to get around quickly near downtown Berkeley or near campus is on
bicycle
. Bicycle theft is a serious problem in Berkeley; if you ride your bike, be sure to lock your front wheel as well as the frame. Some choose to remove the seat as well, however this precaution is likely unnecessary if you are only leaving your bike for a short period of time and not overnight. AC Transit buses have racks on the front for bicycles. Bicycles are allowed on BART, but not on San Francisco bound trains during morning rush hour, and do not bring your bicycle in the first car. Check with BART before you leave or you'll get a warning from BART Police and forced to wait until permitted or else face a fine and a stern look from the officer. Folding bicycles are always allowed.
Bike sharing
Bike sharing is a recent development in Berkeley, so most of the action is through
Ford GoBike
and their trademark blue bikes and docking stations.
LimeBike
is a more recent appearance, mostly through their rental scooters (green of course). Both tend to be quite pricey. GoBike's machines allow only a limited time of use, 30 minutes at a time for a day-long access pass or 45 minutes a ride for an annual membership fee.
On foot
Walking is the least expensive and most effective means of getting around downtown and near campus. You will very quickly outpace most drivers near campus. Take BART or AC Transit to the Berkeley station in downtown (the North Berkeley station is in a residential neighborhood).
See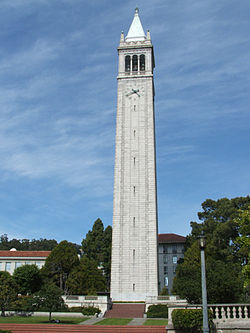 Berkeley Art Museum and Pacific Film Archive

phone: +1 510 642-0808

address: 2155 Center St

Though small, BAM's art galleries and its rotating exhibitions rival any other big-city collection. The museum, run by the University of California, is in a building that is itself an impressive work of modernist architecture. With one of the most extensive film archives in the world, the PFA offers many film series throughout the year, focusing on directors, eras, or artistic movements. It also screens some of the films during the annual San Francisco International Film Festival

phone: +1 510 642-5132

address: 1 Centennial Dr

Offers many hands-on science exhibits, especially good for children. This is one of the best places to get a panoramic view of the Bay Area: San Francisco, the Golden Gate Bridge, Oakland and the Bay Bridge. Nearby is the UC botanical garden.

University of California, Berkeley Visitor Center

phone: +1 510 642-5215

address: 101 Sproul Hall

90-minute student-led walking tours are offered seven days a week. (M-Sa at 10AM, Su at 1PM). Be prepared to climb the hilly campus terrain. For a break, take a seat in the Doe Library's reading room (but don't bring the kids or bother the students). If you're touring alone, the main attraction is a ride up the Campanile/Sather Tower ($3 adults, $2 seniors and children
Parks
Do
Learn
University of California, BerkeleyA world-class university consistently ranked as the number-one public university in the United States. Study abroad programs are available, and international students are housed in the fittingly-named International House at Piedmont Ave. and Bancroft Way. The University also offers summer courses and extension classes available to the general public.

phone: +1 510 981-2800

address: 2050 Center St

A community college with a surprisingly full catalog of classes that also collaborates with UC Berkeley

phone: +1 510 649-2400

address: 2400 Ridge Rd

A coalition of 8 theological schools with many affiliates - so many in fact that the area is sometimes called Holy Hill
Work
Buy
Berkeley Farmers' MarketsDowntown: Center St and MLK Sa 10AM-3PM; North: Shattuck Ave and Rose St Th 3PM-7PM; South: Adeline St and 63rd St Tu 2PM-6:30PM
Excellent produce markets that also feature certain prepared foods, cheeses, oils, and performers and booths by many local organizations.

phone: +1 510 644-0744

address: 1937 Ashby Ave (Office)

There is a lively flea market, as well as food trucks and drumming circles.
Downtown Berkeley (around Shattuck Ave at Center St). The city's efficient administrative center is also a popular shopping hub. The Berkeley BART station is located right here. Getting here by public transportation is recommended as parking tends to be difficult to find.
phone: +1 510 526-6080

address: 2036 Shattuck Ave

The largest bookstore downtown - many events from reading programs to live readings and author meet and greets.

phone: +1 510 649-1320

address: 2349 Shattuck Ave

Smaller than Half Price or Moe's, Pegasus still offers a good selection of new and used books, and schedules literary events at their Downtown and Solano Ave. locations.
Elmwood district (College Ave at Ashby Ave). Many interesting stores abound along this corridor.
Fourth Street. Interesting upscale retail center with boutiques. Good food at Bette's Diner (American).
phone: +1 510 841-1400

address: 1827-C 5th St

One of the best reptile specialty stores in the nation. Also has a large selection of amphibians and invertebrates. Staff is extremely friendly and knowledgeable.
North Berkeley (Shattuck Ave between Cedar and Rose). This area is often referred to as the "Gourmet Ghetto" by locals because of the gourmet food at all price rates. Other North Shattuck stores include a card store, three or four women's clothing stores, and a great produce store. Heaven!
Solano AvenueAlbany and North Berkeley (between The Alameda and San Pablo Ave). More interesting stores and restaurants.
Telegraph. The five-block stretch of Telegraph Avenue just south of UC Berkeley's Sproul Plaza is perhaps one of the city's most well-known and most-visited landmarks, with its independent stores, kooky sidewalk vendors and the unforgettable dynamic streetlife that is the amalgam of students, hippies and (sometimes hostile) hobos. Besides its restaurants (see the Eat section) Telegraph is the site of many bookstores, music shops, smoke shops, and used clothing exchanges.
West Berkeley (around University Ave and San Pablo Ave). This area is the commercial hub of the local Mexican and South Asian community. There are two Mexican groceries, several halal markets, numerous Indian and Pakistani restaurants (including Vik's), and many others (Thai, Turkish, Jamaican, etc.)
phone: +1 510 845-3311

address: 1006 University Ave

This is one of the best Bollywood and Indian music stores in the bay area. You can find Indian classical music CDs to Bollywood latest DVDs and CDs. Prices are discounted. The staff is extremely knowledgeable and friendly.
Eat
Berkeley is a culinary wonderland, renowned for its restaurants. From casual to candlelit, Berkeley's restaurants share a passion for great taste. With more than 350 restaurants in town, there is a great array of cuisine choices. Culinary adventures extend beyond restaurants and cafes to encompass tours, tastings and more.
Budget
Downtown and University
phone: +1 510 845-0433

address: 2000 University Ave

The late-night student crowd and the weekend brunchers come to Au Coquelet to enjoy food, coffee, and a constantly revolving art show. You can get a delicious piece of pie here.

phone: +1 510 845-8011

address: 2161 University Ave

Not much more than a brightly decorated shack sitting on a corner parking lot, but this shack has been featured in National Geographic, and is famous for its tri-tip sandwiches (supposedly, the best in the Bay) and its mango smoothies. Pedro, the friendly owner of the cafe, might be around passing out free samples as well. Online ordering.

phone: +1 510 548-4860

address: 2519-A Durant Ave

A modest diner with a good variety of Italian favorites.

La Mission

phone: +1 510 845-5898

address: 1255 University Ave

Fresh, delicious Mexican food with an outdoor seating patio.

Little Plearn Thai Kitchen

phone: +1 510 704-1442

address: 2283 Shattuck Ave

A comfy little spot with art on the walls and some tidy exposed brickwork and a sizable menu.

Lucky House Thai

phone: +1 510 841-8900

address: 2140 University Ave

Great Thai food, portion sizes big enough to be shared between two people and low prices. Environment can be low key but the low prices and great food make it totally worth it.

phone: +1 510 540-7700

address: 91 Shattuck Sq

A Italian bakery offering mini-sandwiches, pizza slices, panini, calzone, pastries, salads and good coffee and espresso. Free wifi.

Taqueria Monte Cristo

phone: +1 510 486-0321

address: 1446 University Ave

A salsa selection, sangria, tacos and all the standards.

Thai Basil Cuisine

phone: +1 510 548-6692

address: 2519 Durant Ave, Suite G

At the back of a small court of restaurants.

phone: +1 510 843-5967

address: 2534 Durant Ave

A Berkeley institution, with locations on two sides of campus (Durant Ave and Center St). Amazing hot dogs for $3 and walls filled with libertarian political writings.

Top Dog #5

phone: +1 510 849-0176

address: 2160 Center St

phone: +1 510 549-0570

address: 2433-A Durant Ave

Six delicious flavors of frozen yogurt daily, on a rotating schedule. You can get a heaping, satisfying cup for $2.75. Not to be missed.
Gourmet Ghetto
phone: +1 510 849-2827

address: 1600 Shattuck Ave

A small California sit-down burger chain that makes good burgers, curly fries, and milkshakes. Try the specialty shakes.

phone: +1 510 549-3183

address: 1512 Shattuck Ave

Collective serves pizza two doors down from its gourmet cheese and bread shop in Berkeley's Gourmet Ghetto. Only one kind of pizza is available each day, always vegetarian. You can buy pizza by the slice, portion of a pizza, or buy a half-baked pizza. Often considered the best pizza in Berkeley. Lines can be long in the evenings, and their hours are short. You will often see students and locals seated in the grassy median of Shattuck eating their pizza.
North Berkeley
Berkeley Bagels

phone: +1 510 524-3104

address: 1281 Gilman St

The best bagels in town - organic, with no refined sugar. Try the Seed City bagel with lox.

phone: +1 510 528-4692

address: 1586 Hopkins St

Gourmet pizza by the slice (Brooklyn style). Daily specials.
West Berkeley
Mid-range
Downtown and University
Gourmet Ghetto
phone: +1 510 883-0222

address: 1515 Shattuck Ave

Delicious contemporary Spanish tapas, wine and cocktails. No reservations.

Saul's Restaurant and Delicatessen

phone: +1 510 848-DELI

address: 1475 Shattuck Ave

An old-school Jewish deli with outstanding brunch dishes and dinner entrees (try the Beef Stroganoff). Saul's brews its own sodas, with a rotating cast of new flavors.

phone: +1 510 849-4983

address: 1700-A Shattuck Ave

Nepalese and North Indian food.
Solano Avenue
Elmwood
West Berkeley
Splurge
phone: +1 510 548-5525

address: 1517 Shattuck Ave

Chez Panisse is the origin of California Cuisine, and still is the best representation of the style that focuses on local produce in season. Named "Best Restaurant in America" in 2001 by Gourmet Magazine and is one of the entries in the book 1000 Places To See Before You Die by Patricia Schultz. Fixed price menus downstairs (Monday $75, Tuesday to Thursday $100, Friday and Saturday $125) (Jan 2018), which usually require a reservation a month in advance. It's worth it, though. The cafe upstairs offers more variety in à la carte form, and it's easier to get a table. Still, if your parents are paying, try to book downstairs.

phone: +1 510 704-8004

address: 1788 Shattuck Ave

Handmade Italian Fine Dining, with an emphasis on Tuscany cuisine. In-house cured meats and dishes with fresh ingredients abound - come for dinner, stay for dessert and cocktails. Online reservations.

phone: +1 510 549-9950

address: 2102 Shattuck Ave

New "farm-to-table, organic" restaurant with good wine list. Have the fantastic cornmeal crusted onion rings on the side. Online reservations. Private dining available.
Drink
Berkeley has a host of fine drinking establishments. Wineries and breweries are also in the mix, with free tours and tastings offered at a number of venues.
Pubs
Bars and nightclubs
Acme Bar & Company

phone: +1 510 644-2226

address: 2115 San Pablo Ave

An entire wall of whiskey options and a considerable menu of beers and mixed drinks and cocktails. A neat mix of dive bar and hipster. Online reservations for very large groups (20 or more).

Missouri Lounge

phone: +1 510 548-2080

address: 2600 San Pablo Ave

The modest exterior of this establishment belies the often-boisterous atmosphere within, DJs spinning on the crowded days and even weekly open mic nights. During the dry months, there's good grilled grub and lots of outdoor seating, and at all times one can be sure that the crowd can be an interestingly mixed group.

phone: +1 510 843-2739

address: 1920 Shattuck Ave

Good brewpub with burgers, salads, and the usual pub fare. Online reservations.
Coffee, tea and chocolate
Being a college town, Berkeley has a number of great cafes catering to a variety of interests. From quiet places to read to live music, Berkeley has a cafe for you.
Cafe Milano

phone: +1 510 644-3100

address: 2522 Bancroft Way

Milano is a few blocks away from UC Berkeley. No outdoor seating here. A haven for studying students.

phone: +1 510 548-5198

address: 2500 San Pablo Ave

Excellent coffee, quiche, desserts and sandwiches. The elderly owner drops by every Sunday afternoon to belt out Italian ballads. Check website for events.

Caffè Strada

phone: +1 510 843-5282

address: 2300 College Ave

Practically located on the UC Berkeley campus, Strada is a second home to student and professor alike. It's a popular meeting place, and often busy. Great outdoor seating.

phone: +1 510 644-3773

address: 2960 College Ave

Located in the Elmwood shopping area, Roma caters more to the graduate student and local resident crowd. The cafe has some outdoor seating on a busy intersection, as well as a 'quiet' room for studying/reading.

phone: +1 510 647-5270

address: 2049 San Pablo Ave

A pleasant, well-lit, spacious cafe with good seating and a low-key hipster feel to it.

phone: +1 510 841-0564

address: 2124 Vine St

Although a chain, Peet's has a special place in the heart of many Berkeley residents, as it all started with this tiny shop located on Vine Street (and it's still here). Great tea selection, very intense coffee, and interesting goodies.

phone: +1 510 705-1083

address: 1600 Shattuck Ave

Customized blends of different beans from around the world in light, dark or medium roast.
Sleep
In addition to offering a wide range of lodging accommodations, Berkeley hotels and inns are increasingly eco-travel friendly. As of January 2013, more than 60% of the rooms in Berkeley are certified "Green" by the Bay Area Green Business Program (BAGBP). If you are looking for chain hotels the nearby city of
Emeryville
is south of Berkeley and is home to more national brands.
Budget
Mid-range
phone: +1 510 549-1000

address: 2680 Bancroft Way

Across the street from the University of California campus in a history 1928 Arts & Craft building. It is a National Landmark hotel.

Beau Sky Hotel

phone: +1 510 540-7688

address: 2520 Durant Ave

Upstairs in a converted Victorian house and above a local Indian restaurant, the Beau Sky hotel is one block from UC Berkeley. Your stay here begins each day with a complimentary continental breakfast and fresh-baked pastries and ends with a wonderful pillow-top mattress at night. Pet-friendly.

phone: +1 510-495-8000

address: 1 Cyclotron Rd, Building 23

Anyone with a university affiliation (yes, even students) can book rooms or sponsor a guest. Cheap rates, great views from the hill, a quiet location, and comfortable beds make this a hidden gem for campus visitors. Its location on university property, which exempts you from city taxes, and free parking (a valuable commodity in Berkeley) makes the guest house even more affordable for scholars, parents, and relatives alike. No smoking. No minors. No pets. Please contact first if you have an assistance animal, which are permitted.

phone: +1 510 843-4043

address: 2001 Bancroft Way

Two blocks from the Berkeley BART station, this hotel offers some real luxury. Top of the list is the memory-foam bed! There is also in-room internet access, and a large flat-panel TV.

DoubleTree by Hilton Hotel Berkeley Marina

phone: +1 510 548-7920

address: 200 Marina Blvd

Large luxurious hotel directly on the Berkeley Marina. Long list of amenities, and a full menu of accessibility options. Service animals allowed. Pets - restricted to dogs only, with non-refundable fee. No smoking. Paid parking.

phone: +1 510 540-5678 Ext 0

address: 2222 Piedmont Extension

Rates are cheap, but rooms can only be booked by active members of the faculty club for their guests, therefore occupancy is usually limited to visiting scholars and guests of the university.

phone: +1 510 845-8981

address: 2600 Durant Ave

With a landmark Spanish Colonial Revival exterior and an interior that is a blend of Art Deco and Bohemian styles and influences, the Graduate maintains the history of the 1928-vintage Durant. A long list of amenities includes complimentary bicycle rentals and electric vehicle chargers. A blend of the vintage and the contemporary.
Splurge
Claremont Club & Spa, A Fairmont Hotel

phone: +1 510 843-3000

address: 41 Tunnel Rd

Visible as far as San Francisco's Coit Tower on a clear day, this brilliant white hotel is hard to miss. But don't let the Shining-esque grandeur scare you. Special deals run around $170/night, but you can spend as much as you like. Many amenities and services. Travelers from outside North America: Check website for phone numbers nearest you.

phone: +1 510 845-7300

address: 2086 Allston Way

Close to campus, a few steps from the Downtown Berkeley BART station. Historic 1910 downtown hotel has gone through an extensive renovation in 2009 and offers rooms with upscale linens and furnishings. Free wireless internet with good connectivity. Parking is only available for $15 per day in the public garage across the street. The second-floor "gym" has only two treadmills and an elliptical, but the front desk offers free passes to the YMCA gym that is a block away. Pet-friendly ($75 non-refundable fee, part of which is donated to the Berkeley Humane Society).
Connect
Berkeley, like most of the cities in Alameda County, is in the 510 area code. 10-digit dialing is expected to be implemented in 2019.
Internet access is widespread. Most coffee shops offer wireless internet access. Public terminals are available at the UC Berkeley Doe library. University guests can request access to the "AirBears" campus-wide Wi-Fi network.
Mobile phone coverage is generally understood to be excellent.
Stay safe
West and South Berkeley, especially near Oakland, can be unsafe at night. While the north side is quieter and generally safer, use common sense and avoid walking alone at night. Also be aware of your surroundings: the more bars on windows, generally the less safe the area. Bicycling is generally a safe way to get around at night; for those who prefer not to ride, free night escorts are provided by the University of California police near campus: call +1 510 642-WALK (9255).
Berkeley has a well-deserved reputation for protests, riots, and strikes, and you may see a protest or two in progress during your visit. However, the vast majority of protests today are raucous but protesters are typically strictly nonviolent. (The same cannot always be said of the police, and it's worth keeping a wide berth of any in-progress police action unless you're willing to risk a rib or two.) The last time the National Guard was called in to patrol the city was 1991.

Cope
The eastern area of the UC Berkeley campus is surprisingly forested, and might be a good place to get away from some frustrations. The Marina has a nice one-mile loop walk. It's windy enough for kites almost every afternoon but is often wind-free in the morning. The Whole Foods on Telegraph at Ashby has massage therapists standing by to ease your tensions.
The entire downtown and campus area is extremely packed, and traffic correspondingly congested, on Cal football game days. These take place on about half the Saturdays during the fall semester, from late August to mid December.

Go next
When locals (and students) need to get out, they often head to "The City"
San Francisco
. It's easy to get to by BART train and a logical next step of exploration—assuming, of course, you didn't just come from there!
Oakland
, just south of Berkeley, is a large and diverse city as well, with many ethnic neighborhoods less frequented by tourists than those of San Francisco.
Smaller cities around Berkeley worth checking out include
Emeryville
to the southwest,
Albany
to the north,
El Cerrito
further north, and
Walnut Creek
to the east.
The hills above Berkeley and Oakland, including
Tilden
and
Wildcat Parks
, are easily accessible by foot, car, or bicycle, and offer many hikes with spectacular views.
Further out from Berkeley, you might consider striking out to
Angel Island
for the day or an overnight camping trip.
Marin
and
Sonoma Counties
are moderate drives from Berkeley as well. You might also try wine tasting in the
Napa Valley
. Northeast is
Sacramento
, the state's capital city.