Berlare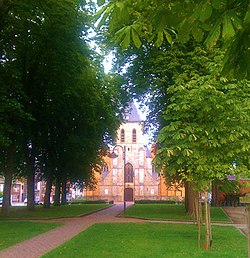 Berlare
(
pronunciation BEHR-lah-ruh
) is a small town of 14,000 inhabitants in
East Flanders
, consisting of Overmere, Uitbergen, Donk and Berlare proper. It is a very peaceful and calm municipality located on the banks of the Schelde river and has a lot of beautiful natural settings to offer its visitors.
Understand
Tourist office

phone: +329 342 92 40

address: Donklaan 123

This is the tourist office of the commune of Berlare. It is also possible to rent bicycles here.
Get in
===By train===
The closest railway station is Schoonaarde. From there the south of Berlare is within walking distance. A bigger station is in
Lokeren
, where you can take a bus to Berlare.
===By bus===
The Flemish national bus company, De Lijn, has lines to Berlare or its villages from Lokeren,
Dendermonde
and
Aalst
. There are also buses from the regional capital
Ghent
, but the ride takes a lot of time. For more information regarding different timetables (unfortunately only available in Dutch):
https://www.delijn.be
.
By car
The main road is the N467, which connects N445 (Ghent-Zele) to N461 (Wetteren-Dendermonde).
See

Lake DonkFlanders' largest lake. The north shore is touristic with lots of restaurants etc. The rest is quiet and green.

Castle of Berlare and surrounding park

address: Dorp

This castle dates back to the 17th century and is protected since 1975. It is built in renaissance style and on the exact same location of a fortified building that stood here until French soldiers burned it down in 1677-1678. The buildings are not accessible, but the park is.

Sint-Martinuskerk

address: Dorp 1

Through history only the tower and only a part of the aisles remained from the original 15th-century church. Other parts of this church are built in the 17th or 20th century. The pulpit from the early 19th century still can be seen today inside the church with four wooden carvings from 1719 underneath it. Many historical valuable paintings decorate the church's inside walls.

Bareldonk chapel

address: Kapelleplein

This site used to be a destination of many pilgrimages in the past and dates back to the 13th century. Inside the chapel you can see many interesting paintings. It is located very close to Lake Donk.

Museum DonkmeerThis museum opened in 2006 and is located right next to Lake Donk. The museum pictures the political development of the past centuries with special attention to the French Revolution and its consequences for the Southern Netherlands.

EendekooiReplica of a cage which was used for catching ducks. There is also a small zoo and a playground.
Do
FishingSome excellent fishing spots. Dispensers for day permits available.

Ice skatingWhen lake Donk freezes many people go ice skating. There are some gin and hamburger stalls on the ice.

Water sportsSailing and wind surfing on lake Nieuwdonk.

EntertainmentA bowling alley, two casinos, minigolf and boating at lake Donk.
Events
Open air musicalEvery two years in late August there is an open air musical on the shores of lake Donk.

WaterfeestenYearly festivities with concerts, stunt shows, helicopter rides and fireworks. First weekend of August.
Buy
MarketSmall street market. Non-food only.
Eat
SpecialtyThe local specialty is eel.

DonkThere are dozens of restaurants along the north shore of lake Donk.
Sleep
CampingSeveral caravan & camping sites: Roosendael, Noordzee, Zonneschijn, Bareldonk, Primavera, Rodeo.
Go next