Berlin/City West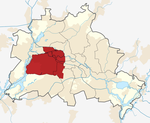 City West
is the heart of former West Berlin and even after reunification it represents the main retail center of Berlin — all the best and most expensive shops are located here. The area also includes some landmarks of great historical and cultural interest, as well as a large number of accommodation and entertainment options.
Understand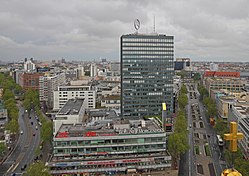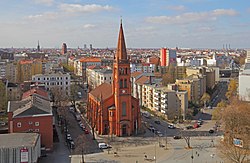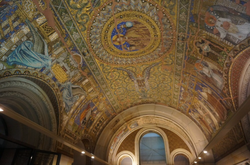 After Berlin was split into two by the division of Germany, West Berlin had to develop a city centre of its own, as most of the historic centre (
Mitte
) remained on the eastern side. Thus came about an unlikely city centre carved out of mostly residential, relaxed districts of
Charlottenburg, Wilmersdorf and Schöneberg
.
The obvious centre became the area close to the
Zoologischer Garten
train station, which became the main train station for West Berlin, extending southwards towards the
Kurfürstendamm
(known popularly by the contraction
Ku'damm
) in southern
Charlottenburg
. This has always been the traditional retail centre of Berlin, cemented by the construction of the enormous iconic department store
KaDeWe
at one end, and remained so all through the years of West Berlin, seeing much modern construction filling in the gaps left by World War II and updating the neighbourhoods to ever-changing standards. This remains the area of Charlottenburg you absolutely need to visit for luxury shopping (or window-shopping).
Further north from the Ku'damm area is where the
Schloss Charlottenburg
is located, the beautiful castle and open park from which the district got its name; it had been a separate township developed around the castle. After
World War I
Charlottenburg had a large, wealthy Russian scene, due to the refugees from
St Petersburg
after the Russian revolution which had given rise to the area's nickname - "Charlottograd".
South of the Ku'damm is the cozy residential district of
Wilmersdorf
, which is mostly overlooked by tourists but cherished by its inhabitants for its relaxed and comfortable living conditions. Wilmersdorf has always been a middle and upper class inner city villa and apartment house area. It is quieter but has nice restaurants and cafes. About 80% of Berlin's Jewish population (estimated 25,000 people) — now mostly of Russian descent — live in Charlottenburg-Wilmersdorf.
KaDeWe marks the eastern border of
Schöneberg
, which extends farther south and east towards the main north-south railway line crossing Berlin. Schöneberg has all the properties of a dense 19th-century residential district, with narrow streets connecting large plazas and tree-lined avenues. Schöneberg is the traditional centre of the gay scene in Berlin. Today the borough is gentrified and very popular with young families and middle-aged singles. Renovated old apartments with stucco are pretty common. While the former district of Schöneberg was merged with Tempelhof in 2001 for administrative reasons, the two areas have little in common and thus Tempelhof is dealt with in our guide on
Berlin/Central South
.
Get in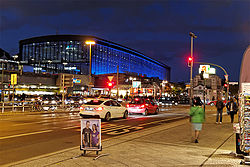 By public transport
Bahnhof ZooAlso accessible via RE1, RE2, RE7, RB14, Bus 100, 200. The station used to be West Berlin's main intercity train station, but now sees virtually no long distance service.

not Kurfürstenstraße on the same line. These are two totally different areas!
A lot of bus lines drive all the way down the Ku'Damm. Especially when it rains (or snows in winter) or to get a first impression, it's very convenient to use the buses.
U-Bahn lines U7 (Eisenacher Str.). U1, U2, U3, and U4 (Nollendorfplatz) cross the borough on the north and the south.
By intercity bus
ZOB BerlinBerlin's central bus station lies in this part of Berlin. Virtually all intercity buses that serve Berlin serve this station. While it has good access to/from the Autobahn, it sits awkwardly between two U-Bahn stops and an S-Bahn stop and the walk from the station to the bus station isn't all that pleasant - local media even pointed out that signposting is misleading, perhaps even deliberately so. The station is neither particularly close to any attractions nor does it have many services to itself that aren't overpriced, shabby or both. On the positive side the city government started a renovation of the 1960s structure in 2016 which will be done by the 2020s.
Get around
The area covered in this guide is expansive, but the most popular attractions are almost all near the Zoologischer Garten train station and the Ku'damm, and thus easily within walking distance. If you want to visit the outlying ones, you may want to use Berlin's excellent public transportation system - the U-Bahn, S-Bahn and the bus networks. West Berlin, unlike East Berlin, had its tram network dismantled and you will find no trams here. You may also be tempted by the area's relaxed character to bike, but be mindful that physical infrastructure for bikers is not so well developed. Parking spots are scarce and parking garages expensive, so getting around by car is the least favorable option.
By bus
In lieu of the dismantled tram system, West Berlin is served by a number of
MetroBus
lines, which are often operated using the iconic (and very tourist-friendly) double-decker buses. They follow the most important thoroughfares and continue to other districts. Most of them start at Zoologischer Garten or another important train station in a different district. MetroBus lines are marked orange on all public transportation maps and signage and have a two-digit designation preceded by an "M". For fare purposes, there are no different from any other bus line or means of public transportation.
Apart from MetroBuses, West Berlin is also served by a number of regular bus lines. The largest number thereof also start at the Zoologischer Garten train station and meander through the districts, with more stops and longer headways than the M-lines.
Some of the lines most useful for sightseeing purposes (both on board of the bus or as means of getting about between points of interest) are described below.
Ku'damm - lines M19 and M29
Your best bet to explore the Kurfürstendamm is to take a double-decker bus along it and enjoy the views from the upper deck, hopping on or off to take side excursions. While there are many companies offering sightseeing tours on their privately-owned buses, you will be just as fine buying a BVG public transit pass and using lines
M19
and
M29
, both of which are operated almost exclusively using double-decker buses and running every 10 minutes each, stopping many times along the Kurfürstendamm.
Line M29 is of particular note, as it continues further east along the picturesque
Landwehrkanal
and Leipziger Straße to "Checkpoint Charlie" in
Mitte
, and then further to the funky district of Kreuzberg. Line M19 goes to the less savoury environs of Mehringdamm, so do mind the stop
Wittenbergplatz
(it is also an U-Bahn station) at the KaDeWe where the lines divert from each other.
On the eastern end, the last stop on the Kurfürstendamm is
Hallensee
(an S-Bahn station) for both lines. From there, M19 continues towards the Gruenewald forest, while M29 ends up in the Schmargendorf district.
Schloss Charlottenburg - lines M45, 109, 309
The Schloss Charlottenburg area is quite removed from Ku'damm and Zoo. There are three bus lines stopping in front of the Schloss:
M45, which starts at the Zoo train station and follows the fastest, if not exactly interesting, route via the Ernst-Reuter-Platz
109, which also starts at the Zoo train station, but follows a more spectatcular (and longer) route down the Ku'damm, turning north at Alexanderplatz. 109 then continues to the Tegel Airport.
309 has a shorter route 109, starting at U-Bahn station Wilmersdorfer Straße across Sophie-Charlotte-Platz and going north up the Schloßstraße. It does not got to the Tegel Airport.
Schöneberg - M46, M48 and M85
The
M46
takes you from the Zoo train station to Schöneberg via Wittenbergplatz (KaDeWe), Viktoria-Louise-Platz and stopping at Rathaus Schoeneberg. The last stop within Schöneberg is the Schöneberg S-Bahn station, useful if you are arriving on a train from Schoenefeld airport.
The
M48
and
M85
traverse Schöneberg from south to north along a different route than the M46, on the eastern side of the district. They can be a quick way to get back on the U-Bahn line or continue to Mitte - both stop at Potsdamer Platz, from where M85 goes to the Hauptbahnhof and the M48 to Alexanderplatz via Leipziger Straße. Both are quite scenic rides.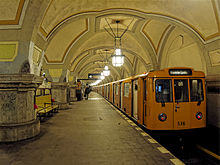 By U-Bahn
Six U-Bahn lines stop within the City West area - all of the available ones except for U5, U55, U6 and U8. That said, U1 and U2 are the only ones that are of much use to most tourists. None of the U-Bahn lines follow the Ku'damm - all of the U-Bahn stations on or near the Ku-damm are for lines crossing the street.
U1
The oldest U-Bahn line runs eastwards from Uhlandstraße, stopping at the Kurfürstendamm, Wittenbergplatz (KaDeWe), Nollendorfplatz, Kurfürstenstraße (do not confuse it with Kurfürstendamm!) and Gleisdreieck, and then continues into
Kreuzberg
and
Friedrichshein
. It is entirely underground within City West, but runs overground over 19th-century railway viaducts from Gleisdreieck eastwards.
U2
U2 is one of Berlin's most useful lines for tourists, stopping at many important transit hubs at points of interest. Within City West, its stops include Sophie-Charlotte-Platz (Schloßstraße), Bismarckstraße (Wilmersdorfer Straße), Deutsche Oper, Zoologischer Garten train station, Wittenbergplatz (KaDeWe), Nollendorfplatz and Gleisdreieck. It then continues to Potsdamer Platz, Stadtmitte (Friedrichstraße) and Alexanderplatz, and then further to Prenzlauer Berg and Pankow in East Berlin. The stretch between Wittenbergplatz and Potsdamer Platz is overground, with some of the most brilliant views one can catch from the U-Bahn in Berlin.
U3
U3 is not of much use to most tourists. It takes inhabitants of southwestern outskirts of Berlin and of Wilmersdorf to Wittenbergplatz and Nollendorfplatz, where it terminates, and where one can change to U1, U2, U3 or the MetroBuses to go to Mitte or the Zoo train station.
U4
The U4 is a short line contained within City West, whose development was stopped back in early 20th century and which is of limited use even to Berliners. You can use it to travel between its only five stations at Nollendorfplatz, Viktoria-Luise-Platz, Bayerischer Platz, Rathaus Schöneberg and Innsbrucker Platz (where you can change to S-Bahn trains travelling on the circular route). U4 runs entirely underground and, unlike other U-Bahn lines, is not replaced by a bus service at night, when it does not run.
U7
The U7 is Berlin's longest underground line, connecting the western and southeastern extremities of the city. The stretch within City West, entirely underground, is on the outer border of the area, so it is most useful as a means of getting to City West from said outskirts than to getting around. Of the important points of interest, it stops at the Wilmersdorfer Straße and Bayerischer Platz.
U9
U9 traverses West Berlin from south to north, stopping at the Zoologischer Garten train station (change possible to U2) and the Kurfürstendamm (change to U1). Otherwise, the stops in Wilmersdorf are not much of tourist use, although you can change to U3 and U7 along the way.
U-Bahn stations of note
To arrive at the central bus station, get off at the U- and S-Bahnstation Kaiserdamm (U2) / Messe ZOB ICC (S41, S42, S46) and follow the signs.
If you want to ride a bus the entire length of Ku'Damm, you can get off at U-Bahn Wittenbergplatz (U1 - U3) or S-Bahn Halensee (S41, S42, S46) (east to west or vice versa).
To get to Schloss Charlottenburg (palace), exit U-Bahn station Sophie-Charlotte Platz (U2) and busline 309 or Richard-Wagner-Platz (U7) and busline M45.
Exit U-and S-Bahn station Zoologischer Garten (U2, U9, S5, S7, S75) for the city zoo, the Gedächtniskirche, the Tauentzienstraße (main shopping street) and/or a short walk to Ku'Damm. Friends of the Berlin partner city, Los Angeles, can walk right to the Los Angeles friendship place.
The rest of Ku'damm can be easily reached via U-Bahn station Kurfürstendamm (U1, U9), Uhlandstraße (U1) or Adenauerplatz (U7).
By S-Bahn
The east-west S-Bahn track cuts through the City West, while the ring one follows the
Stadtring
on the outer rim of City West.
Both lines running the east-west track, the
S5
,
S7
and
S75
, follow the same route through City West. West from the Hauptbahnhof, they stop at Bellevue (the station next to the Federal President's residence Schloss Bellevue, not accessible by U-Bahn), Tiergarten (station on the outskirts of the Tiergarten park, without much tourist use), the Zoologischer Garten train station, Savignyplatz, Charlottenburg (the S-Bahn station over Wilmersdorfer Straße) and cross the ring at Westkreuz. The S7 then follows to Grunewald and Wannsee, while the S5 to Spandau. A shorter line called
S75
finishes its run at Westkreuz.
By bike
You can find racks with bikes for rent next to most hotels, as well as some cafes, bars and restaurants. The going rate across Berlin is €10-12 per day, but shopping around a bit can get you bikes for even less.
See
Charlottenburg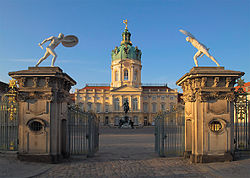 phone: +49 331 9694200

address: Spandauer Damm 10-22

One of the oldest buildings in Charlottenburg and actually the reason for the whole city to be built.

Kaiser Wilhelm Memorial Church

address: Breitscheidplatz

Also known as "der hohle Zahn" (the Hollow Tooth), this church in Breitscheidplatz is a memorial to Kaiser Wilhelm, and one of Berlin's most famous landmarks. Thick walls and plain decor mark it as neo-Romanesque, but with what's left of the Gedächtniskirche, it's tough to distinguish it as any one style. Allied bombing left only one tower standing on 22 November 1943, but a new location for worship designed by Egon Eiermann was completed in December 1961 (it's the octagonal structure with blue stained glass windows). There is a small memorial museum beneath the tower filled with artifacts from the original church, which was built from 1891-95 to architect Franz Schwechten's specifications. Controversy arose after the war over the various options presented by the half-ruined cathedral - should it be torn down completely and rebuilt? Or should the destroyed sections be left standing as a memorial? The four major sections of the Kaiser-Wilhelm-Gedächtniskirche (central space, foyer, new tower and chapel) surround the ruined tower of the old church bridge and show the time gap between old and new. Mosaics and other remnants from the old church serve as a monument against war.

address: Jebensstraße 2

Admission €8, discounted €4, young people up to the age of 18 free. Guided tours every Th 18:00 and Su 16:00.

phone: +49 30 8825210

address: Fasanenstraße 24, 10719 Berlin

Käthe Kollwitz's reputation as a social activist who used art as a means to express her support of pacifism was hard-won. Her son was killed in the World War I, after which her art took a turn for the morose. When her grandson was killed in World War II, her art became even darker and more brooding as she contemplated the huge loss of life Germany had suffered. Her own losses and those of the nation affected her art. After the war, ever-present artistic themes for Kollwitz - death, violence, war, misery, guilt and suffering - took shape as the drawings, prints, sculptures, original posters and woodcuts housed in this museum.

address: Kurfurstendamm 207-208

A multimedia museum documenting Berlin's history. You can also visit an underground bunker with room for over 3000 people.

address: Schloßstraße 1

Also known as "Picasso und seine Zeit", this not so large, but precious museum hosts a very good collection of paintings and sculptures signed by Picasso, Klee, Matisse, Giacometti, and others from the first decades of the 20th century.

address: Schloßstraße 1a

A small but interesting collection of decorative arts from the Art Nouveau and Art Deco periods

address: Schloßstraße 70

A museum dedicated to surrealist art.

SavignyplatzSmall park in the heart of West Berlin. Great place to chill on a sunny day. There are many great cafés and restaurants nearby. Linger over a coffee here and watch people passing by.

Berlin sculpture

address: Tauentzienstraße

Once part of the Skulpturenbulevard project, this sculpture was made for the 750th anniversary of Berlin. It consists four steel tubes looping but not touching each other, symbolizing the division of the city.
Charlottenburg-Nord
phone: +49 30-3443226

address: Hüttigpfad, 13627 Berlin-Charlottenburg-Wilmersdorf

An eerie memorial to victims of the Nazi regime built on the place of a former execution room, where nearly 2900 people where put to death between 1933 and 1945.
Westend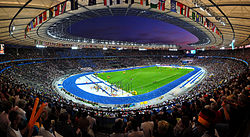 OlympiastadionBuilt by Hitler for the 1936 Olympic Games, it is one of the better examples of Nazi-era neoclassical architecture and is still used for sporting events. The Olympic Stadium is where African-American athlete Jesse Owens won four gold medals, showing once again the fallacy of Hitler's Aryan superiority theory. It is the home of the most successful soccer/football team of Berlin, Hertha BSC, and between 2000 and 2004 was renovated for the FIFA World Cup in 2006. A visit to a Bundesliga soccer match can be safely recommended, as soccer is a main ingredient of German public life. (Matches start Saturday 15:30 or Sunday 17:00; be there at least half an hour earlier.) The neoclassical architecture is supposed to remind the viewer of the splendors of Greece or Rome and of the universally-acclaimed great civilizations; it was thus intended as another part of Nazi propaganda. To the west of the Stadium itself is the Maifeld with the Langemarck Hall and the Olympic Stadium Bell Tower - Glockenturm (with an exhibition by the German Historical Museum and an observation deck), both of which can be visited. There is an amphitheatre as well, but mostly closed to visitors. For a glimpse at the Olympiastadion in its original state, rent Leni Riefenstahl's movie Olympia. Riefenstahl has been accused of purposefully producing propaganda for the Nazis, though in her autobiography she denies it. There is no argument, however, that she is an excellent filmmaker. Though the Nazis may have helped fund some of her productions, Riefenstahl's artistic vision is undeniable.

Berliner Funkturm und Messehallen

address: Messedamm 22

150 m high lattice tower with open-air observation deck 124 m above ground.

Haus des Rundfunks

address: Masurenallee 14

Designed by Hans Poelzig in 1929, it is the first self-contained broadcasting house in the world and it is still in use today.

Unité d'HabitationThe building by Le Corbusier from 1957 stands close to the stadium. It is one of the manifestations of an important architect of the 20th century. You can see a building that influenced the way of designing modern residential blocks all over the world.

address: Sensburger Allee 25

A museum dedicated to the Berliner sculptor.
Wilmersdorf
Rheingauviertelat the Rüdesheimer Platz
Grunewald
GrunewaldturmHistoric observation tower in the forest near the big Havel River.

TeufelsbergA man-made hill of about 120m in the Grunewald, created after Second World War from debris of the city. On top there is the Field Station Berlin, a former US listening station. Inside the building complex you can see lots of graffiti art. The hill can be accessed without any restrictions and is free, however, the building complex is surrounded by fences and requires a ticket (tours are available as well).
Schöneberg
WinterfeldplatzPlaces with markets on Wednesdays and Saturdays are popular with locals at Winterfeldplatz. Buy a coffee and browse amongst the stalls; this is a place to unearth hidden gems. Breakfast is served usually until 14:00-15:00.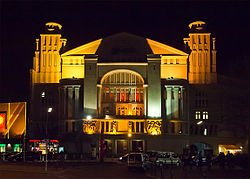 Viktoria Luise PlatzFeatures stately old houses and a good night time hot spot.

Akazien-/GoltzstraßeRestaurants abound here, with cuisines ranging from Afghan to Nepalese and Thai. prices are low, especially compared with other locations in the "touristy" center of Berlin. Around Eisenacher Straße (extension of Goltzstr.) you'll find even more bars and cafes situated in the basement of nice old houses. During World War II, this part of Berlin was not destroyed by bombs as much as other parts of Berlin, so you can get an impression of what 19th century Berlin's architecture looked like.

Bayerischer PlatzThe Bayerischer Platz is the center of the Bayerisches Viertel ("Bavarian district", with many streets named after Bavarian cities), which was destroyed a lot more during World War II (about 60%). Somewhere around there Albert Einstein lived once. You'll find several memorial signs providing information about the Nazi regime's rules against gays and Jews.

Planetarium am Insulaner

address: Munsterdamm 80

In the very southeast of Schöneberg, there are daily shows for children and grown-ups alike. Projection is into a drawn Berlin skyline. Several guided tours to the obervatory daily with sky observation, conditions permitting.

Rathaus SchönebergThe district town hall was the main town hall for West Berlin during the Cold War. The freedom bell (a present from the American people) and several memorials from that time can be found here. On the main balcony in 1963 U.S. President John F. Kennedy made his famous statement, All free men, wherever they may live, are citizens of Berlin, and, therefore, as a free man, I take pride in the words 'Ich bin ein Berliner!'. On 10 November 1989 Helmut Kohl (chancellor (Bundeskanzler) 1982-1998) and Willy Brandt (former Bundeskanzler and mayor of Berlin) cheering the crowd as they saw the end of the Berlin Wall the night before. The town hall is an emotional place for most people in Berlin (especially West Berlin).
Moabit
Hamburger Bahnhof – Museum für Gegenwart

phone: +49 30 266424242

address: Invalidenstraße 50-51

Museum for Contemporary Art located in former Hamburger Bahnhof train station. Big halls filled with artworks made since 1960s. In 2004 Rieckhallen, former Lehrter Bahnhof, was opened and now provides exhibition space for the Friedrich Christian Flick Collection. Free public guided tours (in English): Sa and Su at 12:00.

Moabit Prison Historical Park

address: Lehrter Straße 5b

A former prison built around 1850 with a haunting history until after the end of World War II (around 1955). During WWII it was used by the Nazis for oppression, torture and murder of political opponents. Nowadays it is a public park serving as memorial.
Do
Cultural venues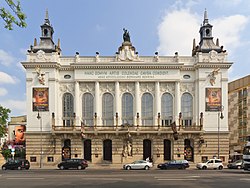 Parks
Schlossgarten CharlottenburgThe green areas of the park are free, so you can go there to have a walk even if you are not interested in the palace. It covers a large area and you can get in from the entrance just near the "New Pavillon" (Neuer Pavillon a.k.a. Schinkelpavillon) placed on the right of Luisenplatz.

Lietzensee-ParkLie in the grass and unwind at Lake Lietzensee, especially if you are with children - most of Charlottenburg children know and love the playground there.
Other
address: Schlossbrücke Charlottenburg

Do a boat tour on the Spree River or the Landwehrkanal - many of them start or end at Charlottenburg.

phone: +49 30 8904440

address: Halenseestr. 32-36

When the unpredictable weather in Berlin isn't favourable to explore the city's cultural gems, Artemis makes up for it with its wellness facilities. Aimed at relaxation, no children or electronic devices are allowed to make a full disconnection from real world worries possible (you'll have to let go of your Twitter addiction for a few hours!). Amenities include indoor and outdoor (heated) swimming pools and saunas, whirlpools, cinemas, and so on. Lunch and dinner are included in the entrance fee. Bring €1 coins for the lockers. Open year round.
Buy
For luxury goods visit
Ku'Damm
(Kurfürstendamm) and
Fasanenstraße.
Kurfürstendamm is especially a must visit, between Adenauerplatz and Joachimsthaler Platz (nearly two kilometres), as it boasts a whole range of luxury stores (and hotels and restaurants.)
For flagship stores and all the big stores head to the extension of Ku'Damm, the
Tauentzienstraße
.
The main pedestrian area of the district (and even Berlin) is
Wilmersdorfer Straße
. Start at Bismarckstraße, walk down the pedestrian zone, cross Kantstraße, walk underneath the railroad, and enter the Bio Company store on the right hand side of the road - it was the first supermarket-style "bio" product store in Berlin whose owner once upset the idealists at Kreuzberg by admitting that she wanted to make money with the store.
phone: +49 30 2121 0

address: Tauentzienstraße 21-24

The largest department store on the European continent at Wittenbergplatz has it all. Be sure to check out the food department at the sixth floor, where you can find anything from a baked chicken to a champagne brand bar. On the weekends, this place can get quite crowded.

address: Arminiusstraße 2-4

A market hall offering a mix of stalls with fresh and ready to eat produce (butchers, bakeries, delicatessen, etc.), and cafes and bars.

Philatelic Post Office

address: Goethe Straße 2

For collectible stamps. They generally speak English. From the Deutsche Post.
Eat
City West is a very good place for quality and is bursting with a big variety of styles and cuisines.
Breakfast
Budget
Mid-range
Charlottenburg
Kurfürstendamm
Tiergarten
Schöneberg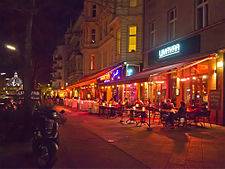 Splurge
Drink
Bars
Brauhaus Lemke am SchloßExcellent brewed beer. You can have either a helles (light) or a dunkles (dark). Although the beer is quite excellent, the atmosphere is quite touristy, and clearly not as antique as it strives to be.

Coma

address: Detmolder Str. 61

Made up with sand on the floor and two pool tables. XL Cocktails will kick you faster than you would think.

Green Door

phone: +49 30 2152515

address: Winterfeldtstraße 50

One of the best cocktail bars in Berlin with excellent selection of spirits and a stylish decor to match.

address: Bülowstraße 56/57

The biggest karaokebar in Europe and they also have 150.000 karaoke playback.

address: Mansteinstraße 4

One of the famous Berlin watering holes with a wide range of fruit wines, being drunk in nearly unchanged setting for the last 100 years. If the party gets started, among the best places in Berlin. Dangerous, when you come back to the fresh air.

phone: +49 30 746 98 504

address: Goltzstr next to Grunewaldstr.

Cafe/bar that offers an impressive cocktail list. Cocktails are mixed with fresh juices and matched with quality spirits.

Train

phone: +49 30 787 5033

address: Hauptstraße 159 SB

As its name suggests, this bar is actually in an old S-Bahn car. Flashy and famous for inspired cocktails served by friendly bartenders.

Zur U-Bahn

address: corner of Eisenacher Str/Grunewald St

One of the last old time Berlin bars in the area, and a great place to sit, drink and meet the locals.
Clubs
The club scene of West Berlin is mainly located in Charlottenburg and Kreuzberg. The alternative crowd heads to
Kreuzberg
, while the mainstream youth of West Berlin go to the Charlottenburg clubs and discos.
Cascade

address: Fasanenstraße 81

similar to the Maxxim, but less r'n'b music, for the wealthy people of Charlottenburg. Nice interior, plays house and 70s/80s.

address: Hauptstraße 30

Largest Latin music club in town. Dance to the beat when it's open on Wednesday, Friday, and Saturday nights.

address: Seestraße 2

Sheltered open-air location at the waterside right across from the Westhafen harbor with techno, house, electro DJs.

MaxximA bit more luxurious for the more mature crowd. Mainly R'n'B and house.

Q-dorf

address: Joachimstaler Str.15

Named after the Ku'Damm, this big disco attracts a very young (and drunken) crowd. Rather cheap and usually very crowded with all the stuff you need (or don't want): R'n'B straight from the charts, Eurotrash party music, Mallorca ambiance, beach parties, go-go dancers and so on.
Sleep
Budget
Mid-range
phone: +49 30 88 005

address: Lietzenburger Straße 79-81

One of the hotels in Lietzenburger Straße, parallel to the Ku'damm.

phone: +49 30-3009 9292

address: Heerstr. 36

Ideal for visitors of the fairground. Small and reasonably priced hotel with large garden and wonderful ambiance.

phone: +49 30-3213485

address: Sophie-Charlotten-Str. 57-58

Fairground in walking distance. Small house, personal, individual atmosphere.

phone: +49 30-3127582

address: Bismarckstraße 70, 10627 Berlin

Small, familiar run house with personal ambiance.

phone: +49 30 329-030

address: Kantstr. 111a

Private hotel.

phone: +49 30 88 7165-0

address: Pariser Str. 37

Very clean and friendly hotel in a nice neighborhood.

Ku'Damm 101

phone: +49 30 52 00 55-0

address: Kurfürstendamm 101

Three-star hotel for business travellers with a sense of lifestyle and design. Wi-fi available for a small fee (€1.90 per hour, €3 for two hours, etc.) or free internet from two terminals in the lobby.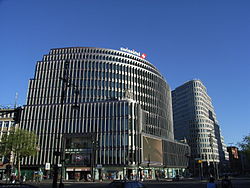 Splurge
Go next
Mitte is just a few U-Bahn stops off.