Berlin/East Central
East Central
is a trendy, bohemian, artsy area that consists of
Kreuzberg
,
Friedrichshain
,
Prenzlauer Berg
(sometimes called
Prenzlberg
),
Wedding
and
Gesundbrunnen
. The western district Kreuzberg was merged with the eastern district Friedrichshain in 2001. They skew towards a young and alternative, often politically left-oriented crowd. Both districts feature a very heterogeneous architecture, from whole quarters of 19th century apartment houses to functional and not very pleasant 1960s and 70s residential building blocks. You also notice the differences as the districts were separated by the wall. The remaining part of the wall between Friedrichshain and Kreuzberg is the longest part still existing in Berlin. Prenzlauer Berg is to the northeast of Friedrichshain and has changed considerably since reunification. It has gentrified similarly to
Brooklyn/Williamsburg
from deserted apartment houses into a lively area for students, artists and young people – if they or their parents can afford it. Rents have risen sharply in the last few years, and many empty apartments in this area are no longer rented out but sold, refurbished into luxurious lofts or hostel rooms. Wedding and Gesundbrunnen formed the
Bezirk
of Wedding prior to 2001 when the boundaries were redrawn. Wedding has a long tradition of being home to the working class and accordingly voted "red" for most of the Kaiserreich and Weimar era. During partition it lay on the west side of the wall and attracted an above average number of immigrants, particularly of Turkish descent. Since reunification it has been gentrifying much like Friedrichshain and Kreuzberg albeit not at the same breakneck pace.
Understand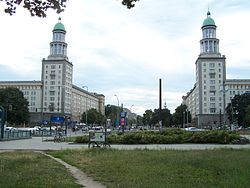 The former districts of Kreuzberg and Friedrichshain had few things in common (one thing is nowadays for sure the attraction to students, politically left and young creative people), due to their history on either side of the wall. Since the political decision to merge, these two districts work together politically. The name was made by flipping a coin to decide which name would appear first. The Oberbaumbrücke which was a border crossing point during the era of German partition now serves as the main connection between Friedrichshain and Kreuzberg as well as symbol of reunification. Once a year it is the site of a humorous "vegetable battle" (Gemüseschlacht) between the two former districts.
Kreuzberg
is one of Berlin's most eclectic districts, home to an unusual mix of left-wing punks, anarchists, gays, creative artists and Turkish immigrants, the last of which make up a third of the population and have earned the area its occasional nickname
Little Istanbul
. The district has gentrified to a considerable extent in recent years, with dot-coms, marketing agencies, designers, German and international kids from wealthy backgrounds moving into renovated lofts and spacy apartments, but there are still plenty of kebab joints, funky nightclubs, and pictures of Abdullah Öcalan gazing down from
Communist Party of Kurdistan
propaganda posters.
Kreuzberg itself used to be covered by two post codes (back in the four digit era, post codes would contain two digits for the city and two for the city district, sometimes expressed as "1000 Berlin, Kreuzberg 36" or the likes, but shortened to "1036 Berlin") being 36 for the Southeastern part (hence "SO 36") and 61 for the Southwestern part (SW 61 or more commonly Kreuzberg 61). The two areas had and to some extent still have distinctive characters, in part because SO 36 was surrounded by the wall on three sides and was therefore much more of a center for Berlin's leftist scene than the more bourgeois 61. While the post codes were changed upon reunification, you will still find businesses and locals insisting on the part of Kreuzberg they're in being labeled correctly and caring a lot about the difference.
The areas of
Wedding
and
Gesundbrunnen
used to be contained in the
Bezirk
Wedding until 2001 when they were merged into the Bezirk
Mitte
but the names and boundaries were retained for the
Ortsteile
. Wedding used to be known in Weimar times as "der rote Wedding" due to its working class left wing population. In later times, many immigrants, particularly Turks moved to the area. Nowadays Wedding is also increasingly gentrifying.
Gesundbrunnen is named for a fountain that was ascribed beneficial properties for people's health. However said fountain is no longer extant.
Get in
By urban rail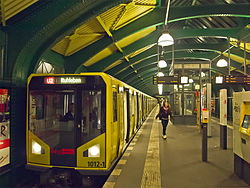 The main entry point for Kreuzberg 36 is . The U-Bahn line U1 is the backbone crossing the borough from east to west.
The main entry point for Kreuzberg 61 is .
The main gateways for Friedrichshain are the S-Bahn stations and . There are frequent U- and S-Bahn to the main tourist central in Friedrichshain, e.g. the Berlin Wall East Side Gallery close to the "Warschauer Straße" station. Being a borough of the former East, several tram and metro - tram lines also serve Friedrichshain with some slowly but surely expanding westward in what can only be called tram - reconquista. Wedding is also served by tram lines, particularly M10 which also connects to Hauptbahnhof which are slowly but surely inching ever more westward.
The best and fastest way to get into Prenzlauer Berg is either through or through .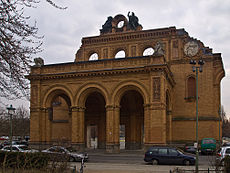 the main entry point for Wedding

Is an entry point for the North of Gesundbrunnen and exchange between lines U8 and U9
By long distance train
Berlin-GesundbrunnenThe station would be "Nordkreuz" if it were named with the same logic as Ostkreuz, Westkreuz and Südkreuz. It is served by numerous long distance trains as well as regional trains.

OstbahnhofThis station has a turbulent history and many name changes. From 1987 (750th "birthday" of Berlin) to 1998 it was even called "Hauptbahnhof" (main station). However, the opening of the new Hauptbahnhof in Moabit in 2006 has relegated this station to a somewhat less prominent role, though unlike its western cousin Bahnhof Zoo, it still sees some ICE service albeit less than Gesundbrunnen or Hauptbahnhof
See
There are several monuments and museums in this district as it is a result of marging across the former border of East and West Berlin, something that was done in Mitte, as well but in no other district.
Kreuzberg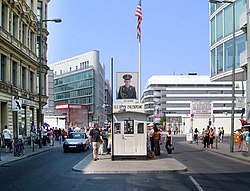 Checkpoint CharlieIt was the only border crossing between East and West Berlin that permitted foreigners passage. Residents of East and West Berlin were not allowed to use it. This contributed to Checkpoint Charlie's mythological status as a meeting place for spies and other shady individuals. Checkpoint Charlie gained its name from the phonetic alphabet; checkpoints "Alpha" and "Bravo" were at the autobahn checkpoints Helmstedt and Dreilinden respectively. Checkpoint Charlie's atmosphere was not improved at all on 27 Oct 1961 when the two Cold War superpowers chose to face each other down for a day. Soviet and American tanks stood approximately 200 m apart, making an already tense situation worse. Now the remains of the Berlin Wall have been moved to permit building, including construction of the American Business Center and other institutions. At the intersection of Zimmerstraße and Friedrichstraße (U-Bahn Kochstraße U6) is the famous "You Are Leaving the American Sector" sign. The actual guardhouse from Checkpoint Charlie is now housed at the Allied Museum on Clayallee. For a more interesting exhibit go to the Haus am Checkpoint Charlie. This is a private museum with kitschy memorabilia from the Wall and the devices GDR residents used to escape the East (including a tiny submarine!)

OranienstraßeA street full of shops, cafes and restaurants

BergmannstraßeLike Oranienstraße a street full of shops, cafes and restaurants, but in the other, more middle-class part of Kreuzberg.

Görlitzer Park150-200 m along the Wiener Straße (bypassing the fire house and the public swimming pool) from U-Bahn Görlitzer Bahnhof, the park is famous for the Turkish families barbecuing on summer weekends, failed contemporary art and relaxed atmosphere of students. It does have a reputation of being full of pickpockets and drug dealers though and the police makes regular visits to this place to check on the situation.

LandwehrkanalTake a stroll for a few kilometers along this canal which runs right through the heart of Kreuzberg. It's peaceful and mostly traffic-free, but full of life in summer. Some parts are lined with bars and restaurants with terraces. Sit on a bench or terrace and watch the world go by on a summer evening.

ViktoriaparkWith the Kreuzberg, a hill in Kreuzberg 61, the Prussian National Monument by Schinkel and a waterfall. Superb panoramic views across south Berlin.

address: Köthener Str. 38

Though the area has changed a lot, the building with the Meistersaal, an old music hall from the 1900s, has persisted. Later converted into sound studios, music history was written here with David Bowie ("Heroes"), Iggy Pop, and U2 amongst the groups who recorded here at the "Studio by the wall". Guided tours available occasionally.
Museums and memorials
Friedrichshain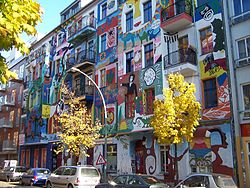 What's up with the Reichsbahn?
The German
Reich
which is usually translated as "German Empire" but could just as well be rendered as "German Realm" last had an emperor in 1918 and collapsed upon the military defeat of Nazi Germany in 1945. Why then did the "Reichsbahn" not cease existing until 1994? Well as so often is the case tradition, convoluted legal reasons and German partition, particularly Berlin partition are to blame. When the Allies tried to sort out the post-war order of Germany, many ad hoc arrangements were made which were probably supposed to be replaced by better solutions later but by then circumstances had changed and the status quo stuck. One of those arrangements concerned the Berlin S-Bahn. The Allies agreed that the Berlin S-Bahn was to be run by the "Deutsche Reichsbahn" in all sectors of Berlin. To the western Allies this made sense as it was the most workable temporary arrangement while the Soviets had no objection as the Reichsbahn was incorporated in Berlin. West Germany renamed its railway "Bundesbahn" or federal railway, but the GDR insisted upon the traffic rights and considerable real estate all tied to the name "Reichsbahn". While the S-Bahn itself proved increasingly costly to maintain in the west and the GDR ultimately handed it over to the West Berlin authorities in 1984, by then easterners had grown to love their anachronistially named railway so the name stuck. Upon reunification it was decided to keep both railways under their old names and only merge them after a new corporate structure had been hashed out, which took until 1994 to fully implement with the formation of Deutsche Bahn AG. Thus the Reichsbahn survived the GDR by more than three years and the "Reich" by nearly five decades.
phone: +49 30 251 71 59

address: Mühlenstraße 3-100

The longest stretch of the Berlin Wall still in existence, painted by artists in 1991 and restored in 2009, after years of decay. At Mühlenstraße, next to the river Spree. The murals are painted on the east side of the wall after the fall of Communism; so they are not from the Cold War, during which murals could only be painted on the west side. Make sure not to miss the famous mural of a car seemingly crashing through the wall with Leonid Brezhnev and Erich Honecker kissing above it. It is actually on the back side of the gallery (it is facing away from the street.) It is just inside the entrance of the Eastern Comfort Hostel, near the east end of the gallery.

Simon-Dach-StraßeThe heart of Friedrichshain and its nightlife with numerous cafés, bars and restaurants along its entire extent and also in the side streets.

Boxhagener Platz and surroundingsThe area around Boxhagener Platz is filled with bars, cafes and small shops. Boxhagener Platz itself is a small park with a playground and a cafe, and the nearby Simon Dach Straße is filled with cheap bars and restaurants. At the weekend you can find many places that serve the famous, cheap Berliner brunch. On Sundays there is a small flea market worth strolling around

phone: +49 30 60988577

address: Karl-Marx-Allee 93a

Exhibition of digital interactive entertainment culture. You can actually play almost all of the exhibits making it a more "hands on" museum than most.

Oberbaum BridgeArguably the most beautiful bridge in Berlin and the only connection between Friedrichshain and Kreuzberg. As signage on the bridge indicates, it was built twice - once in the 1890s and once in the 1990s. Before reunification the border ran where the bridge now is.

Karl-Marx-AlleeThe main street of former East Berlin. It is a big avenue, featuring neoclassical East German buildings, fountains and lakes.

MärchenbrunnenIn 1893 the authorities of Berlin issued the artistic entrance to the National Park Friedrichshain. The fountain of fairy tales was commissioned by the National Park and later designed by Ludwig Hoffmann.

address: Revaler Str. 99

The RAW Gelände is one of Berlin's best known and wildest culture and party areas. It is on the old railway repair premises of the former (East) German State Railway (Reichsbahn) and includes a lot of clubs (such as Suicide Circus, Cassiopeia, Haubentaucher, Der weiße Hase), concert venues (e.g. Astra Kulturhaus), Bars (e.g. Badehaus), the outdoor climbing park Kegel at a former cone-shaped WWII high-rise bunker, the indoor skate park Skatehalle Berlin, art galleries (RAW Art, Urban Spree), flea markets at the weekend and the open-air cinema Inselkino.
Prenzlauer Berg
There aren't many museums and only a few minor sights to explore in Prenzlauer Berg, although the (free) Kulturbrauerei Museum is well worth a detour for those interested in everyday life in East Germany. Of some interest is the atmosphere in the streets, sitting down in a nice café and watching the hip crowds go by.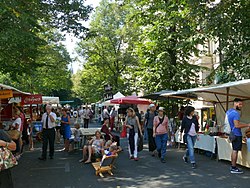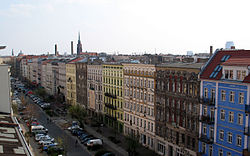 address: Knaackstraße 97, Building 6.2

Find out how it felt to live in East Germany in this modern and well-presented exhibition. The museum is a good starting point if you only have a few minutes to sneak a quick peek inside an East German family's living room, but you can spend hours diving further into the stories behind each exhibit by flicking through the documents on display or listening to contemporary witnesses' accounts (English translations available). The museum opened in November 2013 and is housed inside a beautifully restored former brewery; make sure to take a stroll through the courtyards!

KollwitzplatzThe Kollwitzplatz, with a small nice park, is one of Berlin's most beautiful Gründerzeit city squares. Together with the Kollwitzstraße which is crossing it, it offers many cafés and restaurants, but is also a well-known symbol in Germany for gentrification since the late 1990s. Its flea market which takes place every Sunday in one of Berlin's best known and focuses on international delicatessen foods.

KastanienalleeKastanienallee is well known for its numerous cafés and fashion stores, as well as its many cultural venues in the backyards such as alternative cinemas, theaters and beergardens. It is also nicknamed Casting Alley as it has been Berlin's primary catwalk for fashionistas and hipsters for many years.

Oderberger StraßeOderberger Straße is one of Berlin's best known streets in regard to nightlife, bars and cafés, and hip stores. It is also known for its beautiful and generous Gründerzeit architecture. Since before Germany's reunification the street has been the desired place for alternative folks, hipsters and avant-gardists, but the area has seen continual gentrification since the early 2000s.

WasserturmThe first (and one of the biggest) water tower of Berlin (built 1877).

address: Rykestraße 53

The synagogue in the backyard of an apartment house is one of the biggest in Germany.

Jüdischer Friedhof Schönhauser Allee

address: Schönhauser Allee 23-25

Jewish cemetery and lapidarium with old tombstones.

GethsemanekircheThe meeting point of one of the leading oppositions against the GDR regime and is a great Neogothic church. Also the only ecumenical Lord's supper with Protestants and Catholics together took place in the Gethsemanekirche (2003).

Museum for Architectural Drawing

phone: +49 30 437 39 0 90

address: Christinenstraße 18

The museum is in a iconic building opened in June 2013, showcases privately owned collection of architectural drawings from the twentieth and twenty-first centuries.

phone: +49 30 4218 450

address: Prenzlauer Allee 80
Gesundbrunnen
address: Brunnenstraße 105

Go on guided tours below Berlin to the World War II bunkers, flak towers, Cold War defence shelters, etc.

HumboldthainA pleasant park, featuring an anti-aircraft gun emplacement ("Flakturm") which offers sweeping views over Berlin
Wedding
address: Plantagenstraße 31

A space for art exhibitions, events and discussion in the silent green Kulturquartier, a former crematorium.
Do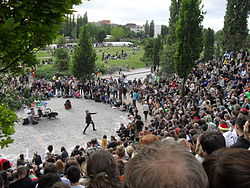 Kreuzberg
phone: +49 30 6911211 (box office)

address: Fidicinstraße 40

Theatre that features all plays/music theatre in English.

phone: +49 30 6924785

address: Kottbusser Damm 22

Cinema showing independent and older movies, some in English. It is the oldest cinema in Germany (1907).

phone: +49 30 61609693

address: Dresdener Straße 126, 10999 Berlin

Also non-mainstream movies in this small cinema built in the 1950s.

Badeschiff

address: Eichenstraße 4

An old cargo ship hull converted to a fresh-water swimming pool, anchored permanently on the river Spree. Provides a nice opportunity to swim on the Spree, without actually swimming in the river itself, which is far too polluted. A bar with disco DJ music is situated just next to the pool. In winter time, the pool is covered against the weather.
Friedrichshain
Prenzlauer Berg
Nearly everywhere the clubs and bars are open till at least 17:00 (on weekends).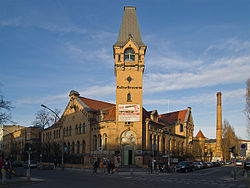 MauerparkAt the end of the Eberswalder Straße, it was once a piece of the Berlin wall. Today in the summer it is a nice place to be, especially for young people. There's an interesting flea market going on every weekend. In the summer weekend afternoons, you can witness - or participate in - the Bearpit Karaoke.

Bearpit KaraokeThe famous open-air karaoke at the amphitheater in Mauerpark where the bravest can show off to the incidental audience.

address: Schönhauser Allee 36

A complex that was once a brewery. There you can find the Jazz Cafe, the SODA restaurant where you can enjoy a fine meal of insects, and some clubs: Club 23, nbi and frannz. The KulturBrauerei also has several cinemas showing alternative movies, the Kesselhaus concert house, and one of the best shop for instruments in Berlin, the "Sound and Drumland".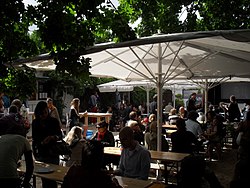 Kastanienallee and Oderberger StraßeNice streets with lots of little shops and cafes to sit outside in the summer and watch people pass by. Once a catwalk for fashionistas and hipsters, Kastanienallee had been nicknamed Casting Alley some years ago.

HelmholtzplatzLittle park with cafes and restaurants surrounding it.

address: Stargarder Straße 76

Get you hair cut for €20.

Max Schmeling HalleNamed after the 1930s boxing great and home of the Berlin Füchse (originally from Reinickendorf) the premier Handball team of Berlin

Friedrich Ludwig Jahn Sportpark

address: Cantianstraße 24

A soccer and American Football stadium with track and field facilities which has been host to several important competitions in the past, including most German Bowls (Finals of the German American Football League) in recent years as well as the 2018 edition to be held in October
Wedding
phone: +49 30 89644787

address: Nordufer 26

A public beach at the small natural lake Plötzensee.
Buy
Kreuzberg and Friedrichshain
Department stores
Karstadt HermannplatzBuilt in 1929; large shopping center including clothing, book, and beauty products shops, a post office, and its own high-end supermarket, (probably only second to KaDeWe in the area). The grocery section of Karstadt has fresh meat, seafood, and cheese sections.
Markets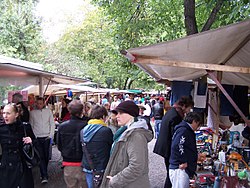 Flea market at Boxhagener Platz

address: Boxhagener Platz 1

address: Marheinekeplatz 15

A market hall with different vendors (mostly food and drinks) including butchers, bakeries, delicatessen, fruits and vegetables etc.

address: Eisenbahnstraße 42/43

A market hall.
Record stores
phone: +49 30 61130111

address: Paul-Lincke-Ufer 44a

The techno record shop in Berlin; huge back catalogue and weekly news from around the world; also reggae 7" and drum&bass.

address: Ohlauer Str. 44

Big second-hand record store.

phone: +49 30 6947463

address: Zossener Straße 33

A large selection of electronic music, from the latest releases to older vinyl.
Clothing
phone: +49 3027589725

address: Gabriel-Max Str. 9

Funny, creative selection of rockabilly and punk t-shirts, bar, and band merchandise.

address: Gärtnerstraße 29a, Friedrichshain

Friedrichshain is full of screenprinted t-shirt stores, but Nüx stands out with their high-quality natural-history-museum designs such as owls, fish, and foxes.
Gifts and home decor
Prenzlauer Berg
Flea markets
address: Bernauer Straße 63-64

Great Sunday flea market for vintage clothing, furniture, rare vinyl; not many professionals. A typical Berlin experience.

Rosenthal Flohmarkt

address: Kopenhagener Straße 79-81
Bookshops and record stores
Dense

address: Danziger Straße 16

Electronic music.

Der Plattenladen

address: Eberswalder Straße 32

Techno

Da Capo

address: Kastanienallee 96

Second-hand, rock, pop.

Hip-Hop-Records

address: Schönhauser Allee 49

Hip hop.

phone: +49 30 666 47 820

address: Oderberger Str. 4, 10435 Berlin

When this record store opened in 2002, it mainly specialized in Latin, Brazil and Italo house, disco and nu-jazz tunes. Today it offers vinyl from a wider range of genres including techno, electro and house.

Vopo Records

address: Danziger Straße 31

Punk, rock.

address: Choriner Straße 49

International children's and youth literature and music.

phone: +49 30 44739573

address: Schönhauser Allee 113

For a wide variety of cheap secondhand books.
Clothing
phone: +49 30 40301770

address: Raumerstraße 8

Berlin fans from all over the world can be spotted with the television tower, the city map or Berlin's area code +49 30 on their tausche bags with exchangeable flaps and insets.

Princigalli

address: Stargarder Straße 67

Quality shoes and cosmetics for ladies.

Who Killed Bambi?

address: Eberswalderstraße 26

Colourful tops, bags & things.

Sgt. Peppers

address: Kastanienallee 91-92

70s secondhand.

Pauls Boutique

address: Oderbergerstraße 47

Sneakers.

address: Kastanienallee 12

Sneakers.

Flagshipstore

address: Oderberger Straße 53

Hit In TV

address: Oderberger Straße
Decoration
phone: +49 30 33986168

address: Greifswalder Straße 195

Great selection of old design lamps in a crazy shop.
Gesundbrunnen and Wedding
Farmers Market

address: Leopoldplatz

A small open-air farmers market right on Leopoldplatz.
Eat
Kreuzberg
Known for its innovative and good value restaurants. The variety of immigrants can be witnessed in the corresponding restaurants. The following have been recommended in a fast changing market.
Budget
phone: +49 30 7623 2253

address: Friesenstraße 2

address: Oberbaumstraße 8

address: Mehringdamm 36

Excellent pork sausage (German: Wurst) with curry ketchup and curry powder.

address: Adalbertstraße 93

Hannibal

phone: +49 30 611 5160

address: Wiener Straße 69

Famous for its burgers and weekend buffet breakfast, good cocktails in the evening.

phone: +49 30-695 64 359

address: Bergmannstraße 11 and 98

Morgenland

phone: +49 30 611 3291

address: Skalitzer Straße 35

Asian breakfast buffet on weekends (reservation essential!), restaurant and bar every day with good food for mid-range prices.

address: Mehringdamm 32

Regarded as the best Döner Kebab in Berlin. Mustafas is a local institution and draws crowds of tourists and Berliners day and night. Expect to stand in line for 20-40 minutes to get your kebab, which attests to the reputation that this place has. Drink beer from the convenience store while you wait.

address: Oppelner Straße 4

Sudanese fast food shop, serves excellent falafel and other Arabic snacks together with its famous peanut sauce.

phone: +493069507333

address: Friesenstr. 22

This authentic Thai restaurant offers great food made from fresh ingredients. The ambiente and staff are nice and friendly, and they know English (and Thai, for that matter). Most meals are available as a small portion.

phone: +49 30-61 07 47 03

address: Wiener Straße 20.

Innovative and creative Asian, Polynesian and South American breakfast.

To Loc

address: Wiener Straße 61

Indochinese cuisine. Some consider it the best Asian kitchen in the neighborhood.

address: Wiener Straße 19

Authentic and clean Chinese restaurant with excellent dumplings.

phone: +49 30 61625959

address: Hasenheide 10

Delicious Vietnamese cuisine, a main course for €4.90. They have a daily changing menu and great lassis.

phone: +49 30 61283110

address: Paul-Lincke-Ufer 23

Small cozy Mediterranean mama-style home cooking situated near the Landwehrkanal. The menu is small but changes everyday. Friendly and not too expensive, very nice wines. Fresh pasta is a must.
Opposite the U-Bahn station Schlesisches Tor is a very good Turkish bakery which offers broad variety of pastries, cakes, bread and other sweet stuff.
Mid-range
Angus Restaurant Steak-Haus

phone: +49 30 786 27 42

address: Kreuzbergstraße 11-12

Pizza, pasta, different steaks etc. Its one of the cheapest restaurants in Kreuzberg and because of this very crowded (which is part of the nice atmosphere).

phone: +49 30 2593 1818

address: Wilhelmstraße 22

Spanish and Argentinian food. Food is good and portions are not so small, waiters are able to speak English. Have a look at the water and drink prices and the taxes to avoid surprises.

phone: +49 30 60031680

address: Mehringdamm 57

In a former chocolate factory. Buffet for €12, brunch on Sunday for €14.90.

phone: +49 30 614 2373

address: Adalbertstraße 10

The flagship of a chain run by Mehmet Aygun, who has a pretty good claim to inventing the döner kebab as we know it.

Kuchenkaiser

phone: +49 30 614 02697

address: Oranienplatz 11-13

Institution for generation 68, breakfast till 16:00 and global kitchen highlights every week.

phone: +49 695 37 859

address: Muskauer Straße 9

Jamaican-European fusion food.

phone: +49 30 40 50 57 75

address: Rykestraße 36
Friedrichshain
Budget
phone: +49 30-667 634 53

address: Krossener Straße 21-22

Huge selection of gourmet burgers at reasonable prices. Mediterranean, gorgonzola/walnut, vegetarian, etc., with plenty of homemade relishes and dressings. There is a take-away shop in no 22 and a restaurant in no 21, but the benches outside the take-away shop are crowded, especially in summer.

address: Warschauer Straße 34

Inexpensive cafe selling burgers (€5), salads, breakfast and hot and cold drinks, opens early and closes late. Also offers a wide range of bottled beers (€1.50-3) to take away,

Nil Sudanesische Spezialitäten

address: Grünberger Straße 52

Unique place with ethnic cuisine from Sudan. Wonderful place for anybody who would like to taste something from Africa, like quark cheese with fenugreek and black cumin or peanut soup - different and original.
Mid-range
phone: +49 30 547 300 42

address: Simon-Dach-Str. 14

Mediterranean food. Amazing weekend brunch buffet. Free wireless Internet

Fischschuppen

phone: +49 163-987 07 67

address: Boxhagener Straße 68

Very fresh and good fish. Select your fish and have the chef cook it.

Freischwimmer

phone: +49 30 610 74309

address: Vor dem Schlesischen Tor 2

Beautiful waterside restaurant on a wooden quay with European dishes and a relaxing view on the Flutgraben river branch.

Korea Manna

address: Niederbarnimstraße 11

Don't let the Heineken sign misguide you, this place serves excellent Korean food. Try the steamed soy beans as starter and have a bottle of Soju, a Korean schnaps similar to wodka.

phone: +49 30 936 21978

address: Krossener Straße 20

Portuguese tapas, bread, wine, beer and coffee. Good place to have a real dinner or just hang our and share a bottle of wine with a couple of tapas

phone: +49 30 95616788

address: Libauer Straße 11

Austrian restaurant. The best schnitzels in the area. The vegetables are great too.

phone: +49 30 29 04 97 04

address: Simplonstraße 16

Very white and clean but still cozy restaurant with knodels, schnitzel and other German food. Very popular, so make a reservation. Has a great Sunday brunch with a buffet of dishes in individual glass jars.

phone: +49 30 45 30 565 25

address: Am Schwanenteich im Volkspark Friedrichshain

The Schoenbrunn Restaurant is in the Volkspark Friedrichshain next to "Großer Teich". There's also a beergarden where you can sit outside in the sun.

Spätzle & Knödel

phone: +49 30 27571151

address: Wühlischstraße 20

Simple and informal restaurant but the southern Swabian-Bavarian food is delicious and spot on. And they have good beer to match the food.

phone: +49 30 29 364 816

address: Holteistraße 6-9

This big old gym is turned into a spacious restaurant, lounge and cocktail bar. Free wireless internet.
Splurge
Prenzlauer Berg
Prenzelberg is very popular with students and other budget-conscious people but in recent years the area (especially around Kollwitzplatz) has been developed which has attracted more upmarket restaurants. In other words, check the menu before you sit down.
address: Prenzlauer Allee 46

Thai restaurant. Excellent service. Recommended for value and food quality by many in the tourist scene. Has same prices as in 1996.

Berliner Currywurst & Coffeeshop

phone: +49 171-2891768

address: Knaackstraße 98

Finest German food.

Butter

address: Pappelallee 73

Good food, nice salads, reasonable prices.

Kleine Eiszeit

address: Stargarder Straße

The best ice-cream in Prenzlauer Berg, expect a long queue, closed in winter.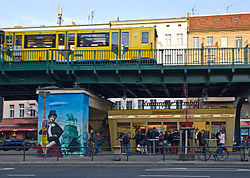 address: Schönhauser Allee 44B

Famous for their Currywurst and truly does sell the best curry sausage you can find. A local would ask for a "Curry mit 'ner Schrippe" (a Currywurst with a roll). Since 1930.

Neugrüns Köche

phone: +49 30-440 12 092

address: Schönhauser Allee 135a

Modern German kitchen with daily changing menus. Opens at 18:00.

Pizzeria I Due Forni

address: Schönhauser Allee 12

Water (Tafelwasser) is free, a rarity in Germany.

address: Kastanienallee 7-9

A beer garden with a restaurant under shady chestnut trees. The oldest beer garden in Berlin.

phone: +49 30 390815 131

Small bistro inside upscale supermarket. Sit at the small tables or at the bar, where you can watch the chef prepare your meal from scratch with fresh high quality ingredients. The food is simple and fresh, always excellent cuts of meat or fish. The wine by the glass is a good deal, which you know because you can pick up a bottle from the wine-rack behind you when you leave.

phone: +49 30 55 06 55 78

address: Prenzlauer Allee 145, 10409

Excellent Indian food.
Wedding
address: Sprengelstraße 41

A restaurant making very good pizza with vegetarian or vegan toppings. Their wood-fired oven is right at the entrance of the place, and you sit downstairs in the basement (or outside in summer).

phone: +49 30 4537613

address: Nordufer 10

Good German food. Has a nice outside seating area in summer covered by trees.
Drink
Kreuzberg and Friedrichshain
Bars and cafes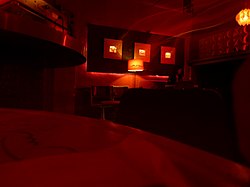 Kreuzberg and Friedrichshain are popular areas for a drink and most people enjoy the very laid back atmosphere. Usually people tend to go out later so most bars start to fill up from 22:00-23:00.
Astro Bar

phone: +49 173 7682625

address: Simon-Dach-Straße 40, 10245

This trashy retro-bar with its futuristic robot decoration and Atari asteroids screens is certainly the most popular and long-established venue in Friedrichshain's Simon-Dach Kiez. Varying DJs play electro sounds from 22:00.

address: Wiener Straße 21

Bar in the heart of Kreuzberg, DJs on the weekend (rock, pop, funk, soul, disco), entrance is free and international audience. Mondays all cocktails half price.

Bar Sofia

address: Wrangelstraße 93

Small café and bar with a bit tacky but very nice interior. Open daily from 09:00. Hot drinks till 20:00, alcoholic drinks from 18:00. Outside sitting permitted only until 00:00.

phone: +49 30 61074029

address: Schlesische Str. 41, 10997

Cozy retro-style bar with a lot a vintage furnishings, graffiti and typographic artworks on the wall, a large selection of beverages including bio drinks and regularly live music.

phone: +49 30 31987929

address: Revaler Straße 99, 10245

Popular bar-club, offering live music, funk, disco and house music in an old brick building on the RAW compound.

address: Gneisenaustraße 58

Small and cosy bar with a large choice of cocktails, spirits and wine. For those who are hungry this place serves tapas and for those who want to smoke some cigars.

phone: +49 30-691 13 52

address: Arndtstr. 25

Bar with sushi and excellent cocktail and whiskey selection.

address: Holzmarktstraße 25

Sort of a cultural village at the Spree River founded by an alternative cooperative with a restaurant, bar, club, beer garden, an acrobat's hall, music studios and a bakery.

phone: +49 3029367534

address: Wühlischstraße 22/23

Microbrewery in former butcher shop. They have a good selections on tap, all own production and from other microbreweries.
Konrad Tönz , Falkenstein Straße. Retro 70s with live DJs playing old vinyl records. Most comfortable chairs imaginable and the barman, Jens, is a local legend for his friendliness and charm. Open Tuesday-Sunday 20.00 - whenever (usually around 3-5AM).

address: Lübbener Straße 19

Gigs 5 days a week (indie-rock, experimental, folk). Crazy decor (everything is upside-down). Open daily from 18:00 till late.
Luzia, Oranienstraße 34. Hot brand-new bar.

Orient Lounge

phone: +49 30-69 56 67 62

address: Oranienstraße 13

Relaxing lounge with good drinks.

address: Wienerstraße 20

Punkrock Club with live music, great deco.

Wiener Blut

address: Wiener Straße 14.

Wirtschaftswunder

address: Yorkstraße 81

Is synonymous with the expression "economic miracle". The prices are very low and it has a good local Kreuzberg atmosphere.

Wuergeengel

address: Dresdener Straße 122

Great bar for cocktails. Fills up fast even on weekdays and is very crowded on Fridays and Saturdays.

address: Großbeerenstraße 64

The most adventurous bar in Berlin. You'll be surprised what kind of drinks they have on their beverage list. They say some people entered the Zyankali and never came out again.

phone: +49 30 22 60 03 77

address: Gärtnerstrasse 6

Cozy wine bar with a selection of interesting German wines. And some Hungarian. They also serve delicious sausages and cheeses.
Clubs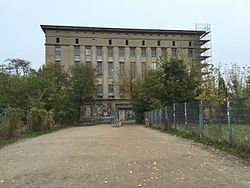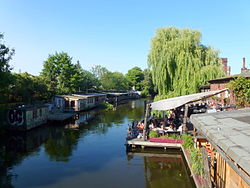 phone: +49 30 695 18942

address: Am Flutgraben 1, 12435 Berlin

Atmospheric club at the waterside well-known for minimal techno, house and techno-house and high-grade DJ bookings. Originally only a summer venue, it now also has an indoor winter location at the MS Hoppetosse excursion ship which is docked nearby.

phone: +49 030 755494071

address: Köpenicker Str. 18, 10997

Two-floor techno club in an old industrial building near the Spree river, which the New York Times describes as follows: "greets visitors like a junkyard, with the wreck of a 1950s car, an outdoor seating area that looks as if was knocked together from scraps and, as a box office, the remnants of a bus."
Geburtstagsklub, Am Friedrichshain 33. Best reggae party in town on Mondays, other days vary.

phone: +49 030 25922702

address: Obentrautstraße 19-21

Drum 'n' Bass, Latin, hip-hop and Afrobeat club within a vaulted former military horse stable.

phone: +49 30 297766770

address: Revaler Straße 99, 10245

Open-air summer club with a large swimming pool, bars, DJs and parties.

phone: +49 30 695 18942

address: Eichenstrasse 4, 12435 Berlin

This is a club for minimal techno and house located on a permanently docked excursion ship on the Spree river, the MS Hoppetosse. It is the winter venue for the Club der Visionäre. It has one dance floor and a Martion Bullfrog sound system.

phone: +49 30 61074309

address: Vor dem Schlesischen Tor 2, 10997

This techno club began as a cozy, wild and wooden open-air club at the waterside for the summer season, but now also offers two indoor dancefloors. It is behind the Freischwimme restaurant. The warehouse-like mainfloor has a decent Kirsch audio system.

address: Pettenkoferstraße 17A

4 floors of goth, industrial, synthpop, post-punk, wave, metal, hardcore and punk, in a backstreet of Friedrichshain. Impressive exterior and outdoor bar. Less snobby than some goth clubs, but the unofficial dress code is all black.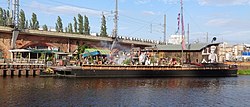 Prenzlauer Berg
Bars and cafes
address: Raumer Straße 16

Relaxed Mediterranean/Arabic style bar cafe serving good food, with occasional music and movies, has a separate smoking section.

phone: +49 30 44051228

address: Kastanienallee 103

Iconic café-bar in a retro living room style right at the entrance of Kastanienalle from where locals overlook the neighborhood from behind large windows. With regular live DJs, readings and Hollywood swings on the street.

phone: +49 30 44356640

address: Lychener Str. 11

Longstanding and often crowded bar with kickers and small dance floor. DJs play indie, latin, disco or electro.

address: Metzer Straße 22

A large bright corner cafe and bar. Direct fair trade coffee, organic teas & ice cream, home-made cakes. Evenings there is bistro food including pastas and salads.

address: Dunckerstraße 10

Popular cafe and bar specializing in chocolate, ran by the chocolate shop next door. Has a great view of Helmholtzplatz and good hot chocolate.

phone: +49 30 48623292

address: Oderberger Str. 44

This iconic café with its diversified collection of colored retro chairs and its wild, overgrown outdoor terrace which is so typical of the hipster-hedonist Kastanienallee-Oderbergerstraße heighborhood offers crêpes, waffles, housemade ice cream, and an excellent breakfast. On crowded weekends, count in some waiting time.

KulturbrauereiA former brewery which now houses many bars and restaurant. Most famous is the Soda Club with an excellent bar.

Luxus bar, Prenzlauer Allee 197. Great small bar, nice with bricks and an aquarium, looks like an old meat store, can be crowded, excellent music.

phone: +49 30 44317844

address: Kastanienallee 85

Alternative cafe serving vegetarian and vegan food, quite a recommended place for people interested in squats and related issues.

address: Rykestr. 45

Third wave coffee place with a beautiful terrace and homemade sweets & savory food. Its espresso blends include 'the coffee collective' Copenhagen and 'bonanza coffee heroes' Berlin. Pour-over coffee with single origins for a real caffeine high are obtained too.

phone: +49 30 443 830

address: Schönhauser Allee 176

This is a large former brewery compound which has been reused as a cultural and nightlife center with changing clubs, bars, theaters, restaurants, a large beer garden, a hostel and artist's studios for decades. It is a bit similar to the Kulturbrauerei but has been wilder and more run-down until its recent renovation.

Schwarz-Sauer

address: Kastanienallee 13

Very popular bar with a local and international student crowd.

phone: +49 30 68004203

address: Kollwitzstraße 18

Cozy retro-style cocktail and whisky bar right at the entry point to Kollwitzstraße with 1950s furniture and wallpapers and reasonable prices. This long-standing bar had already been here when the surrounding buildings did not yet exist at all.

phone: +49 30 4455458

address: Lettestraße 6, corner of Schliemannstraße

The first 'trendy' bar in this part of Prenzlberg and still very popular. Serves breakfasts and is open late. Separate smoking room

phone: +49 176 24412940

address: Lychener Str. 15

Retro-stlye bar with very relaxed atmosphere, genuine 1970s interior and excellent drinks. The prices are fair and the bartenders are nice. DJs play electro or soul.
Clubs
address: Schönhauser Allee 36

A typically Berlin-style club where you can play table tennis and drink cheap beer, very friendly place.

address: Dunckerstr. 64

Alternative, hard rock, indie.

address: Schönhauser Allee 36

A relaxed pop/rock club in Kulturbrauerei, also with live music.

phone: +49 30 1234567

address: Berliner Str. 80, 13189

This is the successor of the famous Klub Der Republik at Pappelallee 81. Its legendary decoration, original lamps and sofas from East Berlin's demolished Palast der Republik, has moved to the new location. The dancefloor is in the cellar of a former brewery, and the bar within a decommissioned transformer station. Varying DJs play electro and house.

address: Greifswalder Straße 224

Former communist youth center. Three floors with different music and hosts live concerts.

address: Greifswalder Str. 212/213

Alternative. Some indie concerts and club nights. Take care, there is also a FC Magnet Bar in Veteranenstraße, which is a cool place, too.

address: Schönhauser Allee 36

Nice, small club, not really for dancing, with friendly people and live sets. Usually electro or minimal music, as well as indie pop/rock nights.
Bastard, Kastanienallee, next to Prater Garten. Mostly punk, ska and alternative music.
Wedding
phone: +49 162 4931915 (mobile phone)

address: Triftstraße 67

A small brewery. In summer, they also have a biergarden (one of the few in Berlin where you can actually bring your own food). Throughout the year you can drink their beer in the bar (no outside food allowed there). They also distill spirits (including whisky).

phone: +49 30 52667668

address: Antwerpener Straße 3

A micro-brewery. You can drink their beer from tap (and other bottled beers) at their nice bar. Has some outside seating in summer. You can bring or order your own food and consume it in the bar.
Sleep
Friedrichshain
Budget
Mid-range
Splurge
Kreuzberg
Budget
Baxpax Kreuzberg Hostel Berlin

phone: +49 30 6951-8322

address: Skalitzer Straße 104

Kreuzberg's first hostel (est. 2000) is just off the main drag. Facilities are well maintained with very clean bathrooms/showers. Young (twenties) and mixed crowd. Beer for sale at all hours!

phone: +49 30 26395880

address: Stresemannstraße 66

The hostel is in an old nunnery in Kreuzberg next to S Anhalter Bhf.

phone: +49 30 200 95 45-0

address: Tempelhofer Ufer 14

In one of Kreuzberg's "Kiez" a 15-min walk away from checkpoint Charlie. It's a renovated 19th-century building and all the interior is new. The service at the reception is also very nice and helpful.

phone: +49 30 600 57 52 7

address: Adalbertstraße 97, 10999 Berlin

They have a big common room, a full equipped kitchen and free Internet.

MotelOne Berlin Mitte

phone: +49 30 611 7116

address: Schlesische Str. 18

An old factory building turned into a hostel.

phone: +49 30-69 515 510

address: Hobrechtstr. 43

Little hostel in the neighborhood of Kreuzberg.
Mid-range
phone: +49 30-69536450

address: Urbanstraße 171

Bed and Breakfast. Staff speaks English.

phone: +49 30-600 3168-0

address: Mehringdamm 57

3-star hotel in a transformed chocolate company. Modernised rooms with good location to Bergmann Kietz. Known for its breakfast/brunch and good service. Popular with mid-aged city tourists in a small and cozy hotel.
Splurge
phone: +49 30 230060

address: Schöneberger Straße 3, 10963 Berlin

Uniquely designed hotel in Berlin's city centre, near Potsdamer Platz in the former Siemens building on Schöneberger Straße.
Prenzlauer Berg
Budget
Mid-range
phone: +49 30 48496466

address: Immanuelkirchstr. 34, 10405 Berlin

Reservations necessary, minimum stay two nights.

Hotel ackselhaus & blue home Berlin

phone: +49 30 44 33 76 33

address: Belforter Straße 21

In the centre of Berlin, 700 m away from the TV Tower, Alexanderplatz.
Splurge
Wedding
Uncategorized