Berwick-upon-Tweed
Berwick-upon-Tweed
is a historic walled town in
Northumberland
. It is the most northerly town in England,just 2 1/2 miles from the border with Scotland. Its strategic location means that it has changed hands following wars between England and Scotland a total of nine times.
Berwick is pronounced 'Berrick'.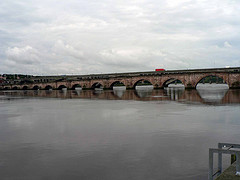 Get in
Berwick station
is about 45 mins from
Edinburgh
or 3 hours 45 mins from
London King's Cross
on the East Coast Mainline.
Buses run from
Newcastle
. However, the majority of visitors will come from the A1 trunk road from England into Scotland. The old A1 ran into the town, but the modern road bypasses the town to the west.
Get around

Berwick is a beautiful town to walk around. There is no necessity to use the bus as most attractions are located within a small radius.

See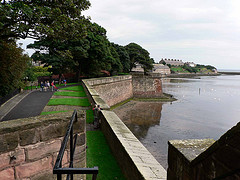 The town is surrounded by historic walled ramparts, constructed during times of war between England and Scotland.

Berwick Barracks and Main Guard

phone: +44 1289 304493

address: Parade, TD15 1DF

They were built between 1717 and 1721 with a design attributed to Hawksmoor.

address: Northumberland, TD15 2JY

Paxton House

address: Paxton TD15 1SZ

Just over the border west into Berwickshire, this is a Palladian 18th C mansion built by Adam and furnished by Chippendale. The east wing is the picture gallery.
Berwick-upon-Tweed is home to the second largest mute swan colony in Britain, which can make for pleasant viewing. They can be observed making their way up the Tweed estuary.
Do
Explore the castle walls. The walls are a great way to see the town with good views over both buildings and the harbour.
Eat
phone: +44 1289 304173

address: North Road

The most northerly pub in England. Excellent menu and service.

phone: +44 1289 302736

address: 39 Bridge Street, Berwick-upon-Tweed, TD151ES

The restaurant is in the centre and stands out for a couple of reasons. Firstly, the menu is vast, there is a huge choice of different-style Indian dishes. Secondly, the restaurant is in a converted pub which still retains its original bar.
Sleep
address: Dewars Lane Granary, Dewars Lane, TD15 1HJ

55 bed hostel in a 240 year old granary.

address: Magdalene Fields, Berwick Upon Tweed

Self catering holiday park located around 1 mile from the centre of the town and offering a range of different accommodation in caravans.
The area depends upon tourism for a lot of its revenue and there are many second or holiday homes which are offered as self-catering accommodation .

Travelodge

phone: +44 371 984 6279

address: North Road, Berwick-upon-Tweed, TD15 1UQ

Usual Travelodge experience. Positioned right next to a McDonalds and a Morrisons which gives other, easy food choices. 30 minutes' free Wi-Fi (in reality more). Easy to find, being about three seconds' drive from the A1167 turn off from the A1. 20 minutes' walk/on a main bus route/an easy drive/a short taxi ride from the centre.
Go next