Beth Guvrin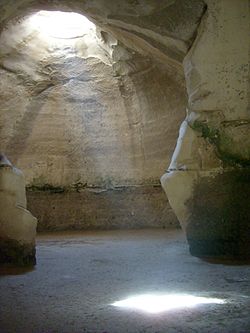 Beth Guvrin or Beit Guvrin
is a national park located in south-central
Israel
, in the
Shfela
region. It is a particularly good place to visit in summer, because its caves are cool and shady even when it's scorching outside.
Understand
The city of Maresha, mentioned several times in the Bible, was located here. Later on, in the Roman period, the neighboring town of Beit Guvrin grew to become a major regional center: Eleutheropolis (Greek, Ελευθερόπολις, "Free City"). Today you can see ruins from these ancient cities, including burial caves, agricultural facilities, and an amphitheater.
A complex of underground structures, an ancient "city under a city", consisting of man-made caves, excavated from the thick and homogenous layer of soft chalk in Lower Judea is situated below the ancient twin towns of Maresha and Bet Guvrin. It was inscribed in the
UNESCO
World Heritage list in 2014.
Landscape
Climate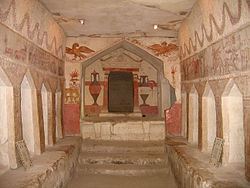 Get in

Bus 66 runs from Kiryat Gat 6 times a day each direction. The bus is operated by Dan BaDarom.
By car, the site is about 15 km east of Kiryat Gat or south of Beit Shemesh.

Do
Dig for a DayTake part in a real archaeological dig at Tel Maresha.
Go next

In the region there are many caves used as hiding places by Bar Kochba's fighters in the Jewish rebellion against the Romans in the second century.