Bethany Beach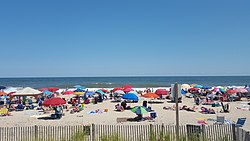 Bethany Beach
is a city in
Delaware
. It is a beach town located along the Atlantic Ocean in Sussex County.
Understand
Bethany Beach is a beach town along the Atlantic Ocean in Sussex County in the southern part of the state of Delaware. The town is home to several beach houses and some hotels where visitors stay. Bethany Beach has a small boardwalk and a downtown area along Garfield Parkway. Bethany Beach, along with South Bethany and
Fenwick Island
to the south, is along a part of the Delaware coast known as "The Quiet Resorts" as it has a more laid-back atmosphere compared to
Rehoboth Beach
and
Dewey Beach
to the north and
Ocean City, Maryland
to the south. Bethany Beach has a year round population of just over 1,000 but an additional 15,000 people come to the town to vacation during the summer months. Many visitors to Bethany Beach come from other parts of Delaware and the Baltimore-Washington Metropolitan Area. The peak time for tourists to come to Bethany Beach is between Memorial Day weekend in late May and Labor Day weekend in early September.
Climate
Bethany Beach has a humid subtropical climate with four seasons. Summers are hot and humid, with highs averaging in the 80s and lows averaging in the 60s. Summer temperatures occasionally rise to the 90s or 100s. Winters are cool to cold, with highs averaging in the low to mid 40s and lows averaging in the low 30s. Winter temperatures often drop below freezing. Spring and fall can be variable, usually with milder weather. Bethany Beach averages 46.95 inches of precipitation a year, which is fairly evenly distributed throughout the year. The area does see snow in the winter months, but far less than inland locations. In the warmer months, the area does experience thunderstorms, some of which can be severe. Bethany Beach is prone to tropical storms and hurricanes from the Atlantic basin in the late summer and early fall, but typically only receives the remnants of such storms as they typically weaken by the time they reach this latitude.
Get in
By car
Bethany Beach is served by Delaware Route 1 and Delaware Route 26. Delaware Route 1 (Coastal Highway) heads north along the coast to
Dewey Beach
,
Rehoboth Beach
, and
Lewes
and south along the coast to
Fenwick Island
and
Ocean City, Maryland
. Delaware Route 26 (Garfield Highway) provides access to Bethany Beach from inland points to the west.
From northern Delaware, follow Delaware Route 1 south to Milford and take the exit to U.S. Route 113 south. Follow U.S. Route 113 south and turn left onto Delaware Route 20 east in Dagsboro. Delaware Route 20 leads into Delaware Route 26 east, which heads into Bethany Beach. While you may use Delaware Route 1 south all the way to Bethany Beach, there is a lot of traffic lights and congestion in the Rehoboth Beach area, and therefore using U.S. Route 113 bypasses a lot of the congestion.
From the Chesapeake Bay Bridge and the Baltimore/Washington D.C. area, follow U.S. Route 50 east and turn left onto Maryland Route 404 east in Wye Mills. Continue along Maryland Route 404 east to the Delaware border, where the road becomes Delaware Route 404. Follow Delaware Route 404 east to Georgetown and turn right onto U.S. Route 113 south. Follow U.S. Route 113 south and turn left onto Delaware Route 20 east in Dagsboro. Delaware Route 20 leads into Delaware Route 26 east, which heads into Bethany Beach.
By plane
The closest airport with commercial air service to Bethany Beach is the Salisbury-Ocean City-Wicomico Regional Airport (
SBY
) near Salisbury, Maryland about 35 miles to the southwest. This airport is served by American Eagle flights from American Airlines hubs in Charlotte and Philadelphia. Rental car service is available at this airport. Visitors may also fly into Baltimore-Washington International Airport (BWI) near Baltimore or Philadelphia International Airport (PHL) in Philadelphia, which are served by a wider selection of airlines. From here, you can rent a car and drive to Bethany Beach.

By train
The closest train station to Bethany Beach is Wilmington Station in Wilmington about 105 miles to the north. Wilmington Station is served by Amtrak trains operating on the Northeast Corridor between Washington, D.C. and Boston along with some long-distance trains, and SEPTA Regional Rail commuter trains running along the Wilmington/Newark Line from Center City Philadelphia. Rental car services are available at the station. From Wilmington Station, rent a car or take DART First State buses to Bethany Beach.

Get around
Bethany Beach is very pedestrian and cyclist friendly. Smart vacationers will leave the family car back at the hotel or rental home and walk into town.
Public parking spaces are located along all streets east of Atlantic Avenue, Atlantic Avenue, Pennsylvania Avenue, Garfield Parkway east of Delaware Route 1, lots off of Garfield Parkway and Hollywood Street, Campbell Place a short distance east of Pennsylvania Avenue, Central Boulevard a short distance east and west of Pennsylvania Avenue, and the north side of 5th Street between Pennsylvania Avenue and Atlantic Avenue. There are a total of 1,000 public parking spaces in Bethany Beach. Between May 15 and September 15, all public parking spaces in Bethany Beach are either enforced by parking meters or require parking permits. During this time, parking meters are in effect from 10AM to 11PM between Hollywood Street and 1st Street and from 10AM to 8PM on all other streets. There is a 2 hour time limit for metered parking on Garfield Parkway while all other parking meters do not have time limits. Parking may be paid with the Parkmobile app at pay stations or individual parking meters, credit cards at pay stations, or quarters at pay stations or individual parking meters. At pay stations, patrons will receive a ticket which should be displayed face-up on their car dashboard. The rate for the parking meters is $2.00 per hour, with credit card payments charged a $0.50 transaction fee. Change machines are available at 99 Garfield Parkway, both sides of Garfield Parkway between Pennsylvania Avenue and Atlantic Avenue, Garfield Parkway and Pennsylvania Avenue, Pennsylvania Avenue and Central Boulevard, Ocean View Beach Lot, Campbell Beach Lot, and Wellington Beach Lot. Parking permits are also valid for all paid public parking spaces except those located on Garfield Parkway, though parking is not guaranteed with a permit. Parking permits may be purchased 24 hours daily from the Bethany Beach Police Department at 214 Garfield Parkway. Costs are $27 for a one-day permit, $79 for a three-day permit, and $183 for a seven-day permit. Daily permits are valid for the date purchased up until 10AM the following day. Public parking spaces typically fill by 10:30AM on Saturdays and Sundays in the summer.
Outside of the public parking spaces, Residential Parking Permits are required along east-west streets between May 15 and September 15. Only people who own property in Bethany Beach are allowed to purchase Residential Parking Permits.
phone: +1 302 539-1996

The Bethany Beach Trolley (a bus made to look like an old-time streetcar) operates two routes connecting the beach with the residential areas in the western part of town. The North Trolley Route runs along Atlantic Avenue and west to the neighborhoods to the north of Garfield Parkway. The South Trolley Route runs along Atlantic Avenue and west to the neighborhoods to the south of Garfield Parkway. Service operates every half hour with the exception of a lunch and dinner break. Riders may flag the trolley to drop-off or pick-up anywhere except along Route 26 and Route 1.
Ride-hailing services
Uber
and
Lyft
can be used to get around Bethany Beach.
See
The Beach No visit to Bethany is complete without a day passed on its lovely beach, which is among the nicest in the Middle Atlantic. And the town's small but well-kept boardwalk will be a pleasant surprise for those accustomed to the crass commercialism that so dominates most larger Atlantic Ocean resort town beachfronts. Just be sure to take in a sunrise from it during your visit.

phone: +1 302 539-8011

address: 214 Garfield Pkwy

Visit and learn about Bethany Beach's birth as a religious retreat over a century ago. Museum is home to memorabilia and photographs.
Chief Little Owl. 24 foot totem pole erected in 1976 on Garfield Parkway at Delaware Avenue (Del. Rte. 1).
Do
Swimming in the ocean is a popular activity in Bethany Beach. Beachgoers like to get some sand between their toes and a little sun. But this quiet beach town has more to offer than meets the eye.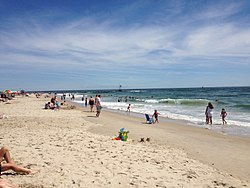 phone: +1 302-227-2800

address: 39415 Inlet Rd, Rehoboth Beach

A long stretch of natural beach that offers several areas for four-wheel vehicle access and surf fishing. A popular activity is treasure hunting on the beach with metal detectors. The park is home to two ocean swimming areas that have bathhouses that offer showers and changing rooms, concession stands, and rental of umbrellas, chairs, and rafts. The beaches are patrolled by lifeguards from 9AM-5PM between Memorial Day weekend and Labor Day. A surfing beach is located north of Indian River Inlet. The inland bays offer activities such as boating, windsurfing, and sailing, with some areas allowing crabbing and clamming. A boat launch is available for boating access to the bay. The Indian River Marina is located to the north of the Indian River Inlet. The state park also has a nature trail on Burton's Island and two picnic pavilions. Delaware Seashore State Park offers year-round camping for tents and RVs.

phone: +1 302-227-2800

address: 39415 Inlet Rd, Rehoboth Beach

Located along Indian River Bay, Holts Landing State Park offers a diverse landscape including bayshore beach, grassy fields, and hardwood forests. The park features a crabbing and fishing pier along Indian River Bay, a boat ramp, and picnic areas. Primitive tent camping is available at Holts Landing State Park. The state park has two main trails and several smaller trails for hikers, bicyclists, and horseback riders.

phone: +1 302-539-7525

address: 400 Bethany Loop

An 18-hole golf course with holes that are par 3 or par 4.

South Coastal Library

address: 43 Kent Ave

Just a few blocks from the boardwalk, Bethany's library it has a great children's section perfect for that inevitable rainy day.
Buy
Bethany Beach is home to several small stores. Many of the stores are located along the town's main street, Garfield Parkway, near the boardwalk.
Beach Plum Antiques

address: 900 N. Pennsylvania Ave

Open daily.

address: 123 Garfield Pkwy

Shop that is home to the acclaimed Beach Town Posters

Bethany Beach Bike Shop

address: 901 N. Pennsylvania Ave

Bethany Surf Shop

address: 99 Garfield Parkway

phone: +1 302 541-4119

address: 33548 Market Pl

Boutique selling accessories, jewelry, Trollbeads, handbags, shoes, and clothes

address: 117 Atlantic Ave

A unique toys and games store stuffed to the gills with toys from the years of decades past. In addition, they carry used video games, and a very extensive selection of board games. On most Thursdays after 7PM, they host a free gaming night, for people to come by and play board games.
Eat
Bethany Beach offers a large selection of restaurants. Some of them include:
address: 99 Hollywood St

Restaurant offering choice meats, local seafood, vegetarian items, and farm-to-table freshness.

address: 6 N Pennsylvania Ave

Restaurant which specializes in BBQ.

address: 39817 Hickman Plaza Rd

Casual seafood restaurant offering live entertainment and a kids play area.

Bethany Diner

address: 792 Garfield Pkwy

Diner serving breakfast, lunch, and dinner.

address: 210 Garfield Pkwy, Suite D

Seafood restaurant offering all-you-can-eat crab, shrimp, fried chicken, corn on the cob, and hush puppies.

address: 1111 Coastal Hwy

Waterfront seafood restaurant with a bar serving handcrafted cocktails.

The Cottage Cafe Restaurant & Pub

address: 33034 Coastal Hwy

The Cottage Cafe has a well-earned reputation for serving up reliable homestyle American fare, including crab cakes, fries, and burgers, in a family-friendly atmosphere twelve months a year.

DB's Fries

address: 100 Garfield Pkwy

Restaurant specializing in fries.

address: 789 Garfield Pkwy

This classic Italian restaurant boasts seasonal specials and a take out menu, using local fresh ingredients.

Grotto PizzaA Delaware favorite, Grotto Pizza is a modestly-priced local pizza chain known for pizza with a swirl of sauce on top. Grotto Pizza has two locations in Bethany Beach and one location in South Bethany
phone: +1 302-539-3398

address: 98 Garfield Pkwy

phone: +1 302-537-3278

address: 793 Garfield Pkwy

phone: +1 302-537-6600

address: 8-10 York Beach Mall
phone: +1 302-537-1170

address: 101 Garfield Pkwy

Custard and ice cream place that is a beach favorite
phone: +1 302-537-6621

address: 97 Garfield Pkwy

A Caribbean-themed restaurant on the boardwalk at Garfield Parkway.
address: 28635 Coastal Hwy

Casual seafood restaurant serving crab cakes, lobster rolls, and fried fish.
phone: +1 302-539-5384

address: 39610 Jefferson Bridge Rd

Crab house offering all-you-can-eat crabs. Happy-hour specials available.
address: 769 Garfield Pkwy

Restaurant offering fresh seafood and farm-to-table dining.
address: 121 Campbell Pl

Seafood restaurant offering casual, fine dining.
Pie

address: 120 Central Blvd

Pizza place offering gourmet grilled pizza along with wine and craft beer.
address: 105 Garfield Pkwy

American restaurant offering farm-to-table breakfasts, sandwiches, salads, and gluten-free and vegetarian items.
address: 26 N Pennsylvania Ave

New American restaurant and bar featuring full plates, tapas, and occasional exotic game.
Turtle Beach Cafe

address: 98 Garfield Pkwy

Cafe serving breakfast, lunch, and coffee. Take-out available.
Drink
Originally a dry town, Bethany Beach now has a limited number of establishments with liquor licenses. That said, this is not much of a party town. Dewey Beach, to the north, is popular with the college-age frat set, while those looking for a more urbane scene will be well-served by a visit to Rehoboth Beach.
Sleep
The following realtors offer vacation rentals in Bethany Beach:
Stay safe
Beach Patrol +1 302 539-8114
Police Department +1 302 539-1000
Bethany Beach Volunteer Fire Company +1 302 539-7700
Bethany Beach is generally fairly safe, but there are a few things to keep in mind. Rip currents sometimes occur in the water. Make sure to stay in view of lifeguards, and if you're caught in a rip current, swim following the curve of the shoreline rather than tiring yourself out fighting to get back to shore immediately. Sharks are occasionally spotted off the coast, but attacks are very rare.
Go next
Rehoboth Beach - Beach town to the north with a 1-mile long boardwalk, restaurants, shops, and outlet stores
Dewey Beach - Beach town to the north that features waterfront dining and nightlife
Ocean City - Beach town to the south that has 10 miles of beaches, a 3-mile long boardwalk, arcades, amusements, shopping, dining, and nightlife
Indian River Life Saving Station, Coastal Highway 1, just north of the Indian River Inlet. Worth a trip to visit Indian River Life Saving Station, which dates back to early days of 20th century.
Prince George's Chapel, Vines Creek Road (Del. Rte. 26) and Chapel Lane, Dagsboro. +1 302 732-6835. Anglican chapel built in 1755 and completely restored.