Bethel (Alaska)
Bethel
is a city in
Alaska
. It is the main hub for many of the surrounding native villages and the main port of the Kuskokwim River in the Yukon Kuskokwim Delta. Bethel is one of the largest cities in Alaska. It's also home to the
K-300 dogsled race
and
Cama-I
, the largest Native arts festival in Alaska.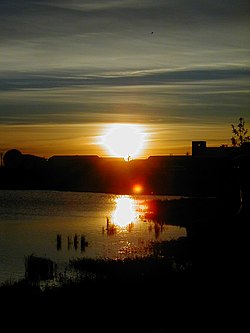 Understand
Because of its location and culture, there is much that a traveler would benefit from understanding before visiting Bethel. The town is far off the road system, 400 air miles west of Anchorage, and all fuel, grocery, household items, building materials, vehicles, etc., must be flown in or shipped in by barge. Consequently, prices are relatively high, even by Alaskan standards. It is good to remember, however, that as a hub community, Bethel prices are still less (sometimes by half) than prices even in nearby villages.
The Y-K Delta (as the greater area is called) is home to an active subsistence culture. Many residents, both Native and Non-Native, fish and hunt for food as well as for sport.

Climate
Get in
The only practical way into Bethel from outside the immediate area is by air, and Bethel is served by a number of daily flights from Anchorage.
Alaska Airlines
has morning, afternoon, and evening flights, with
Era Alaska
adding additional flights in the morning and afternoon.
Get around
There are a number of transportation options in and around Bethel for visitors and residents, depending on one's level of ambition:
By plane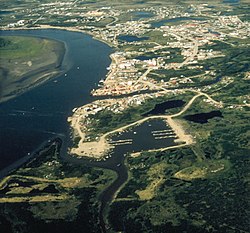 The state-owned Bethel Airport is the regional transportation center, and is served by seven passenger carriers, including Alaska Airlines, Grant Aviation, Hageland Aviation Services, Yute Air and Frontier Flying Service. It also receives service from five cargo operators: Everts Air Cargo, Northern Air Cargo, Alaska Central Express, Arctic Transportation Services, and Lynden Air Cargo, and numerous small air taxi services including Renfro's Alaskan Adventures. The airport ranks third in the state for total number of flights. It offers a 6,400-foot asphalt runway and 1,850-foot gravel crosswind runway. Three float plane bases are nearby: Hangar Lake, H Marker Lake, and the Kuskokwim River. See the
Go next
section for more details.
By taxi
Bethel has more cabs per capita than any other city in the United States. Due to the dependence of many residents and visitors on cabs, and the high cost of transportation, cab fee maximums are mandated by the City of Bethel, corresponding roughly to the distance of the trip. Rides within the central area of town are $5, to or from the Tundra Ridge subdivision are $7, to or from the Airport is $7, and trips to the Kasayuli Subdivision are $10.
Something important for visitors to Bethel to know is that cab rides in Bethel are often a "communal" experience. While riding in a cab from the airport into the main part of town, for example, the cab driver may get a call to pick up another fare in Blueberry Subdivision. While potentially uncomfortable for the shy traveler (or if the cab gets too crowded), this is actually a great way to meet people in Bethel.
These are numbers for the taxi services in Bethel
Alaska Cab

phone: +1-907-543-2111

City Cab

phone: +1-907-543-4141

Kusko Cab

phone: +1-907-543-2169

Quyana Cab

phone: +1-907-543-5454

Taxi Cab

phone: +1-907-543-5199
By public transit
The city bus cost $2 a ride for adults. Routes include most of the town. A route map and schedule can be found
here
.
By car
Those visiting for an extended period of time or moving to Bethel may be considering renting or buying a car. As is true with most everything in Bethel, prices are substantially higher than one would expect, both to purchase (or ship in), own, and maintain a car in the rural setting, but many people feel it is worth it for convenience and independence.
Gas prices are high ($6.67/gallon in Apr 2016), but do not fluctuate daily as in other places. Cost is set by the retailers when new supplies are barged in through the brief summer months, meaning the price of gas will only change a couple times a year.
Crowley Marine Services Inc

phone: +1 907 543-2217

address: 380 Standard Oil Rd

Nicholsons Auto Inc.

phone: +1 907 543-2667

address: 630 3rd Ave

Northstar Gas

phone: +1 907 543-4277

address: 1170 Bridge Way Bridge

Quick Food Center

phone: +1 907 543-2245

address: 1510 Chief Eddie Hoffman Hwy

Quick Stop

phone: +1 907 543-3090

address: 658 Ptarmigan St
See
Kuskokwim RiverOne of the largest rivers in Alaska it offers some great views and activities.

Bethel Art GuildThis local attraction is a great showcase of local art. It's near the local Moravian Church.

BIA BuildingsA popular local attraction is a group of abandoned buildings. While it is illegal to go into them they are still an interesting sight to see.

White AliceCold War-era radio towers that were put up all around Alaska, the Air Force and National Guard have been systematically taking them down all across the state. Bethel used to have one of the few remaining White Alices in the state, but alas it was doomed to be taken down. It is being disassembled.

Bethel DumpstersA unique community activity a number of years ago the city decided to spice up the streets a bit by painting dumpsters in each neighborhood. They are definitely an interesting sight to see.

Skate parkSee the farthest west skate parks in the United States.

Yupiit Piciryarait Cultural Center

phone: +1 907 543-4500

address: 420 Chief Eddie Hoffman Hwy
Do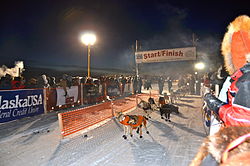 Salmon fishing and hunting for moose, caribou, ptarmigan, geese, ducks, rabbits, bears. Best hunting spots: Northeast of Bethel, Behind the Bethel Airport by about a mile.
Kuskokwim 300In the winter, you can go dog sledding & compete in Bethel's annual Kuskokwim 300 were you race to the village of Aniak & back to the city of Bethel with a dog team & a race sled. Also you can go to the town's basketball games during the high school basketball season.

Pinky's ParkIt used to be a small park for kids, you can still go to the place where it used to be, some remains are still there, it is unknown when it was taken down. It used to be a hangout spot for a lot of teenagers and then it became the city's most hazardous spot due to muffed up teenagers going there to do some bad stuff.

BMXThere are really good bikers at the skate park. Some aren't so good and some are great.
Buy

There are many stores in Bethel like AC, Swanson's, Corina's, and Sammy's Market. They are expensive but better than nothing.
You could go look at the great artwork at the Cultural Center and maybe buy a piece of locally produced art for an awesome price. They have Saturday Markets every Saturday at the Cultural Center where they sell food, some artwork, and drinks like pop and coffee.

Eat
Casa

phone: +1 907-543-4343

address: 310 3rd Ave

Arctic Sun Restaurant

phone: +1 907-543-3878

address: 3551 State Highway

Best pizza in town but takes long to deliver

V.I.P.

phone: +1 907-543-4777

address: 1220 Chief Eddie Hoffman Highway

Best known for good sushi.

Dimtri's

phone: +1 907-543-3434

address: 281 4th Ave #A

The only Greek restaurant in town decent gyros, superb "white" pizza.

Red Basket

phone: +1 907-543-7001

address: 751 3rd Ave

Large food variety.

123 Barbecue

phone: +1 907-543-4444

address: 120 State Hwy

Quick delivery, mediocre burgers.

Panda 24

phone: +1 907-543-2159

address: 431 Ridgecrest Dr

Tundra

phone: +1 907-543-5005

address: 473 Ridgecrest Dr

Front street café

phone: +1 907-543-3408

address: 920 Front St

Shogun

phone: +1 907-543-2272

address: 320 Tundra St

One of the better restaurants in town.

Corina's

phone: +1 907-543-4430

address: 238 East Ave

Family Restaurant

phone: +1 907-543-2159

address: 431 Ridgecrest Dr
Sleep
There are a number of perfectly comfortable bed and breakfast options in Bethel, with a couple of real standouts among them (check out the White House if the owner, Fran, isn't booked solid), and one centrally located "regular" hotel.
phone: +1-907-543-4612

address: 751 3rd Ave

The closest thing to a "normal" hotel that a visitor unfamiliar to the bush will find in Bethel. A big plus is the fact that there is a restaurant in the building (Red Basket, formally Alba's Pizza). Can get a little loud on the weekends, especially around PFD time.

Great Bear Bed & Breakfast

phone: +1-907-543-4011

address: 206 Akiak Dr

Allanivik

phone: +1-907-543-4305

address: 1220 Chief Eddie Hoffman Highway

Suite 881

address: 881 3rd Ave

Tundra Suites

address: 473 Ridgecrest Dr

Riverview Bed and Breakfast

phone: +1-907-543-2737

address: 355 1st Ave

Delta Cottages

address: 124 Gunderson Ct

Bentley's Bed and Breakfast

phone: +1-907-543-3552

address: 624 1st St

White House Bed and Breakfast

phone: +1-907-543-2388

address: 971 7th Ave

Lakeside Lodge

phone: +1-907-543-5275

address: 198 H Marker Lake Rd