Bethlehem (Pennsylvania)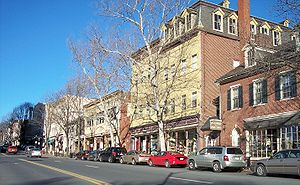 Bethlehem
is a city in
Pennsylvania
, located along the Lehigh River 50 miles north of
Philadelphia
and 70 miles west of
New York City
. It is part of the
Lehigh Valley
metropolitan area, along with
Allentown
and
Easton
.
Understand
The town was originally settled by a small group of Moravians (a persecuted Protestant religious group from modern-day Germany and Czech Republic) led by Count Nicolaus von Zinzendorf in 1741. Bethlehem was founded on Christmas Eve and named for Jesus' birthplace,
Bethlehem
,
Israel
– presumably because it was mentioned in the Christmas carols that were sung by the Moravians.
During the
Industrial Revolution
, Bethlehem Steel became one of the largest steel companies in the world; its principal rival at the time was Andrew Carnegie's U.S. Steel in
Pittsburgh
.
San Francisco
's Golden Gate Bridge was built from Bethlehem steel, as were many of
New York City
's skyscrapers. Through two
world
wars
, Bethlehem's steel was strategically vital for shipbuilding. By the early 1980s, local coal and steel makers were struggling as prices were undercut by imports; in 1982, Billy Joel sang "Out in Bethlehem they're killing time, Filling out forms, Standing in line" in a popular tune named for nearby
Allentown
. In a pattern typical of the
US rust belt
, huge factories built for economies of scale when times were good were being out-manoeuvred by smaller, more modern competitors with lower costs and more advanced technology. By 2001, the factories had closed; the bankrupt company was disbanded in 2003.
Today, the city has a population of about 73,000, and is a thriving with a beautiful historic district, many cultural events, two colleges, an
industrial museum
and a large casino/entertainment complex.
The official
Visitor's Center
is in the Historic District at 505 Main St., offering general information along with walking tours, literature, and the general gamut of tourist office services.
Get in
By plane
Lehigh Valley International Airport
(
ABE
) serves the greater Lehigh Valley metropolitan area and is located about 10 to 15 minutes north of downtown Bethlehem by car. It is served by several legacy carriers, including Delta Connection, United Express, and American Airlines. Each offers several daily flights to their Eastern U.S. hubs. Air Canada Express offers flights to Toronto, and the airport usually has at least one low-cost airline with service to Orlando-Sanford. At present, there are two; Allegiant Air and Direct Air. The airline(s) flying this route tends to change fairly often; when one budget startup goes out of business, the airport tends to replace it with another one within a few months.
The airport is on the outskirts north of the town. Take Airport Road south and get on Route 22 east; get off at the next exit for Schoenersville Road. Make a left at the end of the ramp, and follow the road until it becomes Elizabeth Avenue, at which point you are now in Bethlehem. To get to the south side, take the Route 378 exit instead of Schoenersville. When the expressway ends, make a left at the light onto S. 4th St; you are now in the south side neighborhood.
Other airports in the general vicinity are Philadelphia International Airport (PHL) and Newark Liberty International Airport (EWR). As these are hubs for major airlines, and generally speaking much larger airports, flying into Philly or New York can save you a bundle. Expect a 90-minute drive from Philadelphia and about 2 hours from Newark, depending on traffic.

By car
Bethlehem is easily accessible by car from virtually any direction.

From New York City & Newark, NJ: Take I-78 East to Exit 67. Turn right into PA-412 North. PA-412 terminates four miles later in Bethlehem's South Side.
From Philadelphia: Take I-476 (toll) to "Lehigh Valley Exit" to US-22 East, to PA-378 South. Expressway ends at bridge between Downtown & South Side Bethlehem.
From Bucks County: Take PA-309 North to PA-378 North.
From Harrisburg to the West: Take I-78 West to Exit 67. Turn right into PA-412 North. PA-412 terminates four miles later in Bethlehem's South Side.
From the Poconos: Take PA-33 South to its terminus to I-78 East to Exit 67. Turn right into PA-412 North. PA-412 terminates four miles later in Bethlehem's South Side.
By bus
Several companies offer daily coach service to Bethlehem. Buses depart from the Park & Ride at I-78 and Route 412 in south Bethlehem, which can be reached by local mass transit.

phone: +1 610 868-6001

Trans-Bridge operates busses to several points in New York. The "New York" bus stops at the Port Authority Bus Terminal, but there are also services to the major airports.
Get around
There are several ways to get around Bethlehem, depending on where you are and where you're intending to go. If you're sticking to the downtown areas, you can easily cover it on foot. It's important to realize that there are two downtown areas. "Downtown" usually refers to the historic district on the northern side of the River, centered along Main Street. However, it can also refer to the area on the south side along 3rd/4th St. on the other side of the Lehigh River, usually referred to as "South Side". Both can be covered on foot, but to go between them probably requires a car/bus. You can walk it, but it is a little more than a mile walk, most of it over the Hill-to-Hill bridge. Your best bet for parking downtown is the North Street garage, a short walk from the historic district (downtown). If your travel involves going to other residential neighborhoods or neighboring towns, it's probably best to go by car, bus, or taxi.
By car
Driving is relatively easy in the Allentown/Bethlehem area, when compared to Philadelphia or New York City roads. The highways and expressways can be very congested at rush hour, and local drivers on US 22, I-78, PA 33, PA 309 and PA 378 can be reckless and exceed the speed limit at times. Local streets can be clogged at rush hour, mostly on the South Side. Some roads are not for an inexperienced driver. Rental car companies can be found at the Lehigh Valley International Airport.
Parking
Bethlehem has many lots and a few public garages to park in. The North Street and Walnut Street garages are located in Center City, and the Riverport garage is on the South Side. The rate is $1 per hour, or $6 maximum rate (all day). For details, including directions and a complete list of parking lots and garages, the Bethlehem Parking Authority's website is listed
here.
In addition to garages and lots, metered parking is available throughout the city. The rate is $0.50 per hour from 8AM-9PM.
By bus
Lehigh and Northampton County Transportation Authority (LANTA) provides affordable bus transportation in and around Bethlehem and the surrounding cities of Allentown and Easton. LANTA provides a Metro Plus service for those who are unable to ride the regular Metro due to disability or requirement of special attention. Schedules are available online. The majority of LANTA buses serve mainly to link the three downtown areas of Allentown, Bethlehem, and Easton, and if you're not staying/going in these areas, the bus service can be impractical. Service centers around the main depot at Broad & Guetter Streets, and fans out in every direction. The cost is $2 a ride, $3 for a day pass, with discounts if you buy in bulk.
By taxi
Several taxicab companies are in the Lehigh Valley. Taxis do not often drive around the streets, like in New York City. In the Lehigh Valley, you will often need to call ahead and arrange for the taxicab to pick you up.
Quick Service Taxi Co. provides service throughout Allentown and Bethlehem. They can be called at +1 610 434-8132.
Lehigh Valley Taxicab Co. operates out of Bethlehem and serves the Lehigh Valley. They can be contacted at +1 610 867-5855.
On foot
The best way to see Bethlehem's Historic District is on foot. Just about all its notable landmarks are on Main St., or close to it. When referring to places along Main, "the top" of Main is at the intersection of Main and Broad, which is on top of a hill; "the bottom" is at the Brethren's House, and all points past there. If you want to walk to the South Side (not recommended; save your feet by forking over the two bucks for the bus), go over the bridge at the bottom of Main next to the Hotel Bethlehem. Make a left when you reach another bridge, the Hill-to-Hill Bridge. When you get to the end of the bridge, turn left on 3rd or 4th St. to reach the South Side. There are also several pathways which lead to the Monocacy Creek from Main St.
See
phone: +1 610 332-1300

address: 25 W. 3rd St.

The Banana Factory is a community center for the arts located on Bethlehem's south side. What was once a banana warehouse has been renovated into space for two art galleries, classrooms and artists' studios. Offers daily guided tours and the Lehigh Valley's only glassblowing studio, and on the first Friday of every month there is an art showing. Unless you love art it's probably not worth a trip to the South Side by itself but if you're there already be sure to stop by.

phone: +1 610 691-6055

address: 1461 Schoenersville Rd

This local plantation affords an excellent look at rural life in the Lehigh Valley beginning in the mid-18th century. The restored Moravian homestead highlights farm life and the region's industrial development through the mid-19th century. It not only makes the past come alive but provides a showcase for agriculture and craftsmanship of the era.

phone: +1 610 866-5661

address: 73 W. Church St.

Recognized as the country's oldest Moravian Church.

phone: +1 610 691-6055

address: 459 Old York Rd

This area contains a few of Bethlehem's early buildings, like the 1761 Tannery, 1762 Waterworks (a National Historic Landmark), the 1869 Luckenbach Mill, and the Miller's House Garden (an 1870 Victorian garden). The area is right along the Monocacy Creek, so it's a great place to take a walk or even fish, right downtown (if you have a license).

Kemerer Museum of Decorative Arts

phone: +1 610 691-6055

address: 427 New St.

An interior designer's dream come true, the Kemerer Museum is dedicated to the history of decorating. There are various rooms dedicated to periods in history, with textiles, china, paintings and more. The Victorian gardens on the ground provide a welcome spot to relax.

address: 66 W. Church St.

For those interested in learning a bit about the history of Bethlehem, or the Moravian people or faith, this should be a stop on your tour. It's housed in the oldest building in Bethlehem, the 1741 Gemeinhaus. It's only open on the weekends, however.

National Museum of Industrial History

phone: +1 610-694-6644

address: 602 E. Second St

A Smithsonian affiliate dedicated to preserving America's rich industrial heritage. Exhibits on steel-making and manufacturing.

The Star of BethlehemThe Star of Bethlehem on top of South Mountain is lit year-round. It is visible from most parts of Bethlehem.

phone: +1 610 332-1300

address: 101 Founders Way

A venue for performing arts and cinema on the former Bethlehem Steel property. Attractions include the ArtsQuest Center, the performing arts center; the Air Products Town Square, with over 400 free musical performances annually; PNC Plaza, which will host festivals, a farmers market, and will also serve as a stage for Musikfest; and the Levitt Pavilion, which will host free concerts.

1751 Old Chapel

phone: +1 610 691-6055

address: Church St. & Heckewelder Pl.

This Moravian Chapel was the second place of worship in Bethlehem's colonial era.

phone: +1 610 866-1758

address: 564 Main St.

The 1758 Sun Inn is a restored 18th-century inn that once hosted guests such as George Washington and Marquis de Lafayette. It has been fully restored and now offers guided tours, which provide a rich history of 1700s Bethlehem. It can also can be rented and catered for private gatherings. The courtyard also hosts a summer concert series.

phone: +1 610 691-6055

address: 501 Main St.

If you're on Main St., you'll probably walk by here. A nice little place to stop by with a few rotating exhibits, but not a destination itself. Beer enthusiasts take note though - Goundie was the town brewer back in the day.
Tours
Self-guided tour books are available for purchase at the Visitor's Center located at 505 Main St.

Historic Bethlehem Walking Tours

address: 505 Main St.

Tours begin at the Visitor's Center and highlight the important historic sites.

First Friday Southside Tours

address: Banana Factory

Tours begin at the Banana Factory and highlight the churches, architecture, and multiculturalism of the South Side.

Segway Tours

Bethlehem by Night Bus Tour

phone: +1 610 691-6055

address: 505 Main St.

This seasonal tour runs throughout December on Thurs., Fri., Sat., and Sun. at 5:30PM, 6:30, and 7:30PM. Tour includes a display of the Christmas City by bus.

Old Bethlehem Walking Tour

phone: +1 610 691-6055

Tours run Nov 26-Dec 30. Sights include 18th century buildings and other historic sites.

Old Fashioned Horse Drawn Carriage RidesCarriage rides last about 15 minutes and run from Nov 27-Dec 30.
Do
If you were to give a typical building in each of Bethlehem's two main destinations, the Historic district would be "18th-century industrial museum" and the South Side would be "college bar" (or as of late, "casino"). If you don't fit either of those (and especially if you have kids) you'll still find stuff to do; you'll just need a car and maybe a GPS to get there. Most of the city's parks, recreational facilities, sports teams, etc. are on the outskirts of the city, and the bus system leaves a lot to be desired here.
phone: +1 610 865-7079

address: 400 Illick's Mill Rd

Public golf course within the city. For those looking for just a round on the links on the cheap, the city course will do the trick. Also see Saucon Valley Country Club below.

address: 1325 Steel Ave.

The new, 750 ft. long skateplaza offers BMX riders and skateboarders a safe place to ride. Located across from the Sands Casino.

phone: +1 610 759-2270

address: 4733 Hanoverville Rd

Dutch Springs is an water/adventure park located on a 50-acre lake. It offers scuba diving, an Aqua Park filled with large inflatable objects, rock climbing and more. There are campgrounds on-site and they host picnics and parties.

Illick's Mill ParkOne of Bethlehem's city parks, Illick's Mill Park offers ice skating (seasonal), pool (seasonal), the Bethlehem Municipal Golf Club (see above), a driving range, baseball fields, and a nature trail that runs along the Monocacy Creek.

Local High School AthleticsBethlehem's three largest high schools, Bethlehem Catholic, Freedom, and Liberty, all participate in the Lehigh Valley Conference, a highly competitive athletic division often ranked among the best in the state and nation. In 2008, Liberty High School won Pennsylvania's Division AAAA state championship in football. In addition to football, Bethlehem's girls and boys basketball and wrestling events are also very highly attended.

Rose Garden Park

address: 8th Ave. & Union Blvd.

Rose garden Park is on 8th Ave and offers playgrounds, a bandshell where the Music in the Park concerts are held, and the DAR House, a replica of the first log cabin built in Bethlehem.

Sand Island Park

address: River & Main Sts.

Sand Island Park is located along the Lehigh River and offers playgrounds, hiking trails, basketball and tennis courts, and plenty of room for fishing.

phone: +1 484 777-7777

address: 77 Sands Blvd

A casino (established 2009) with 3,000 slot machines, 89 tables, a 300-room hotel (May 2011) and 200,000 square feet of retail space on the formerly-industrial South Side. Part of a larger complex which includes the Museum of Industrial History (opened mid-2016) and which, when completed, will have over 40 stores at The Shoppes at Sands, 6 restaurants, 2 night clubs, a cineplex, 46,000 square feet of convention space, 18 meeting rooms and a concert hall.

phone: +1 610 758-7150

address: 2050 Saucon Valley Rd

Saucon Valley Country Club is a world-class golf course just south of the city. The club's courses have been named among the best in the state, and the Old Course played host to the 2009 U.S. Women's Open. Inquire within for information on tee times and greens fees.

phone: +1 610 625-4774

address: 320 E. 1st St

The Steel Ice Center houses daily public indoor ice skating on the South Side, along with open hockey sessions.
Events
Annual Bethlehem Bach Festival

address: Lehigh University

Takes place during the first weekends in May.

phone: +1 610 841-5831

address: Downtown Bethlehem

January 31 through February 6.

phone: +1 610 882-0450

address: Burnside Plantation

The Blueberry Festival is held each July and features a classic car show and various products made from blueberries.

Celtic ClassicCeltic Classic is an annual festival in Bethlehem celebrating Celtic heritage. The festival is host to the U.S. National Highland Games and provides an environment filled with a wide variety of traditional elements. Included are traditional musicians, food vendors, clothing vendors, artists, and more. If you have a kilt, wear it. For the adventurous, taste the haggis, a traditional Scottish dish.

Christmas in July Sidewalk Sale

phone: +1 610 841-5831

address: Historic District & South Side

July 23–25, 2010. Stores feature many discounts and bargains during this 3-day event.

Fireworks

phone: +1 610 865-7081

address: Sand Island Park

Fireworks are shot off from Sand Island Park on July 4th, the end of Musikfest, and New Year's Eve.

Greater Lehigh Valley Auto Show

phone: +1 610 758-9691

address: Stabler Center

The Greater Lehigh Valley Auto Show runs from March 31-April 3, 2011. It is an annual display of over 200 vehicles.

phone: +1 610 841-5831

address: Downtown Bethlehem

Takes place at the beginning of October.

Historic Bethlehem ArtWalk

phone: +1 610 841-5831

address: Downtown Bethlehem

Held on the last Saturday of the month, May–August. Local artists and musicians line the sidewalks during each ArtWalk.

Historic Haunts of Downtown Bethlehem

phone: +1 610 866-5461

address: 428 Main St.

Held Saturdays and Sundays in October, 2010. Hour-long ghostly walking tour.

Lehigh Valley Food & Wine Festival

address: 77 Sands Blvd.

Held June 5–6, 2010.

phone: +1 610 432-4101

address: Stabler Center

The Lehigh Valley Home Show features builders and other home improvement ideas. It runs annually in early April.

Loop-a-palooza

phone: +1 610 751-4979

address: City-wide

September 18, 2010. Hop-on and off the Bethlehem Loop and enjoy refreshments and music.

address: Downtown Bethlehem

Musikfest is an annual 10-day music festival that takes place in the beginning of August. Over 1 million people visit the festival every year. All of the hundreds of concerts, save the headlining acts, are free of charge, and take place at various "platzes" set up around the historic district. Past performers include Ray Charles, The Beach Boys, Lynyrd Skynyrd, George Clinton and Ludacris. The food is top-notch (if expensive) as well, with everything from fried oreos to gyros, and there are activities for children as well. Check out the polka tent for the festival's only dance floor and the famous "Chicken Lady," a local legend.

Philadelphia Eagles Training CampPhiladelphia Eagles Training Camp is located at Lehigh University in South Bethlehem from July through August. Spectators can watch the Eagles practice and meet players on special autograph days. There are also activities for kids. Bring a cooler; temperatures reach into the 90s, and do not wear any other team's jersey unless you like getting heckled (or hospitalized) by notoriously rowdy Eagles fans. This is the best opportunity to see the Eagles close up, and it attracts thousands to each practice. Admission is free.

Rooftop Beach Party

phone: +1 610 841-5831

address: North St Parking Garage

Tickets are $10 to get you into this party, bringing the beach to Bethlehem. Held July 9, 2010 from 5:30-8:30PM.

Rooftop Fancy Flea Market

phone: +1 610 841-5831

address: North St Parking Garage

This flea market, held July 25, 2010, features many items at a small price.

Russian Days Festival

phone: +1 610 867-0402

address: 980 Bridle Path Rd.

Celebrated at the St. Nicholas Russian Orthodox Church, this festival includes Russian food and beer, arts and crafts, and desserts. Admission is free. Held September 10–12, 2010.
St. Nicholas Fall Greek Food Festival

phone: +1 610 867-1327

address: 1607 W. Union Blvd.

Local church festival featuring authentic Greek food. Held September 16–19, 2010.
Buy
Shopping (at least the outdoor, non-chain store variety) in Bethlehem centers on two streets; Main Street in the Historic District and 3rd Street on the South Side. Expect a fair share of mom-and-pop stores and art galleries. If you're just looking for a mall, Bethlehem has two, the Promenade Shops and the Westgate Mall. The former is new and somewhat ritzy; the latter is dead most of the time.
Eat
Downtown is where most of Bethlehem's most popular restaurants are located, but for the best bargains, you'll have to venture into the residential neighborhoods of the town. Generally speaking, the closer to the Historic District, the more expensive the restaurant, although you will find a few quirky cafes on Main St. Bethlehem's most popular upscale restaurants can be found on W. Broad St., known as "Restaurant Row."
Budget
Becky's Corner Deli

phone: +1 610 317-8077

address: 3 W. Broad St

A deli located inside the Plaza Mall that has coffee, tea, and deli sandwiches.

Bethlehem Book Loft & Caffeine Cafe

phone: +1 610 865-5989

address: 501 E. Fourth St

A great place on the South Side to read and drink a cup of coffee.

phone: +1 610 867-0105

address: 10 E. Broad St

One of the best diners in Bethlehem and the Lehigh Valley, located in Center City.

phone: +1 610 865-3036

address: 745 7th Ave

Sandwiches as well as a Russian and Ukrainian menu.

The Cup at the Bethlehem Dairy Store

phone: +1 610 691-8422

address: 1430 Linden St

The Dairy Store, sometimes called "The Cup" is the hot spot for ice cream, with 80 years of history and over 25 flavors. Lines can get long in the summertime, but it's well-worth the wait.

Carl's Corner

phone: +1 610 691-1541

address: 2 W. Elizabeth Ave

Located down the street from Moravian College's football field, steak sandwiches and subs offer an inexpensive postgame (or anytime) meal.

Carlos's Spanish & American Food

phone: +1 610 317-0677

address: 515 Keystone Ave

Carlos's features Puerto Rican cuisine at a budget price. Located on the West Side, 2 blocks from Allentown.

Darto's Restaurant

phone: +1 610 866-5005

address: 46 W. North St

Simple breakfasts and lunches. Limited seating.

Deja Brew

phone: +1 610 865-2739

address: 101 W. 4th St

Deja Brew is Lehigh U's local coffeeshop, frequented by students and staff alike. Penn State fans, watch the football game here; the owners are die-hard fans.

Francisco's Salvadoreño Restaurant

phone: +1 610 866-3556

address: 100 E. Broad St

Francisco's Salvadoreño Restaurant features Salvadoran food at a lower price.

Fu Lai

phone: +1 610 868-8388

address: 1903 W. Broad St.

Small neighborhood Chinese restaurant with good but inexpensive eats.

George's Light Lunch

phone: +1 610 865-1866

address: 308 W. Broad St

Known for steak sandwiches and cheeseburgers.

phone: +1 610 868-0176

address: 102. W. 4th St

A student favorite, the Goose offers delicious subs at great prices. Make sure to look at the various "specials" posted on signs behind the counter.

phone: +1 610 419-9833

address: 201 E. Third St

Java's Brewin'

phone: +1 610 419-9712

address: 1 E. Broad St

Located in Center City in the newly built East Broad Building.

The Java Mill

phone: +1 610 866-3901

address: 81 W. Broad St

Located in Center City, just east of Main Street.

La Lupita

phone: +1 610 868-5733

address: 4 W. 4th St

Located on the South Side near Lehigh University, this family-run Mexican restaurant is known for guacamole and tortillas.

phone: +1 610 866-1088

address: 13 W. 3rd St

Lehigh Pizza is one of many Bethlehem pizzerias, but it is one of the best on the South Side. Located next to the Banana Factory.

Mayflower Lunch

phone: +1 610 691-8111

address: 622 W. Broad St

Located on the West Side, just a few blocks west of the Downtown area. Offers breakfast and lunch in a "Brooklyn Diner" type setting.

MachPiccu Peruvian Restaurant

phone: +1 610 865-5838

address: 1330 E. 4th St

Located on the South Side, MachPiccu brings a piece of Peru to Bethlehem with this authentic restaurant.

Potts' Hot Dogs

phone: +1 610 865-6644

address: 114 W. Fairview St

Potts' (pronounced "Pott-zees") is, as anyone in Bethlehem will tell you, probably the best hot dog in the Lehigh Valley. The dogs are super cheap too.

Tasty Garden

phone: +1 610 867-8909

address: 524 W. Broad St

Very inexpensive Chinese cuisine. Exceptionally fresh and delicious.

Tulum

phone: +1 610 691-8300

address: 17 W. Morton St

Tulum is good for Mexican eats on the cheap, and they also have many vegetarian options.

Wired Gallery and Cafe

phone: +1 610 317-8010

address: 520 Main St

Cafe featuring drinks an desserts.

The Wise Bean Coffee & Espresso Bar

phone: +1 610 867-5010

address: 634 N. New St

The Wise Bean is a very relaxed coffeehouse downtown. It's a great place to get some work done; they'll even pop in your favorite CD if you ask.

phone: +1 610 861-7660

address: 1444 Linden St

Bakery offering 100% vegan fare.
Mid-range
phone: +1 610 317-2009

address: 520 Main St

Alando features Kenyan cuisine. Also offers catering.

phone: +1 610 317-8405

address: 4505 Bath Pike

Anna Bella's has some pretty darned good Italian food on the outskirts of town. The pizzas are recommended, and they do takeout too.

Old Belmont Inne

phone: +1 610 867-0140

address: 3750 Old Philadelphia Pike

phone: +1 610 882-1300

address: 569 Main St

The Brew Works is an industrial-themed restaurant with its own microbrewery on site. Serves standard American fare, but with a German influence, such as Wiener schnitzel and sauerkraut.

phone: +1 610 814-3000

address: 2915 Schoenersville Rd

Cactus Blue has been voted as one of the best Mexican restaurants in the Lehigh Valley.

phone: +1 610 861-7484

address: 462 Main St

Confetti Cafe is a traditional cafe featuring soups, lunch and dinner entrees, and 28 flavors of ice cream.

Europa Barbeque

phone: +1 610 814-6870

address: 954 Pembroke Rd

Europa Barbeque features Portuguese cuisine.

The Greek Isles Cafe Restaurant

phone: +1 610 865-5562

address: 1267 Birchwood Dr

The Greek Isles Cafe has an extensive all-Greek menu.

Hibachi Grill & Supreme Buffet

phone: +1 610 419-8388

address: 3811 Nazareth Pike

Fantastic buffet and hibachi at an inexpensive price.

phone: +1 484 241-4939

address: 1 E. Broad St. Suite 100

Popular chain of fondue restaurants.

Nawab Indian Restaurant

phone: +1 610 691-0388

address: 13 E. 4th St

Nawab is one of only a handful of local Indian restaurants. Eat in at the buffet, or takeout if you prefer.

Petra Mediterranean

phone: +1 610 866-3901

address: 81 W. Broad St

Features moderately prices Mediterranean cuisine.

phone: +1 610 997-5454

address: 3731 Route 378

Starter's original location on route 378, just over the South Mountain. Offering sports bar atmosphere and pub fare. Also has another location at the Bethlehem Golf Club.

phone: +1 610 867-2441

address: 605 Fiot St

Italian restaurant. Don't let limited parking, limited seating, and a not-so-pretty neighborhood fool you; the food here is worth it.
Splurge
Drink
If you're new to Pennsylvania, you will learn that there is always a place to drink, no matter where you are. There are many more bars than those listed here. With thousands of college students attending Lehigh University, Moravian College, and Northampton Community College, Bethlehem has its fair share of bars. Most are located on the South Side (close to the school) on 3rd and 4th Sts. You can find places to have a drink downtown too, but these cater more towards a more touristy, older crowd. The Historic District, particularly Main St., is well-preserved and clean, and the city government prefers to keep it that way; head to the South Side for a more uptempo scene, and stick to downtown for a more relaxed atmosphere.
Beef Baron

phone: +1 610 868-8995

address: 2366 Catasauqua Rd

Simple bar known for their roast beef sandwiches.

Essence Hookah Lounge

phone: +1 610 882-3888

address: 203 E. 3rd St

phone: +1 610 868-5311

address: 5 E. 4th St

For the best local bands, The Funhouse Pub is the place to go. Located a block down from Lehigh University.

phone: +1 610 867-2390

address: 7 E. 4th St

Godfrey Daniels is a non-profit, member-supported listening club on the south side. The acts focus on folk, but jazz, early rock-and-roll, and blues are also sometimes offered.

The Happy Tap

phone: +1 610 868-2790

address: 601 E. 4th St

Ironic name, located in one of the worst areas of the city.

Hookah Turka

phone: +1 610 419-5184

address: 44 W. Broad St

JP McGrady's

phone: +1 610 868-9625

address: 117 E. 3rd St

JP McGrady's is a popular bar for Lehigh students to grab a drink; expect crowds on weekends.

phone: +1 610 814-0400

address: 3259 Easton Ave

A pub remodeled from a historic inn. Monday night is Wing Night, featuring 40 cent wings. Good bar food. Great place for a drink.

Looper's Bar and Grille

phone: +1 610 882-2424

address: 313 E. 3rd St

Looper's is a golf-themed, business casual upscale bar with cigar and wine bars, and over 150 martinis available.

New Street Pub

phone: +1 610 867-9733

address: 728 N New St

Old Brewery Tavern

phone: +1 610 691-9406

address: 138 W Union Blvd

If you are looking for a dive, this is definitely the place.

phone: +1 610 868-1100

address: 515 Main St

Ripper's Pub

phone: +1 610 866-6466

address: 77 W. Broad St

If you're just looking for a hole-in-the-wall to grab a beer near Main St., Ripper's is probably your best bet.

phone: +1 610 866-1950

address: 21 E Elizabeth Ave

phone: +1 484 777-7777

address: 77 Sands Blvd

The Sands features the Molten Lounge, St. James Gate, Coil, and Infusion.

Steelgaarden

address: 569 Main St

Steelgaarden is a lounge located inside the Bethlehem Brew Works, with a large drink menu and six beers brewed onsite.

Sultana Hookah Lounge

address: 3 E. 3rd St

Extensive hookah tobacco flavors.

phone: +1 610 865-2591

address: 205 W. 4th St

The Tally-Ho's motto is "We try to be all things to all people," and they cater to locals, Lehigh students, and everyone else at this charming pub. While anyone is admitted at the Tally-Ho, this place is best if you are drinking shots. Lots of them.

Your Welcome Inn

phone: +1 610 868-8887

address: 325 S. New St

Your Welcome Inn is the local scene/dive bar, close to downtown.
Sleep
A number of hotels are located on Airport Road near LVIA and the immediate areas surrounding it. Most hotels are located on the outskirts of town along Route 22. If you're going downtown figure about a 10-15 minute drive, cab, or bus ride. For those who would prefer to stay downtown, the Comfort Suites on the SouthSide of downtown Bethlehem and the Hotel Bethlehem on the North side are your two options; the locations are great and are some of the best places to stay in the entire city.

Budget
Mid-range
Splurge
Stay safe
Bethlehem by most accounts is relatively safe for a city of its size. Most visitors to the downtown areas or the Sands Casino won't encounter any sort of crime or danger. Some areas of the Southside off of 3rd St. can be sketchy at night, and Lehigh students have a notorious reputation for drinking, so be wary of visiting at night if you'd rather not deal with inebriated college kids. The same type of drunken misconduct can also break out late at night during Musikfest as patrons make more trips to the beer tent, and it occasionally results in scuffles on and around Main St. (which gets extremely crowded around at closing). If you use common sense and don't stray from the main attractions you should have no problems, and Bethlehem is far safer than neighboring Allentown or Easton.

Connect
Seasonal greeting cards may be sent with a "Bethlehem" postmark, one of about a hundred US towns with Christmas or holiday-themed names (others include places like "Antler", "St. Mary" and "North Pole"). Holiday wellwishers outside the Bethlehem community can get the postmark by affixing postage to individual cards and then placing them all in a larger stamped envelope addressed to "Christmas Re-Mailing, Bethlehem, PA 18016". The cards must arrive in Bethlehem by December 15 to be postmarked and get to their destinations before Christmas.
Go next
Bethlehem's central location in the Lehigh Valley make it a good starting point for exploring the region and visiting other cities in the US Northeast.