Betong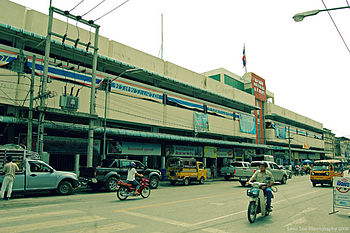 Betong
(เบตง) is a city in
Deep Southern Thailand
, quite close to
Yala
.
Understand
The word
betong
(เบตง) is Malay, meaning
bamboo
. This district is at the southernmost point of Thailand, about 140 kilometres from
Yala
, on Highway 410. The road between Than To and Betong winds on the hillside, affording the scenery of the lake, forest, and rubber plantations. The Betong city centre is surrounded by mountains, resulting in a cool climate and high rainfall with frequent fog in the morning. It is therefore dubbed
The City in the Fog with Beautiful Flowers
. Betong is a large developed district. Malaysian tourists often visit the area because of its proximity. The food is outstanding and the city has a lot of tourist attractions.
Get in
From
Yala
, one can take the van or taxi that operates hourly from across the Yala Railway Station. From
Hat Yai
there is an air conditioned van to Yala and Betong. . The service is at 08:00, 10:00, and 13:00.
Get around
You can get around Betong city by songthaew which is very cheap. Moreover, if you want to get a bit further from the city, you can rent a songthaew or motorbike-taxi to get you to more fantastic sight-seeing.

See
Bala-Hala ForestSuan Pa Phra Namaphithai Phak Tai, Section Two (สวนป่าพระนาภิไธยภาคใต้ ส่วนที่ 2) is a lush rain forest with many rare plants and wildlife, especially birds. It is also the habitat of the Sakai. This forest occupies a large area at the boundary of Yala and Narathiwat districts. It is the head stream of the Bang Lang Dam.
Betong Hot Spring

address: Ban Charo Parai Village, Tano Mae Ro

At the hottest spot, eggs are cooked in 7 min. A hot spring shower is also available. It is believed that hot spring can cure muscle pain and minor skin irritation.
Betong Municipality ParkOccupies an area of about 120 km² on a hill in the middle of Betong city centre. It is the overlook for the city, consisting of an ornamental plants and flowering plants garden, aviary, health garden, a sports ground, a swimming pool, and a playground. It is suitable for recreation and exercising. If one travels on Sukyang Rd for 7 km from the Park, one will reach the southernmost point of Thailand that has a road connection into Malaysia.
Chaloem Phra Kiat Ro Kao Waterfall

address: Ai Yoe Weng

The waterfall is more than 30 m high, surrounded by lush forest.

Inthason WaterfallA small waterfall with lush forest and pools for swimming and relaxing.
The Largest Mail Box in ThailandUsed to be at the Bell Tower intersection of Betong. It was built in 1924 before World War II as the communication post for the townspeople, through the radio implanted on top of the box, and the mail slot below it. A new box has been built in a larger size (9 m high), and is at the City Convention Hall (ศาลาประชาคม Sala Prachakhom). The new mail box attracts a large number of tourists who come to take photographs.
Piyamit Tunnel

address: Ban Piyamit 1, Tano Mae Ro

This area was once the base of Malaya Communist Division 2. The tunnel was built in 3 months in 1976, winding through the mountain for about 1 km, about 15-18 m wide with multiple entrances. It was used as the air raid shelter and food storage area. At present there is an exhibition about its history including the way of life in the forest.
Phra Mahathat Chedi Phra Phutthathammaprakat

address: Rattanakit Rd

This chedi was built in the modern Srivijaya-style, covered in gold color. It is 40m high, built to commemorate the 69th birthday anniversary of Her Majesty the Queen. From the chedi one can see all of the temple ground and part of Betong city centre.
SwiftsAt dusk the swifts fly about the city centre and come to rest at houses, on buildings and on electricity lines, especially on the Bell Tower that is well-lit at night. They have become one of Betong's symbols, although they are there only during the cool season when they flee from the cold weather of Siberia once a year, usually from Sep-Mar.
Do
Massage: Despite being a small town, Betong sports a large number of massage parlors. Some even have pictures of the masseuses available so you can pick and choose one to suit your tastes. Prices range from 250-350 baht for a 2 hour ancient Thai massage and 300-400 baht for a 2 hour hot oil massage.
Sport: you could go to the Betong Public Stadium and Sport Complex to exercise or work out in your style while this place serve you a plenty of activities. Betong teenager favourites are basketball, swimming, and tennis.
Buy
Betong Soya Sauce (ซีอิ๊วเบตง)
Betong Noodles (หมี่เบตง)
Watercress (ผักน้ำเบตง)
The ZON duty free shop on the Malaysia-Thailand border. Cheap since it's duty-free but marks up the price for a larger profit so you should try looking elsewhere first.
Dry market, also on the Malaysia-Thailand border. Lots of small stalls sell various knick-knacks which make good, cheap souvenirs.
Eat
Betong is known for food, especially Betong-Chinese food which is mostly cooked by Hakka-Chinese. Betong is also known for Thai traditional food and Muslim food. Many mouth-watering restaurants are around Betong Market and close to Betong clock tower.
Betong Noodles (หมี่เบตง), the egg noodles that are very tasty.
Betong Soy Sauce (ซีอิ๊วเบตง) is made from soy beans with a special method.
Tourists can also enjoy the wide variety of Betong specialties. They are: chopped Betong chicken, prepared with local chicken and ladled with Betong soy sauce; steamed Chinese carp in plum sauce - the fish is raised only in Betong and can be prepared for several dishes; khao yok (เคาหยก) is made from fatty pork roasted with taro; phak nam (ผักน้ำ) is a vegetable that grows in flowing streams found only in Betong, and is prepared for a soup or stir-fried.

Drink
Normally the local people are enjoy to drink some tea, coffee or milk with some toast or snack especially at night. Most teenagers will go to some coffee shop to socialise with friends or family and get some non-alcoholic drink. Alcoholic drinks are not popular except with some tourists, but you can find some in KTV lounges or some clubs in hotels.

Sleep
Betong City Plaza Hotel

phone: +66 73 230441-3

address: 6, Dhamavithee Rd

The hotel is in a little shopping plaza.
Betong Grand View Hotel

phone: +66 73 245519

address: 30-34, Grand Villa Rd
Betong Merlin Hotel

phone: +66 73 230222-40

address: 33, Chayachawalit Rd

Close to Betong clock tower and seems to be the most expensive hotel in Betong.
phone: +66 73 230 888

address: 188, Prachatipat Rd
Cathay Betong Hotel

phone: +66 73 230996-9

address: 18, Chantharothai Rd
Holiday Hill Hotel (Futuna)

phone: +66 73 231180

address: 50, Pakdeedumrong Rd.
Hua Un Hotel

phone: +66 73 212989

address: 352/1, Siroros Rd
Jackie Chan Hotel

phone: +66 73 230710

address: 226, Sukkayang Rd

Famous budget hotel.
phone: +66 73 235666

address: 21 Rattanakit Rd

New hotel near Betong Clock Tower.
River Inn Resort

phone: +66 73 234175-6

address: 111-113 Soi 12 , Prachatipat Rd

One beautiful river view resort especially famous for Malaysian and Singaporean tourists.
Connect
phone: +66 73 522411

For deep south Thailand (Narathiwat, Pattani, and Yala Provinces)
Go next