Bettendorf
Bettendorf
is one of the
Quad Cities
, in
Eastern Iowa
.
Understand
The territory that now encompasses Bettendorf was opened to white settlement following the Black Hawk Purchase of 1832. The first European-American settlers established a village which they called Lillienthal, after an early tavern and dance hall. The village of Gilbert developed alongside Lillienthal in 1858, honoring Elias Gilbert, who platted the original site. At that time, the residents were predominantly German immigrants and worked as farmers, skilled laborers, and small business owners. The two villages eventually combined to become the town of Gilbert. The town gave William and Joseph Bettendorf 70 acres along the riverfront on the condition that they move their iron wagon business from
Davenport
to Gilbert. In 1903 the town petitioned for incorporation and requested that its name change to honor the brothers whose factory was a major economic influence in the early development of the city. The first modern-day riverboat casinos in the United States were launched in Bettendorf in 1991 by local businessman Bernard Goldstein. He went on to found the Isle of Capri Casinos. According to the 2010 census Bettendorf is home to 33,217.
Get in

By car
Most people arrive using Interstate 74, the easiest route if arriving at Quad City International Airport. The exits are also the primary entry points from Davenport. Grant and State Street (US Route 67) are one-ways in the downtown area that originate from River Drive on the west side that connects with downtown Davenport. Middle Road connects with Locust Street and Kimberly Road-Spruce Hills Drive intersection (US Route 6) straddles the border between the two cities and Spruce Hills Drive travels though the north side. The 53rd Street exit is completely in Davenport and becomes 53rd Avenue in Bettendorf.
Many visitors who arrive via Interstate 80 will exit onto I-74 as they enter Bettendorf. Middle Road also has an exit and US Route 67 at the
Mississippi River
Bridge in Le Claire also provides an entry point.
By plane
Quad City International Airport

phone: +1 309 764-9621, +1 309 757-1739

address: () 2200 69th Ave, Moline

The airport in Moline serves the regional Quad City area. Four airlines offer non-stop flights to major markets primarily in the Midwest, the South and Southwest United States. Major rental car companies serve the airport and there are also taxi and shuttle companies available. There is generally not a line of taxis at the airport, but there is a list of taxi companies, as well as shuttle services, associated with the airport on the Ground Transportation page of the airport's website. It is best to make arrangements before arrival. MetroLINK Route 20 bus, also known as Route 20 Blue, makes two stops an hour at the terminal near the baggage claim area. It connects with Bettendorf Transit Route 1 at Centre Station in downtown Moline.
phone: +1 563 391-5650

address: 9230 Harrison St

Private planes and small private jets.
By bus
There is no interstate bus terminal in Bettendorf, however there are two in the Quad Cities with public transit connections to Bettendorf. Both locations are served by Greyhound and Burlington Trailways.
The Charles J. Wright Ground Transportation Center is located in downtown Davenport. CitiBus Route 10 connects to Bettendorf in the downtown area and at Duck Creek Plaza.
Centre Station in downtown Moline is connected to Bettendorf by Bettendorf Transit Route 1.
By train
As of 2019 there is no Amtrak service to the Quad Cities. The closest station is in
Galesburg
, Illinois. However, there are plans to inaugurate Amtrak service with direct service between Chicago and Moline, Illinois.
Get around
By car
Bettendorf is generally an easy city to navigate, but it has a couple of quirks. The city streets are basically laid out in a grid pattern, especially in the older part of town. Some of the newer residential sections of the city do not follow a grid, however. For the most part, east-west streets are named and the north-south streets are numbered starting at the border with Davenport. There are a couple of exceptions. Devils Glen Road is a north-south Street on the east side of town and 53rd Avenue is an east west street on the north side that connects with 53rd Street in Davenport. Middle Road is a major thoroughfare through the middle of town as the name suggests. However, it defies the grid pattern as it travels northeast from Locust Street in Davenport before it heads north to I-80. Addresses on east-west streets are numbered from the west at the border with Davenport, and on north-south streets from Mississippi River toward Interstate 80.
The Quad Cities has a
wayfinding
color code system for signs that direct people to various venues and attractions in the area. The area is divided into quadrants with their own colors and identifying headers on direction signs have the appropriate color for each quadrant so that travelers know, by color, which quadrant you are in and to which color you will have to travel to reach other attractions. Bettendorf is in the northeast quadrant and its attractions are on signs that use the yellow color in the header. The northwest quadrant (Davenport) is green, the southeast quadrant (Moline-East Moline) is blue and the southwest quadrant (Rock Island) is red.
By bus
Public transportation is operated by
Bettendorf Transit
. There is a connection with the Illinois Quad City's
MetroLINK
from downtown to Centre Station in downtown Moline (Route 1). There is also a connection with Davenport's
CitiBus
in downtown Bettendorf and at Duck Creek Plaza (CitiBus Route 10).
By bicycle
The Riverfront Parkway follows the Mississippi River and connects with the trail in Davenport. It is part of the larger multi-state Mississippi River Trail. The Duck Creek Parkway is a second trail that runs through the middle of the city from Duck Creek Park in Davenport on west to its terminus along US Route 67. In time it will connect to the Riverfront Trail.
By water taxi
A unique way to see the Quad Cities is from the
Channel Cat Water Taxi
, an open air boat that transports people and bicycles to the Iowa and Illinois shorelines. The four stops are at the Celebration Belle and at John Deere Commons in Moline, the Isle of Capri in Bettendorf and the Village of East Davenport. It operates in the summer months.
See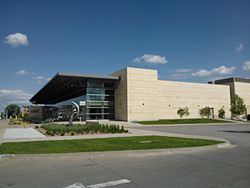 Family Museum of Arts and Science

phone: +1 563 344-4106

address: 2900 Learning Campus Dr.

Exhibits and programs are designed for a primary audience of children ages eight years of age and younger and their adult caregivers.

Quad Cities Waterfront Convention Center

phone: +1 563 344-2697

address: 2021 State St.

Facility provides meeting and banquet space that also hosts a variety of functions and performances.
Do
phone: +1 563 441-7000

address: 1777 Isle Parkway

More than 1,000 slot machines and video poker machines ranging in denominations from one cent to $25. There are also 20 table games including live video poker.

phone: +1 563 332-8296

address: 2999 Middle Road

Established in 1974, Palmer Hills is an 18-hole public golf course designed by William J. Spear. It features 100 year old oak trees, rolling hills, creeks and a pond coming into play on 11 holes.
Learn
phone: +1 563 344-4175

address: 2950 Learning Campus Dr.

Scott Community College A two-year school it is part of the Eastern Iowa Community College District.
Buy
Bettendorf has several areas that have stores. The small downtown area is along State and Grant Streets from I-74 east where the two streets merge. The intersection of Kimberly and Middle Roads has three shopping centers with a combination of big-box stores and smaller shops. Cumberland Square Shopping Center is at the intersection of 18th Street and Spruce Hills Drive. A final shopping section is at the intersection of Middle Road and Devils Glen Road.

Eat
phone: +1 563 441-7111

address: 1777 Isle Parkway

Fine dining in the Isle of Capri Casino complex.

phone: +1 563 344-8727

address: 2520 18th St.

Quad City-style pizza

Happy Joe's Pizza and Ice Cream Parlor

phone: +1 563 359-5457

address: 2430 Spruce Hills Drive

A Quad City original. Pizza, sandwiches, pasta, ice cream, buffet, carry-out and deliveries. Try the taco pizza or the BLT (bacon, lettuce, and tomato). Sunday Brunch

phone: +1 563 355-3919

address: 2320 Spruce Hills Drive

A Quad City original. Sliced and grilled-to-order sandwiches, baked potatoes with a variety of toppings, chef-prepared soups, shredded-lettuce salads, and desserts from The Hobo Bakery.

phone: +1 563 332-2370

address: 2504 53rd Avenue

Don't let the strip-mall setting fool you, this is one fine restaurant. The food and the service are excellent.

phone: +1 563 355-4898

address: 793 Middle Road

Sushi rolls, sashimi and hibachi.

phone: +1 563 323-2787

address: 1804 State Street

Authentic Italian cuisine in a comfortable setting.

Waterfront Deli

phone: +1 563 359-4300

address: 1020 State Street

The Waterfront Deli serves sandwiches on bread they bake themselves plus freshly-prepared salads.
Sleep
Go next
Le Claire, just northeast of Bettendorf with quaint shops and home of Buffalo Bill (and a museum devoted to showcasing his life).