Beverly Hills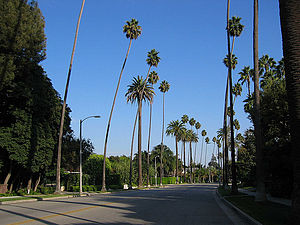 Beverly Hills
is an enclaved city in
Los Angeles County
in Southern California, surrounded almost entirely by
Los Angeles
. Since the 1950s Beverly Hills has marketed itself as a high-end shopping venue and home of the rich and famous, which still rings true today – its reputation has even been the basis of a few popular TV shows such as
The Beverly Hillbillies
and
Beverly Hills, 90210
. Santa Monica Boulevard bisects the city, with most of the businesses to the south, and the north being primarily residential. Most visitors come to shop or dream of shopping, or to try and hunt down their favorite celebrities' homes, but be careful! Many celebrities consider that stalking.
Beverly Hills 90210
fans will be disappointed that there is no West Beverly High. Some of the backdrops of the fictitious West Beverly High were filmed at Torrance High School in
Torrance
.
Get in
By plane
From Los Angeles International Airport (LAX

): Travel on Interstate 405 North (San Diego Freeway), then exit into State Route 2 East which is Santa Monica Boulevard.

From Bob Hope Airport in Burbank: Travel south on Hollywood Way, exit into the Ventura Freeway (California State Route 134 and US 101), then go south on Coldwater Canyon Drive.
By public transit
The
Los Angeles County Metropolitan Transit Authority
provides bus service into Beverly Hills, connecting with the rail network. Rapid bus 720 runs along Wilshire Boulevard, connecting Beverly Hills with the Fairfax district, Koreatown, and Downtown Los Angeles to the east, and with Westwood and Santa Monica to the west. Rapid bus 704 runs along Santa Monica Boulevard, connecting Beverly Hills with West Hollywood, Hollywood, Silver Lake and Downtown Los Angeles to the east, and with Century City and Santa Monica to the west.
Get around
Beverly Hills has several large, well-marked public parking garages in its downtown area, but they tend to fill up quickly. Virtually all of the shops and restaurants are walkable from any of the garages. Parking in Beverly Hills is extremely difficult even with the large parking structures, so it is strongly advised to walk or use public transport. If you choose to drive, be aware that there is a law against oversized pickup trucks and sport utility vehicles weighing more than 6,000 pounds.

See
Fig Tree

address: Beverly Dr and Santa Monica Blvd

This Morton Bay Fig tree is 85 years old and is 65 feet tall.

phone: +1-310-550-4654

address: 905 Loma Vista Dr

Rodeo DriveRodeo Drive (prounounced Row-Day-Oh) and the nearby walk street Two Rodeo earn their reputation for outrageously expensive and unique boutiques catering to outrageously expensive and unique people.
Do
Buy
Eat
Budget
Mid-range
Barney Greengrass

phone: +1-310-777-5877

address: 9570 Wilshire Blvd

Perched atop the trendy Barney's New York, this isn't the average deli; here, the brisket sandwiches and bagels are served while surrounded by Hollywood agents and the well-heeled crowd who like to be seen as much as they like to eat tasty, deli-inspired food. Great view from the patio (perfect spot for a Sunday brunch) and the prices are relatively fair considering everything else at Barney's is very expensive.

Enoteca Drago

phone: +1-310-786-8236

address: 410 N Canon Dr

Already lauded for his popular Italian restaurants Drago, Il Pastaio and Drago Centro, Celestino Drago's Enoteca Drago, serves up delicious pizzas, small plates and other authentic Italian dishes in a spacious, urbane atmosphere complete with an impressive wine bar.

phone: +1-310-273-5578

address: 439 N Beverly Dr

Situated on the bustling Beverly Drive, this cozy eatery has had a loyal clientele since its '97 debut and routinely packs in new converts for its American-style comfort food. Uncomplicated, but no less innovative and tasty salads, fish, meats, sandwiches and assorted entrees form an inviting menu for breakfast, lunch and dinner. Ahi Three Ways (Seared Ahi with Pepper Corn, Crepe Wrapped Ahi, Ahi Tartar, Mixed Greens and a Warm Ponzu Sauce), Black & White Salmon, Breakfast Quesadilla, Applewood Smoked Bacon Sandwich and Three Cheese Ravioli are menu standouts. Prepare for an excellent bread assortment. The room is bright, airy and warm, presenting a taste of Americana with old farm utensils and folk art hanging on the muted-colored walls. Location equals waiting list for Saturday-Sunday brunch. But it's worth the wait. Most weeknights a reservation can be avoided. But this is Beverly Hills, so... Amazing brownies.

phone: +1-310-276-9990

address: 9018 Burton Way

Romantic, alfresco hideaway in Beverly Hills combines dreamy ambiance and fine, Italian cuisine. A steady favorite for those 'special occasions', the upscale restaurant features a fountain garden, with retractable glass roof, and fireplace for dining under the stars. Many come for the setting, but the Northern Italian menu features a variety of equally heartwarming main dishes and desserts.

Kate Mantilini

phone: +1-310-278-3699

address: 9101 Wilshire Blvd

More than just the backdrop for the classic scene in the film "Heat" that featured Al Pacino and Robert DeNiro going mano e mano, Kate Mantilini is a Beverly Hills classic, serving up a monster menu of comfort food morning, noon and night since the '80s. The daily specials never disappoint and the menu is dotted with one great dish after another.

La Scala

phone: +1-310-275-0579

address: 434 N Cañon Dr

Original La Scala dominated the culinary scene (specifically Italian food) in Los Angeles of the '50s and '60s, yet the more recent embodiment of the eatery remains a hotbed for excellent Italian cuisine. The cozy environs, replete with red, vinyl booths, add to the pleasant experience. The venerable chopped salad remains a must-have.

phone: +1-310-277-5221

address: 9400 Olympic Blvd

Eating establishment inside the achingly trendy Avalon Hotel. The stylish indoor-outdoor tables share space with the hotel's pool, lively bar and its constant wave of partygoers and socialites. Lunch begets a more casual mood, whereas nighttime is primarily the right time as the hotel bar/pool/restaurant kicks into high gear. Food-wise, it's modern American cuisine galore and reaches a level of top-tier flavor one might not expect going in. Cool music, lounge-style vibe and good food makes for an enjoyable experience. The scallop and celery root risotto is a menu highlight.

Porta Via

phone: +1-310-274-6534

address: 424 N Cañon Dr

Neighborhood bistro is a charming locale for breakfast, lunch and dinner; very cozy exterior/interior sets the stage for idyllic consumption of fresh salads, tasty sandwiches and other goodies. Not too pricey, which is nice.

phone: +1-310-652-7673

address: 55 N La Cienega Blvd

A classy restaurant with a menu focused on garlic. Make sure to order the Bagna Calda as an appetizer. Also features vegetarian meals and meals without garlic. The more adventurous can try the garlic ice cream.
Splurge
Cafe Rodeo

phone: +1-310-273-0300

address: 360 N Rodeo Dr

Located inside the Luxe Hotel. It has outdoor dining that affords great people watching.

Crustacean

phone: +1-310-205-8990

address: 9646 South (Little) Santa Monica Blvd

From the moment the An family opened the doors to their posh, multi-level eatery in 1997, the Asian and Vietnamese-inspired menu has wowed food lovers – not too mention the interior design of the restaurant/bar, which blends an evocative Asian aesthetic with Hollywood style. The glamorous vibe and hot bar scene aside, it's the food that is the main draw, which features Dungeness crab, gigantic grilled tiger prawns, Sea Bass and the famous garlic noodles.

Cut

phone: +1-310-276-8500

address: 9500 Wilshire Blvd

Ubiquitous Mr. Wolfgang Puck returns, this time to the Regent Beverly Wilshire in Beverly Hills, with a steakhouse that has the town abuzz. Urbane service and top-shelf cuisine set the stage for a delicious, though pricey dining experience.

phone: +1-310-276-0615

address: 9560 Dayton Way

Prominent, old school inspired steakhouse known for the Hollywood powerbrokers who power lunch in The Grill's sleek, leather banquettes, expense account credit card in hand. With a bar perfectly situated upon entering, there is a nice emphasis on cocktail culture to go along with the juicy steaks, fish and seafood and other classic dishes. The décor is decidedly masculine, with an east coast (think Manhattan) tenor permeating the usually noisy room. A phenomenal menu top to bottom.

phone: +1-310-278-3344

address: 9291 Burton Way

French-Asian cooking. Lavish surroundings. Both points come together is an inspired hotel dining experience inside the Raffles L'Ermitage. Guests can feast or relax on the patio around the fireplace or next to a lighted waterfall. Jaan (the word is Cambodian for dish or bowl) menu changes monthly, alternating between diverse flavors and cuisine styles.

phone: +1-310-278-1845

address: 9785 Santa Monica Blvd

This celebrated Italian eatery in Beverly Hills dates back almost 50 years and is a throwback to the good, old days in Los Angeles when folks actually dressed up for a night on the town. The place was a hotbed for the who's who. The décor remains dark and sophisticated, highlighted by the classic brick walls, adorned with glossies of Hollywood legends. Step inside and one might close their eyes and feel the presence of Frank Sinatra and Dean Martin holding court in one of the plush booths. And apparently, as research points out, every president since Kennedy has enjoyed a fine meal at La Dolce Vita. Nostalgia and presidential history aside, the food remains delightful; lasagna, veal, steak, capellini, risotto, linguini and so on – it's all here and it's quite superb.

phone: +1-310-888-8782

address: 246 N Cañon Dr

Expert mix of classic steakhouse, chic bar scene and well-heeled denizens makes for one heck of a dining experience; that it's located smack dab in the center of glitzy Beverly Hills only seems apropos once you step inside. Two lounges, one upstairs and one down, buffer the main dining room, which features a menu touting wonderful steak selections, as well as seafood and chicken. Side dishes demand top billing, too. The upstairs lounge is quite a scene, with a pianist crooning standards and bartenders whipping up endless orders of martinis for a showy crowd. The whole place operates at high speed, but the old school-meets-modern elegance ambiance, which is appealing in its own right, never overshadows the real star of the show – the food.

phone: +1-310-659-9639

address: 129 N La Cienega Blvd

Better known for his Nobu restaurants, this is the original restaurant of Nobu Matsuhisa, one of the most influential sushi chefs in the world. Truly fantastic.

phone: +1-310-278-9911

address: 344 N Camden Dr

Famed, ultra-chic Chinese eatery built upon the egos and expense accounts of celebrities, wanna-be celebrities, Hollywood busybodies and the in-crowd. Since opening in 1974, Mr. Chow has remained a culinary heavyweight in the pantheon of Los Angeles dining, not too mention the enduring allure it has for the A-list. Austere in design, with trademark black and white checkerboard floor and tiny tables bunched close together, the dining room is always bustling, still channeling the 'café society' vibe restaurant founder Michael Chow instilled in the place from when it opened. There are now Mr. Chow restaurants in London, New York, and coming soon, Las Vegas. Do try the Drunken Fish.

phone: +1-310-859-8744

address: 224 S Beverly Dr

Always busy, it seems, at this steakhouse chain, which sits comfortably on the lively Beverly Drive. The sizzling filet mignon, rib eye, New York strip, T-bone and porterhouse stand center stage on the menu, which features all sorts of delicious side dishes. The place is dark and busy and the noted cocktails fight for space on most tables. It's a chain, sure, but remains a consistent winner for great food and atmosphere.

phone: +1-310-385-0880

address: 176 N Cañon Dr

Wolfgangs Puck's flagship is worth a splurge, and you can say you ate at the real deal. The food is excellent, the decor (designed by his wife) is terrific, and Wolfgang himself often stops by if he's in town.

Urasawa

phone: +1-310-247-8939

address: 218 N Rodeo Dr

When Masa Takayama relocated to New York, his assistant, Hiro Urasawa took over the space. The space still has the most expensive restaurant in California, but it's well worth it for sushi fanatics.
Desserts
phone: +1-310-274-8765

address: 9635 South (Little) Santa Monica Blvd

Featured on television shows like Good Morning America and the Oprah Winfrey Show, Sprinkles is the place in Los Angeles to get gourmet cupcakes. This increasingly popular dessert takes one of America's favorite baked desserts to a whole new level, offering 10 varieties a day, 5 of which are always available and the remaining 5 of which varies from day to day. Flavors range from the basic (milk chocolate or red velvet) to the exotic (ginger lemon or chai latte). The shop is hugely popular, but also a bit pricey (at $3.50 a pop), so if indulgent desserts are your thing, be sure to make a quick stop here.
Drink
phone: +1-310-285-1300

address: 9876 Wilshire Blvd

New location at the Beverly Hills Hilton poolside bar. Great exotic drinks and Polynesian tropical modern decor. With a laid back bar environment that flows on to a patio/pool area.

phone: +1-310-281-4000

address: 140 Lasky Dr

A cozy, though supremely stylish bar in the equally stylish Maison 140, a 43-room luxury boutique hotel tucked away on a side street in Beverly Hills. Enjoy fancy cocktails or traditional libations amidst the candlelight and achingly seductive décor. It's serves as both prime option for first-daters or those who desire an intimate, low-key spot to cuddle up with a warm body and tasty beverage.

phone: +1-310-278-3344

address: 9291 Burton Way

Not sure how many actual writers are on the premises working on a novel or screenplay, but the Writer's Bar – inside the swanky Raffles L'Ermitage hotel – definitely hosts a recurrent assemblage of Hollywood types (re: agents, executives) and those who like to see-and-be-seen. Still, the easygoing vibe and cool, sophisticated environment keeps the bar relatively mellow, even when it's crowded – which it usually is. In all the spacious design and warm, comfy décor' (two fireplaces!) makes it a fine place to relax and socialize.
Sleep
phone: +1-310-274-7777

address: 9876 Wilshire Blvd

Walk to Rodeo, enjoy the restaurants along the way. Be sure to stop at the Buena Vista Cigar Club and say hello to Rigo - ask him to make a recommendation and enjoy a good smoke. Or stay in your room and order up room service and be treated like royalty. Circa 55 in the hotel has a delicious roasted crispy duck, or you can walk next door to Trader Vics and enjoy a Mai Tai made right. You may not spot a celebrity here, but you will definitely be treated like one.

phone: +1-310-247-0505

address: 403 N Crescent Blvd

A modern hotel that was built for silent film stars in 1926. Has a trendy on-site restaurant.

Four Seasons Hotel

phone: +1-310-273-2222

address: 300 S Doheny Dr

Luxury accommodation.

phone: +1-310-278-3344

address: 9291 Burton Way

A luxury hotel situated on a tree-lined residential street that is known for its elegance and privacy.

phone: +1-310-281-4000

address: 1140 Lasky Dr

Slip into the French and Far East-inspired modes of Maison 140, an intimate, 43-room boutique luxury hotel in Beverly Hills. This unique unique hotel was redesigned by Kelly Wearstler Interior Design as a contemporary tribute to the classic Parisian inns of the last century. Visually striking, yet inviting and warm - the Maison 140 Beverly Hills Hotel is the city's perfect pied-a-terre for the imaginative traveler.

phone: +1-310-860-7800

address: 225 N Canon Dr

Hotel and resort with 201 guest rooms and 55 suites, a rooftop restaurant and poolside cabana, a 20,000 sq ft two-level spa, and 20,000+ sq ft of event space.
Go next