Bhaktapur
Bhaktapur
(भक्तपुर) is a city in
Nepal
known variously as
City of Culture
,
Living Heritage
,
Nepal's Cultural Gem
,
An open museum
and a
City of Devotees
. Bhaktapur is an ancient city and is renowned for its elegant art, fabulous culture, colourful festivals, traditional dances and the indigenous lifestyle of the Newari community. It is just 12 km east of
Kathmandu
, the modern capital of
Nepal
, but you may feel a bit like you've gone back to the Middle Ages, given the ambiance of traditional homes, lifestyles and environment here. The conch-shaped historic city is spread over an area of 6.9 m 2 at an altitude of 1,401 m. Bhaktapur was founded in the 12th century by King Anand Dev Malla and was the capital city of the Greater Malla Kingdom in the Kathmandu Valley till the 15th century AD. Many of Bhaktapur's greatest monuments were built during the Malla period.
Understand
Bhaktapur has more temples per square metre than
Patan
or Kathmandu and is far enough out of the city to keep the crowds away. As a World Heritage site listed by the UNESCO, Bhaktapur has been heavily restored following an earthquake in 1934 which severely damaged the city, but you will still see signs of damage from the 2015 quakes.
Get in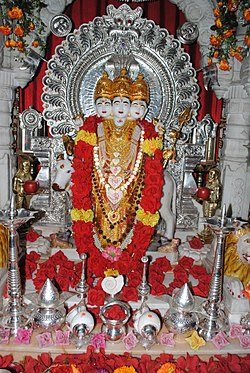 If you are not arriving as part of a tour group, you may take mini bus (bound for Kamal Binayak stop in Bhaktapur) or big bus (bound for Chyamasingha stop in Bhaktapur) from the bus stop near Bhadrakali. You can save time by taking Express Bus (this does not stop in between except in Maitighar and Sallaghari) from Bagbazar in Kathmandu. Recently, micro buses also started service of shuttling between Kathmandu and Bhaktapur, which provide a fairly quick way to get to Bhaktapur.
For those who haven't experienced a public bus in South Asia, it will be a way to (literally) rub shoulders with locals. In either case it takes about 40–60 minutes, and drops you off just outside of the city. The fare from Kathmandu to Bhaktapur was approximately NPR35 in Sept. 2009 by bus for local people. The average cost for a one way taxi from Thamel to Bhaktapur is NPR800-1000 for the 16 km drive. You can easily hail a taxi or pick up a return bus to either Patan or Kathmandu just outside of the first main gate that leads into the city.
Get around
Once in Bhaktapur, walking is the best way to experience the quiet, dusty lanes squares. Rickshaws, tuk-tuks or taxis are not allowed inside the city: an inconvenience more than made up for by the quiet and clean air. However, locals are permitted to use motorbikes, and consequently some caution is needed when walking around the narrow streets.

See
The primary reason for visiting Bhaktapur is because its Durbar Square is one of the seven UNESCO World Heritage Sites in the Khatmandu Valley. There are other worthwhile things to see as well.
Insides
Bhaktapur Durbar Square was the seat of royalty before 1769 AD. The building now houses the National Art Gallery. It has a famous Golden Gate dating back to 1756 AD and is the entrance to the marvelous Taleju Temple Complex and number of artistic courtyards including the Royal Bath pond. The Big Bell in the square was erected by Ranajit Malla (1722–1769), last Malla king of Bhaktapur and was used for paying homage to Goddess Taleju and for assemblies of the general public. The entrance fee for foreigners is 1500 NPR, which is used to partly fund repairs following the 2015 earthquake. If you plan to visit for several days, you can ask the counter to add a note to permit access to the city with the same ticket (at most one week). Visitors from SAARC member countries (Bangladesh, Bhutan, India, Maldives, Nepal, Pakistan and Sri Lanka) and China pay NPR100.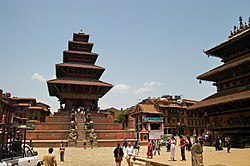 Taumadhi Square's Nyataponla Temple dates back to 1702 AD. The colossal five-storied edifice is the country's tallest pagoda temple. The struts, doors, windows and tympanums, each embellished with attractively carved divine figures, portray the creative tradition of Newar craftsmen. The temple is dedicated to the Goddess Siddhi Laxmi, the manifestation of female force and creativity. Next to the Nyataponla Temple is the rectangular shaped Bhairavnath Temple. It houses a gilded bust of Bhairav, the ferocious manifestation of Lord Shiva. The three-storied pagoda was razed to the grounds by the 1934 earthquake, and its latest renovation was undertaken by the Bhaktapur Municipality in 1995 AD.
Dattatreya Square has the Dattatreya Temple is the main attraction of the Square. Constructed by King Yaksha Malla, the giant three-storied temple is believed to have been built with the trunk of a single tree. Having defied a series of calamities, it still bears testimony to the incredible achievement made in those regal days of Nepalese history.
Clay pots are molded and fired in the alleys adjacent to Pottery Square, and the square itself is full of pottery drying in the sun. These items get exported around Nepal.
The Peacock Window, one of Nepal's signature sights
Hanumanghat: a collection of lingams (including Nepal's largest) and riverside cremation ghats.
Outsides
Changu Narayan

phone: +977 1 6614788

address: Changu

the oldest temple in the Kathmandu Valley. Listed in the World Cultural Heritage List, it is also a scenic spot situated at an altitude of about 1700 m. The most authentic inscription located in the precinct of Changu Narayan is dated 464 AD and is credited to the Lichhavi King Mandeva. Changu Narayan Temple, located high in the hill just to the north of Bhaktapur, is the oldest existing pagoda temples in Nepal. The temple was dedicated to Lord Vishnu by the Lichhavi King in the 5 th century. It is said to be the oldest temple in the Valley. It was included in the UNESCO World Heritage List in 1979.
Surya Vinayak is situated at the walking distance of about 2 km to the south of the city and is the holy shrine of god Ganesh, the Hindu god of well beginning and successful completion of work. The temple of Ganesh is placed in such as so as to catch the first rays of the rising sun. It is a good picnic spot flanked by many attractive landscapes.
Buy
Bhaktapur is a significant pottery centre. You will see it everywhere, drying in the sun, displayed on tables and shelves in front of shops and homes. The city is equally famous for artistic masks made from black clay with colourful decoration. The masks portray various gods and deities and carry special significance in festivals.
Thanka, a traditional type of painting, is also created in the city. Metalwork and jewellery can also be found, but there's more selection in
Patan
's backstreets.
Eat
Don't leave Bhaktapur without trying some of their famous yogurt with local honey: Juju-dhau, literally the "King of all yogurt." It's made from fresh buffalo (or sometimes cow) milk and is set to thicken in clay pots like those Bhaktapur is famous for.
Small local restaurants are found on the main road into the city, but they will probably only serve Dhal Bhat Takari (lentils, rice, and mild vegetable curry) or Newari food: Samay Baji - flattened rice, marinated meat (usually buffalo, and often offal), lentils, pickled vegetables, potatoes, bamboo shoot curry, tea and momos.
Tourist restaurants can be found in almost every building surrounding the main squares. Here is a sampling:
Bara-wa

a local Newari joint

Cafe Beyond

phone: +977016620622

address: Itachhen-15, Bhaktapur

Mainly Korean cuisine; most vegetables grown in local gardens.

Red Chilli Restaurant
Drink
Coffee
phone: +977 1 6610740

address: Durbar Square, Bhaktapur

Cappchino, espresso, Americano and iced coffee. Also serves Nepali dal bhat, Chinese, Mexican, Italian, Indian and Continental cuisine.
Alcohol
Black OliveRooftop beer garden; serves food as well

SBC Store

phone: +977 1 076450, +977 1 171733

address: Suryavinayak

All kinds of imported and domestic wine, whisky, beer. They can deliver.
Sleep
Bhaktapur can be a good alternative to Kathmandu for staying overnight because of its quiet streets and unique ambiance. Furthermore, it is located close to the Kathmandu international airport and on the road connecting Kathmandu and
Kodari
(Chinese border), which makes it particularly suited for spending the first night in Nepal.
phone: +977 1 6614599

address: Pottery Square , Bhaktapur

A simple and clean bed-and-breakfast run by a family of woodcarvers on the upper floors of a traditional house on top of their art shop. Located in a small street connecting Pottery and Taumadhi squares in the heart of the old town. Semi-private doubles from NRP600

phone: +977 1 6613912

address: Durbar Square11 , Bhaktapur

A traditional Newari house. Offers 24 rooms in two buildings, most with attached bath. Restaurant serving Nepali Dal Bhat, Chinese, Mexican, Italian, Indian and Continental cuisine. Free Wi-Fi
There is an ATM next door, and the guest houses accept Visa but add a small percentage to cover bank charges.
phone: +977 1 6613248

address: Taumadhi Square-11

Offers a rooftop restaurant; Wi-Fi
Golden Gate Guest House, between the Durbar and Taumadhi Squares. Tel: 977-1-6610534, 6612427; Fax: 977-1-6611081, 6612607; E-mail: bcci@wlink.com.np

Bhaktapur Guest House

phone: +977 1 610670, +977 1 661325

address: P.O. Box 49, Bhaktapur

Peacock Guest House

phone: +977 1 6611829

address: Dattatraya Square, Bhaktapur

Located at Dattatraya Square. Peaceful with attractive 15th century architecture.

phone: +977 1 6616333

address: Pottery Square, Bhaktapur 12

phone:- +977 9841231795.
Go next
Nagarkot is nestled on hill at altitude of 2,195 m to the north east of Bhaktapur at a distance of 18 km. It is famous for its panoramic view of mountains, sun rise and sun set. Nagarkot has availability of different types of accommodations of Five star hotels to small cottage lodges. Its one of the most scenic spots in Bhaktapur district and is renowned for its spectacular sunrise view of the Himalaya when the sky is clear. It also offers an excellent view of the Indrawati river valley to the east.
Pharping. A sacred site about forty minutes from Bhaktapur.
Thimi - a town between Kathmandu and Bhaktapur well known for its pottery work. In addition to pottery, Thimi is known made for the making colourful masks of various deities, demons and animals. Thimi also produces many of the fresh vegetables in the Kathmandu valley. Like Bhaktapur, Thimi also comprises of lots of historical monuments and temples such as Siddhikali, Balkumari, Dachhin Barahi, etc.