Białystok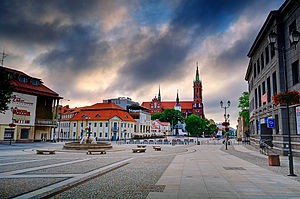 Białystok
is the largest city in north-eastern
Poland
and the capital of
Podlachia
. It is the gateway to many natural attractions of Podlachia, known collectively as the
Green Lungs of Poland
, including
Biebrza National Park
and
Białowieża National Park
. Białystok is also the place of birth of Ludwik Zamenhof, the inventor of the artificial language,
Esperanto
. The city hosted an international Esperanto conference in 2009.
Get in
By plane
The closest Polish public international airport is the
Warsaw
Chopin Airport
in the capital, located some 200 km away. This airport is served by most major normal and low-budget airlines. The convenient way to get to Białystok from there is to take a bus no. 175 to the Warsaw city centre and then take a train or a coach to Bialystok. There is a direct coach connection from the airport operated by
Polski Express
. Although the coach spends less time in Warsaw and therefore arrives in Białystok quicker, the prices can be twice as high and you have to book your tickets in advance.
There also are many cheap airlines flying to
Kaunas
(pl.
Kowno
) in Lithuania, which is 240 km away from Białystok. This is closer than other Polish airports but there is no direct train to Białystok except on weekends, and the bus journey may be more expensive than from Warsaw or Łódź. Since both Lithuania and Poland are in
Schengen
you will not need to stop at the border for the passport control.
Another Polish airport that is next closest in proximity (about 300 km) is the
Łódź Władysław Reymont Airport
served by many no-frills carriers. To get to Białystok from Łódź you will need to take a train or a coach.
Another option for travellers from the East (i.e. Belarus or Russia) is to fly to Hrodna Airport in Hrodna (
Grodno
), which is a city on the Belorussian border only 40 km away from Białystok. To get to Poland from Russia, Belarus or other non
Schengen
areas, you must have a visa and that you may spend a significant amount of time waiting at the border for clearance.
By train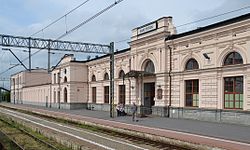 This is the most affordable choice of getting in to
Białystok train station
from
Warsaw
. There are 13 trains a day from
Warsaw
, the first one leaving at 04:55 and the last one at 21:30. The journey takes about 2 hours and 30 minutes. 11 of those trains are operated by PKP Intercity and cost 39
zł
for the second class and 59 zl for the first-class ticket. There are two second-class only trains operated by Przewozy Regionalne (PR) which cost 29 zl. These leave Warsaw at 11:40 and 20:05.
Białystok has also direct connections with other cities in northern Poland such as
Gdańsk
and
Olsztyn
and to
Kaunas
in
Lithuania
.
For timetables and prices, see
Polish State Railways
.
By bus
PKS Białystok
operates coaches to most major cities in Poland. Although the coach journey takes much longer than the train and the price is usually higher, sometimes the timetables are more convenient, especially if you want to get somewhere in the middle of the night. There are also many international connections, such as London, Brussels, and Baltic countries.
By car
You can easily get there by car from
Warsaw
,
Gdańsk
(A1) and
Poznań
. The national road S8 makes Białystok 2 hours and 30 minutes away from Warsaw.
Get around
As a city, Bialystok has a rather small area considering its big population - it is the second most densely populated city in Poland after
Łódź
. Most of the sights worth visiting are in the strict centre of the town, so you won't be likely to use the public transport a lot. The exception is the south-eastern district of Dojlidy with a couple of palaces worth visiting.
There is an extensive bus network that covers the whole city. The tickets cannot be bought inside of the bus and don't have to be shown to the bus driver but have to be perforated using devices installed in the buses. The tickets have to be bought in advance - they are sold in many places, including newsagents, convenience stores, supermarkets and designated ticket retail points. Only in the latter can you buy daily, weekly and monthly bus passes.
See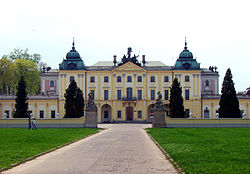 phone: +48 85 748 54 05

address: Jana Kilińskiego 1

This is by no doubt the main tourist attraction in the city. The Branickis' Palace is a former residence of a wealthy and influential noble family of Branicki, which used to own the whole city of Bialystok. The most famous member, Jan Klemens Branicki, the Great Crown Hetman of Poland with unsuccessful aspirations to the Polish throne, made the city prosperous and striving. The palace was given its current shape in early 18th century and since then has been called many names reflecting its grandeur, including "the Versaille of Podlasie". Although badly damaged by German bombs during the World War II, it was carefully rebuilt and now serves as the main building of the Medical University of Białystok.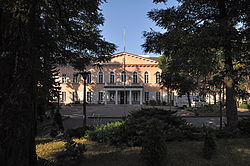 Another site worth visiting is the whole of
Warszawska street
, with rows of unspoilt architecture spanning all of 19th century. The particular highlight is the big palace painted in light pink, the former residence of the Prussian Governor of the Białystok region during the short times in 19th century (1795-1815) when Białystok was under German rule. The building was later transformed into a school, a purpose it serves to this day (now the King Sigismund Augustus High School). It is here that Ludwik Zamenhof was taught. The school has another infamous alumnus - Ignacy Hryniewiecki, who killed Alexander II, Tsar of Russia, on 13 March 1881, by throwing a bomb at him.
The
Jewish Heritage Trail in Białystok
is a marked foot trail created in June 2008 by a group of students and doctorate candidates, who participated as volunteers. One of the goals of the project was to generate social capital by engaging cooperation between local institutions and social groups. The project included: planning the trail, publicizing an informative booklet and map in printed and electronic versions, building an interactive website of the project, marking the trail sites and opening the trail to the public with a walk around the city, publicizing teacher's materials.
Do

Watch football ie soccer at Jagiellonia Białystok, who play in Ekstraklasa, the top tier of Polish football. Their home ground is Białystok City Stadium, capacity 22,000, 2 km south of city centre.

Eat
Wherever you are in Poland, you must visit one of the milk bars: they offer genuine Polish cuisine for a very affordable price. Białystok has a couple of them: Podlasiak and Słoneczny in the city centre (the latter being unusual for serving beer too), and Topolanka a bit further on the north from the centre on the Wasilkowska street. Expect a decent range of regional cuisine and a very mixed clientèle: students, families with children, businessmen and occasionally even homeless people.
There are numerous kebab, hamburger and zapiekanki (garlic bread with tomato sauce, meat, cheese and mushrooms) stands by the railway and bus stations and in other places in the city centre. Some of them are open 24 hours a day.

Drink
There are many pubs in the city center, with decent selection of alcohol. The price of a half litre glass of beer is around . A typical beer sold in Białystok is
Żubr
: named after the bison-like animals that live in
Białowieża National Park
. The typical regional alcohol is
Żubrówka
- a type of vodka which has a leaf of grass inside. Żubrówka literally means: 'Bison Grass'. The average price of a 0.5 L bottle in a shop is .
Kawiarnio-Księgarnia "Spółdzielnia"

address: ul. Marii Skłodowskiej-Curie 8/1

Cafe and bookstore with modern interior and large front shopwindow.
Sleep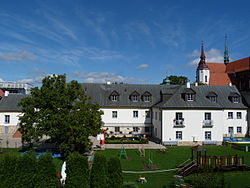 Białystok provides every kind of accommodation, ranging from expensive hotels (Gołębiewski, Branicki, Cristal /double room) through mid-range ones (Turkus, /double room) to budget hostels (/night in a 8-person dorm).
Go next
Bialystok is the obvious hub for discovering the natural wonders of the Podlachia region. There are 4 national parks in the region, including the world-famous
Białowieża National Park
, the
UNESCO World Heritage Site
.
The nearby town of
Choroszcz
is an entrance point to the beautiful Narew National Park. The town centre is well-preserved and features a majestic baroque church, and Branickis' summer residence, which houses a museum with a collection of memorabilia connected with the Branicki family.
The town of Supraśl is a spa town is about 15 km northeast of Białystok. It is home to the
Supraśl Orthodox Monastery
, also known as the
Supraśl Lavra
.
Further away is the town of
Tykocin
, with one of a few remaining Jewish synagogues of the region. The nearby villages of Kruszwiki and Kruszyniany were the centre of Tatar Muslim migration to the country centuries ago and still have a vibrant and very specific Lipka Tatar community. The antique wooden mosques in the villages are hundreds of years old and are still in operation.