Bidar
Bidar
(Kannada:
ಬೀದರ
, Urdu:
بیدار
) is a city in the
India
state of
Karnataka
.
See
The following are the major places of interest: Guru Nanak Jhira Gurudwara, Place where Guru Nanak Dev ji has produced the spring of drinking water by touching a rock with his Toe. Another well known place is Hazrath Shamsuddin Quadri Shrine popularly known as multani Badshah. Another well known place of visit is Choukhandi.The popular barid shahi tombs and a Jail made by the British before independence. Narasimha Zarna (Lord Narasimha Temple), Papnash (Shiva Temple), Bidar fort at Bidar, the great Friday mosque at Bidar, Nayee kamaan (fell down – so no more), Madarsa (university) of Mehmood Gawan, choubara (watch tower)at Bidar, several dargahs (mausoleums) of local Islamic saints, Basvesvara Temple, Barid shahi garden, Tomb of Mehmood Gawan, Kalyani shariff, 12th Century Cave, Kalyan shariff, Kalyan Fort, Kalyan shairff, Bidri Art Materials at Old City.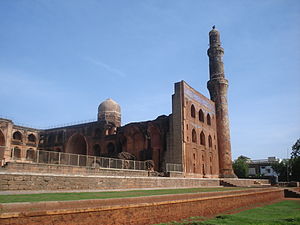 Papnash TempleIt is believed that Lord Sri Rama, on the way to Ayodhya from Lanka after defeating Ravana, visited this place and that resulted in the temple which would wash off his act of killing Ravana who is a Shiva Bhakt.

Narasimha ZarnaThe temple virtually runs into a cave waterbody and is one of the unique in the world. The water in the cave will guide the pilgrims to the idol.

MadarasaOne of the oldest universities, which was founded by Mahmood Gawan.

Bidar FortThe fort was one the largest and strongest forts in India.It was built in 15th century.

Gurdwara Nanak Jhira SahibThis is a Sikh historical shrine. One of the most popular south Indian historical gurudwaras amongst the Sikh community all over the India.

Manik Prabhu TempleSituated 53 km away from the city of Bidar, Manik Prabhu Temple is a unique architectural beauty and a major spiritual and religious centre. The Manik Prabhu temple is built over a Sanjeevani Samaadhi of a Saint- Shri Sadguru Manik Prabhu Maharaj and his spiritual stature and holy presence is still maintained by his 6th successor Shri Sadguru Dnyanraj Manik Prabhu Maharaj. The temple attracts both Hindu and Muslim devotees. The temple administration is carried out by Shri Manik Prabhu Samsthan which runs a number of social and charitable institutions since 140 years.

Girija B Kudre's Farm HouseB. S. Kudre a great visionary & a social reformer from Bidar had developed an Organic Mangoes / Amla plantation in about 65 acres (260,000 m2) of land at Andura. Having developed a cold storage along with it, exporting the Mangoes & Grapes to US, UK & Middle Eastern Countries. By adopting the primitive method of Agriculture / Horticulture, showing the importance of Indian Breed Cow's, their Medicinal values in day to day life, made a benchmark for all the researcher's to visit at least once in lifetime
Buy
Bidriware as mementos. Bidriware are objects made from metals unique to Bidar. They have Geographical Indication tags.

Connect
You can find internet cafes and telephone shops all around Bidar. Do a bit of research with the telephone shops because most have a focus region in the world. Many restaurants and cafes offer free wi-fi for their guests.
The mobile network (4G LTE/3G/GPRS/GSM) covers the whole city. If you are coming from a non-GSM standard country (e.g. the United States) check your mobile phone for GSM compatibility. B.S.N.L (Cellone) provides mobile connectivity in this region.

Go next